Because I am so small,
I leave my little handprints on furniture and walls.

But every day I'm growing, I'll be big someday,
And all my tiny fingerprints will surely fade away.

So here's a lasting keepsake so you can still recall,
How sweet my little hands were when I was very small.
Only a mother can tell you how precious her kids' childhood is and how quickly it goes away. Before she can even believe it, her little baby is all grown up. With the fear of missing my kid's childhood, I wanted to capture these little beautiful moments as much as I can.
Post our baby photo-shoot, I still felt something was missing. Something, that could be more tangible that photographs. Something, that can be my own creation.  And, then I stumbled over this video on the internet. This video captures how you can create tiny fingerprints and footprints of your kid before they are grown up. So, I gave it a shot. Believe me, no photograph could stand the charm of my baby foot impression painting.
Credits: Momme
This is the one that my baby and I created. Do share how you planned to capture the memories of your kids' childhood.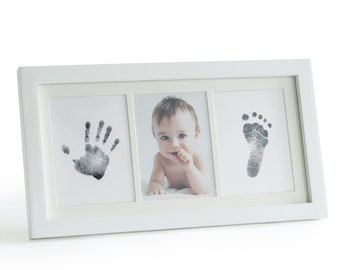 Do you have a similar inspirational story or a video that you would like to be featured on I FOR HER? E-mail it to our editors at shareyourstory@iforher.com. If we find your story worth inspiring our audience, we would invite you to publish it on our platform.