1. Changing how you dress will make people fall in love with you because nobody wants you when you're being yourself.
Be it Main Hoon Na or Kuch Kuch Hota Hai, Bollywood showcased how girls are okay to be with someone who has just fallen in love with them because of their makeover!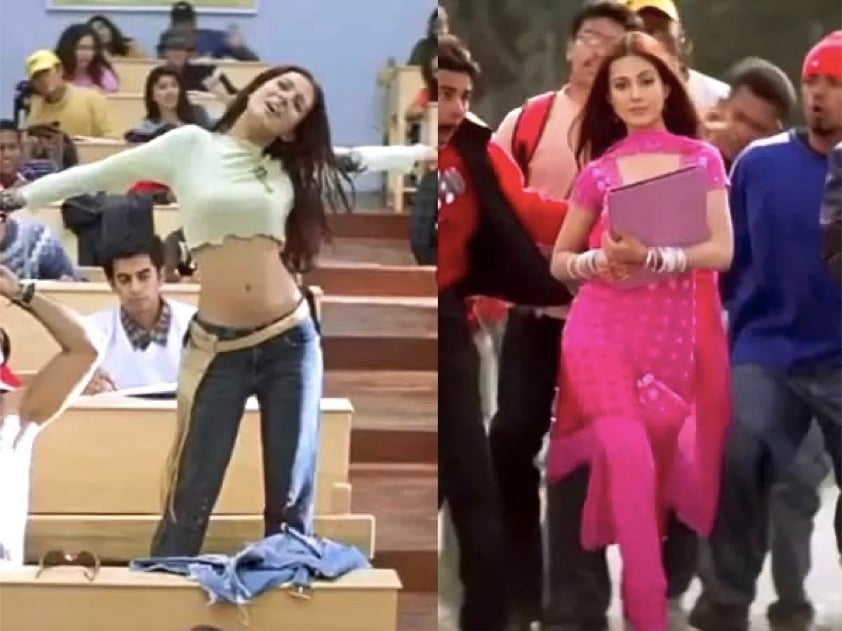 2. 6 Din, Ladki In
How filmmakers tend to normalize the glorified objectification of women is quite shameful. The statement reduces women to objects that need to be conquered. And, what is even sadder is that the trend of showing objectification of women isn't ending any time soon.
3. If you stalk someone, they will eventually fall in love with you.
From R… Rajkumar to Badrinath Ki Dulhania to many more, Bollywood has showcased how if you stalk the girl enough, she will eventually fall in love with you! Rather than being angry about unwanted advances, the women are shown to fall in love with their stalker. Dear Bollywood, here's some news for you – in real life, women don't fall in love with their stalkers. Rather we prefer to take a stand against them and get them arrested!
4. It's okay to be violent in love that shows how passionate you are
Be it Kabir from Kabir Singh or Safeena from Gully Boy, it's normal for Bollywood to show a toxic girlfriend/boyfriend resorting to violent acts under the pretence of passionate love.
5. Telling women, they belong in the kitchen
In Hum Saath Saath Hain, the ultimate goal for the Ghar ki bahus was just to cook and serve the entire family with their own hands.
6. The person you love has to love you back, otherwise you are worthless!
7. People with commitment issues ALWAYS change when they find the ONE
Even though Kabir's commitment issues lasted for years, his toxic boy attitude kicks in when he sees Naina with another boy. "I won't be with you, but you can't be with anyone else" started along with Naina's "I can fix him with my love." Sadly, the movie showcases how Kabir's commitment issues are solved but in reality, that's not the case.
8. Body shaming is Okay
Naina's best friend Sweetu was the victim of fat-shaming. On multiple occasions, she was fat-shamed by Naina and her sister. Naina told her she would only become worthy of love if she loses weight. And, Sweetu's sister shamelessly calls her a double-decker bus! Sadly, Sweetu's weight was used for comic relief throughout the film with constant commentary on it. How shamelessly this movie makes fun of Sweetu's weight exposes the issue of fat-shaming in Indian movies!
And, then some more
9. Jokes about rape are humorous!
How the makers normalized laughing at the problematic rape jokes and sexualization of breasts is quite disgusting! It is sad how many years later, it is still listed as a "funny scene".
10. Women having no career goals except falling in love
Sadly, in most Bollywood masala movies, the female lead just exists. Even if she has a job, she doesn't have any career goals. She is just expected to look good, fall in love and eventually become an arm candy! Dear Bollywood, women in real life are much more capable and empowered than most of your female leads!
11. Being a misogynist makes you look cool. Sorry, it makes you look like a jerk!
How could one forget the viral speech from the movie Pyaar Ka Punchnama? While this scene may have left many men and some women guffawing, in reality, it is nothing more than a misogynistic rant. The scene that among other things, talks about 'shutting women up' and mocking all women, is not exactly hilarious.
But, there are some more:
Now you know Bollywood movies are the worst when it comes to learning things about life, love, or humans!