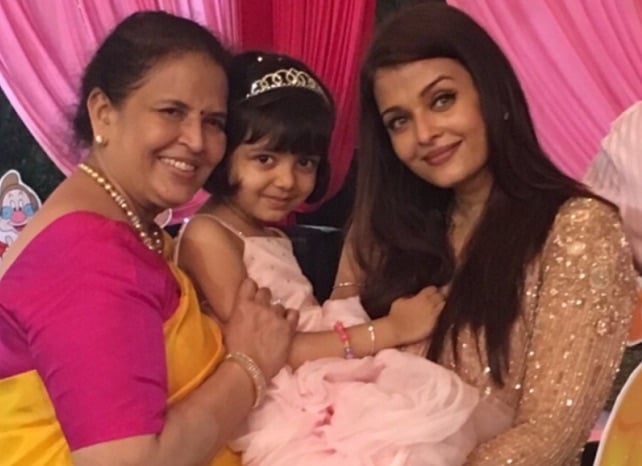 To my mom:
People tell me I don't need you anymore. As I am a mother now, I am all grown up.
Everyone believes that I am completely capable of taking care of myself and my baby. What they don't get is that even though I have become a mother myself, I still need you. In fact, mom I need you more than ever.
Do you want to know why?
I just can't imagine any of my special days without sharing my emotions with you.
Be it the day when I entered motherhood or the day when Vedi smiled at me for the first time or the day when she said her first words, every time the first person that came to my mind was you!
Because mom, no one other than you can understand how it feels when your heart is so full of love that it forgets to beat!
I need you on all those happy and memorable moments when – my daughter carries her backpack to the first day at school, or when she learns to ride a bike, or when she writes her own name for the first time. I can only imagine how you had felt when I was doing all these things.
And, I would especially need you on the difficult days.
The days when I have to miss Vedi's special days at school because I need to attend a critical meeting. The days when I would be so stressed & tired of being a mother that I would yell at her. The day when I would wave her off to college and would find myself hiding under the bedroom sheets to fight back my tears – the only person I could talk to would be you. Because mom, I know that nobody but you would believe how hard and heart-wrecking it is.
Please, be there for me on those scary days when I will hear the news about how unsafe our country has become for our kids – when a child could lose her innocence at the hands of inhumane soulless creature or when a mother would lose her child because of irresponsible school administration. At that time, the only person who could give me the strength to be a stronger mother is You. You've always been my role model of a strong woman and a stronger mother.
I would need you, even more, when my kid turns into teenagers.
I'm sure their problems would become much scarier, and who else could remind me that my teenage daughter doesn't really mean the words when she says – "I hate you". Who would tell me not to trust her when she wants to stay at her friend's place for a sleepover.
Oh mom, I definitely need you for all those days.
But wait!
What about those ordinary days when nothing special is happening and it all seems like a routine of school homework and sleep?
I need you on those days too. Because you are the one who will push me to see the beauty in those ordinary days. You will remind me how lucky I am to spend those days with Vedi as she will soon be all grown up and head off to college!
The days when I would be terrified because I would be thinking about the time when my kids won't need me anymore. I would need you to tell me to take a breath because actually that day never really comes.
I want all my parenting tricks to be verified by you – everything from curfew time to dating policy – because I know you have tonnes of experience at this and you'll not let me fail.
But mom, the real reason why I still need you
(and please don't cry after reading this)
Even though I am a mother, I still need to be mothered. I would always need your arms to make me forget the ugly realities of the world. Also, I would always need to hear your voice telling me I can do anything, even when I would have lost all hopes. I would need you when I am hurt and my heart is bleeding.
Because mom, no matter how much you try to hide it, I can always see your tearful eyes telling me how much you care.
I want to thank you for all the days when you were there for me when the rest of the world had failed me. And mom, I want to tell you that how much I adore you for whatever you have done for me. I might have been mad at some of the things that you did in the past, but now I understand why you did what you did. You were so right when you said – "Tum Ma Banogi Toh Pata Chalega!". Now, I understand how much you love me. And, how difficult it would have been for you to let me leave the nest and fly out to fulfill my own dreams.
Thank you for all those years when you knew me better than I knew myself and loved me far more than I could understand.
And Oh, before you start crying and call me, I'm still waiting for the parcel of my favorite "Mom-made Aam Ka Achar"!
You might also like:

Do you have a similar inspirational story or a video that you would like to be featured on I FOR HER? E-mail it to our editors at shareyourstory@iforher.com. If we find your story worth inspiring our audience, we would invite you to publish it on our platform.
Disclaimer: The opinions expressed in this post are the personal views of the author. They do not necessarily reflect the views of I for Her. Authors are responsible for any omissions or errors. And, I for Her does not assume any liability or responsibility for them.