It is sad how Bollywood has the shameless habit of setting unrealistic beauty standards for women. Our Indian film industry has an obsession with unnecessary makeovers to reinforce the ridiculous idea that women need to undergo a certain set of changes to grab men's attention. It promotes the idea that if as a woman, you wear glasses or don't wear sarees or don't wear makeup, then you are not worthy of love!
From Naina in Yeh Jawaani Hai Deewani to Anjali in Kuch Kuch Hota Hai, here are 6 hit movies that set unrealistic beauty standards for women:
1. Kal Ho Na Ho
This movie shamelessly added the term Chashmish in the vocabulary of every guy. This movie made so many girls, who wore glasses, feel underconfident. This promoted the idea that a woman only looks beautiful without her glasses. While men wear glasses without any guilt, Bollywood made sure that no woman ever feels confident while wearing glasses.
2. Kuch Kuch Hota Hai
Another stupid movie, where Rahul, the lead character, only falls in love with Anjali because she has grown out her hair and started wearing a sari! Because, as per Bollywood, tomboy isn't worth loving!
3. Yeh Jawaani Hai Deewani
How could one forget how the movie makers make Aditi and Naina undergo unnecessary makeovers to showcase them as suitable partners? As per the makers, Aditi transforms into this perfect girl after she grows out her hair to become the 'Dulhan'. And, Naina gets the attention from Bunny only after taking off her glasses!
4. Student Of The Year
One another movie that sets unrealistic beauty expectations for women is Student of the year. How one can forget how Bollywood expects girls in high schools to attend their classes while being buried under kilos of makeup and, clad in sequins, heels, and so many more accessories! Another evidence of how Bollywood suffers from the shameless habit of setting unrealistic beauty standards!
5. Main Hoon Na
How one can deny how Bollywood shamelessly promoted the makeover of Sanjana to please a boy, who himself dresses like a clown! And, how perfectly looking Sanjana is shown unattractive only because she doesn't wear makeup or sari!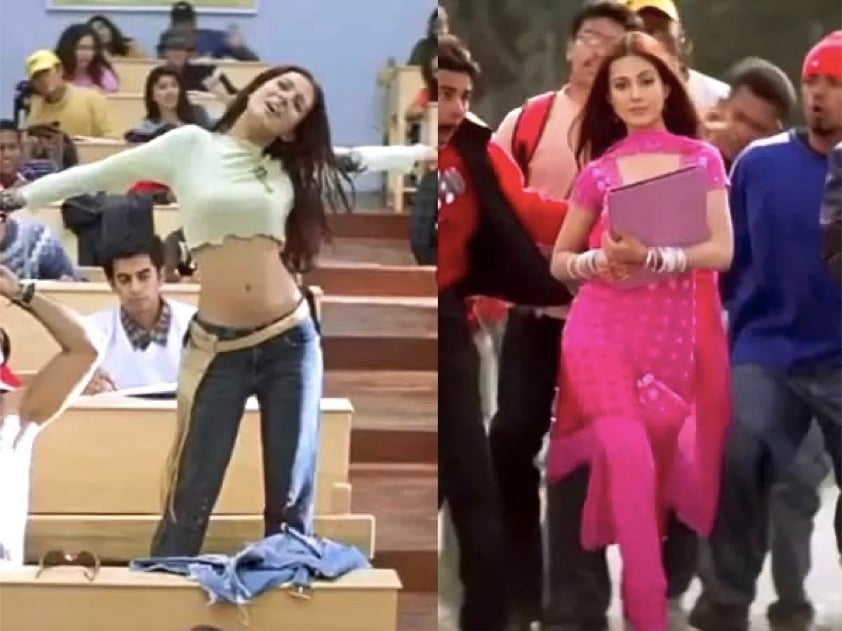 6. Aisha
This movie can be deemed a criminal to set up unrealistic beauty standards for women. This movie collected beauty stereotype and turned into a person – Aisha, who turns perfectly looking Shefali into her clone!
Dear Bollywood, please stop giving us unnecessary makeovers of women to please men! Please stop holding women to unrealistic standards of beauty just because our patriarchal society expects women to!