From modern to ethnic, learn all about the different types of sarees in India right here. Dive into the 30 most popular styles that everyone is wearing this season! 
Sari or Saree is a symbol of our rich culture and traditions. Doesn't matter whether it is marriage, a festive occasion, or a formal event, many of us can't resist Saree – the nine-yard beauty. Saree is not just a cloth draped around your body, it is much more. It is a representation of our roots, our culture, and our ancestry.
If you are in love with sarees and would like to explore different types of sarees available in India then you're at the right place. Do you know there are more than 30 types of regional sarees and more than 80 recorded styles of saree draping, with the most common saree draping style being the Nivi style? Here are some of the most popular types of sarees we have across the country.
Types of Sarees Of India: Regional and Traditional Sarees
Here are the most popular 30 types of sarees available in India: Assam Silk Sarees, Assam Muga silk sarees, Banarasi Silk Sarees, Batik Print Sarees, Bhagalpuri Silk Sarees, Chanderi Sarees, Cotton Sarees, Dhakai Jamdani Sarees, Kanjeevaram Sarees, Kasheeda saree, Kasuti Sarees, Khun Saree, Leheriya Sarees, Mysore Silk Saree, Maheshwari Sarees, Mundum Neriyathum, Panchampalli Sarees, Pattu Sarees, Patola Sarees, Tant Sarees, Tussar Silk Sarees and many more! Scroll down to read more!
1. Baluchari Saree
Origin: West Bengal
This famous sari is worn by women across India, mostly Bishnupur and its surrounding places of West Bengal. Because of its great significance, the Baluchari Sari has been granted the status of Geographical indication in India.
2. Banarasi Saree
Origin: Varanasi
Made in Varanasi, Banarasi Saree is known for its delicate gold and silver zari work. Made out of fine silk, Banarasi Saree is among the finest sarees in India.
3. Bandhani Saree
Origin: Gujarat
Derived from the word, 'bandhan', which means ties, Bandhani Saree uses a unique process of tie and dye. Both Gujarat and Rajasthan are known for the Bandhani saree. However, the weavers of the Khatri community of Gujarat are known as the pioneers. They practice this art exclusively to this day.
4. Bomkai Saree
Origin: Odisha
Bomkai Saree is actually a piece of art with ikat, embroidery, and intricate threadwork, all woven into one beautiful wonder. Also known as the Sonepuri silk, these beautiful saris are available in silk and cotton, and make for good festive wear.
5. Chanderi Saree
Origin: Madhya Pradesh
Produced in Chanderi town of Madya Pradesh, Chanderi Saree is made out of pure silk, chanderi cotton, and silk cotton. Chanderi sari is generally famous for its beautiful delicate gold and silver brocade.
6. Chikankari Saree         
Origin: Lucknow
Chikan embroidery, a traditional embroidery style from Lucknow, is one of the best-known textile decoration styles. Lucknow Chikankari work embroidery sarees are one of the best sarees in India.
7. Chiffon Saree
Being one of the most lightweight fabrics, Chiffon Sarees are made purely from silk. Chiffon Sari is one of the most popular and appealing attire among women.
8. Gadwal Saree
Origin: Telangana
Being world-renowned for the best Zari on the saris, Gadwal Sarees is registered as one of the geographical indications from Telangana. These saris have been popular and consist of a cotton body with silk pallu.
9. Georgette Saree
Other than Chiffon Sarees, Georgette Sari is also a lightweight type of saree. It is woven out of silk with highly twisted yarns. As these sarees are made in solid colors and prints, it is one of the most liked types of sarees.
10. Gota Saree
Origin: Rajasthan
Named after the metal embroidery of Rajasthan – Gota work, Gota Patti Sarees are extensively worn during weddings and formal occasions.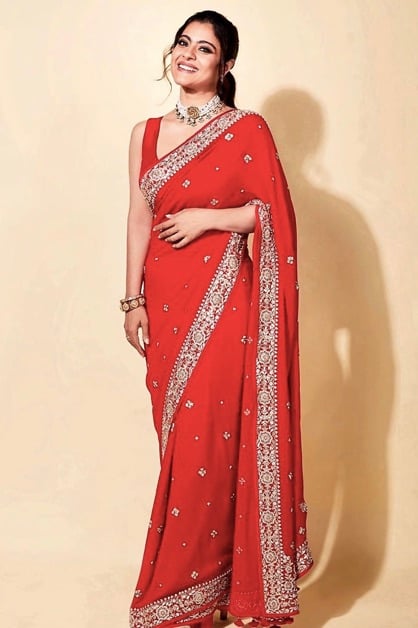 11. Ilkal Saree
Origin: Bagalkot, Karnataka
Woven in the town of Ilkal in the Bagalkot district, Ilkal Sarees use a traditional form of folk embroidery – Kasuti – from Karnataka. The embroidery included in Ilkal Sarees are gopura, chariot, palanquins, and elephants.
12. Kalamkari Saree
Origin: South India
Produced in many different regions of South India, Kalamkari Sarees are quite famous for their distinctive styles. There are two distinctive styles of kalamkari art in India – the Srikalahasti style and the Machilipatnam style.
13. Kanjeevaram Saree
Origin: Kancheepuram
One of the most popular types of saree, the Kanjeevaram Saree is weaved from pure mulberry silk thread. The weavers of Kancheepuram are the ones behind this magnificent type of sari. Kanchipuram Sarees has been recognized as a Geographical indication by the Government of India.
14. Kantha Saree
Origin: West Bengal & Odisha
Traditionally worn by women in Bengal, Kantha Saree has a special type of embroidery that makes it so popular among many.
15. Kasta Saree
Origin: Maharashtra
Also known as Nauvari, Kasta Sari is the traditional Marathi style of sari. The Kasta saree is a single nine-yard sari that is worn very similarly to the Maharashtrian dhoti.
16. Kasavu Saree
Origin: Kerala
Known as the Settu saree, it was traditionally only a mundu (a dhoti), a blouse, and a stole that went across the blouse. Though many old ladies still keep the traditional style alive, the Kasavu saree is a modern version. Kasavu saree is characterized by a thick golden border, which is woven with threads of real gold. However, keeping up with the times, it has diversified to include colors and artificial thread.
17. Kerala Saree
Origin: Kerala
Closely related to Mundum Neriyathum, Kerala Sarees generally consist of a single piece of cloth. Traditional and modern styles of Kerala Sarees are regarded as the cultural costume of women.
18. Konrad Saree
Origin: Tamil Nadu
Originally woven for Temple deities, Konrad Sarees also known as Temple Sarees, are well-known sarees from South India. These sarees are generally one of the most expensive sarees in India.
19. Kosa Saree
Origin: Chattisgarh
Made from larvae of several species of silkworms in Chhattisgarh,  Kosa Sarees are one of the most popular sarees in India. They are available in different colors, patterns, and designs.
20. Kota Doria Saree
Origin: Kota, Rajasthan
Woven in Kota, Mau, and its nearby area, Kota Doria Sarees are very well-known for a bit of embroidery and border patches.
21. Muga Saree
Origin: Assam
Muga silk sarees are made from a special kind of silk produced by larvae that feed on mainly two special leaves. The resulting silk from these larvae is known to be the best. These beautiful Muga Saris are glossy and very durable. What makes it so special is the fact that you can find the golden threads of the Muga only in Assam.
22. Net Saree
Very famous among celebrities, Net Sarees are made with a fabric with open spaces. These popular Net Saris come in different varieties. Different weaving patterns can be used for different kinds of netting.
23. Paithani Saree
Origin: Aurangabad
Made out of fine silk, Paithani Sarees are produced in Paithan town in Aurangabad. Do you know the Paithani variety of Sarees is considered to be one of the richest saris in India? The handwoven silk saree is grand and elegant. Its zari border, fine motifs, and recurrent peacock design are what set this saree apart.
24. Patola Saree
Origin: Gujarat
Being one of the most popular and very expensive saris, Patola Saree was once only worn by royal and aristocratic families. Patola Sari is a double ikat sari made from silk in Patan of Gujarat.
25. Phulkari Saree
Origin: Punjab
The beautiful embroidery techniques make Phulkari Saree a popular choice during marriages and other festivals. Phulkari embroidery's most favored color is red and its shades.
26. Pochampally Saree
Origin: Bhoodan Pochampally, Telangana
Named after Bhoodan Pochampally, Pochampally Sarees are made of one of the ancient Ikat weaving with traditional geometric patterns. This beautiful type of saree is also adorned by the Air India cabin crew wear!
27. Puttapaka Saree
Origin: Puttapaka, Telangana
Named after Puttapaka village of Nalgonda district in Telangana, the Puttapaka Sarees are known for their unique Puttapaka tie and dye style and closely resemble Sambalpuri saree.
28. Mangalagiri Saree
Origin: Guntur, Andhra Pradesh
Mangalagiri Sarees are registered as one of the best handicrafts from Andhra Pradesh. Being produced in the Mangalagiri town of Guntur, Mangalagiri saris are very unique and have the most characteristic features.
29. Sambalpuri Saree
Origin: Odisha
Produced in Sambalpur, Odisha, Sambalpuri Saree is a must-add to your saree collection. It is a traditional Handloom sari that reflects an original style of craft made from fabric woven on a handloom.
30. Tant Saree
Origin: Bengal
A traditional Bengali-style saree, Tant Saree is meant for daily use. Tant Saree is among the most comfortable saree for the hot Indian summer.
Other than the above mentioned, Mysore Silk Saree, Bhagalpuri Saree, Bengali sarees, Gujrati Stitch sarees, and Maheshwari sarees are also an outfit for Indian women.
---
---
With various draping saree styles, these five to nine yards long cloth can turn women into graceful queens.  Who wouldn't want to have them in their wardrobe? But, these 30 types of sarees are just the representation; that's not all. As we said there are many more kinds of sarees and also 80 different draping styles that make them even more unique. That's the richness of our country!