While Bollywood treats movies in 100 Crore Club as coveted, but are they really?
Bollywood is obsessed with the coveted INR 100 Crore mark. And, the obsession is so real that many movies are just created to serve the masses so that they can touch that mark. Even though the 100 Crore mark is a benchmark to declare a movie a hit, is it really the right benchmark? The reality is that many makers are not keen to make good movies; rather they just want to create movies that can enter the 100 Cr club even if that means creating movies that are regressive, sexist, or misogynistic movies!
Some of these "100-Crore" movies were sub-standard, without scripts, or just relied on a single-item song! And, yet they were celebrated for being a hit! So, here are Bollywood movies that stormed the 100 crore club, and we still can't figure out WHY!
Senseless Bollywood Movies You Wouldn't Believe Made 100 Cr.
1. Race 3 (2018)
With awful performances and one-too-many nonsensical plot twists, Race 3 is a film that everyone should avoid at all costs. Superstar Salman Khan's Race 3 was not only widely criticized by critics, but also ranks among the worst-rated Hindi films on IMDB. With a 2.6 IMDB rating and a flying Bhai, this movie earned 106.47 cr, (according to Trade analyst Taran Adarsh) in just 3 days.
2. Judwaa 2 (2017)
As per trade analyst Taran Adarsh, Judwaa 2 pocketed Rs 134+ crore and was declared a superhit. But, no one can deny that the movie never deserved to enter 100 crore club! With the same lines, same songs, and even the same names as that of the original Judwaa, this remake is a movie that was never needed in the first place! Full of over-acting, vague attempts at comedy, sexist, and misogynist dialogues, you wonder why was it a hit? Perhaps, it's just a reflection of what is wrong with us.
3. Grand Masti (2013)
Yes, Grand Masti entered into a 100 Crore club with its immature content and awful comedy. Starring Vivek Oberoi, Aftab Shivdasani, and Riteish Deshmukh, the movie is about three men, who are disgruntled with their married lives and decide to initiate affairs at the reunion of their college Sri Lalchand University of Technology and Science (SLUTS). Yes, this is the level of comedy we were talking about! Add misogynistic dialogues, sexist comedy, female objectification, awful acting , and a disappointing script, and you will get Grand Masti. The entrance of Grand Masti to a 100 crore club is just a reminder of our regressive taste!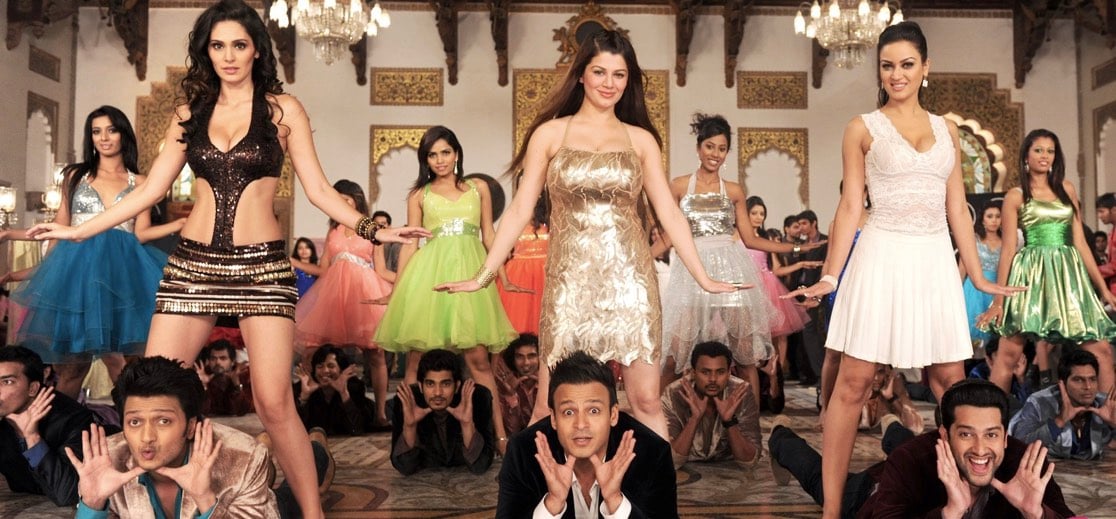 4. Gunday (2014)
Gunday is an ideal example of how even a stellar star cast can't save a badly written movie. Yes, that's the reason why Ranveer Singh, Arjun Kapoor, Priyanka Chopra, and Irrfan Khan could do nothing to lift the quality of the film set in the aftermath of 1971 Bangladesh War. The movie revolves around two outlaws, who fall in love with a cabaret dancer, who is an undercover police officer trying to arrest them. With IMDB rating of 2.2, this movie entering the 100 Crore club is a real disappointment.
5. Ready (2011)
Apparently, bhai ke fans were readily queuing to watch this movie (it earned 164 cr.) even when the rest of us struggled to sit through even the first half.
6. Housefull 3 (2016)
How this made it to the Rs 100 crore club is a mystery for the ages? With the female leads named Ganga, Jamuna, Saraswati, you can imagine what the rest of the film is like. Starring Akshay Kumar, Abhishek Bachchan, Riteish Deshmukh, Jacqueline Fernandez, Nargis Fakhri, and Lisa Haydon in the lead roles, the film is full of bad and predictable puns that are hugely offensive to disabled people or women. How this became a mega-hit truly baffles us.
7. Son of Sardar (2012)
With IMDB rating of 3.9, this movie sets a new benchmark for awful films. With a weak plot and terrible cast and with a horrible song like "Po Po Po Po", this one earned Rs 105 crore at the box office.
8. Kick (2014)
If there was ever any doubt that Salman Khan has a loyal fan base then Kick, will kick it right into of your mind. In this movie, Salman plays a man, who will do anything for a kick (like ride a cycle in front of a moving train, give up a full-time job, and rat out a friend in need – all great and responsible examples to emulate). But guess what, he supposedly loses his memory and ends up in Poland (????), where he meets the only Indian psychiatrist (Jacqueline Fernandes), who takes him home for treatment – because that's what the real professionals do! And after all this, he becomes a policeman. Tell us again why this was a hit.
9. Bang Bang (2014)
Within 15 minutes, this movie loses its charm as Jimmy Shergill dies. This shameless copy of the Hollywood film Day And Knight, spirals into confusion and disappointment compounded by Katrina's expressionless face, and Hrithik Roshan's ability to kill everyone from 200 feet and further. Even though after being a huge disappointment and a bad copy, this movie crossed the Rs. 100 crore mark and we are still wondering why!
10. Ek Villain (2014)
This movie had a plot that would make you say WTF! So here's what the plot looks like – man discovers wife, a man attacks killer but then feels remorse and takes him to a hospital; killer attacks nurse and man nearly kills him AGAIN but revives him with an adrenaline shot; killer kills man's father in law and gets in a fight with the hero but is run over by a car. Like us, are you surprised this was a hit?
11. Rowdy Rathore (2012)
Another disappointing remake of a South Indian Film. Double roles, mistaken identities, boy meets girl, con-man turns cop. Yes, for creativity, you might give this movie a 0, but this made it to 100 Crore Club!
We should stop celebrating movies for their monetary collections, rather we should celebrate the ones with progressive content! 
*Images are from movie stills and posters