Who doesn't like Murder Mysteries? Even if you don't like the movie, murder mysteries still keep you engaged and deeply involved. The guessing game of finding the murderer keeps the audience thrilled till the end. Even after being a popular genre in Bollywood, we don't get to see many murder mystery movies these days. In case you love to be Sherlock, here's a list of some of the best Bollywood murder mysteries to poke your brain cells!
1. Talvar (2015)
Based on the hyped Aarushi Talwar's murder case, Meghna Gulzar's Talvar captures the story from many different points of view. The intelligent treatment of the story leaves the audience to decide which version they want to believe in. The movie offers a unique experience to the audience through unconventional storytelling.
2. Andhadhun (2018)
Another unconventional murder mystery that stars Ayushmann Khurrana, Tabu & Radhika Apte. The film is about Akash (Ayushmann Khurrana), an aspiring singer and pianist who's supposedly blind. Things turn ugly for Akash after he becomes the only witness to a murder. Unlike other murder mystery movies, this movie reveals the murderer but manages to build mystery in a completely different way!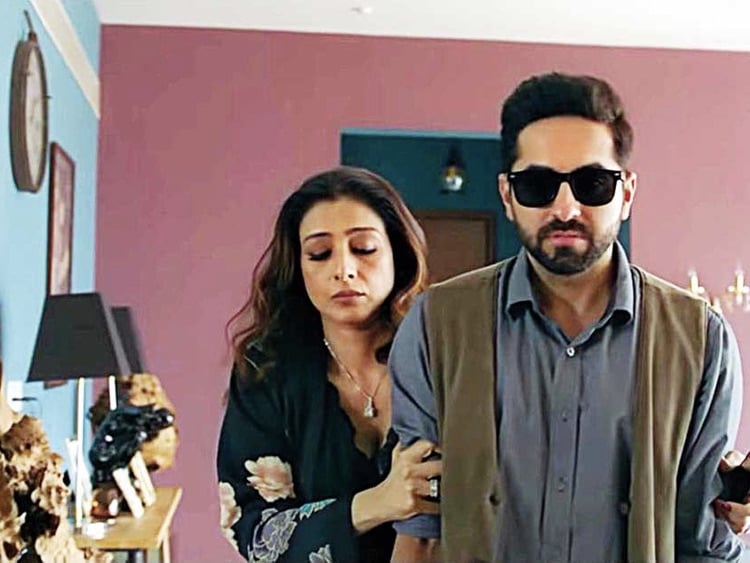 3. Badla (2019)
Starring Amitabh Bachchan and Taapsee Pannu in lead, Badla is an official remake of the Spanish film 'The Invisible Guest'. The movie revolves around a businesswoman who becomes a prime suspect in a murder of a man that she had an extramarital affair with.
4. Ugly (2013)
Directed by Anurag Kashyap, Ugly is a murder mystery that talks about a struggling actor who takes his daughter with him and goes to meet a casting director to discuss an acting opportunity. After he returns, he is shocked to find his daughter missing. From then, he starts his journey of finding his daughter.
5. Drishyam (2015)
The movie keeps you at the edge of your seat from the first till the last frame. The movie's climax that shook the viewers was received extremely well. Originally a Malayalam movie, the Ajay Devgn film, hands down is one of the best Bollywood remakes of South Indian movies.
6. Manorama Six Feet Under (2007)
Manorama Six Feet Under is one of Abhay Deol's finest performances. The plot of the movie is about Manorama (Sarika), who bumps into Satyaveer (Abhay Deol) while running for her life. She requests him to remember her name and age. Unfortunately, the next day's paper carries the news of Manorama's suicide. It's then Satyaveer starts investigating the case. His investigation makes him discover a bigger racket that no one had expected.
7. Rahasya (2015)
This murder mystery is inspired by the double murders of Arushi Talwar and their house help. But, this movie has some twists that make it different from the original story. As per the movie plot, when Ayesha, a teenager is found dead, police arrest her father as the prime suspect. The case that was expected to be an open-and-shut case turns out to be a lot more complicated.
8. Talaash: The Answer Lies Within (2012)
The movie starts with an actor driving his car into the sea trying to avoid something mysterious. As the actor dies, the mystery thickens. Inspector Shekhawat (Aamir Khan) buries himself deep into the case as he and his wife are struggling with the loss of their son, who died recently. Rosie (Kareena Kapoor) starts helping the inspector in solving the case and the events that unfold, are least expected.
9. The Stoneman Murders (2009)
This movie is based on the real-life Stoneman serial killings that made headlines in the early 1980s in Mumbai. Suspended sub-inspector Sanjay Shelar (Kay Kay Menon) hopes to catch the murderer and sees the case as an opportunity to get his job back. The official police investigator (Arbaaz Khan) develops conflicts with Sanjay as they delve deeper into the case.
10. Khamosh (1985)
An actress during the outdoor shoot in Pahalgam in Kashmir mysteriously commits suicide. Though the police assume it to be an open and shut case, but as more details surface, it turns out to be far more complicated than they imagined. Before the killer is caught, more unit members are found dead.
11. Gupt (1997)
After a heated discussion with his step-son Sahil (Bobby Deol), Governor Sinha (Raj Babbar) is found murdered. Sahil is arrested for the murder, but he constantly pleads non-guilty. The film revolves around Sahil's struggles to find the actual murderer. And, we bet the result will surely leave you shocked!
12. Teesri Manzil (1966)
The movie is about Sunita (Asha Parekh) wanting to find Rocky who she thinks is the reason behind her sister's suicide. When Anil (Shammi Kapoor) meets Sunita, he couldn't tell her that Rocky is his own stage name though he has no role in her sister's suicide. The police investigation reveals that the death was actually a murder and not a suicide.
13. 100 Days (1991)
100 Days is one of the most chilling murder mysteries of the 90s. This movie will make your heart race with every passing scene. The story is about Devi (Madhuri Dixit), a clairvoyant woman, who has a vision of her sister getting murdered. After her sister goes missing, she tracks the clues to identify the murderer.
14. Ajnabee (2001)
This insane murder mystery is full of unexpected twists and turns. Akshay Kumar in a negative role was something that no one saw coming! With the power-packed performances and great screenplay, this thriller is a complete entertainer!
15. Detective Byomkesh Bakshy! (2015)
Finally, we have Detective Byomkesh Bakshy! This movie is just another reminder of how talented a performer Sushant Singh Rajput was. Despite of rave reviews and critical acclaim, the movie did not even cross Rs 50 Crores. This is just to give you an idea of how underrated the film is, 
Yeah Sherlock, investigate these tonight!