Most of us get locked in the wrong relationships and stick with our significant others even if we see they are toxic. Most Bollywood films have compelled us to build our ideal fantasy, but in the pursuit of perfection, some of us fall into a trap and lose ourselves. Some Bollywood films are excellent instances of how letting go may improve our lives and how it is not necessary to cling to every love connection in our lives. So, here are 9 such Bollywood movies that show the true power of letting go:
1. Jab We Met
Shahid Kapoor and Kareena Kapoor Khan play the key roles in the film. The premise of the film centers around Aditya's girlfriend marrying someone else and Geet's lover abandoning her, and how they learn to let go. When Aditya learns of Geet's separation from Anshuman, her lover, he decides to help them reconcile. Aditya undergoes a transformation after falling in love with Geet, but he doesn't expect his feelings to be reciprocated. However, luck is on his side as Geet realizes that she would rather be with Aditya than with Anshuman.
2. Rockstar 
Rockstar is a Bollywood romantic drama film released in 2011, directed by Imtiaz Ali and produced by Dhillin Mehta. The film features Ranbir Kapoor in the lead role, with Nargis Fakhri, Shammi Kapoor, and Aditi Rao Hydari in supporting roles. The film tells the story of Janardhan "Jordan" Jakhar (Ranbir Kapoor), a young man who dreams of becoming a rockstar. He meets Heer Kaul (Nargis Fakhri), a beautiful and free-spirited girl who is engaged to another man. Jordan falls deeply in love with Heer and becomes her close friend, but she is unable to reciprocate his feelings due to her engagement.
As Jordan's music career takes off, he continues to struggle with his unrequited love for Heer. He eventually learns to let her go and finds solace in his music. However, Heer's sudden illness brings them back together, and Jordan realizes that his love for her will always be a part of him. The film beautifully portrays the idea that love is not always about possessing the person you love but about accepting their happiness and letting them go if necessary.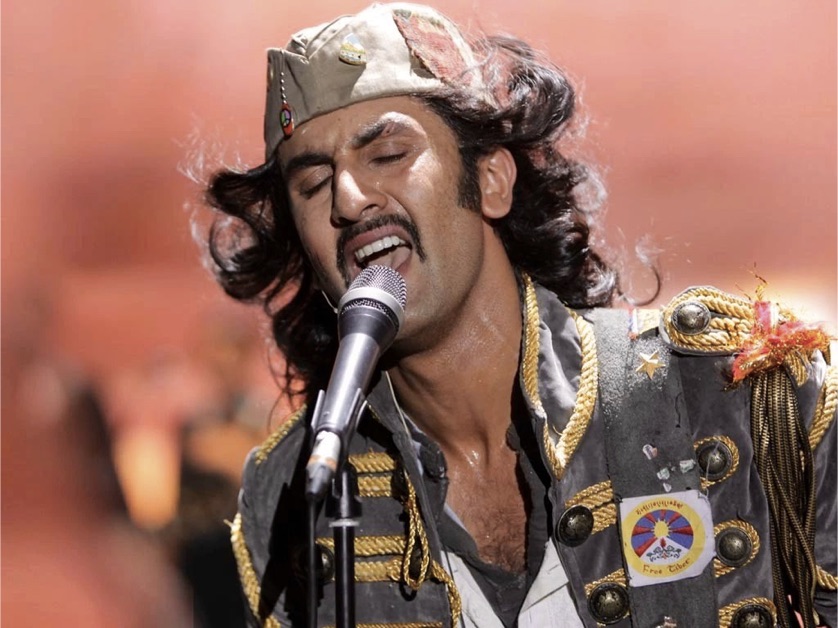 3. Hum Dil De Chuke Sanam 
Another movie that showcases the power of letting go is Hum Dil De Chuke Sanam. The film's primary actors are Aishwarya Rai and Salman Khan. The plot of the film is around how Nandini and Sameer fall madly in love with each other, but she marries someone else [Vanraj], who later assists in finding Sameer, who is living overseas. How Vanraj is ready to let go of his true love for her happiness shows true love is not about controlling. 
4. Tamasha
The film portrays the journey of two individuals who fall in love but ultimately realize that they are not meant to be together. It emphasizes the importance of being true to oneself and following one's dreams, even if it means letting go of someone you love. The film's music, composed by A. R. Rahman, received critical acclaim and is still considered a classic today.
5. Yeh Jawaani Hai Deewani
Bunny and Naina had contrasting aspirations for their lives. Despite having romantic feelings for Bunny, Naina chose to suppress them in order to support his dreams and seek happiness for him. Though it was difficult for her to let go, she decided to move on and not wait for him. As destiny would have it, love eventually reunited Naina and Bunny several years later, and this time, it was meant to be for life.
6. Pyaar To Hona Hi Tha
Sanjana and Shekhar cross paths in unusual circumstances and initially stick together for their own selfish reasons. However, as time passes, Sanjana develops genuine feelings for Shekhar and goes out of her way to protect him from the police. She even sacrifices her savings to keep him safe. In an intense turn of events, Shekhar and Sanjana finally give in to their emotions and become a couple, overcoming all the obstacles in their way.
7. Kal Ho Naa Ho
Kal Ho Naa Ho is a Bollywood romantic drama film released in 2003, directed by Nikhil Advani and produced by Karan Johar. The film features Shah Rukh Khan, Preity Zinta, and Saif Ali Khan in lead roles, with Jaya Bachchan, Lilette Dubey, and Reema Lagoo in supporting roles.
The film tells the story of Naina Catherine Kapur (Preity Zinta), a pessimistic young woman from a traditional Indian family who lives in New York City. Her life takes a turn when she meets Aman Mathur (Shah Rukh Khan), a cheerful and charismatic man who moves into her neighborhood. Despite his playful demeanor, Aman has a terminal illness and only has a few months to live. As Naina and Aman spend time together, they develop feelings for each other. However, Aman's impending death threatens to disrupt their newfound love. The film beautifully portrays the idea that true love is about accepting reality and letting go when necessary. 
8. Veer-Zaara
The film tells the story of Veer (Shah Rukh Khan), an Indian Air Force pilot, and Zaara (Preity Zinta), a Pakistani girl who is traveling to India to fulfill her dying grandmother's wish. They meet on the journey and develop a strong bond, but their love story is cut short due to cultural barriers and political tensions between India and Pakistan.
Veer is imprisoned in Pakistan for 22 years on charges of being an Indian spy. Zaara, who has since become a successful lawyer, fights for his release and eventually succeeds. As Veer returns to India, they both realize that they must let go of their own desires for the sake of their families and country, even though their love for each other is still strong.
The film beautifully portrays the power of love that can transcend cultural barriers and the idea that true love sometimes means letting go of your own desires for the sake of your loved one. The film's music, composed by the legendary musician Madan Mohan, was posthumously completed by his son Sanjeev Kohli and became extremely popular.
9. Kya Kehna?
Preity Zinta, Saif Ali Khan, and Chandrachur Singh play important parts in the film. The narrative centers on Priya (Preity Zinta) falling in love with Rahul (Saif Ali Khan), a womanizer who abandons her when she becomes pregnant. Her best buddy Ajay (Chandrachur Singh), on the other side, falls in love with her and supports her. As the story unfolds, the characters grapple with the consequences of their actions and the complex emotions that come with love, marriage, and loyalty. They learn that sometimes, true love means accepting the end of a relationship and moving on, even if it means letting go of the person you love.
These movies beautifully capture the power of letting go. Sometimes letting go of relationships not meant for you opens doors to those who deserve you! Which movie is your favorite? Tell us in the comments below.