With its honest depiction of a dysfunctional family, 'Dil Dhadakne Do' won our hearts for so many reasons. It didn't only give us the well-written relatable characters but also focused on the topics that Bollywood movies hardly attempt to discuss.
Controlled by the narrative of 'log kya kahenge', this beautiful satire focused on how desi families tend to act so hard to maintain their unreal image in society. In name of duniyadari, this movie captures how people tend to control their family members and their choices.
But, in this post, we want to address a different scene that is quite powerful and relatable to many women across society. We are referring to the emotional scene, where Shefali Shah's character Neelu, stuffs her mouth with the chocolate cake as if literally eating her feelings while crying her heart out. Without a single word, this powerful scene still manages to say a lot!
This scene appears after Kamal's treatment of her leaves her heartbroken. With the background that Kamal has continuously cheated on her, Kamal's flirting with a friend on a cruise triggers her. Disgusted by her husband's behavior, Neelu asks Kamal to stop. But, Kamal's response not only leaves her disappointed but also acts as an emotional trigger to the feelings she had been running away from. Finding herself helpless, Neelu relies on food for comfort.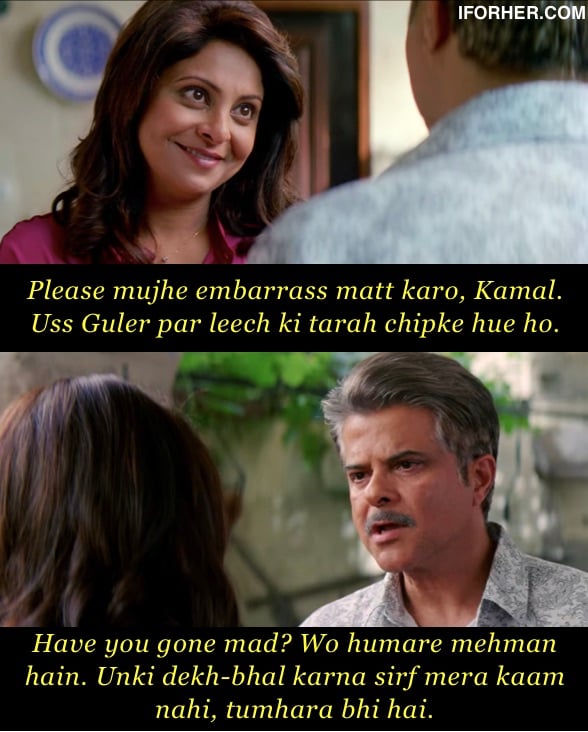 The hard-hitting scene of Shah's stress eating is just a reminder of how many of us tend to rely on things or people for comfort when we are broken. We all rely on different things to express or vent our emotions. And, for many of us, it is food.
There have been so many times that a person indulging in stress eating is publicly shamed by their own family members. But, what we tend to forget is that people find comfort in different things and for some it is food. It is sad how people find it easy to shame or comment on someone's eating habits without realizing what they are going through.
Even in another scene, Anil Kapoor's character Kamal, comments on Neelu's 'weight loss' in front of their friends. Without realizing the emotional stress that pushes Neelu to binge-eat, Kamal has no shame in taking a dig at her. But, thankfully, Neelu gives it back to him.
It is sad how our judgmental society has opinions on everything. There are so many toxic people who forget the boundaries and tend to body shame you in disguise of being your well-wisher. Women are already subjected to unrealistic beauty standards. And, on top of it, there are people who build pressure on women by body shaming them.
The brilliant Zoya Akhtar and Shefali Shah depicted a broken woman so beautifully and honestly in this powerful scene. From being the victim of body shaming by her own family to emotional stress eating, this scene captures the struggles that many of us are fighting in silence.