Gangubai Kathiawadi, a movie based on S. Hussain Zaidi's book Mafia Queens of Mumbai, touched the hearts of many. Helmed by Sanjay Leela Bhansali, the movie has so many scenes that give you shrills and goosebumps. While there are many scenes that brazenly crush patriarchy to pieces, one particular scene has become a topic of discussion.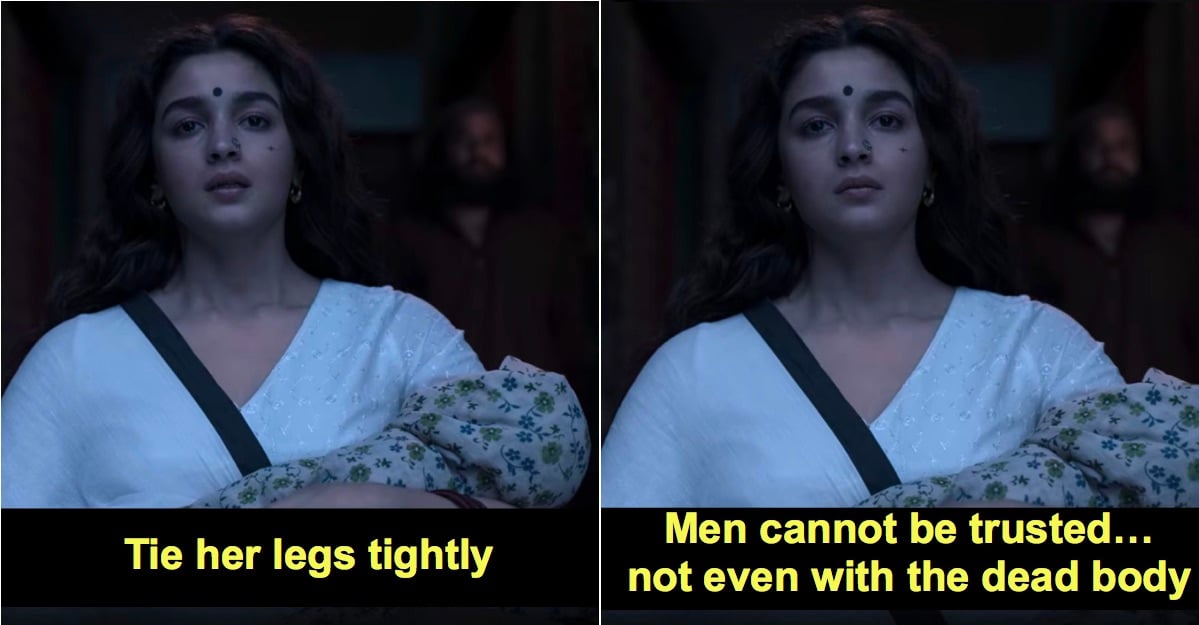 To put things in perspective, Gangu (Alia Bhatt) finds her best friend in Kamli (Indira Tiwari), who brought some shine to her gloomy life at the brothel. But, in a heartbreaking incident, Kamli succumbs to her pain after giving birth to a baby.
In the scene, when other women in the brothel are getting Kamli ready for her final journey, Gangubai made a statement that gives goosebumps to the audience. She asks for Kamli's legs to be strapped tightly because men, even with the dead, cannot be trusted.
*chills down my spine* pic.twitter.com/PDBYvSYSbQ

— Azqa🇵🇰🇵🇸 (@azqarbon) April 28, 2022
Many netizens took to Twitter to share how this one scene captures the ugly reality of our society.
"Not all men" in the replies

Not all men is still too many https://t.co/PZiu3I2l0V

— Steve Rogers (@SteveRogers1943) April 30, 2022
sooo disgusting but sadly true https://t.co/NKgfr3giIF

— Manisha⁷ | 2022.06.10 (@AgustD_793) April 30, 2022
just finished this scene. now that I've gotten through most of the movie, this line feels even worse. https://t.co/AJYW3L2rxF

— mj | ¡35! (@naagnoolantics) May 1, 2022
Men that raped lizard 🌚
Can't trust them https://t.co/CJnjbm4tBX

— Big Baby Tasleemoh😊 (@Lademmi) April 29, 2022
Men are getting offended in comments.
Fyi – A cow and a monitor lizard was raped in india last month. https://t.co/jJg18yjdkt

— Sarb (@ChandlerStinso1) May 2, 2022
when i say i dont dare to go out on night walks alone i mean it https://t.co/nSbSo7gkdW

— rt pinned (@jjkoohyck) April 29, 2022
Do let us know your thoughts on the scene in the comments section below.