In recent years, the world of Indian crime thrillers has witnessed a remarkable shift in content, with a wave of strong women characters taking charge and dominating the screen. This refreshing change has captivated audiences and breathed new life into the genre. Brace yourself as we present a hand-picked selection of the 10 best Indian crime thrillers with fierce female leads, all ready to stream on popular platforms like Netflix, Hotstar, Prime, and more.
Delhi Crime (Netflix)
Based on true events, this gripping series follows Deputy Commissioner of Police Vartika Chaturvedi and her team as they fearlessly investigate a horrifying gang rape case in Delhi. This hard-hitting show sheds light on the perseverance of the police force in their pursuit of justice. We must say Delhi Crime's both seasons left the audience impressed as they gave us hard-hitting female characters played by Shefali Shah and Rasika Dugal.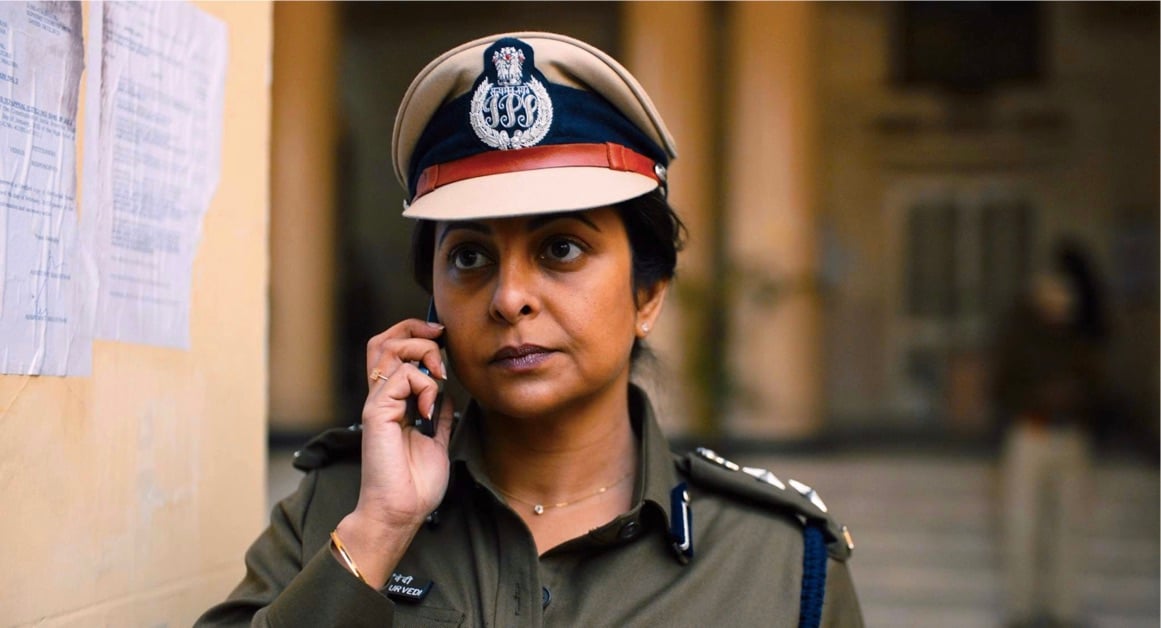 2. Dahaad (Amazon Prime)
Sonakshi Sinha makes her debut in this Amazon Prime Video series that revolves around a female police officer's relentless quest to solve serial murders. Sonakshi Sinha leaves everyone impressed with her powerful portrayal of sub-inspector Anjali Bhaati. In case you haven't watched it yet, you can stream it on Amazon Prime. We ensure you the show won't leave you disappointed!
School of Lies (Disney+Hotstar)
In a fictional boarding school filled with secrets, the disappearance of a 12-year-old boy sets off a chain of events that will send chills down your spine. Watch Nimrat Kaur as a school counselor as she leads the way in uncovering the dark truths hidden within the school's walls. Where to watch School of Lies? Disney+Hotstar.
Mai (Netflix)
Sakshi Tanwar delivers a power-packed performance as a mother seeking revenge in this thrilling series. When she discovers that her daughter's supposed accident was, in fact, a planned murder, she embarks on a relentless mission to bring the culprits to justice. This crime thriller is one of the finest web series of recent times. And, we must say that Sakshi Tanwar's portrayal of the protagonist leaves you awestruck. Where to watch Mai? Netflix.
Aranyak (Netflix)
Raveena Tandon returns with a bang in this taut and suspenseful crime thriller set in the scenic hills of Himachal Pradesh. Join her as she takes on the role of a tough-as-nails cop named Kasturi Dogra, determined to track down a notorious serial killer.
Duranga (Zee5)
Duranga is a gripping crime thriller that explores the dark realities of life. With a powerful female lead at its helm, the series takes viewers on a thrilling ride filled with suspense and intrigue. Ira, played by Drashti Dhami, begins investigating multiple murders by the suspected accomplice of a serial killer, and it leads her to discover some revelations about her husband's (Gulshan Devaiah) twisted past.
Candy (Voot Select)
Set in the cold winter of the Himalayas, Candy revolves around a horrific murder mystery of a high-school student which forces an agonized teacher and a crooked cop to bury their differences and hunt down the killer. Richa Chaddha's powerful portrayal of DSP Ratna Sankhwar left many impressed. Along with Richa Chaddha, the show stars Ronit Roy as Jayant Parekh in a critical role. With an IMDb rating of 8.3, the web series is a must-watch.
Grahan (Hotstar)
In Grahan, Zoya Hussain shines as the honest IPS officer Amrita Singh, leading a Special Investigation Team tasked with uncovering the truth behind the 1984 riots. This powerful series delves into the struggles and challenges Amrita faces as she seeks justice for the victims. Where to watch Grahan? Disney + Hotstar.
Jaanbaaz Hindustan Ke (Zee5)
Regina Cassandra portrays Kavya Iyer, a strong-headed IPS officer and a single mother who fights against all odds while overseeing a crucial operation. Her unwavering commitment and patriotism make her a force to be reckoned with. In case you haven't watched the show yet, stream it on Zee5.
Aarya (Disney+Hotstar)
Sushmita Sen takes center stage as Aarya Sarin, a protective mother and a widow who fearlessly battles against formidable adversaries. This gripping series explores her journey of resilience and strength as she fights for her family's survival. One of the best Indian crime thrillers of all time, Aarya is a must-watch. In case you haven't watched it yet, stream it on Disney+Hotstar.
These crime thrillers featuring strong female leads offer a unique and refreshing perspective on the genre. With their compelling narratives, brilliant performances, and thrilling plot twists, they are sure to keep you hooked from start to finish. So, grab your popcorn, get ready for some heart-pounding suspense, and delve into these captivating series available on various streaming platforms.