In midst of Bollywood's conventional romantic masala movies that work for the masses, we are grateful that some filmmakers showed courage and give us some unconventional romantic movies that broke stereotypes to define love. In case you are someone who doesn't like conventional love stories, here are some unconventional romantic films that redefined love:
Unconventional Romantic Hindi Movies That Broke Stereotypes To Define Love
1. The Lunch Box
This brilliant movie tells a simple tale in the most amazing way. The movie captures the story of two people whose paths cross because of wrong delivery. In simple words, The Lunchbox is a beautiful love story about two people who bond over food and the loneliness of their lives. With brilliant performances of Irrfan Khan, Nawazuddin, and Nimrat Kaur, this movie is a must-watch!
2. Barfi
Ranbir Kapoor's character Murphy 'Barfi' Johnson falls in love with two women, the charming Shruti and his childhood friend Jhilmil. This unconventional movie shows how romantic relationships evolve and mature with time.
3. Cheeni Kum
R Balki, a veteran ad filmmaker, made his first film on what some would call a dicey subject. A 62-year-old man falling in love with a 34-year-old woman, could have been something that could have scandalized traditionalists. But Balki handled the sensitive subject with remarkable deftness. Full of witty banter, Cheeni Kum hardly takes its subject matter seriously which means that the audience has a ball.
4. Honeymoon Travels Pvt. Ltd.
This 2007 movie captures the stories of six very different couples on their honeymoon.  These six couples come from different walks of life and age groups and each of them gives valuable relationship lessons to the audience. If you haven't watched it yet, this one should definitely be on your must-watch movie list.
5. Wake up Sid
One of the few films, where Bollywood dared to show romance blooming between a young man and a relatively older woman. While Bollywood majorly promotes heroes to play knights in shining armor to rescue princesses, Wake Up Sid reverses the trope. It's Konkona Sen Sharma Ayesha who rescues Sid when he feels lost in life. Ayesha helps Sid in his journey from being a lost rich kid to a responsible and mature man.
6. Once Again
The movie is about two middle-aged people who give love a second chance. Neeraj Kabi plays a role of an aging superstar who has been divorced and shares his daughter's custody with his ex-wife. Shefali Shah is a widow who owns a small restaurant in Mumbai, that she runs with help of her son who is about to get married. This unconventional movie showcases loneliness and the desire for intimacy and companionship among two middle-aged people.
7. Qarib Qarib Single Singlle
Qarib Qarib Singlle is a 2017 romantic comedy, that stars Irrfan Khan and Malayalam actress Parvathy Thiruvothu in the lead roles. The movie tends to break many stereotypes about love prevalent in our society. The movie revolves around Jaya Shashidharan, a widow in her mid-30s, who lives alone and works at an insurance policy company. The plot is about Jaya meeting Yogi and a comedy of errors of a journey they undertake together.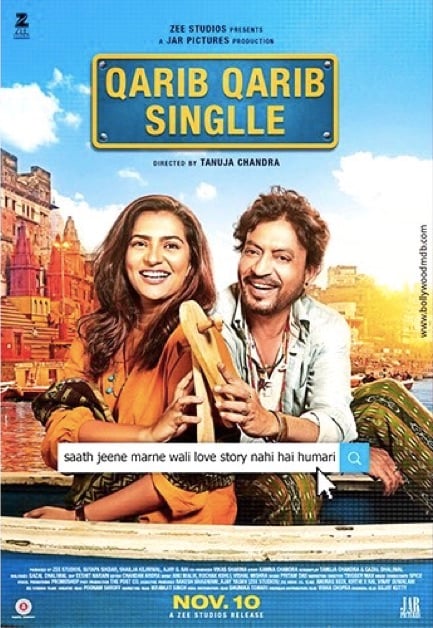 8. Shirin Farhad Ki Toh Nikal Padi
Just like Cheeni Kum, this movie captures the beautiful love story of two middle-aged people – Shirin and Farhad – falling in love. This beautiful movie breaks the prevalent stereotype that you can't find love in your 40s.
9. Raincoat
Taking a mature take on love, this movie is about a couple, who were once in love and were engaged to be married. But with time, things change. The woman (Aishwarya Rai Bachchan) enters into an unhappy marriage with another man and the man (Ajay Devgn) struggles to gather money for his business. Love and nostalgia fill the air when they meet as they reminisce about the love they had and weave a web of lies regarding their present.