The 90s marked one of the finest eras in Bollywood cinema, producing magnificent films that were ahead of their time in terms of themes, storytelling, acting performances, and more. Unlike the disappointing and regressive films that dominate today's Bollywood, these underrated 90s gems still hold up as superior cinematic experiences.
Underrated 90s Movies That Shone Brighter Than Today's Junk Blockbusters
1. Dushman (1998)
A psychological thriller starring Kajol in a double role, the film dealt with the themes of revenge, trauma, and mental health, which were not commonly explored in mainstream Bollywood at the time. In addition to the gripping storyline, the talented Ashutosh Rana gave a hard-hitting performance that continues to haunt us. It is quite heartbreaking that the movie wasn't appreciated at the time.
2. 1947: Earth (1998)
Directed by Deepa Mehta, the film is set against the backdrop of the partition of India in 1947, and explores the impact of the events on the lives of ordinary people, particularly women. The film also dealt with themes of communalism, identity, and love. Many would agree that "1947: Earth" was a bold and thought-provoking film that challenged the traditional narratives of mainstream Bollywood and explored sensitive themes with sensitivity and nuance. Although the movie received critical acclaim and international recognition, it failed miserably at the box office.
3. Kaun (1999)
Another movie that was way ahead of its time is Kaun? Years after its release, this Urmila-Manoj starrer acquired cult status. Even after decades, it remains one of the finest thrillers that Bollywood has ever made.
4. Hazaar Chaurasi Ki Maa (1998)
Based on a novel by Mahasweta Devi, the film explored the political and social issues faced by the marginalized communities in India, particularly the Naxalite movement in West Bengal. This underrated movie failed miserably at the box office at the time of its release.
5. Gumrah (1993)
Even 30 yrs later, Sridevi's Gumrah still gives us chills and goosebumps. It's undeniable that this classic still has a greater impact than the junk movies we watch today. With key themes like betrayal, the impact of bad decisions, and willpower, this film contains many important underlying messages that no one can ignore.
6. Andaz Apna Apna (1994)
How could we forget including this classic while discussing 90s underrated gems? This movie is a cult classic that we can never get bored of. This movie might have tanked at the box office, but it has become quite popular in recent times. The movie is so memorable that many of us quote its dialogues to our friends!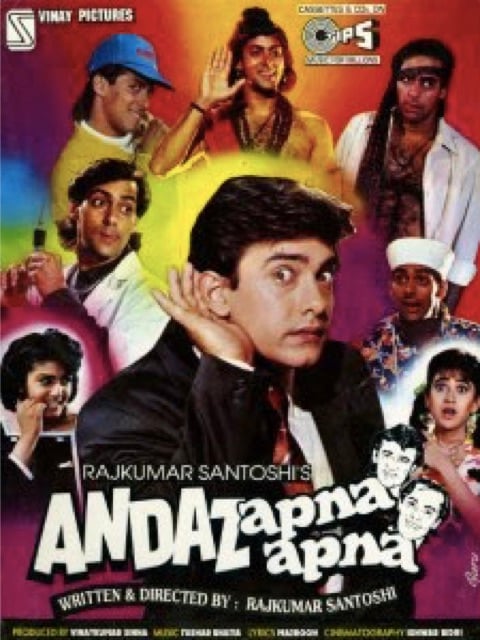 7. Rockford (1999)
Some people might consider "Rockford" underrated, as it did not receive as much mainstream commercial success as some of the other Bollywood films of the same era. However, it is important to note that the film received widespread critical acclaim. Over the years, "Rockford" has gained a cult following among audiences who appreciate its realistic portrayal of boarding school life and its themes of coming-of-age and self-discovery.
8. Khamoshi (1996)
Directed by Sanjay Leela Bhansali, the film explores the complex relationships between a deaf and mute couple, their daughter, and the nurse who enters their lives. Despite its exceptional storytelling, outstanding performances, and poignant portrayal of the human psyche, the film failed to make an impact at the box office. It was considered a commercial failure upon its release in 1996. However, over the years, the film has gained a cult following and is now considered a masterpiece of Indian cinema.
These films were ahead of their time in terms of their storytelling, themes, and technical aspects, and are definitely worth a watch even today. Which one is your favourite? Tell us in the comments below.