We live in a society that is not only son-obsessed but also doesn't shy away from killing girls in their mother's womb. Even though we live in the 21st century, the cruel practice of female foeticide is still a reality.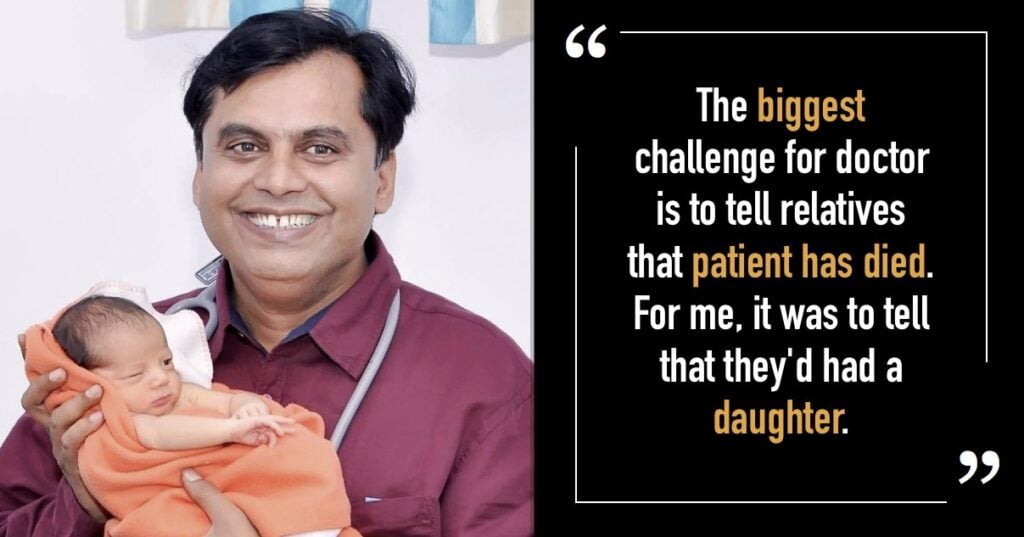 Amid our patriarchal society, we have a real hero, who is on a unique mission to save the female child. Dr. Ganesh Rakh charges no fee if a baby girl is born at his hospital.
Calling his great initiative as a "tiny contribution" to improve the condition of the girl child in a country, Dr. Rakh is trying his level best to make our society better for women.
In a society, where a traditional preference for boys and easy access to antenatal sex screening has resulted in the death of many girl children in their mother's womb, we need more people like Dr. Rakh to drive the much-needed change.
Dr. Rakh started a small hospital in Pune, Maharashtra in 2007. Recalling his experience, he shared whenever a pregnant woman came for her delivery, all her relatives would come with the hope that the baby would be a boy. While talking to BBC, What he added next will break your heart:
"The biggest challenge for a doctor is to tell relatives that a patient has died. For me, it was equally difficult to tell families that they'd had a daughter.

They would celebrate and distribute sweets if a male child was born, but if a girl was born, the relatives would leave the hospital, the mother would cry, and the families would ask for a discount. They would be so disappointed.

Many told me that they had taken treatment to ensure the birth of a male child. I was surprised, as I wasn't aware of any such treatment. But they spoke about consulting a holy man, or would talk of putting some medicine into the mother's nostril to ensure she delivered a boy."
Father of a lucky girl himself, Dr. Rakh was heartbroken when the 2011 census figure showed a drop in the number of births of the girl children. It was the same year, then prime minister Manmohan Singh described female foeticide as a "national shame" and called for a "crusade" to save India's girls.
On 3 January 2012, Dr. Rakh began his own "crusade" – by launching the Mulgi Vachva Abhiyan (which translates from Marathi into "campaign to save the girl child").
"I decided I would not charge any fee if a girl was born. Also, since a son's birth was celebrated by the family, we decided we [at the hospital] would celebrate a daughter's birth."
By 2016, Dr. Rakh delivered 464 girls in his hospital without charging the parents any fee.
What will touch your heart is how he struggled with life circumstances to reach where he is today. Born in a family, where his father worked as a porter in the grain market, carrying sacks on his back, while his mother cleaned dishes in other people's homes, Dr. Rakh's childhood was anything but easy. The family's meagre income was barely enough to feed Dr. Rakh and his two brothers.
It was not an easy decision to waive his fee for the delivery of baby girls, and he was predictably opposed by his wife and brothers. His wife Trupti said,
"We are economically not well off.

So when told me about his decision, I was worried as to how I would run the house."
But his father Adinath Vithal Rakh supported his decision whole-heartedly.
"He told me to continue with the good work. He said he would go back to work as a porter if needed."
Today, his efforts are not only applauded by ministers and government officials but also by many famous celebrities like Amitabh Bachchan, who described him as a "real hero".
"I started a small thing. I didn't know it would be received like this," he says, adding, "but sometimes small things impact minds in a big way".
Now, almost 17,000 doctors in India have joined him in supporting women who give birth to girl children, either by charging very low fees or no fee at all.
One such doctor, Dr. Satish Andhale Patil from Pune told The Sydney Morning Herald,
"I have seen 15 suicides of women who had given birth to their second daughter and were in despair. When Dr Rakh started, I knew I had a social responsibility to do the same."
It is quite inspiring how Dr. Rakh's initiative has taken the form of a movement and encouraged many others to follow his footsteps.
At IFORHER, we are not only in awe of Dr. Rakh but also hope that many more doctors will make attempts to change the mindset and attitude of our society towards Girl Child. Because if they don't, then who? Not now, then when?