Mani Ratnam's masterpiece Ponniyin Selvan II, the most-awaited movie of 2023, has finally graced the silver screen, and it's leaving audiences in awe. This epic historical drama brings together a stellar cast including Aishwarya Rai Bachchan, Karthi, Vikram, Jayam Ravi, and Trisha.
Based on Kalki Krishnamurthy's famous novel, Ponniyin Selvan II picks up right where the first part left off. The movie revolves around the rise of Prince Arulmozhi Varman as he transforms into the legendary emperor Rajaraja Chola I, ruling over the mighty Chola Dynasty.
With the movie taking the box office by storm, we couldn't resist sharing a list of equally captivating Indian historical films. If you're craving more jaw-dropping historical tales like Ponniyin Selvan II, these movies are a must-watch. And guess what? You can catch them on popular streaming platforms like SonyLIV, Disney+ Hotstar, and more. No excuses!
1. BAJIRAO MASTANI 
Sanjay Leela Bhansali takes us on an unforgettable journey with Bajirao Mastani. This historical extravaganza, inspired by Nagnath S Inamdar's novel, introduces us to the epic love story of Bajirao I, the powerful Peshwa of the Maratha Empire, and his fiery second wife, Mastani. With breathtaking sets, stunning costumes, and a talented star cast, this love saga will leave you spellbound.
Where to watch Bajirao Mastani: Amazon Prime Video, Jio Cinema, Voot, MX Player
2. SYE RAA NARASIMHA REDDY 
Get ready to cheer for the fearless freedom fighter Uyyalawada Narasimha Reddy in this action-packed historical flick. Starring megastar Chiranjeevi, Sye Raa Narasimha Reddy showcases the daring rebellion against the British East India Company. With an ensemble cast including Nayanthara, Tamannaah, Sudeep, and Vijay Sethupathi, this movie will keep you at the edge of your seat from start to finish.
Where to watch it: Amazon Prime Video
3. KESARI
Akshay Kumar's Kesari takes us back to the Battle of Saragarhi in 1897, where a brave group of 21 soldiers from the 36th Sikh Regiment stood tall against thousands of foes. Get ready for intense action sequences, goosebumps-inducing patriotism, and an extraordinary tale of valor that will make you proud.
Where to watch it: Amazon Prime Video
4. JODHAA AKBAR 
Love knows no boundaries, especially in the historical romance Jodhaa Akbar. This enchanting film directed by Ashutosh Gowariker invites us into the world of Mughal Emperor Akbar and the Rajput princess Jodhaa. Witness their unlikely alliance, political intrigues, and a love story that transcends cultural differences. What a grand cinematic experience!
Where to watch it: Netflix
5. TANHAJI
Tanhaji, a historical drama that will leave you on the edge of your seat. Ajay Devgn leads the charge as Subedar Tanaji Malusare, a valiant warrior of the Maratha Empire. The movie focuses on his mission to reclaim the Kondhana fort from the clutches of the cunning Mughal chieftain Udaybhan Singh Rathore, played by Saif Ali Khan. With breathtaking battle sequences and a captivating storyline, Tanhaji is a visual treat for all history buffs.
Where to watch it? Disney+Hotstar
6. RRR 
One of the finest Indian historical dramas of all time, SS Rajamouli's RRR takes you on an adrenaline-fueled ride. This cinematic extravaganza brings together the powerful duo of Ram Charan and Jr NTR as two revolutionaries, Alluri Sitaram Raju and Komaram Bheem, who join forces to fight against the oppressive British Raj. Brace yourself for mind-blowing action, stellar performances, and a gripping narrative that will keep you hooked until the last frame.
Where to watch it? Netflix, Zee5, Disney+Hotstar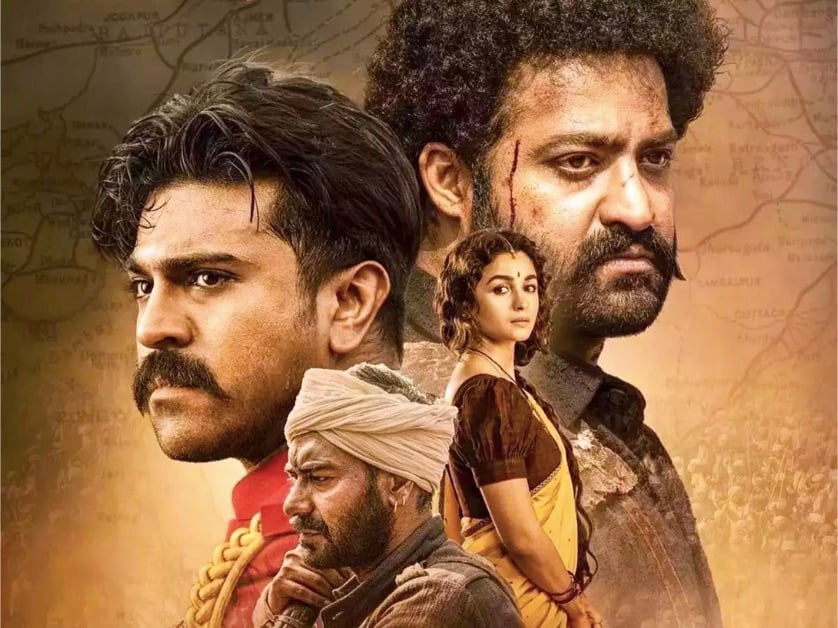 7. MUGHAL-E-AZAM
How could we forget to include Mughal-E-Azam one of the greatest India's historic drama. This timeless masterpiece takes us back to the Mughal era, where the legendary Prithviraj Kapoor portrays Emperor Akbar, torn between his love for the beautiful Anarkali, played by the iconic Madhubala, and his duty as a ruler. Immerse yourself in the opulence, passion, and heart-wrenching emotions of this cinematic gem.
Where to watch it? Jio Cinema, Zee5
8. BAAHUBALI: THE CONCLUSION
If you're still craving more after Ponniyin Selvan II, prepare yourself for the grandeur of Baahubali: The Conclusion. This larger-than-life saga directed by the visionary Mani Ratnam answers the burning question: "Why did Kattappa kill Baahubali?" The breathtaking visuals, epic battles, and a gripping story, this movie is a perfect entertainer. With a stellar cast including Prabhas, Rana Daggubati, Anushka Shetty, and Tamannaah, Baahubali: The Conclusion is a cinematic marvel that shouldn't be missed.
Where to watch it? Disney+Hostar, SonyLiv, Netflix, Youtube
So, grab your popcorn, settle into your comfiest chair, and immerse yourself in the captivating world of historical dramas. Ponniyin Selvan II is just the beginning of a thrilling journey through time, and these incredible films will keep you entertained, educated, and completely enthralled. Enjoy the ride!