Recently, Vicky Kaushal released the teaser of his upcoming movie – 'Sam Bahadur', which is based on the real-life hero – Field Marshal Sam Manekshaw. The movie is directed by talented Meghna Gulzar, who has given us hard-hitting movies like Raazi and Chappak.
 

 

View this post on Instagram

 
But, we must say the movie makers have really big shoes to fill in, as Sam Manekshaw is the most celebrated Indian war hero of all time. For unversed, here are some inspiring facts about India's first field Marshall, Sam Manekshaw aka Sam Bahadur.
Who Is Sam Manekshaw aka Sam Bahadur – The Legendary Hero?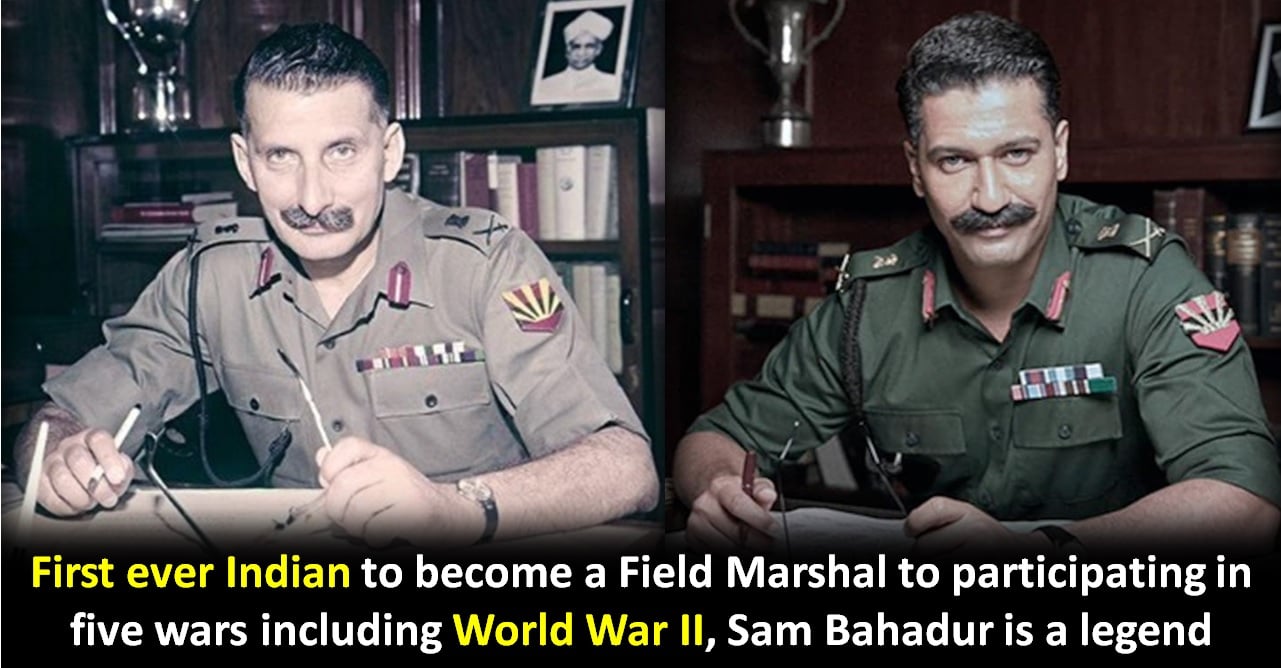 1. Sam Manekshaw aka Sam Bahadur
Sam Manekshaw, fondly known as 'Sam Bahadur' or 'Sam the brave', served our country for four great decades. Sam's full name was Sam Hormusji Framji Jamshedji Manekshaw.
---
2. The Architect Of India's 1971 Win Against Pakistan 
He was the legendary hero behind our victory against Pakistan during the 1971 war. Under his leadership, the Pakistani Army was brought to its knees in just 13 days and over 93,000 soldiers and government officials surrendered to India.
---
3. Sam Bahadur & His Family
Sam was born in a Parsi household in Amritsar on April 3, 1914. His father was a doctor, while his mother was a housewife. The couple had six children – four sons and two daughters. Sam Manekshaw married his wife, Silloo in the year 1939. The couple had two daughters, Sherry and Maja. 
---
4. Sam's Childhood
As a child, Sam Manekshaw was mischievous and high-spirited. His early ambition was to become a military doctor like his father. But destiny had different plans for him. 
---
5. Sam's Unfulfilled Dream Of Becoming A Doctor
After completing his Senior Cambridge, he asked his father to send him to London to study medicine. But, his father refused on the grounds that he was not old enough and his father had to support the studies of his elder brothers, both of whom were studying engineering in London.
---
6. Sam's Rebellion & His Destiny
In an act of rebellion against his father, Sam Manekshaw applied for an entrance exam for army officers. He was one of the fifteen cadets to be selected through open competition, in fact, he was sixth in the merit order.
---
7. Sam Bahadur: First Indian Field Marshal
Sam was the first-ever Indian to become a Field Marshal. Sam Manekshaw became the first Indian Army officer to be promoted to the five-star rank of field marshal. He was conferred with the rank of field marshal on 1 January 1973.
---
8. His Proud Awards
Sam was awarded the Padma Vibhushan (1972) and the Padma Bhushan (1968), the second and third-highest civilian awards in India.
---
9. The Tale Of His Miltary Cross
During World War II, he was also awarded Military Cross for his exemplary courage as it was feared he might die. As per sources, fearing that Sam would die, the general pinned his own Military Cross ribbon on him saying, "A dead person cannot be awarded a Military Cross".
---
10. Sam Bahadur's Contribution To Five Wars 
Sam Bahadur served in the Army for 40 years and participated in five wars -World War II, the India-Pakistan war of 1947, the Sino-Indian war of 1962, the India-Pakistan war of 1965, and the Bangladesh Liberation War.
---
11. Mankeshaw's Strict Order To Protect Women's Honor
Mankeshaw did not want the Indian Army to get into the brutal trend of dishonoring and raping women in a defeated land. So he issued strict instructions forbidding looting and rape. In addressing his troops, Manekshaw was quoted as saying: "When you see a Begum (Muslim woman), keep your hands in your pockets, and think of Sam."
---
12. Sam's Great Rapport With Indira Gandhi
On the eve of the war against Pakistan in 1971, Indira Gandhi asked General Maneksaw if he was ready for the war. He replied: 'I am always ready sweetie'. As per various sources, he had a great rapport with Indira Gandhi due to his Parsi connection and would often call her a 'sweetie/sweetheart.'
---
13. Sam's Last Words
In June 2008, Sam died of pneumonia at the military hospital in Wellington, Tamil Nadu. At that time, he was 94 years old. Reportedly, his last words were "I'm okay!".
---
14. Sam's Burial
Sam Mankeshaw was buried in the Parsi cemetery in Ooty, Tamil Nadu, with all the military honors. As per sources, he is buried adjacent to his wife's grave. 
---
15. Sam's Legacy
Annually, on 16 December, Vijay Diwas is celebrated in memory of the victory achieved under Manekshaw's leadership in 1971.
What a Legend! India will never forget you, Field Marshal – The Hero, Who Was Born for Indian Army!