As life goes on, we tend to realize the difference between true friends and fake friends. While true friends stick with us during dark times, fake friends leave us when we need our friends the most. These powerful Fake Friends Quotes will help you realize the importance of staying away from fake friends and treasuring true friends. These quotes on fake friends are just the reminder that we may be surrounded by many well-wishers, but when the chips go down there would be very few people who will stick by us. 
QUOTES ON FAKE FRIENDS
Here are 27 powerful Fake Friends Quotes that will help you value true friendship: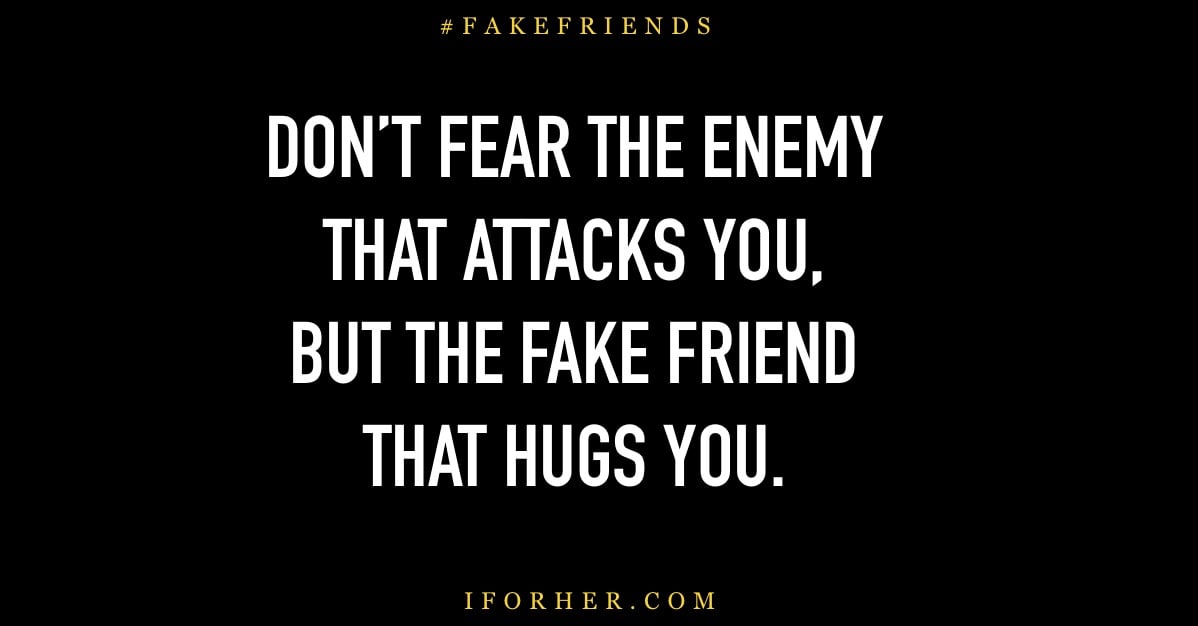 1. DON'T FEAR THE ENEMY THAT ATTACKS YOU, BUT THE FAKE FRIEND THAT HUGS YOU.

2. I NO LONGER HAVE THE ENERGY FOR MEANINGLESS FRIENDSHIPS, FORCED INTERACTIONS, OR UNNECESSARY CONVERSATIONS.
3. FAKE PEOPLE ARE LIKE SOAP BUBBLES. THEY POP OUT WHEN THE SUN SHINES BRIGHTLY.
4. IN THE END, WE WILL REMEMBER NOT THE WORDS OF OUR ENEMIES, BUT THE SILENCE OF OUR FRIENDS. – MARTIN LUTHER KING JR.
5. FAKE FRIENDS; THOSE WHO ONLY DRILL HOLES UNDER YOUR BOAT TO GET IT LEAKING; THOSE WHO DISCREDIT YOUR AMBITIONS AND THOSE WHO PRETEND THEY LOVE YOU, BUT BEHIND THEIR BACKS THEY KNOW THEY ARE IN TO DESTROY YOUR LEGACIES. – ISRAELMORE AYIVOR
6. FAKE FRIENDS ARE  LIKE SHADOWS; ALWAYS NEAR YOU AT YOUR BRIGHTEST MOMENTS, BUT NOWHERE TO BE SEEN AT YOUR DARKEST HOUR. – KHALIL GIBRAN
7. YOU'LL BE SURROUNDED BY MANY SO-CALLED WELL-WISHERS DURING YOUR GOOD TIMES BUT THERE'LL BE ONLY A FEW ONES AROUND YOU IN YOUR BAD TIMES. – ANURAG PRAKASH RAY
8. YOU DON'T LOSE FRIENDS BECAUSE REAL FRIENDS CAN NEVER BE LOST. YOU LOSE PEOPLE MASQUERADING AS FRIENDS, AND YOU'RE BETTER FOR IT. – MANDY HALE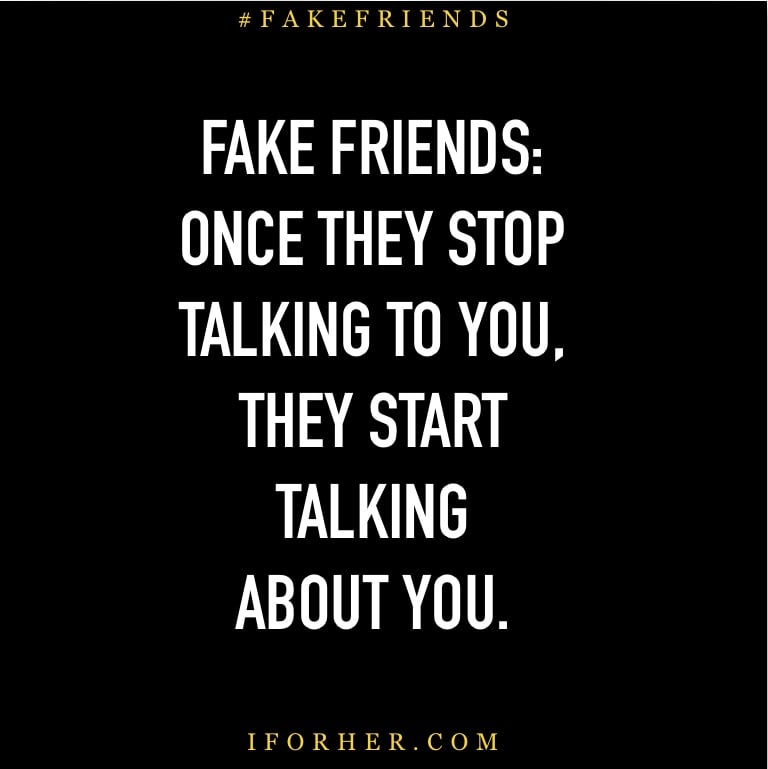 9. FAKE FRIENDS: ONCE THEY STOP TALKING TO YOU, THEY START TALKING ABOUT YOU.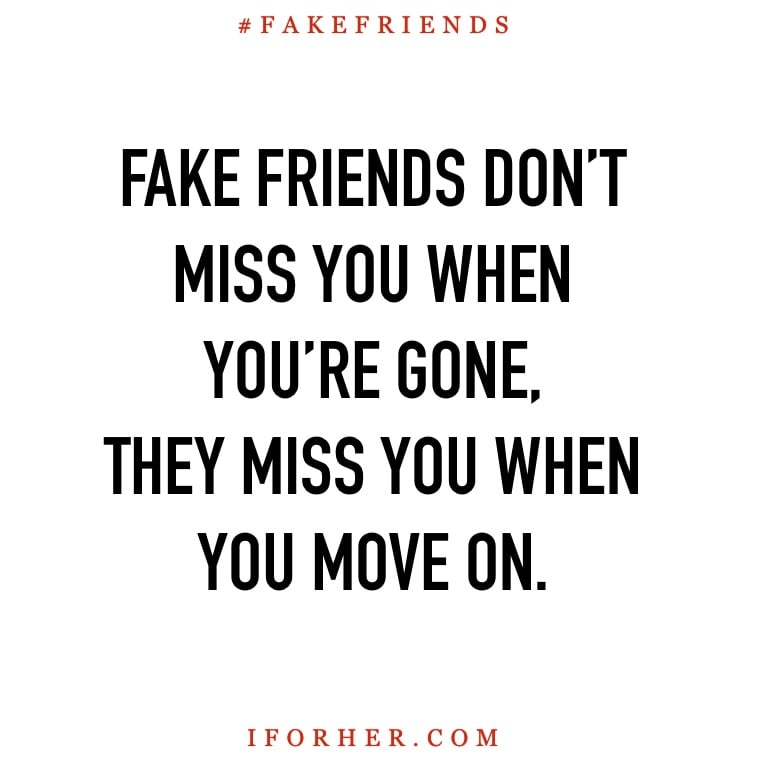 10. FAKE FRIENDS DON'T MISS YOU WHEN YOU'RE GONE, THEY MISS YOU WHEN YOU MOVE ON.
QUOTES ON FAKE FRIENDSHIP
11. FAKE FRIENDS ARE WITH YOU TODAY AND AGAINST YOU TOMORROW. – SHIZRA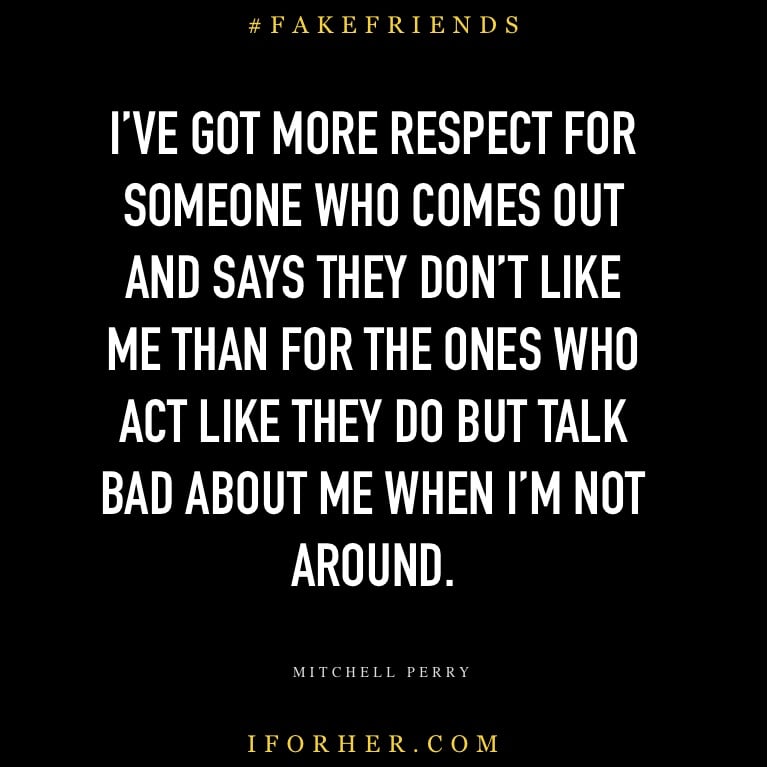 12. I'VE GOT MORE RESPECT FOR SOMEONE WHO COMES OUT AND SAYS THEY DON'T LIKE ME THAN FOR THE ONES WHO ACT LIKE THEY DO BUT TALK BAD ABOUT ME WHEN I'M NOT AROUND. – MITCHELL PERRY
13. AN INSINCERE AND EVIL FRIEND IS MORE TO BE FEARED THAN A WILD BEAST; A WILD BEAST MAY WOUND YOUR BODY, BUT AN EVIL FRIEND WILL WOUND YOUR MIND. – THE BUDDHA
---
---
14. THE WORD "FRIEND" IS A LABEL ANYONE CAN TRY ON. YOU DECIDE WHO IS BEST SUITED TO WEAR IT. – CARLOS WALLACE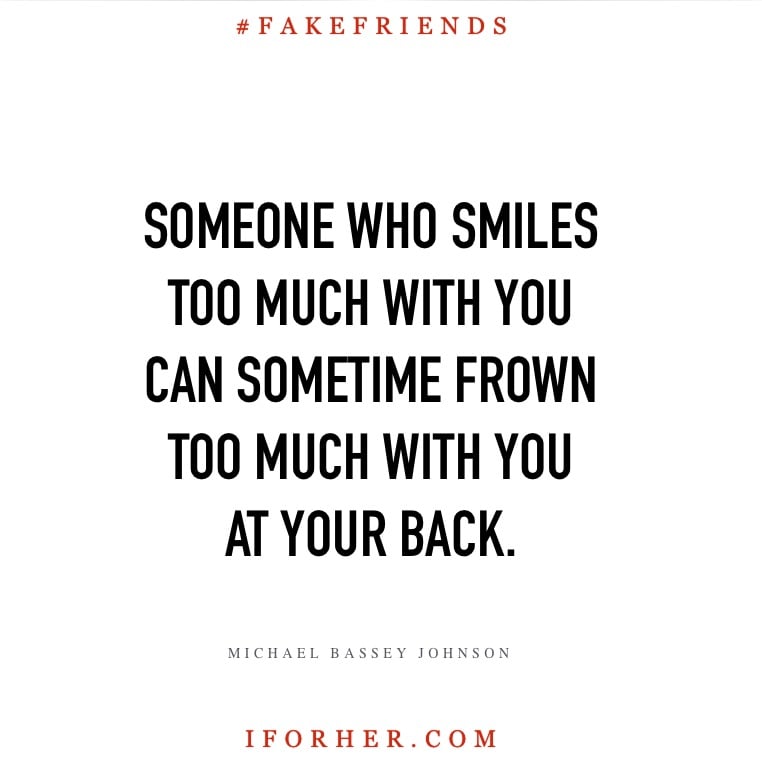 15. SOMEONE WHO SMILES TOO MUCH WITH YOU CAN SOMETIME FROWN TOO MUCH WITH YOU AT YOUR BACK. – MICHAEL BASSEY JOHNSON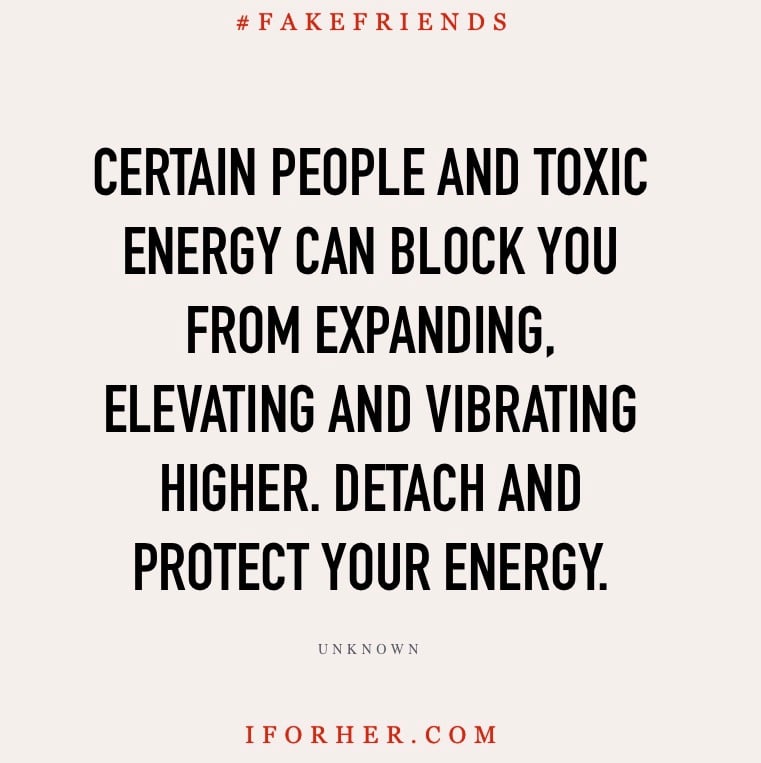 16. CERTAIN PEOPLE AND TOXIC ENERGY CAN BLOCK YOU FROM EXPANDING, ELEVATING, AND VIBRATING HIGHER. DETACH AND PROTECT YOUR ENERGY.
17. PEOPLE MAY NOT ALWAYS TELL YOU HOW THEY FEEL ABOUT YOU, BUT THEY WILL ALWAYS SHOW YOU. PAY ATTENTION. – KERI HILSON
18. YOU GOT NOTHING TO LOSE. YOU DON'T LOSE WHEN YOU LOSE FAKE FRIENDS. – JON JETT
19. YOU ALWAYS KNOW AFTER SHITTY THINGS HAPPENED, WHO YOUR FRIENDS REALLY WERE.
20. CERTAIN PEOPLE AND TOXIC ENERGY CAN BLOCK YOU FROM EXPANDING, ELEVATING AND VIBRATING HIGHER. DETACH AND PROTECT YOUR ENERGY. – RIZA PRASETYANINGSIH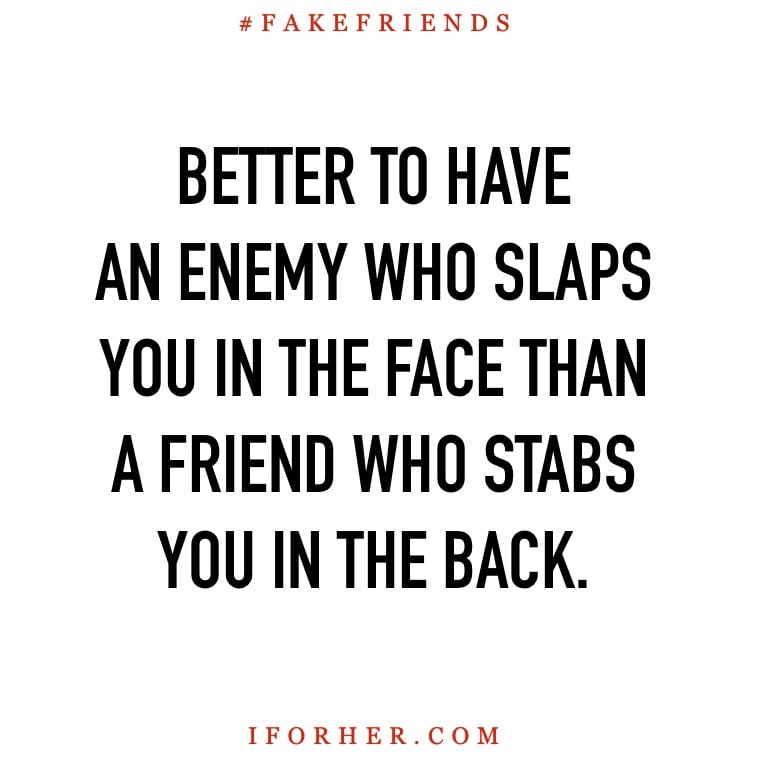 ---
---
21. BETTER TO HAVE AN ENEMY WHO SLAPS YOU IN THE FACE THAN A FRIEND WHO STABS YOU IN THE BACK.
22. BETTER AN HONEST ENEMY THAN A FALSE FRIEND
23. BE VERY CAREFUL OF WHO YOU SHARE YOUR PROBLEM WITH, REMEMBER THAT NOT EVERY FRIEND THAT SMILES AT YOU IS YOUR BEST FRIEND. – KEMMY NOLA
24. A FAKE FRIEND LOVES TO SEE THAT YOU ARE DOING WELL, BUT NOT BETTER THAN THEY
25. AN HONEST ENEMY IS BETTER THAN THE BEST FRIEND WHO LIES.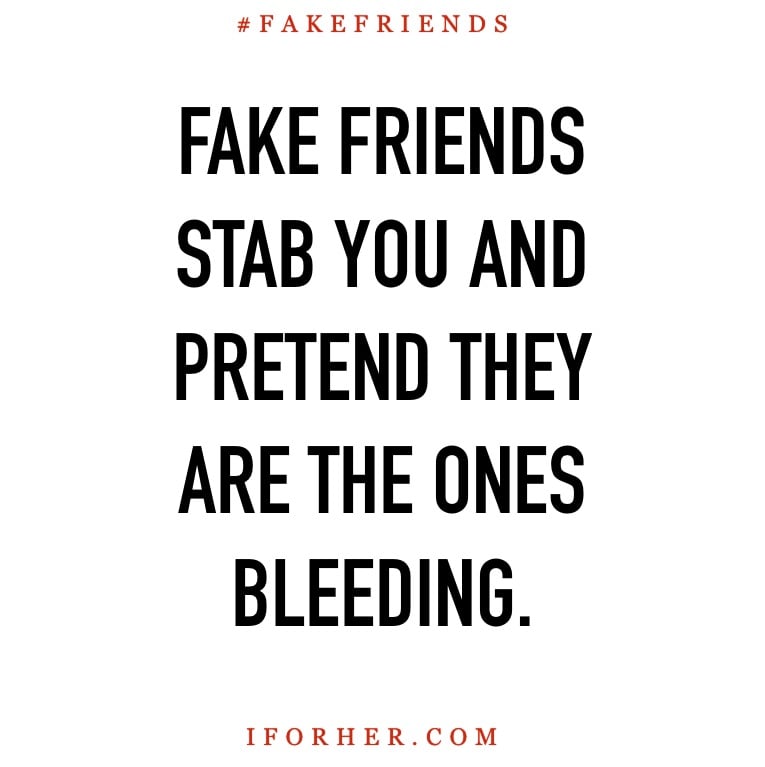 26. FAKE FRIENDS STAB YOU AND PRETEND THEY ARE THE ONE'S BLEEDING.
27. SOMETIMES  THE PERSON YOU ARE WILLING TO TAKE THE BULLET FOR IS THE ONE WHO PULLS THE TRIGGER.