Expectation Quotes: These powerful quotes about expectations are perfect life lessons for anyone who wants to lead a happy life.
Expectations are an integral part of human behavior. Since our childhood, we are made to believe that having high expectations from ourselves brings out the best in us. We are told to have high expectations from ourselves and leave no stone unturned in fulfilling the expectations of people around us.
And, while fulfilling those expectations, we may achieve great things but we forget that the balance between expectation and acceptance is the key to a happy life. While we expect high standards from ourselves and from people around us, it is equally important to accept things when they don't happen as per our wishes and desires.
If you are one of those, who tend to hold high expectations from yourself and the people around you, then you already know the pain of disappointment. But, it's not too late to give up the burden of expectations and lead a happy and lighter life.
In your attempt to lead a happy life with zero or minimal expectations, we hope these hard-hitting and powerful quotes on expectations will give you just the right about of inspiration.
Inspiring Quotes About Expectations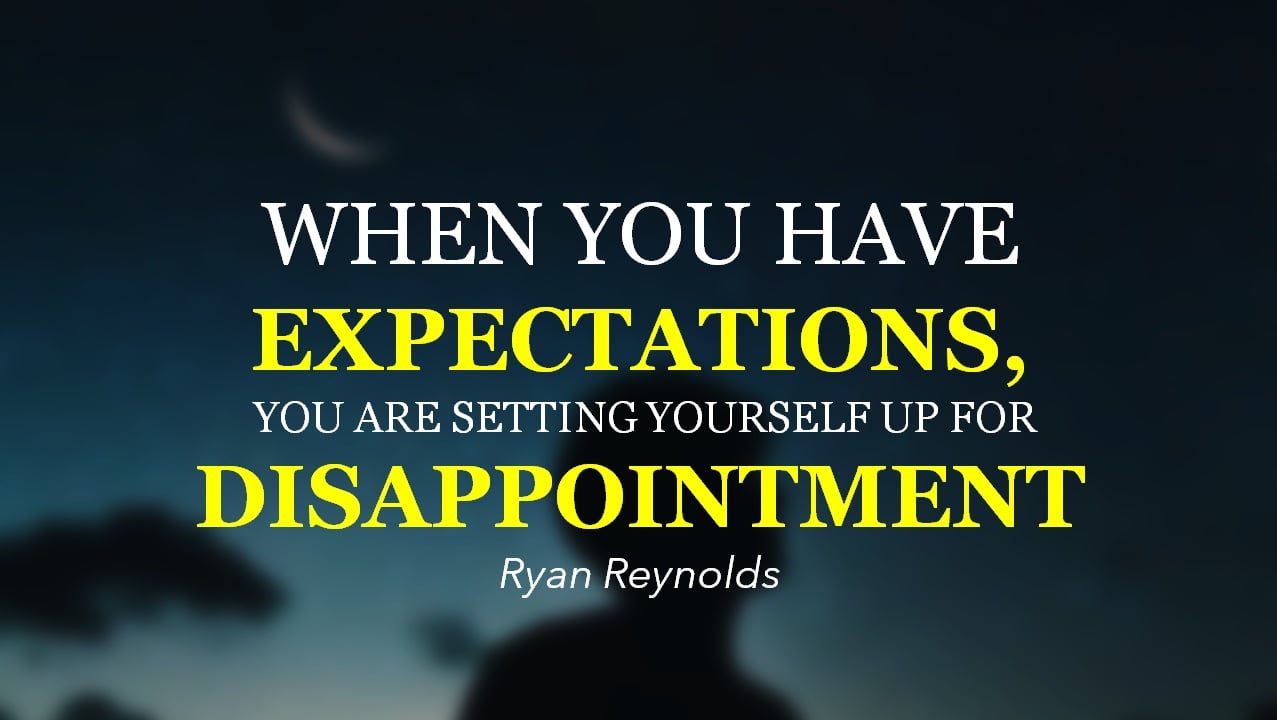 "When you have expectations, you are setting yourself up for disappointment." ~ Ryan Reynolds
---
"I do know one thing about me: I don't measure myself by others' expectations or let others define my worth." ~ Sonia Sotomayor
---
"If you expect nothing from somebody you are never disappointed." ~ Sylvia Plath, The Bell Jar
---
"Blessed is he who expects nothing, for he shall never be disappointed." ~ Alexander Pope
---
"When you stop expecting people to be perfect, you can like them for who they are." ~ Donald Miller
---
"I'm not in this world to live up to your expectations and you're not in this world to live up to mine." ~ Bruce Lee
---
"Winners make a habit of manufacturing their own positive expectations in advance of the event." ~ Brian Tracy
---
"Live your life, sing your song. Not full of expectations. Not for the ovations. But for the joy of it." ~ Rasheed Ogunlaru
---
"Low expectations is the key to happiness in life." ~ Christopher Miller
---
"A wonderful gift may not be wrapped as you expect." ~ Jonathan Lockwood Huie
---
---
Inspiring Quotes About Expectations
"If you expect great things of yourself and demand little of others, you'll keep resentment far away." ~ Confucius
---
"Expectations were like fine pottery. The harder you held them, the more likely they were to crack." ~ Brandon Sanderson, The Way of Kings
---
"I'd rather be pleasantly surprised than fatally disappointed." ~ Julia Glass
---
"You are most powerful when you are most silent. People never expect silence. They expect words, motion, defense, offense, back and forth. They expect to leap into the fray. They are ready, fists up, words hanging leaping from their mouths. Silence? No." ~ Alison McGhee, All Rivers Flow To The Sea
---
"Life was easier when you stopped caring, when you stopped expecting things to get better."~ Cora Carmack
---
"I find my life is a lot easier the lower I keep my expectations."~ Bill Watterson
---
"Expectation wasn't just about what people expected of you. It was about what you expected of yourself."~ Brandon Sanderson
---
"Expectations are dangerous when they are both too high and unformed."~ Lionel Shriver
Inspiring Quotes About Expectations
---
"My expectations were reduced to zero when I was 21. Everything since then has been a bonus." ~ Stephen W. Hawking
---
"Everyone seems to have a clear idea of how other people should lead their lives, but none about his or her own." ~ Paulo Coelho, The Alchemist
---
"You can't expect everyone to have the same dedication as you." ~ Jeff Kinney, Diary of a Wimpy Kid
---
"He was swimming in a sea of other people's expectations. Men had drowned in seas like that."~ Robert Jordan, New Spring
---
---
Inspiring Quotes About Expectations
---
"Know that everything is in perfect order whether you understand it or not." ~ Valery Satterwhite
---
"There were two ways to be happy: improve your reality, or lower your expectations" ~ Jodi Picoult, Nineteen Minutes
---
"What I have since realized is that if people expect you to be brave, sometimes you pretend that you are, even when you are frightened down to your very bones." ~ Sharon Creech, Walk Two Moons
---
"If you expect nothing, you can never be disappointed." ~ Tonya Hurley, Homecoming
---
"You are your own worst enemy. If you can learn to stop expecting impossible perfection, in yourself and others, you may find the happiness that has always eluded you." ~ Lisa Kleypas
---
"That was the thing about the world: it wasn't that things were harder than you thought they were going to be, it was that they were hard in ways that you didn't expect." ~ Lev Grossman
---
---
"We're wired to expect the world to be brighter and more meaningful and more obviously interesting than it actually is. And when we realize that it isn't, we start looking around for the real world." ~ Lev Grossman
---
"Set the standard! Stop expecting others to show you love, acceptance, commitment, & respect when you don't even show that to yourself." ~ Steve Maraboli
---
"You don't ask nobody to give what they can't give, or be what they can't be. You've learnt that, you got a head start on heartbreak."~ Jack Farris
---
These quotes are just a reminder that keeping up a balance between expectation and acceptance is what makes life worthwhile. Which quote is your favorite? Tell us in the comments below.