Inspiring Indra Nooyi Quotes that will encourage you to dream big and fight for your dreams.
Indra Nooyi, who was born to Tamil parents in Chennai in 1955, inspired many men and women around the world through her determination and persistence. From a very young age, Indra Nooyi knew what she wanted, and she knew she would achieve it.
Because of her persistence and self-belief, Indra not only became the CEO of one of the largest companies in the world, Pepsico, but also one of the most powerful businesswomen in the world.  She is also a mother of two children and is known as someone who puts her values and principles before everything else.
Indra is respected and admired by the corporate and business world, not only for her leadership but also for her dedication and commitment to making the world a better place. Her success, from Chennai to IIM Kolkata to Yale, and to the head of a giant multinational corporation is nothing short of inspiring. 
Here are 17 inspiring Indra Nooyi quotes to remind you that no dream is too big.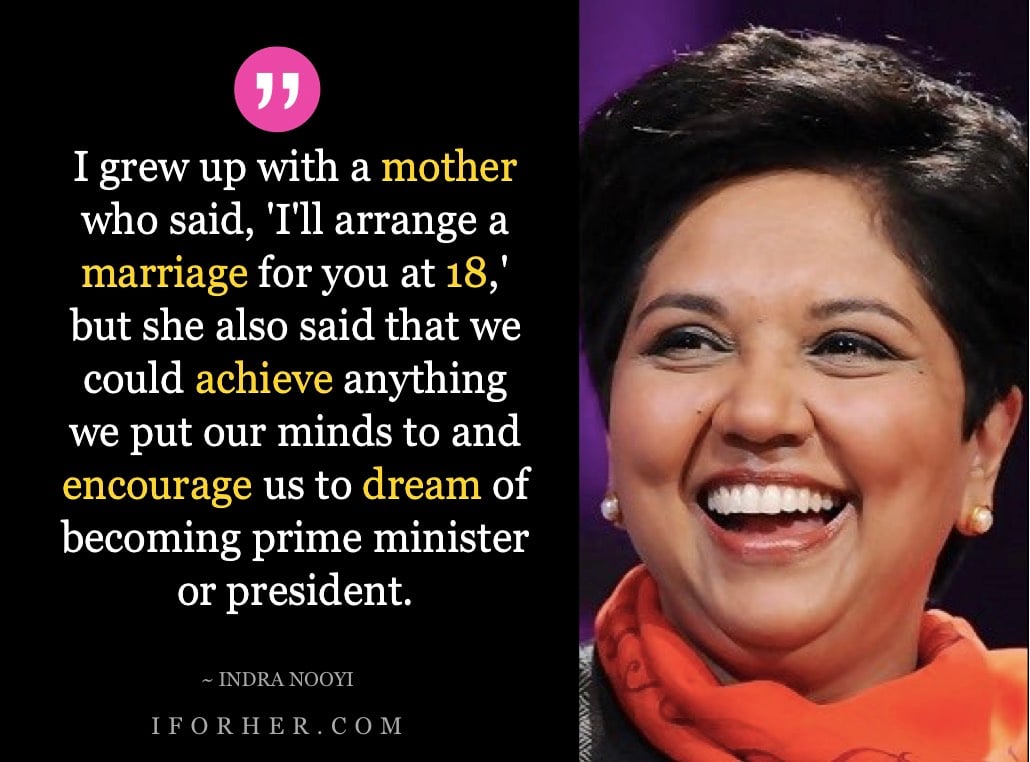 I grew up with a mother who said, 'I'll arrange a marriage for you at 18,' but she also said that we could achieve anything we put our minds to and encourage us to dream of becoming prime minister or president. ~ Indra Nooyi
But the good news was that my elder sister refused to get married straight away and I couldn't get married until she did so I had the license to go off and dream. – Indra Nooyi
I asked my parents for permission to study in America and they were so sure that I wouldn't get in that they encouraged me to try. So I applied to Yale and got an excellent scholarship. – Indra Nooyi
At the end of the day, don't forget that you're a person, don't forget you're a mother, don't forget you're a wife, don't forget you're a daughter. Because in the end, no matter how much money you make & how much success you create, what you are left with is family, friends & faith. – Indra Nooyi
---
---
I am a mother first, then a CEO, and then a wife. – Indra Nooyi
The biological clock and the career clock are in total conflict with each other. – Indra Nooyi
Leadership is hard to define and good leadership even harder. But if you can get people to follow you to the ends of the earth, you are a great leader. – Indra Nooyi
The distance between number one & number two is always constant. If you want to improve the organization, you have to improve yourself and the organization gets pulled up with you. – Indra Nooyi
As a leader, I am tough on myself & I raise the standard for everybody; however, I am very caring because I want people to excel at what they are doing so that they can aspire to be me in the future. – Indra Nooyi
---
---
When I was president of the company, I said, 'Okay, I can do this – a piece of cake.' Then when you are the CEO, the responsibilities multiply enormously because you worry about everything. – Indra Nooyi
The one thing I have learned as a CEO is that leadership at various levels is vastly different. As you move up the organization, the requirements for leading that organization don't grow vertically; they grow exponentially. – Indra Nooyi
I wouldn't ask anyone to do anything I wouldn't do myself. – Indra Nooyi
Whatever anybody says or does, assume positive intent. You will be amazed at how your whole approach to a person or problem becomes very different. – Indra Nooyi
An important attribute of success is to be yourself. Never hide what makes you, you. – Indra Nooyi
I'm very honest – brutally honest. I always look at things from their point of view as well as mine. And I know when to walk away. – Indra Nooyi
I pick up the details that drive the organization insane. But sweating the details is more important than anything else. – Indra Nooyi
Just because you are CEO, don't think you have landed. You must continually increase your learning, the way you think, & the way you approach the organization. I've never forgotten that. – Indra Nooyi