Even after a decade since the release of the inspirational movie 'Pursuit of Happyness',  it amazes us how these hard-hitting dialogues still stir the right emotions. The film dramatizes the true story of Chris Gardener's extraordinary journey from homelessness to a successful stockbroker, all while supporting his young son as a single father. With extraordinary performance from Will Smith, this movie is our all-time favorite! 
Here are some of its most inspiring Pursuit of Happyness quotes that will leave you with hope, determination, and persistence!
"

Still a dreamer yet more of a realist than

ever before, I knew this was my time to sail. On the horizon,

I saw the shining future, as before. The difference now

was that I felt the wind at my back. I was ready.

" – Chris Gardner

"Walk that walk and go forward all the time. Don't just talk that talk, walk it and go forward. Also, the walk didn't have to be long strides; baby steps counted too. Go forward." – Chris Gardner
"The world is your oyster. It's up to you to find the pearls" – Chris Gardner
"Wealth can also be that attitude of gratitude with which we remind ourselves every day to count our blessings." – Chris Gardner
---
---
"I am not what happened to me, I am what I chose to become." – Chris Gardner
---
---
"You got a dream. You gotta protect it." – Chris Gardner
"I am strong because I've been weak. I am fearless because I've been afraid. I am wise because I've been foolish." – Chris Gardner
"Don't ever let somebody tell you you can't do something. Not even me." – Chris Gardner
"The balance in your life is more important than the balance in your checking account." – Chris Gardner
"People can't do something themselves, they wanna tell you you can't do it. If you want something, go get it. Period." – Chris Gardner
"You can only depend on yourself. The cavalry ain't coming." – Chris Gardner
"It's okay to fail; it's not okay to quit." – Chris Gardner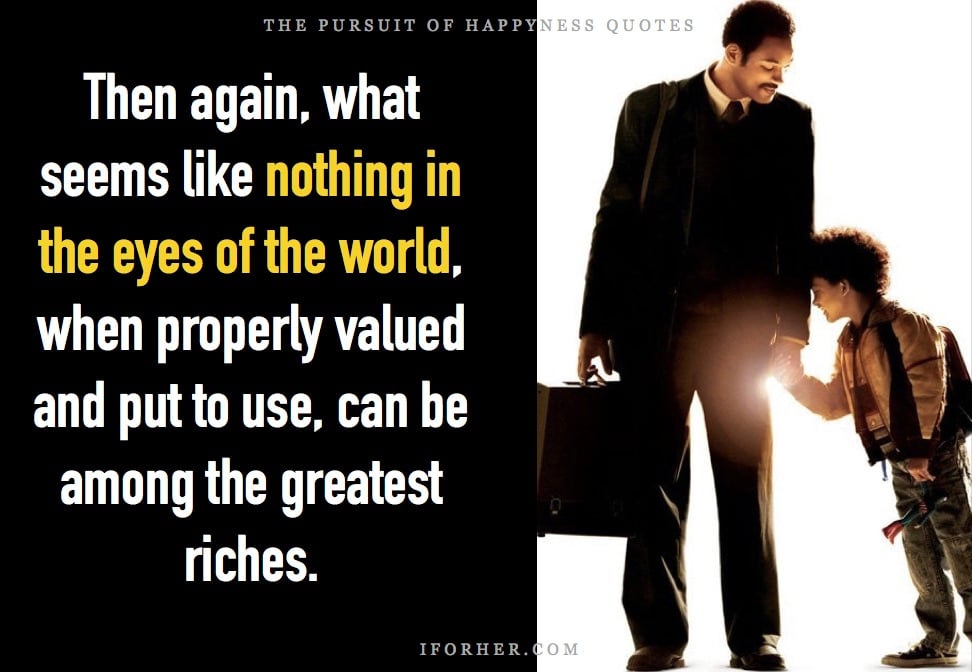 "Then again, what seems like nothing in the eyes of the world, when properly valued and put to use, can be among the greatest riches." – Chris Gardner
"This part of my life, this part right here? This is called 'happiness'." – Chris Gardner
"I was homeless, but I wasn't hopeless. I knew a better day was coming." – Chris Gardner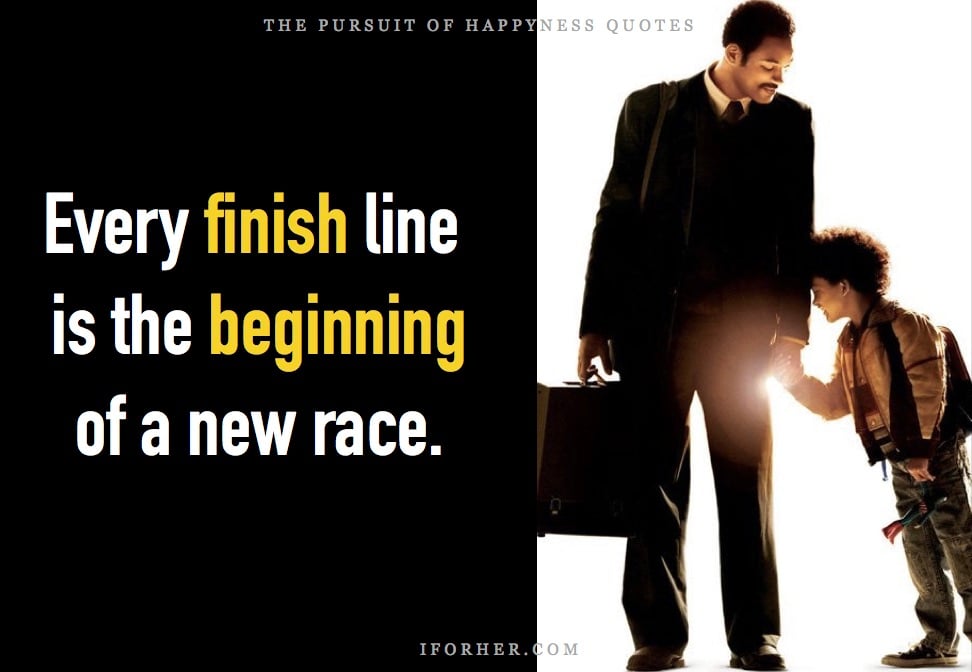 "Every finish line is the beginning of a new race." – Chris Gardner
"Your struggle is not an excuse, it's your ammunition." – Chris Gardner
Hope you enjoyed the Pursuit of Happyness quotes as much as we did!