Discover the Best Lakshmi Rangoli design ideas for Pujan this Diwali. With these simple & easy rangoli for Lakshmi Puja, you can make your home beautiful with Laxmi's pada and Laxmi's face. 
One of our favorite Indian festivals, Diwali, is just around the corner. Like every year, we hope you are busy making preparations to celebrate this beautiful festival of lights. Diwali marks the homecoming of Lord Ram, Sita, and Laxman after 14 years of exile, and many people perform Laxmi Puja on this day. On this auspicious day, families plan Diwali parties, play fun games, make rangolis, wish friends and family heartful Happy Diwali messages, and pray for each other's happiness and success.
Why do people make Lakshmi Rangoli Designs? What does Laxmi Rangoli signify?
On this auspicious day, Laxmi, the Goddess of wealth, is worshipped to bless the family and house with prosperity. Based on the mahurat (auspicious time) for prayer, the Puja is performed in the evening on Diwali day. To welcome Goddess Lakshmi, many people create beautiful rangolis and Paduka (footsteps) at the entrance of their houses. It is believed that Goddess Lakshmi loves visiting houses that are well-cleaned and beautifully decorated. Therefore, many of her devotees start cleaning their houses several days in advance of Diwali and prepare Lakshmi Pujan rangolis, along with other beautiful Rangolis.
To welcome Goddess Lakshmi, they also draw Shripada or Goddess Lakshmi's footprints (charan or Pada) at the entrance of the house, pointing inwards. This drawing of Shripada symbolizes the entry of Goddess Lakshmi into the house of her devotee. Hence, here are some selected Lakshmi Rangoli Designs and Shripada drawings to bring positive energy and prosperity to your house. We hope you enjoy creating these beautiful Lakshmi Rangoli designs for Puja this Diwali.
Beautiful Lakshmi Rangoli Design Ideas For Diwali | Best Laxmi Rangoli Designs
This beautiful simple and easy Laxmi Rangoli design is a must must-try. With simple leaves, color, and rice, you can create this magnificent laxmi charan rangoli design and seek goddess blessings.
Don't miss out on creating this beautiful, straightforward, and simple Laxmi Rangoli design. You just need vibrant colors, and bit of artistic hand to creat this splendid Laxmi Charan Rangoli design.
#3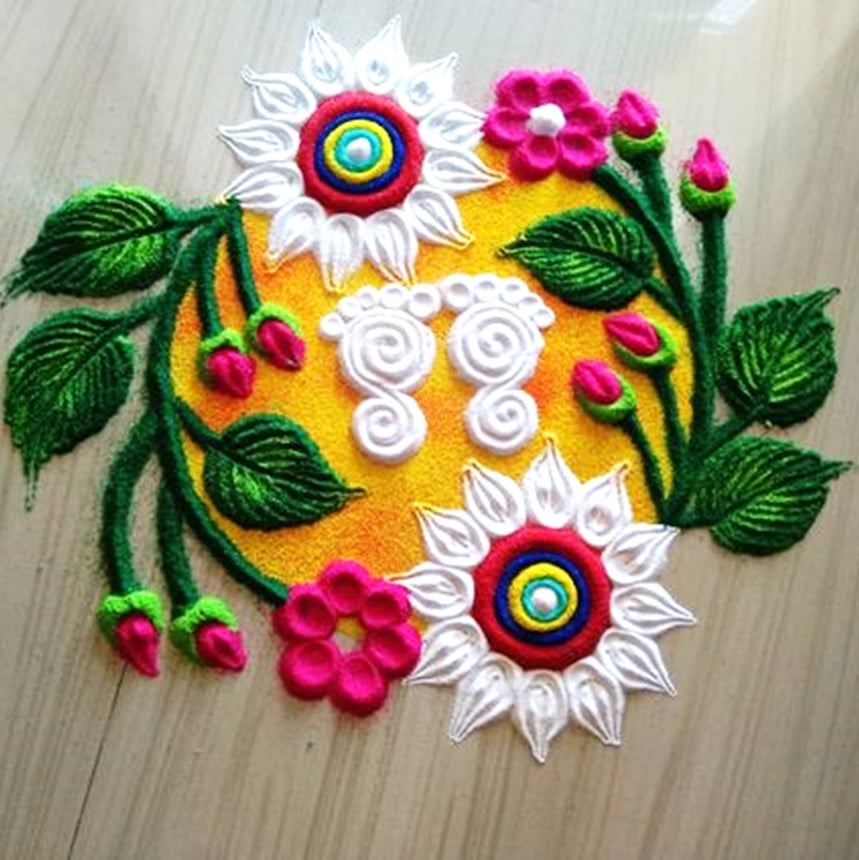 #6
#8
#9
Simple & Easy Maha Laxmi Face Rangoli Designs
Aren't they beautiful?
Through IFORHER's Eco-friendly Diwali Series, we request our every community member to celebrate Diwali in an eco-friendly way. Because this earth belongs to our kids as much as it to us. So, let's try our best to give them the cleaner air to breathe.