Christmas Nail Designs: Decorating your nails to reflect the Christmas spirit is a unique way to celebrate the season. Read on to know designs that will match your nails and look gorgeously in sync with the festivities.
Relax in our cozy spa chair while getting your nails done, watching TV, and chatting with friends. It's enjoyable, satisfying, entertaining, calming, and challenging all at once. Taking care of your nails is a symbol of self-care and individuality and though you can beautify them always, Christmas is as good a time as any other. So why not possess a shiny, new coat and adore some great Christmas nail designs for this festive season?
And, as you try out these beautiful nail art designs, don't forget to give yourself a good pedicure and manicure. We have compiled simple steps on how to do pedicures and manicures at home so that you can have shiny nails without spending a bomb. And, make sure you use a safe chemical-free nail polish that has minimal or no side effects on your nails and health.
Christmas Nail Art Designs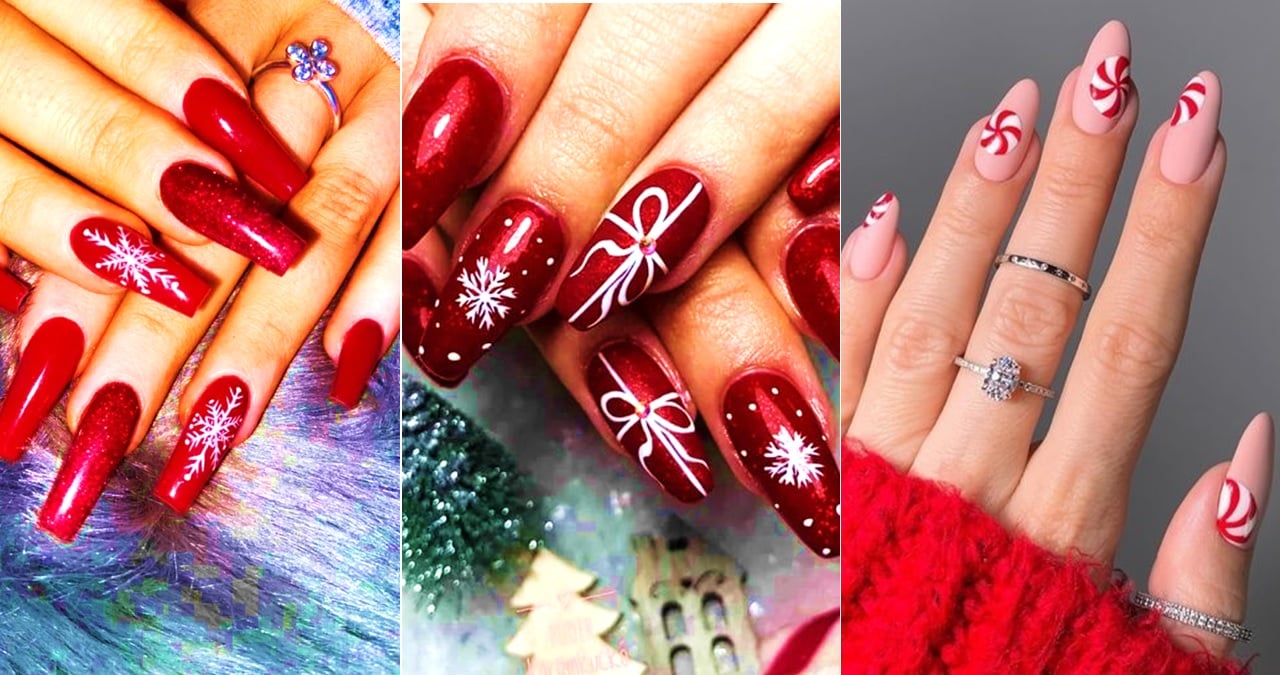 Here is a list of nail designs that are curated just for Christmas.
1. Candy Cane
This particular nail design reminds us of candy cane. This amazing blend of white and red is perfect to celebrate the Christmas spirit! Isn't it?
2. Winter White
This Winter White nail design is all about off-white matte nails with a cute little snowman hiding and giving a sweet smile. Another design that captures the festivities so beautifully!
3. Ginger Brownie Brown
Reminding us of gingerbread, this nail design beautifully captures a gingerbread man on the backdrop of a dark and light mixture of brown and khaki nail colors. In case you would like to try out some unconventional, this nail design is a good choice!
4. Gifted Classy Red
As Red is the color of Christmas, this nail art is simply perfect. With the perfect blend of different reds, this nail art gives a classy finish to your nails.
5. Different Pop
This simple and easy nail art with Snowman and Santa popping with beautiful khaki colors is so cute!
Cute Christmas Nail Art Design Ideas
6. Sleigh Red
Another simple and easy nail art design that is perfect for round nails! With gifted skin pink and red borders, this nail art design is so adorable.
7. Snowflakes Design On Blue Glitter
8. Red Wine
9. Ho Ho Quoted On Matte
10. Long Green Acrylic Nails
Amazing Christmas Nail Art Designs
11. Cute Penguin Round Nails
12. Cute Royal And White Top Ups
13. Modern Lights And Reindeer On White
14. Winky Santa On Baby Pink
15. Christmas Green With Silver Beads
Beautiful Christmas Nail Art Designs
16. Fairy Lights On Round Mid-Length Nails
17. Grinch Stealing Christmas
18 . Christmas Familiar Faces
19. Red On No Red With Little Santa Caps
20. Luxury Red With Wine Shade
Beautiful Christmas Nail Designs
21. Pink Swirls
22. Lollipop Treats
23. Swirls On White With Sparkles
24. Beautiful Brown False Nails
25. Christmas Black Serrated White Crystals
Cute Christmas Nail Art Designs
26. Santa And Friends
27. Long Plaid Elk Matte Nails
28. Epic Three
29. Grinch Is Coming
30. Illusion Red
Colorful Christmas Nail Designs
31. Prada And Pearls
32. Festive Fab Five
33. White But Blue Christmas Tree
34. Little Love Hearts
35. Trendy Bear Brown And Friends
Different Christmas Nail Designs
36. A Christmas Day
37. Blue Winter Land With Snowman
38. Snoopy Dog In White Winter Snow
39. Green Celebration
40. Nude Shades
Gorgeous Christmas Nail Designs
41. Chess And Smile Blue
42. Spooky Black
43. Pink Candy
44. Purple Penguin Please
45. Olaf: The Snowman
Unique Christmas Nail Designs
46. Long-Lashed Reindeer Napping
47. Green Groovy
48. Cherry And Strawberry
49. Brushed Sparkles
50. Love At First Sight Red
Cute Nail Design Ideas For This Christmas
51. Bloody Textured Gel Red
52. Burgundy Chocolate Cake Shade
53. Sharp Wine
54. Swords And Sweet Winter
55. Square-Shaped Simple Nails
More Christmas Nail Designs
56. Red Mars
57. Silver Skates
58. Gorgeous Gray
59. Elegant Purple
60. Sparkled Brownie Brown
Splendid Nail Design Ideas For This Christmas
61. White Pink Glitters
62. Feels Like Christmas
63. Doodles
64. Too Simple Xmas
65. Pretty Little Patterns
Festive Christmas Nail Designs
66. Smoke For Winter
67. Clouded
68. Odd One Out Reindeer
69. Stunning Swirls
70. Shimmery Green Covered In Fairy Lights
Christmasy Nail Art Design Ideas
71. Christmas Hearts
72. Recreate Red
73. Chinese Royal Red
74. Snow White With Rhinestones
Great Christmas Nail Designs
76. Do Not Judge
77. Golden Shimmer With Red
78. Cheery Red And Cream White
79. Red Snake Stilettos
80. The OG Red Nails
Keep Reading For Christmas Nail Designs
81. Rocky Chess Red
82. The Best Winter
83. One Way Holiday Red
84. Red Snake Swirls
85. Beak-Shaped Red Square Nails
Christmas Nail Designs Continued
86. Delicate Art While Reindeer Sleeps
87. Stone Neutral
88. Designer Green With Golden Pattern Lines
89. Fall Autumn Brown Texture
90. Professional Mustard Yellow With Bear Brown
Get Amazed By These Christmas Nail Art Design Ideas
91. Orange Is The New Black
92. Wine Red With Candy Cane
93. Spooky Ginger Hearts
94. Glitter Green
95. White Nails With Golden Snowflake
Must Try Christmas Nail Art Designs
96. Shades Of Sea Blue
97. Merry Blue And Pink Mixes
98. Coat Printed Green White
99. Yellow Sunflower For Mood Swings
100. Jesus Loves Red
Wonderful Christmas Nail Designs
101. Pale White
102. Too Simple To Love It
103. Red Sparkles
104. Different Lollipop Shades
105. Glass Brown
Christmas Nail Designs Continued
106. White Candy Canes
107. The Original
108. Flower Prints On Rise Red
109. Red And Black Spider Webs
110. White Whoop
Vivid Christmas Nail Designs
111. Beach Blue
112. Lilac Swirls
113. Hot Red
114. Bridal White
115. Neon Yellow And Black
Christmas Nail Designs – A Celebration
116. Santa And His Outfit
117. Rudolph In Brown Snow
118. Khaki Ginger
119. Cats Love Holidays
120. Stone Silver Hearts
Some more nail design ideas for this Christmas
121. Valentine In December
Try these nail designs and have a great Christmas! And, don't forget to explore our fun section on Christmas celebrations. From Christmas greetings to Christmas party games to wishes to funny Christmas movies, you will find everything that you can do during the Christmas holidays!