In case you are wondering when is father's day this year, then it is on 19th June 2022. So, don't forget to wish your dad Happy Father's Day and thank him for all that he does for you. Though there are countless ways to wish your dad Happy Father's Day, we have compiled a list of some Father's day inspirational quotes and messages. As we know it's never easy to tell your dad how much you love him, these inspirational quotes may come in handy. Feel free to either write these Father's day inspirational messages/quotes/wishes in your Father's Day card or add a one-liner to your Instagram post honoring Dad.
So, take some inspiration from these Father's Day inspirational quotes and let your dad know how much you love him. In case your father enjoys humor, don't forget to read these funny Father's day quotes as well.
Happy Father's Day Inspirational Quotes & Messages
1. "Some people have superheroes but I have a super DAD!" – Catherine Pulsifer
2. "Happy Fathers' Day to all the fathers out there and to all the mothers who have to be fathers." – Albert R. Cumberbatch Ph. D., Face
3. "Here's to the man who is wisest and best, Here's to the man who with judgment is blessed. Here's to the man who's as smart as can be, I mean the man who is "Dad" to me!" – Author Unknown
4. "Thanks for everything, Dad, I love you. I would also like to thank my mom. Primarily for keeping ole Dad in check." – Jay McGraw, Closing the Gap
5. "One night a father overheard his son pray: Dear God, Make me the kind of man my Daddy is. Later that night, the Father prayed, Dear God, Make me the kind of man my son wants me to be." – Author Unknown
6. "It is not flesh and blood, but the heart which makes us fathers and sons." – Johann Friedrich von Schiller
7. "We all have stories to tell about a father and some of these stories are funny, some are of love, some are of encouragement and some filled with sorrow. It's a funny thing about remembering incidents that happened years ago and some of these incidents taught us a great lesson." – Byron Pulsifer, Going To Sleep Did Not Help
8. "The one person who believes in me; The one person whose words of wisdom stay with me; The one person who always loves me just the way I am; The one person who is an example of a positive man; That man is my Dad!" – Catherine Pulsifer
9. "A good father is one of the most unsung, unpraised, unnoticed, and yet one of the most valuable assets in our society." – Billy Graham
10. "Dad, you are a hero. You made it through tough times. And always made the best of every situation." – Derek Huntington, From Within
Happy Father's Day Inspirational Messages / Wishes
11. "My father gave me the greatest gift anyone could give another person: He believed in me." – Jim Valvano
12. "A Father could be defined as the 3 P's – the protector, the provider, and the problem solver." – Theodore W. Higginsworth
13. "A father is neither an anchor to hold us back nor a sail to take us there but a guiding light whose love shows us the way." – Author Unknown
14. "A Father is …..someone you can always turn to, someone who makes you smile when you are blue. Someone who has taught life values that will last a lifetime. And someone who always will lend me that dime." – Catherine Pulsifer
15. "The best kind of success is the man that is loved more than he realizes. And you Dad are loved MORE!" – A Lynch
16. "They say a house survives anything if it has a solid foundation. Father, you provided a solid foundation for us and we can survive anything that life throws at us thanks to your wisdom and guidance over the years." – Catherine Pulsifer
17. "While I had no say in the matter, I couldn't have picked a better Father." – Byron Pulsifer
18. "I love my father as the stars — he's a bright shining example and a happy twinkling in my heart." – Terri Guillemets
19. "My dad's my best mate, and he always will be." – Cher Lloyd
20. "I've said it before, but it's absolutely true: My mother gave me my drive, but my father gave me my dreams. Thanks to him, I could see a future." – Liza Minnelli
Happy Father's Day Inspirational Quotes
21. "When my father didn't have my hand, he had my back." – Linda Poindexter
22. "It's only when you grow up and step back from him — or leave him for your own home — it's only then that you can measure his greatness and fully appreciate it." – Margaret Truman
23. "A father is a man who expects his son to be as good a man as he meant to be." – Frank A. Clark
24. "A father is someone you look up to no matter how tall you grow."
25. "By the time a man realizes that maybe his father was right, he usually has a son who thinks he's wrong." – Charles Wadsworth
26. "Lately all my friends are worried they're turning into their fathers. I'm worried I'm not." – Dan Zevin
27. "A father carries pictures where his money used to be." – Steve Martin
28. "He adopted a role called Being a Father so that his child would have something mythical and infinitely important: a Protector." – Tom Wolfe
29. "The heart of a father is the masterpiece of nature." – Atoine-François Prévost
30. "Sometimes the poorest man leaves his children the richest inheritance." – Ruth E. Renkel
Happy Father's Day Inspirational Messages
31. "Father, I'm so proud to be your kid, but prouder that you're my Dad!" – Kate Summers
32. "Anyone can be a father, but it takes someone special to be a dad, and that's why I call you dad, because you are so special to me. You taught me the game and you taught me how to play it right." – Wade Boggs
33. "The quality of a father can be seen in the goals, dreams, and aspirations he sets not only for himself, but for his family." – Reed Markham
34. "My father didn't tell me how to live. He lived and let me watch him do it." – Clarence Budington Kelland
35. "Here's to my father. If I can become but half the man he is, I will have achieved greatness." – Dale Irvin, Everything Toasts Book
36. "I believe that what we become depends on what our fathers teach us at odd moments when they aren't trying to teach us. We are formed by the little scraps of wisdom." – Umberto Eco
37. "Dads are most ordinary men turned by love into heroes, adventurers, story-tellers, and singers of song." – Pam Brown
38. "Dads are amazing people. They can turn problems into opportunities and ordinary days into memories that stay with us for a lifetime." – Catherine Pulsifer
39. "I cannot think of any need in childhood as strong as the need for a father's protection." – Sigmund Freud
40. "To the world, you are a dad. To our family, you are the world." – Unkown
Happy Father's Day Inspirational Quotes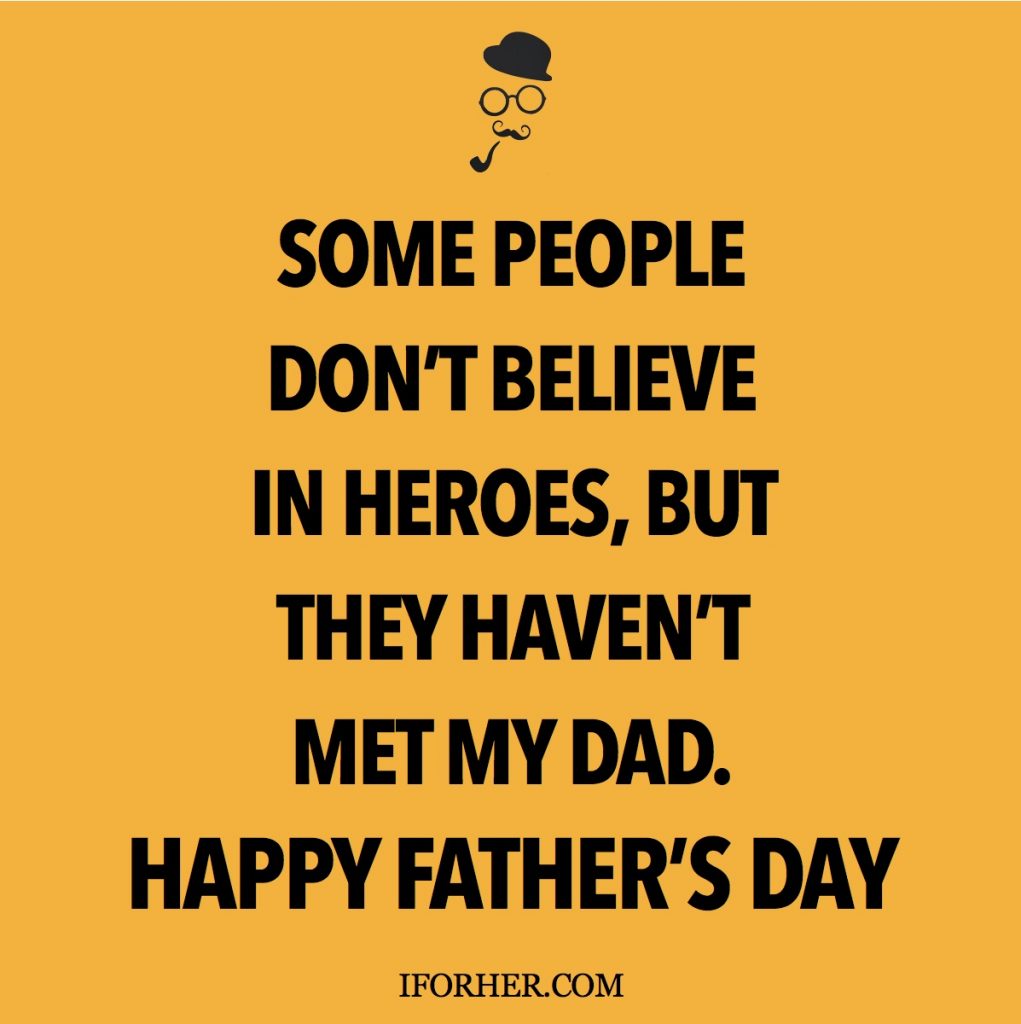 41. "Some people don't believe in heroes, but they haven't met my dad." – Unkown
42. "Any fool can have a child. That doesn't make you a father. It's the courage to raise a child that makes you a father." – Barack Obama
43. "It doesn't matter who my father was; it matters who I remember he was." – Anne Sexton
44. "The strongest, toughest men all have compassion. They're not heartless and cold. You have to be man enough to have compassion — to care about people and about your children." – Denzel Washington
Happy Father's Day Inspirational Wishes
45. "And I only hope when I have my own family that everyday I see a little more of my father in me." – Keith Urban
46. "It is a wise father that knows his own child." – William Shakespeare
47. "A father's smile has been known to light up a child's entire day." – Susan Gale
48. "The greatest mark of a father is how he treats his children when no one is looking." – Dan Pearce
49. "My father didn't do anything unusual. He only did what dads are supposed to do—be there." – Max Lucado
50. "[My father] has always provided me a safe place to land and a hard place from which to launch." – Chelsea Clinton
51. "She did not stand alone, but what stood behind her, the most potent moral force in her life, was the love of her father." – Harper Lee
52. "There will always be a few people who have the courage to love what is untamed inside us. One of those men is my father." – Alison Lohman
53. "A father doesn't tell you that he loves you. He shows you." – Dimitri The Stoneheart
52. "A father is neither an anchor to hold us back, nor a sail to take us there, but a guiding light whose love shows us the way."
Hope you loved these Father's Day Inspirational wishes, messages and quotes as much as we did. Don't forget to share the best ones with your father and let him know how special he is.