This post captures special International Women's Day Quotes for March 8 to celebrate great women in our lives – amazing moms, great sisters, or fabulous wives or girlfriends in our lives.
We are surrounded by amazing women in our lives. While we celebrate them every day around the year, International Women's Day gives us a special reason to do it. March 8, International Women's Day, is the day to encourage everyone in society – at home and at the office – to celebrate women's achievements. This day also helps in raising awareness about women's equality and gender parity.
There are many ways to celebrate the great women in our lives and their achievements. But before we do that, why not fill ourselves with some inspiration to remind us how great and fabulous women are? Here are some great inspiring women's day quotes that you could share with your amazing mom, incredible sister, or remarkable girlfriend or wife!
Here are some of the inspiring International Women's Day Quotes.
There is nothing stronger than a broken woman who
has
rebuilt herself. –
HANNAH GADSBY
We need to reshape our own perception of how we view ourselves. We have to step up as women and
take the lead. – Beyoncé
No woman should be told she can't make decisions about her own body. When women's rights are under attack, we fight back
. –
KAMALA HARRIS
I don't know a woman alive who isn't courageous. –
REESE WITHERSPOON
We need to live in
a culture that values
and respects and looks
up to and idolizes
women as much as men. –
EMMA WATSON
International Women's Day Quotes & Messages
Feminism isn't about making women strong. Women are already strong. It's about changing the way the world perceives that strength. –
G.D. ANDERSON
Every woman's
success should be an inspiration to another. We're strongest when we cheer each other on. –
SERENA WILLIAMS
There's something so
special about a woman who dominates in a man's world. It takes a certain grace, strength, intelligence, fearlessness and the nerve to never take no for an answer. –
RIHANNA
There is no limit
to what we,
as women, can accomplish. –
MICHELLE OBAMA
Think like a queen.
A queen is not afraid to fail. Failure is another
stepping-stone to greatness. –
OPRAH
If you want something said, ask a man;
if you want something done,
ask a woman
. –
MARGARET THATCHER
Human rights are
women's rights
and women's rights are
human rights. –
HILLARY CLINTON
International Women's Day Quotes & Messages
No one can make
you feel inferior
without your consent. –
ELEANOR ROOSEVELT
I am grateful
to be a woman,
I must have done something great in another life. –
MAYA ANGELOU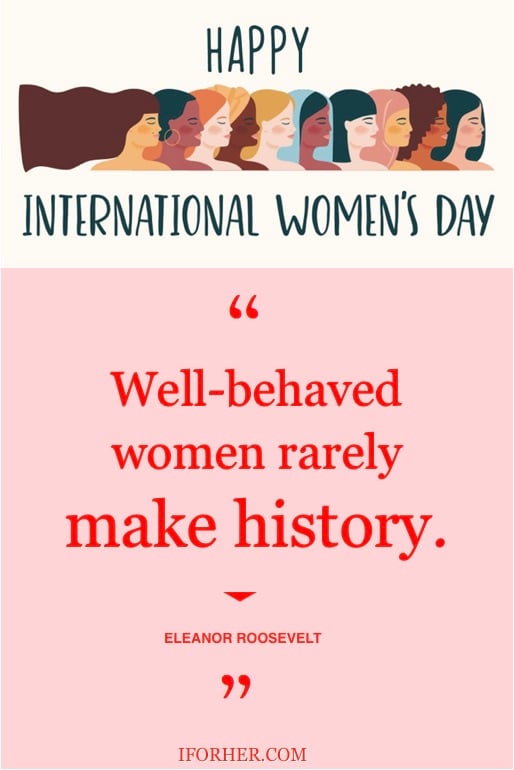 Well-behaved
women rarely
make history. –
ELEANOR ROOSEVELT
We realise the
importance of our voice
when we are silenced. –
MALALA YOUSAFZAI
Always be a
first-rate
version of yourself
instead of a second-rate version of somebody else. –
JUDY GARLAND
L
ife is tough,
my darling
but so are you. –
STEPHANIE BENNETT-HENRY
The most important thing one woman can do for another is to expand
her sense of actual possibilities. –
ADRIENNE RICH
I do not wish women to have power over men, but over themselves. –
MARY SHELLEY
Hope you liked these international women's day quotes. And, you would send it across to all the great and extraordinary women around you. Happy Women's Day to all the great women out there!