Thanks to the changing times and OTT platforms, we can witness some inspiring badass female characters. With no urge to please the patriarchal mindset of society, a handful of makers showed courage and gave us badass female characters who truly kicked ass:
1. Aarya in Aarya played by Sushmita Sen
When it comes to crime thrillers, female characters are hardly awarded a meaty role. But, Aarya is different. The whole series is built with Arya Sarin at the center. Aarya is a protective mother and a grieving widow. Without compromising on what makes her a woman, Aarya fearlessly fights the fiercest of battles to come out winning like a true hero!
2. Raji in The Family Man 2 played by Samantha Akkineni
Samantha's performance as Raji in Family Man 2 was widely appreciated by the audience. Unlike many other female characters, Raji is dark, unabashed, unapologetic, and extremely strong-headed.
3. Bulbbul in Bulbbul played by Tripti Dimri
Bulbbul beautifully captures the rage and anger of a woman, who has suffered at the hands of patriarchal society and toxic masculinity. Tripti Dimri as bulbbul steals the show as she convinces you that it's not the demons but the society that is the true evil.
4. Beena Tripathi in Mirzapur played by Rasika Duggal
It wouldn't be wrong to say that Rasika is Beena Tripathi's most epic role so far. Beena Tripathi is one smart woman, who knows that the world is dominated by men with fragile but inflated egos. In such a world, women need to bide the time and play both, the players and the game. She is unapologetic and bold. Doesn't matter whom you support, you can't help but admire Beena Tripathi!
5. Dolly in Dolly Kitty Aur Woh Chamakte Sitare played by Konkona Sen Sharma
Konkana Sen Sharma is a fine actor and this is one of her finest performances. How beautifully Konkona Sen Sharma reveals the root of what makes Dolly different is quite heartwarming. Dolly is not content to play the roles society has assigned to her. She creates distractions (stealing or infidelity) from living a life that looks perfect on paper but makes her feel suffocated! And, that's the reason why many women could relate to her!
6. Tara Khanna played by Sobhita Dhulipala in Made in Heaven
Tara Khanna is a complex character. She is a woman in a man's world, and hence, she uses unscrupulous means to reach the top. These means might not be right, but understandable. And, what makes this character so heartwarming is the fact that when she has enough power, she does not shy away from supporting her friends and fellow women. She may not be an angel but she is definitely a fighter!
7. Rani in Bombay Begum played by Pooja Bhatt
Even though Rani is at a good stage in her career and has a happy marriage, there is still something that is missing from her life. Her step-children do not like her and even in professional life, people are trying to pull her down. No one can deny Pooja Bhatt is brilliant in the show. And, the most emotional scenes of the series are between her and her step-daughter Shai.
8. Vartika in Delhi Crime played by Shefali Shah
Based on the realistic portrayal of the 2012 Delhi rape case, this crime drama leaves you stunned. With the stellar performance by actress Shefali Shah as Vartika, this series is a must-watch. In this crime drama, Shefali plays the role of a police officer, who puts rapists behind bars. The character of Vartika is about strength, courage, determination, persistence, and love!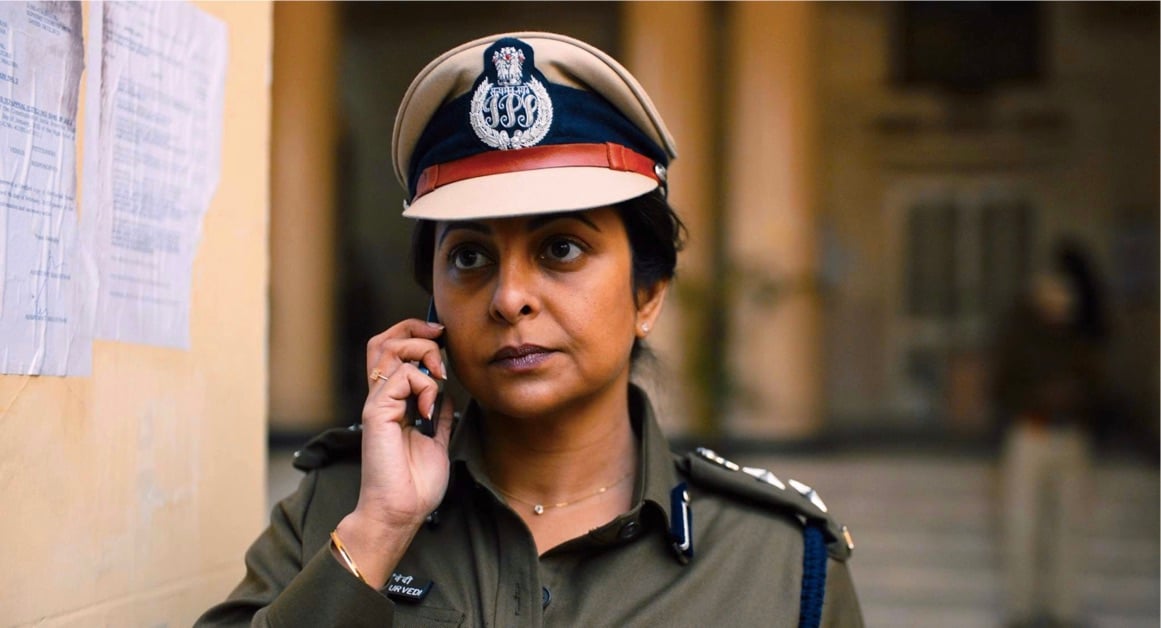 9. Shalini in Leila played by Huma Qureshi
Huma Qureshi received a lot of praise for playing this character. With the serious and powerful role of Leila, Huma has broken the stereotype and has touched acting heights. Leila is a strong mother, who is searching for her daughter while fighting the issues of authoritarian rule, religious division, and environmental crisis.
Who is your favorite character that showcases a strong and inspiring woman? Tell us in the comments below.