Cinema and movies have the unique ability to take us into another universe and a dreamy state of consciousness. It's even more amazing when the film finishes on a positive, upbeat tone while playing our favorite song, bursting us into tears. The movies that end on an unexpected track, which are often depressing and heartbreaking at the end, but do a wonderful job of telling a realistic tale, are the ones that most impress us and leave us speechless.
Good filmmakers are spending their time and energy making movies that can touch the soul of the audience. While some of the films manage to make us laugh, some of them make us cry excessively. We bring you the best films that were so emotional that they could warm even the hardest of hearts. These movies' plots are built on narratives that make us cry a lot and shed a lot of tears.
Best Heart-breaking Movies That Will Make You Cry
Here's the list of the best Bollywood emotional and heart-breaking movies.
1. Veer Zaara
The pain in this movie is an aside from the general tragedy of the world. Veer Zaara was a certified heartbreaking movie. An honest guy who decided to go to jail to save his lifelong love is eventually united with her. Veer and Zaara are the Indian Romeo and Juliet, and knowing that it's based on a true story makes it more heartbreaking. Veer-Zaara is a story of love, sacrifice, and separation. A legendary love story that inspires people today and will always be remembered.
2. Taare Zameen Par
Taare Zameen Par is an incredibly depressing and inspiring film. It deals with mental illnesses in such a lovely way, while simultaneously demonstrating how Indian families ignore them and hold their kids responsible. It's about Ishaan (Darsheel Safary), who is dyslexic. But his parents don't think it's a legitimate condition and put his failing grades down to naughtiness and lack of discipline. Ram (Aamir Khan), an art teacher at the boarding school where he is placed as a punishment, assists him in overcoming his dyslexia and realizing his full potential. You'll cry while watching this film. It breaks our hearts to see Ishaan struggle to learn and despise himself for it. Also, the Maa song ought to be the best song for all sad moods.
3. The Sky Is Pink
In the colorful melodrama "The Sky Is Pink," a teenager tells the story of her family's care and sacrifices from an unusual vantage point. Taking a refreshing attitude toward her mortality, the recently deceased Aisha Chaudhary says, "I'm dead, get over it." Since it opens with death, this movie is rather depressing. The narrative examines what it's like to care for a child before losing them. After suffering such a loss, what changes in your life? Can love endure suffering?
4. We Are Family
One of the saddest films ever made is certainly We Are Family. It's about cancer. With three kids between them, Aman (Arjun Rampal) and Maya (Kajol) are a separated couple. Aman resides with his girlfriend Shreya while Maya is at home with the children (Kareena Kapoor Khan). Aman and Shreya move in when Maya is given a cancer diagnosis, which the kids don't handle well. To live together and deal with Maya's disease, they all fight (in a very emotional way). You'll cry like never before watching this movie.
5. Baghban
Baghban comes first on the list of depressing family drama movies. This is the story of Raj and Pooja, an elderly couple who do a decent job parenting their four kids. Adult children, on the other hand, are ungrateful and selfish, taking advantage of their parents to get rich. It is painful to see the beloved elderly couple treated poorly and split apart.
6. Kal Ho Na Ho
Kal Ho Naa Ho is one of SRK's gems. This film may appear to be humorous at first glimpse, which it most certainly is, but it is sad underneath. It is about three young people, Aman (SRK), Naina (Preity Zinta), and Rohit (Saif Ali Khan), who are figuring out love and life in general. It covers a lot of somber subjects including discrimination towards children born to unmarried parents, adultery, suicide, Shahrukh Khan sobbing uncontrollably, and death and more death. You'll laugh and weep a lot while watching the movie.
7. My Name Is Khan
In My Name is Khan, an autistic Muslim guy named Rizwan Khan tells his tale. Khan wants everyone to know that he is Muslim and NOT a terrorist. After 9/11, Khan and Mandira (Kajol) started to feel that they were being ethnically persecuted because of their last name, Khan. Politically significant, this film exposes the nasty side of racism and Islamophobia. This movie's current relevance is what makes it depressing. This tragic Bollywood film features a significant dose of realism.
8. Rang De Basanti
You could watch this heartbreaking film over and over again, it's that good! Initially a lighthearted student drama with some funny parts, it suddenly takes a harsh and serious turn toward patriotism. This movie has the power to turn the least patriotic person into a desh-bhakt. With amazing acting by all the characters, this movie is a masterpiece.
9. Devdas
One of the most romantic heart touching love tales in movie history was featured in the Hindi adaptation of Sarat Chandra Chatterjee's Devdas. This story doesn't need to be introduced. Due to circumstances, two former childhood friends who fell in love must separate ways, only to yearn for one another for the rest of their lives. When they come together later, it only leads to a teary climax.
10. Masoom
This Shekher Kapur direction is a classic featuring Jugal Hansraj, Naseeruddin Shah, and Shabana Azmi. This movie tells the story of a kid born to a single mother who dies. The unpleasant fact that he was born as a result of his father's extramarital affair with his mother means that he then needs to move in with his father and his family. Because of how it examines the bond between the child and his father's wife, the movie is a tearjerker.
11. Anand
In Hrishikesh Mukherjee's film Anand, Rajesh Khanna starred alongside Amitabh Bachchan and completely stole the show with his outstanding performance. Anand, a cheerful middle-aged man with lymphosarcoma who inspires us to live life to the fullest, serves as the central character in the movie's narrative. Khanna plays Anand in the role. Anand, regarded as one of the most outstanding films in Hindi cinema history, shows us the importance of living life.
12. Udaan
Your eyes will start to weep as soon as you see the heartbreaking movie Udaan. The film portrays the tale of Rohan and Arjun, who live with their drunken, violent father Bhairav. Following Rohan's dismissal from his boarding school, his father puts pressure on him to pursue a career in engineering. When Bhairav treats him and his younger brother aggressively, Rohan is frightened. They run away from the house, to save their lives. You'll be inspired by Udaan to speak up against injustices and gain the confidence to take appropriate action.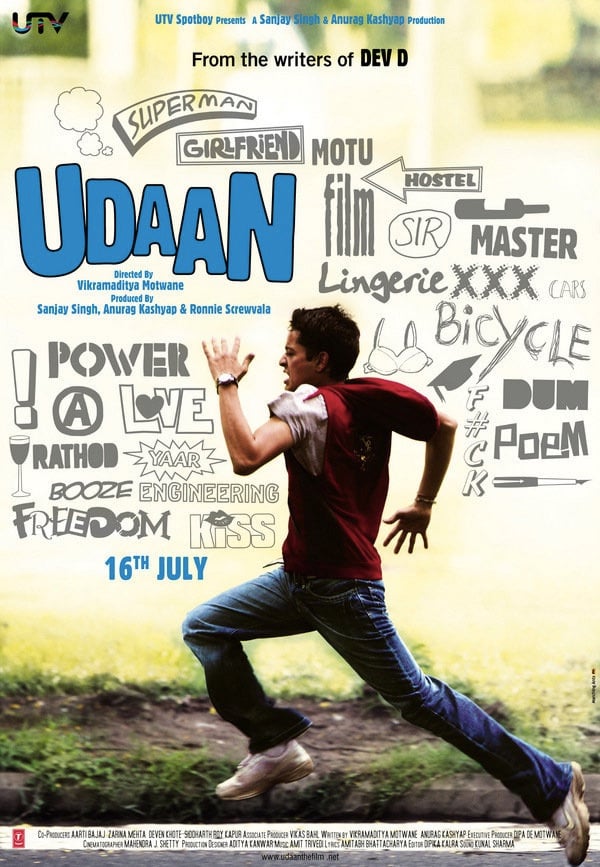 We have so many thought-provoking films to watch, consider, and think about – thanks to Bollywood. The aforementioned films, although having depressing conclusions, do highlight some significant problems that society is now facing. They also bring out some true feelings that are inspired by events in life.
Which one is your favorite? Do let us know in the comments below.