These are the best loneliness quotes by famous people that show many struggle with loneliness.  These quotes on loneliness are just a reflection of how many people are struggling with loneliness and you are not alone. 
If you feel lonely, believe us you are not alone.

Many of us struggle with the feeling of loneliness from time to time. It hits us at random moments. But if you feel chronically lonely, then we would suggest you see an expert because it could be a more serious condition like depression.
When we are lonely, we undergo multiple feelings – the feeling of isolation, feeling empty or unhappy with our relationships. The feeling of loneliness even persists when we are not alone. We may be constantly surrounded by people, but still feels lonely.
This feeling of loneliness may make you believe that you do not have meaningful bonds with others or that you are constantly misunderstood.
We know this feeling may suck. But to let you know that you're not alone in your loneliness, we've gathered some sad yet powerful quotes that perfectly sums the feeling of loneliness. Because sometimes knowing that we aren't the only one feeling the way we do – not only makes us feel better but also encourages us to pull ourselves up.
Here are some of the best loneliness quotes by famous people:
#1
REMEMBER: THE TIME YOU FEEL LONELY IS THE TIME YOU MOST NEED TO BE BY YOURSELF. LIFE'S CRUELEST IRONY. ~ Douglas Coupland
#2
THE WORST PART OF THE MEMORIES IS NOT THE PAIN. IT'S THE LONELINESS OF IT. MEMORIES NEED TO BE SHARED ~ Lois Lowry
#3
WHEN WE CANNOT BEAR TO BE ALONE, IT MEANS WE DO NOT PROPERLY VALUE THE ONLY COMPANION WE WILL HAVE FROM BIRTH TO DEATH – OURSELVES ~Eda J. LeShan
#4
LONELINESS IS THE HUMAN CONDITION. NO ONE IS EVER GOING TO FILL THAT SPACE. THE BEST YOU CAN DO IS KNOW YOURSELF; KNOW WHAT YOU WANT ~Janet Fitch
#5
THERE'S NOTHING ABNORMAL ABOUT  LONELINESS ~ Paula Stokes
#6
ALL GREAT AND PRECIOUS THINGS ARE LONELY ~John Steinbeck
#7
I WANT TO BE WITH THOSE WHO KNOW SECRET THINGS OR ELSE ALONE ~Rainer Maria Rilke
#8
I WAS VERY OFTEN FULL OF RAGE AND DESPAIR. I WAS ALWAYS LONELY.  IN SPITE OF ALL THAT I WAS AND I AM IN LOVE WITH LIFE ~Jeanette Winterson
#9
IF YOU WANT TO MISS YOUR CROWN, FOLLOW THE CROWD. IF YOU WANT TO WEAR THE CROWN, GO ALONE AND BE YOURSELF ~Israelmore Ayivor
---
---
#10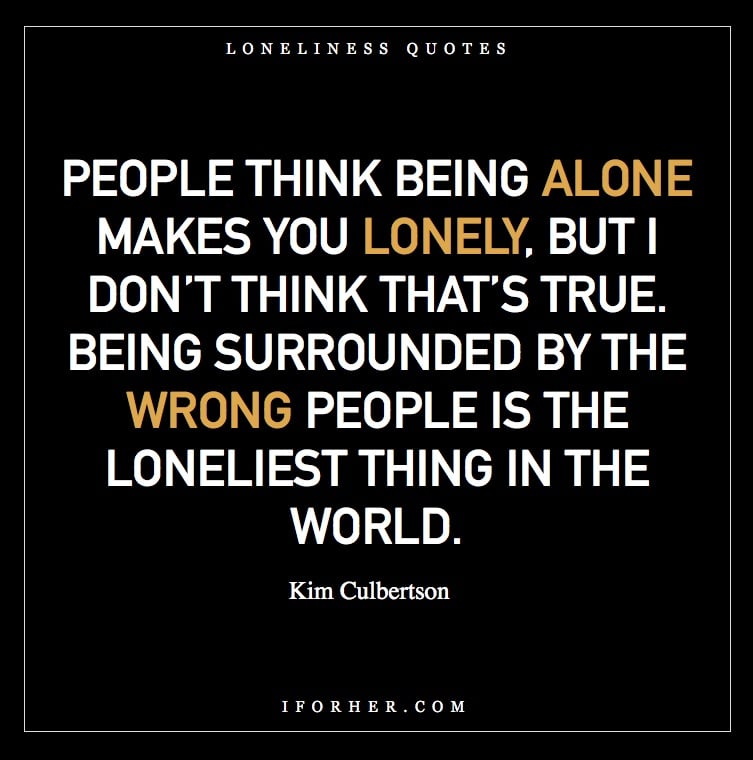 PEOPLE THINK BEING ALONE MAKES YOU LONELY, BUT I DON'T THINK THAT'S TRUE.  BEING SURROUNDED BY THE WRONG PEOPLE IS THE LONELIEST THING IN THE WORLD ~Kim Culbertson
#11
BEING ALONE AND ACTUALLY SITTING WITH OUR THOUGHTS CAN LEAD TO SUCH GROWTH & REALIZATIONS THAT ARE RARE IN OUR EVERYDAY BUSY LIVES ~Kourtney Kardashian
---
---
#12
THE BEST PART ABOUT BEING ALONE IS THAT YOU REALLY DON'T HAVE TO ANSWER TO ANYBODY.  YOU DO WHAT YOU WANT ~Justin Timberlake
#13
A SEASON OF LONELINESS AND ISOLATION IS WHEN CATERPILLAR GETS IT'S WINGS. REMEMBER THAT NEXT TIME YOU FEEL ALONE ~Mandy Hale
#14
MUSIC WAS MY REFUGE. I COULD CRAWL INTO SPACE BETWEEN THE NOTES AND CURL MY BACK TO LONELINESS ~Maya Angelou
#15
YOU MAY FEEL LOST AND ALONE BUT GOD KNOWS; WHERE YOU ARE AND HAS A GOOD PLAN FOR YOU ~Anonymous
Hope these loneliness quotes may have given you some comfort and peace.