Mornings are the most important part of any day. Happy mornings often lead to a happy and fulfilling day. So, if one can find a way to stay positive and happy during the mornings, it lays the foundation for a strong day. One way to do so is to read some powerful quotes for morning motivation. To help you and others to start your day off strong, we have compiled some finest collections of Motivational Good Morning Quotes and Good Morning Quotes for Love.
This collection of Motivational Good Morning Quotes is to inspire you to stay positive and kick-start your day with all the positivity! We hope you find these Inspirational Good Morning Quotes useful and share them with friends and family to spread positivity and encouragement.
Best Good Morning Quotes With Images: This pic collection contains Motivational Good Morning Quotes With Images | Good Morning Quotes Success | Inspirational Life Good Morning Quotes | Good Morning Quotes in English with Images.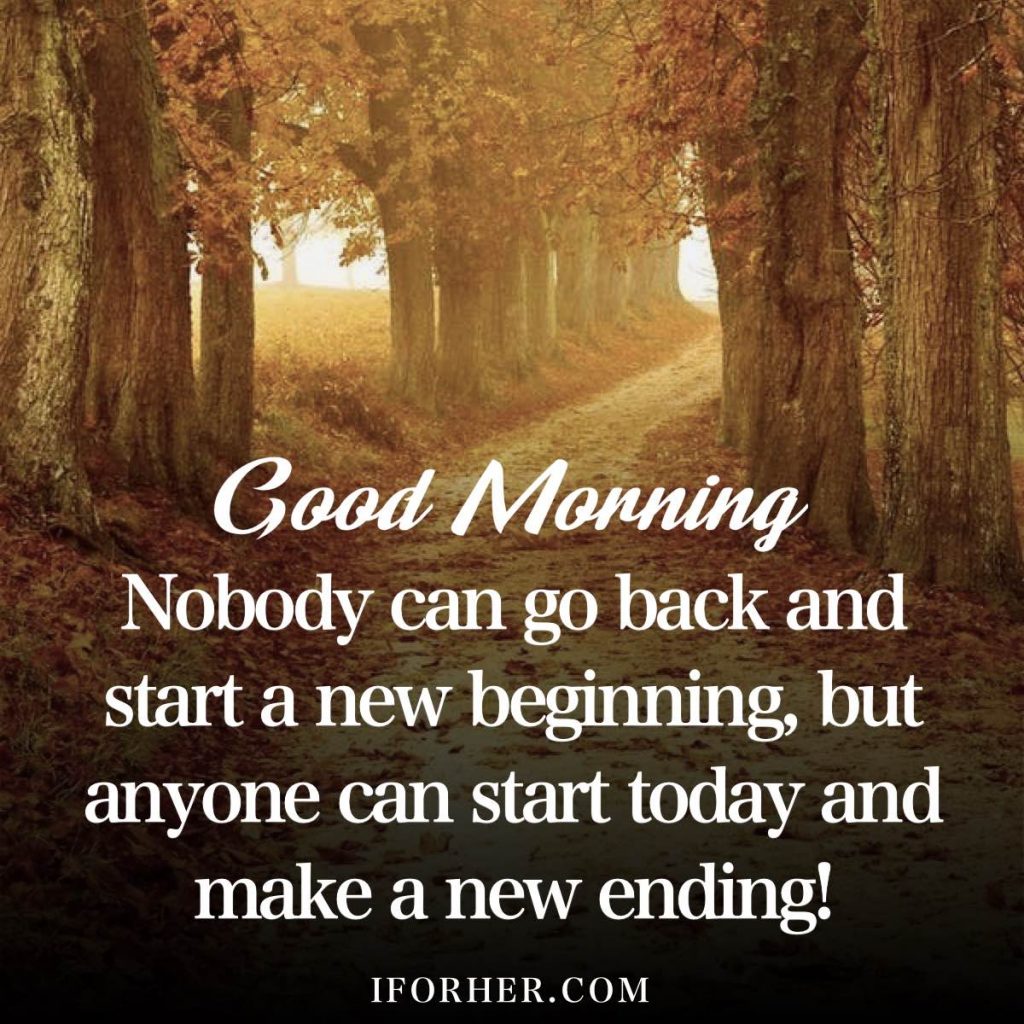 1. "Nobody can go back and start a new beginning, but anyone can start today and make a new ending." – Maria Robinson
---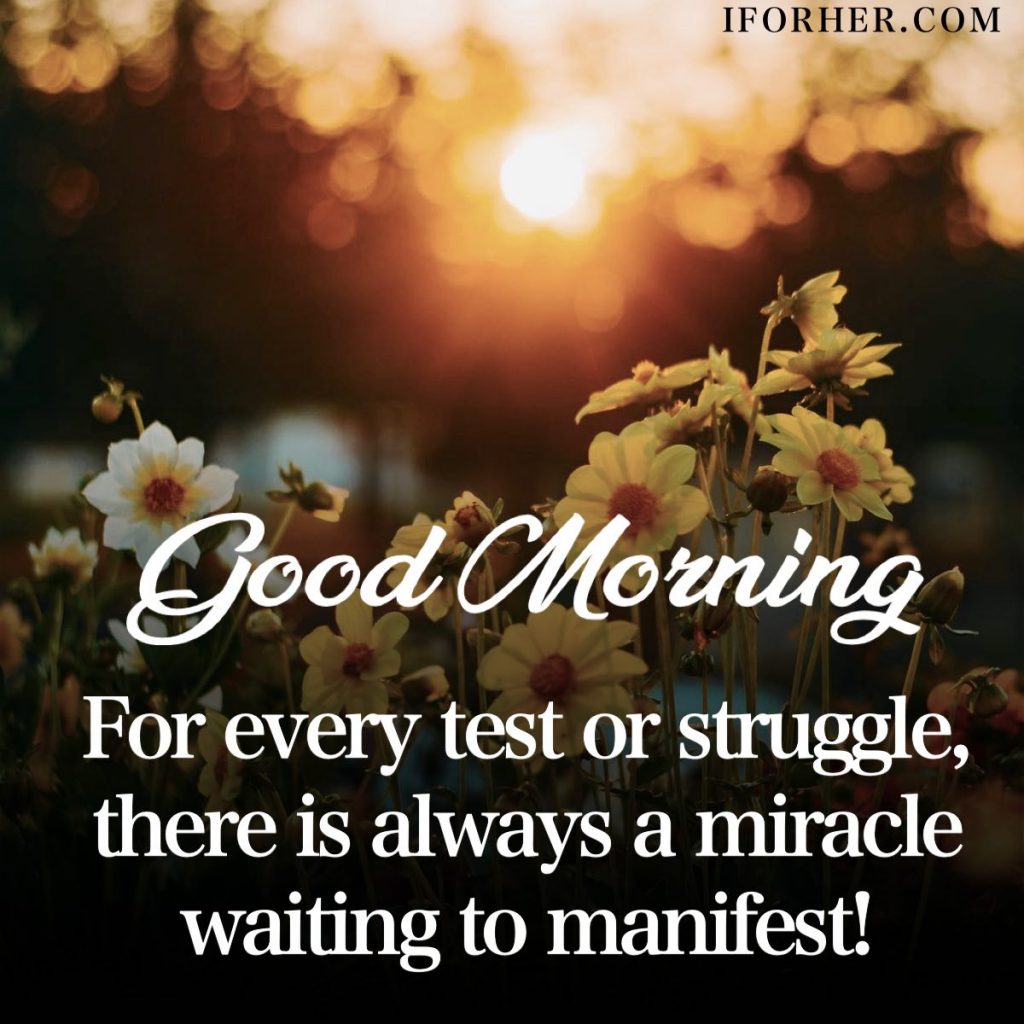 2. "Good Morning! For every test or struggle, there is always a miracle waiting to manifest!" – Anonymous
---
3. "A sweeter smile, a brighter day! Hope everything turns out great for you today!" – Anonymous
---
4. "You may be disappointed if you fail, but you are doomed if you don't try." – Beverly Sills
---
5. "Make yourself in such a way that you are always part of the solution, not the problem!" – Anonymous
---
 6. "Do not go where the path may lead, go instead where there is no path and leave a trail." – Ralph Waldo Emerson
---
7. "Accept the situation and move on with a smile. Have a great day!" – Anonymous
---
8. "In the end, it's not the years in your life that count. It's the life in your years." — Abraham Lincoln
---
9. "Everything in your life is dictated by you. Be who you want to be. Think positive thoughts and great things will happen to you." — Anonymous
---
10. "Good Morning! Have a beautiful day! 
---
11. "What I know for sure is that every sunrise is like a new page, a chance to right ourselves and receive each day in all its glory. Each day is a wonder." – Oprah Winfrey
---
12. "I wake up every morning at nine and grab for the morning paper. Then I look at the obituary page. If my name is not on it, I get up." – Benjamin Franklin
---
13. "Every morning, I wake up saying, 'I'm still alive, a miracle.' And so I keep on pushing." – Jim Carrey
14. "Go as far as you can see and you will see further!"
---
15. "If you're changing the world, you're working on important things. You're excited to get up in the morning." – Larry Page
---
16. "Some people dream of success, while other people get up every morning and make it happen." – Wayne Huizenga
---
17. "Everyone has highs and lows that they have to learn from, but every morning I start off with a good head on my shoulders, saying to myself, 'It's going to be a good day!" – Lindsay Lohan
18. "Failure will never overtake you if your determination to succeed is strong enough."
---
19. "Life is too short to wake up in the morning with regrets. So, love the people who treat you right and forget about the ones who do not." – Christy Chung
---
20. "Wake up! This world that you dream holds nothing to fear." – Rumi
---
21. "Every day I get up and look through the Forbes list of the richest people in America. If I'm not there, I go to work" – Robert Orben
22. Be the person that when your feet touch the floor in the morning the devil says, "Awe sh*t, they're up." – Dwayne Johnson
---
23. "Every morning you have two choices: Continue to sleep with your dreams, or wake up and chase them" – Carmelo Anthony
---
24. "Every sunrise gives you a new beginning and a new ending. Let this morning be a new beginning to a better relationship and a new ending to the bad memories. It's an opportunity to enjoy life, breathe freely, think and love. Be grateful for this beautiful day" –  Norton Juster
---
25. "When I wake up in the morning, I feel like a billionaire without paying taxes." – Ernie Banks
26. "If you set your goals ridiculously high and it's a failure, you will fail above everyone else's success." – James Cameron
---
27. "If you get up in the morning and think the future is going to be better, it is a bright day. Otherwise, it's not." – Elon Musk
---
28. "I arise in the morning torn between a desire to improve the world and a desire to enjoy the world." – E. B. White
---
29. "One key to success is to have lunch at the time of day most people have breakfast." – Robert Brault
---
Scroll more to read these inspiring quotes for morning motivation: 
30. "Never stop doing your best just because someone doesn't give you credit!"
---
31. "Every morning, my dad would have me looking in the mirror and repeat: "Today is going to be a great day; I can, and I will." – Gina Rodriguez
---
32. "The breeze at dawn has secrets to tell you. Don't go back to sleep." – Rumi
---
33. "The sun is a daily reminder that we too can rise again from the darkness, that we too can shine our own light." – S. Ajna
---
In case you need some additional inspiration, scroll down to read more quotes for morning motivation. We are sure, that by the end, of this post you will be all pumped up with positivity & energy.
34. "We may encounter many defeats but we must not be defeated." – Maya Angelou
---
35. "I like my coffee black and my mornings bright." – Terri Guillemets
---
36. "When everything seems to be going against you, remember that the airplane takes off against the wind, not with it." – Henry Ford
---
37. "Life is what we make it, always has been, always will be." – Grandma Moses
38. "It doesn't matter how slowly you go as long as you do not stop." – Confucius
---
39. "For the past 33 years, I have looked in the mirror every morning and asked myself: 'If today were the last day of my life, would I want to do what I am about to do today?' And whenever the answer has been 'No' for too many days in a row, I know I need to change something." – Steve Jobs
---
40. "The biggest task in the morning is to try to keep my headspace from being invaded by the outside world." – Austin Kleon
---
41. "The morning is good because we remember that no matter what went wrong the previous days, we just got a perfect opportunity to rewrite history and do better." – Anonymous
42. "I have got nothing to say but it's okay, good morning, good morning!" – The Beatles
---
43. "The brain is a wonderful organ; it starts working the moment you get up in the morning and does not stop until you get into the office." – Robert Frost
---
44. "Being happy or sad, gloomy or excited, moody or stable … are options that are presented to you every morning. You just have to make the right choice." – Anonymous
---
45. "Do not let making a living prevent you from making a life." – John Wooden
Hope these motivational Good morning quotes inspire you as much as they inspired us. We believe that these inspirational quotes about morning are the perfect quotes for morning motivation and kick-starting your day. A humble request: In case you find this post inspiring, don't forget to share these inspirational quotes for morning with your friends and family. Because, what's a better way to start your day than inspiring others to have an enriching day. Have a great day!