Couple Tattoos are the best way to express your love to your partner. These tattoo designs are the perfect symbol of love. There are many who adore the idea to cement their love for their partner. In case you are one of those adorable couples, who would love to celebrate your one-of-a-kind love for your partner in a unique way, then we have some really great couple tattoo design ideas for you. 
From simple delicate ring tattoos to crown tattoos to finger tattoos, you will get everything in our robust couple tattoo design ideas list. Hope you would find the perfect tattoo idea to express your love in a unique way.
1. Couple Finger Tattoos
These amazing couple finger tattoo design ideas are small, simple, and unique. They are perfect for any finger but what makes it extra special if it is a wedding ring finger! Here are some of the best couple finger tattoos design ideas:
Minimalist Geometric Pattern Finger Tattoos
Hers & His Finger Tattoos
'I Love You' Finger Tattoos
Semi-circle Couple Finger Tattoos
Anchor Sail Finger Tattoos for Couple

Heart Arrow Finger Tattoos for Couple
Couple Initials Finger Tattoos
Rocket Saturn Finger Tattoos
2. Lock & Key Couple Tattoo Ideas
These amazing lock and key couple tattoo design ideas are perfect to convey the message that you are made for each other.  From lock & key to puzzle pieces, these are perfect couple tattoo ideas. Here are some of the best lock & key tattoos:
Puzzle Pieces Couple Tattoos
3. King & Queen Tattoos for Couples
To symbolize the queen and king of each other's hearts, the couple's crown tattoos are favorite of many. Here are some of the best couple crown tattoo ideas:
Couple Crown Tattoos
Text-based King & Queen Tattoos
Cards Based King & Queen Tattoos
4. Wrist Couple Tattoo Ideas
Some of the best couple tattoo ideas are done on the wrist. From text-based to graphic based, here are some of the best couple wrist tattoo ideas:
'I Love Her/ Him' Wrist Tattoos
Beauty & Beast Wrist Tattoos
Forever His & Forever Hers Wrist Tattoos
5. Heart Tattoo Ideas For Lovers
Another famous tattoo design for couples is the heart tattoos. This simple heart tattoo idea is perfect for lovers. The ultimate symbol of love is the perfect tattoo choice to express one's feelings for each other. Here are some of the best heart tattoo ideas:
Cute Heart Couple Tattoo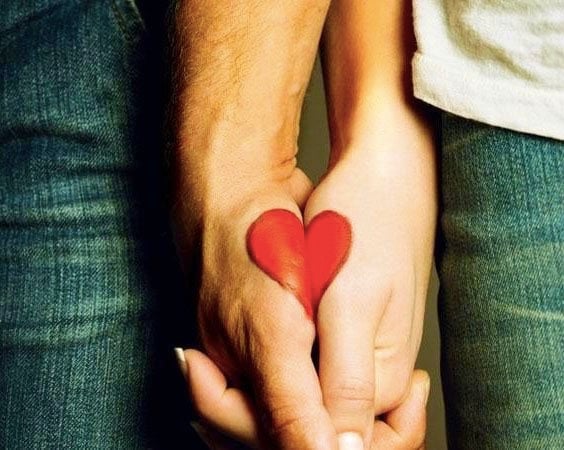 Heart With Initials Tattoo
Colorful Heart Tattoo for Couple
Tiny Matching Heart Tattoo
6. Infinity Couple Tattoos
One of the tattoo designs for couples that is quite popular is the Infinity tattoo. The infinity tattoo symbolizes the infinite love of the couple. These tattoos are simple, and easy yet they signify just a deep sentiment. Here are some of the best infinity tattoo ideas:
Infinity Love Tattoo With Names
'In Thick & Thin' Infinity Love Tattoo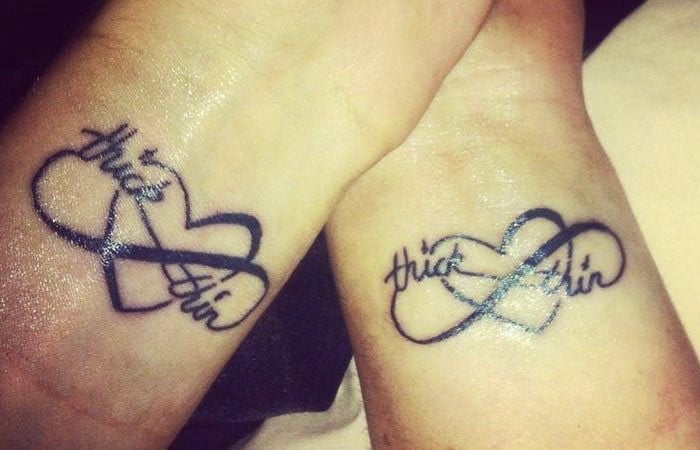 Matching Infinity Tattoo With Initials
You & Me Infinity Love Tattoo
7. Married Couples' Soulmate Tattoo Ideas
To express your gratitude, love, and care towards your soulmate, you need some extra-special tattoo ideas. Here are some best soulmate tattoo ideas for married couples. These tattoos complete each other, the same way couples complete each other. Here are some of the best married couples' soulmate tattoo ideas:
My Sun & Stars, Moon of my life – Soulmate Tattoos
Every day for the rest of our lives – Soulmate Tattoo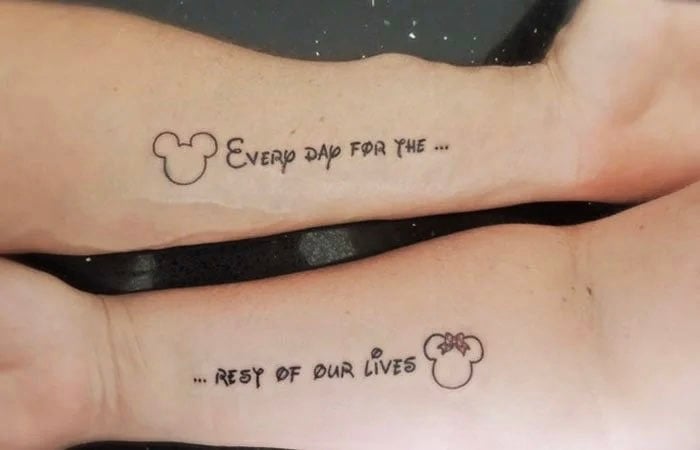 You & Me Together Forever Couple Tattoo
Hope you would have found your favorite tattoo design idea to express your love in a unique and different way! In case you would like to explore more tattoo ideas, then do visit – Best tattoo ideas for women and flower tattoo ideas.