Best Tattoo Designs for Women in 2023 along with the best places to get them. This selection of tattoo designs have been widely appreciated by our readers for carrying the trendiest tattoo designs. 
Tattoos for women are a popular trend for some time now. As many women are planning to get inked, the major struggle that they face is to finalize which Tattoo design is best for women, especially for them. You want your tattoo to either to have a special meaning or be creative and unique. And, we do understand that which tattoo to get, could be a really hard decision to make. Because it's going to be on your body for the rest of your life until you decide to get it lasered.
So, in order to help you in making such a big decision, we have compiled everything that you need to know about Tattoo designs for women. These are the best tattoo designs for women that have deeper meanings and connections with the soul.  In this post, our experts have shared: 

Most Popular Tattoo Designs For Women [2023]
1: Wolf Tattoo Ideas
Wolf is a beautiful symbol of love and loyalty. Being known for living in packs, wolves' survival and strength totally depend on their numbers. And, that's the reason why this design symbolizes family. So, it is a perfect tattoo design to remember power lies in unity and family relationships.
2. Butterfly Tattoo Ideas
One of the most popular tattoo design ideas for women is the Butterfly Tattoo. Butterfly tattoo design is quite popular for decades and the beauty of it lies in the fact that they are timeless. They represent a very special meaning to the wearer. As we all know butterflies are beautiful and delicate yet, they also represent transformation, change, hope, and resilience. Because of its feminine element, this design is quite a hit among women.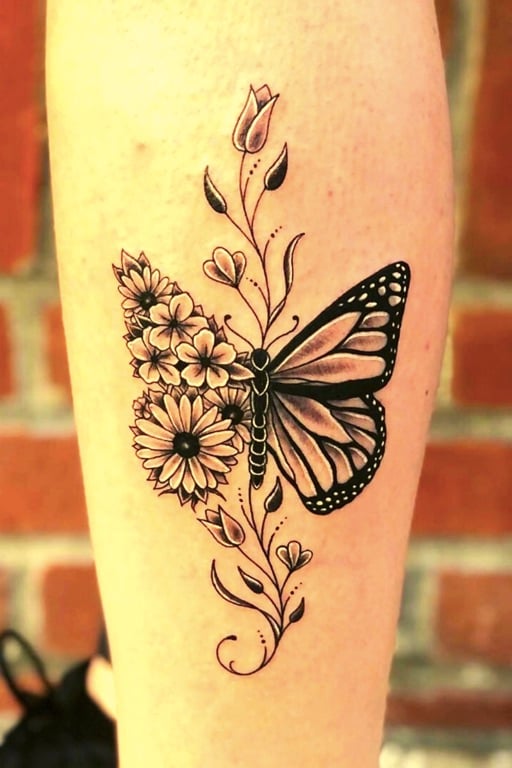 3. Lion Tattoo Ideas
Being the ultimate king of the jungle, the lion is another creature that is known to be respected and feared. What attracts many people to go ahead with this tattoo are the traits of courage, bravery, royalty, and intelligence. You could go with a unique approach to make it more feminine by adding other elements like flowers, shapes, or hearts!
4: Dragon Tattoos
Fearless, Fierce, Protector & Wise is what Dragons stand for. Dragon tattoos could be a powerful statement. They are famous for being fierce and powerful creatures. They are known to be respected, but also to be feared.
5: Semicolon Tattoos
With a very deep meaning, the semicolon is a symbol of those struggling with mental health and depression. It's just a reminder of their struggle and how they have to continue with their life despite their struggle. Hence, it makes it important to get this tattoo at a place where it can easily be seen – like on the wrist. This acts as a daily reminder of what the individual has gone through and what is she capable of!
6. Scorpion Tattoo
For those looking for a tattoo that could be powerful, intimidating, and dangerous, the scorpion tattoo is an excellent choice. Scorpions are dangerous creatures, who have the ability to inflict pain, and many choose it as a symbol to serve as a warning. In another beautiful interpretation, a scorpion tattoo can remind the person to protect herself from those who want to cause her harm.
7. Snake Tattoos
Snake tattoo carries different meanings for different people. While some may consider it as an evil creature, some may consider it as mythical and powerful. As per Bible, Adam and Eve were tempted by the snake that resulted in sin. Hence, some perceive it as evil. But, a Japanese snake tattoo can represent strength, protection, and even good luck. Even, in Native American cultures, the rattlesnake is of great importance.
Another important aspect related to snake tattoo is the transformation of rebirth as snakes shed their skin!
8: Elephant Tattoo
Representing power and prosperity, this majestic animal also associated with a great memory. Haven't you heard: "an elephant never forgets." Elephant Tattoos are best for those who want to symbolize wisdom. Another thing that makes it a great tattoo for women who want to celebrate their femininity lies in the fact that the head of an elephant herd is always a female.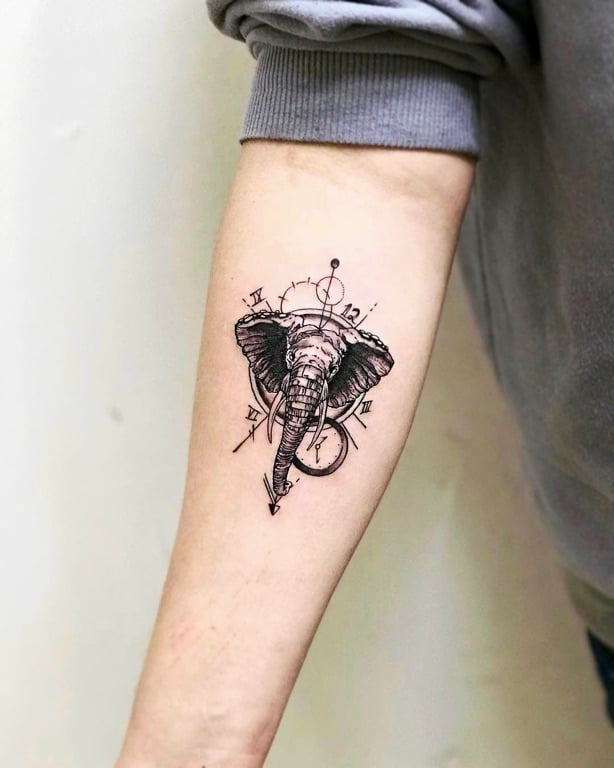 9: Heart Tattoos 
Being universally recognized around the world, the heart symbolizes deep emotions. This beautiful tattoo represents a deep meaning to the wearer – including love, loss, and heartbreak. Not only different tattoo designs for the heart but also the color carries an important significance. So, make sure you chose the right color for yourself e.g. red ink is all about celebrating friendship and love, and black represents sorrow and heartbreak.
10: Skull Tattoo
In many cultures, the skull tattoo represents the end, death, or mortality. And, it could take a huge range of meanings based on its design. Depending on the design, it could also represent a wide range of meanings that make it a popular choice of ink for so many years. To make the tattoo more feminine, you can add some feminine colors and floral details. But, do remember that skull tattoos are often complex and hence require a good amount of time and skill to complete.
11. Angel Tattoo
Angel Tattoos are associated with multiple meanings. While it may represent sorrow or a warning about the danger or it could represent something uplifting and inspiring. Belonging to the heavens, angels represent pure beings who are committed to protecting good and sacred. Hence, it makes it a good choice as a reminder that the individual has a guardian watching over her. Some people wear it as a sign to honor their faith as well.
12. Sun Tattoo
Being an important reason behind the human race's survival, the sun represents the source of light, hope, energy, and ultimate truth. It symbolizes that one has found a way to end a dark period in their lives. It also reminds the wearer of the ultimate beauty of life.
13. Flower Tattoos 
One of the very popular tattoos among women are flower tattoos, especially wildflowers. Many think outside the box and create their own designs with flowers. There are so many different types of flowers to choose from. From lavender to water lily, there are many popular flower tattoos. (Also Check Out: Best Flower Tattoo Design Ideas That Are Pure Beauty) 
---
---
14. Lettering Tattoos
Lettering Tattoos, especially famous quotes have been popular tattoos for decades. Many people also go with some personal messages that resonate with their souls. These tattoos usually look rather delicate depending on the style of font you go with.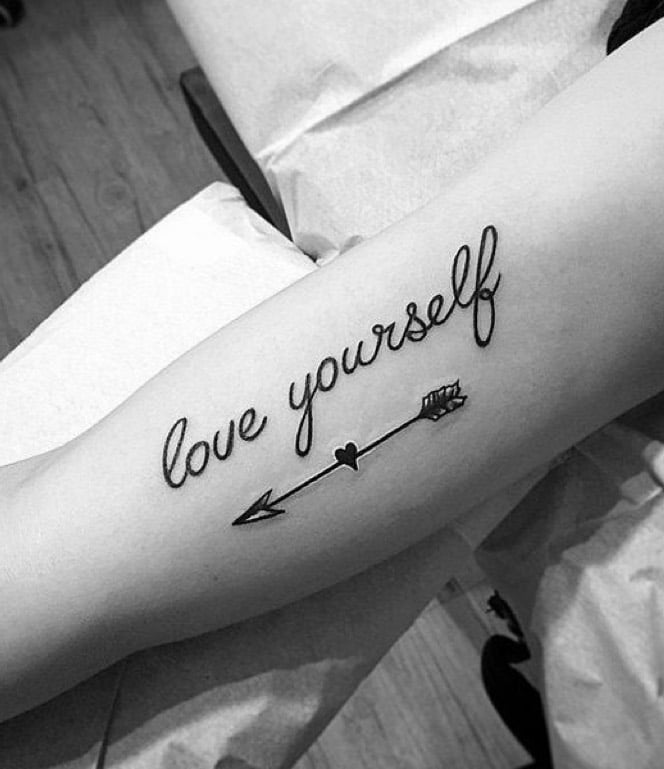 How To Decide Where to Get a Tattoo: The Best Places To Get a Tattoo For Women
Here are some popular locations that you can get a tattoo based on the tattoo design and your pain tolerance: 
1. Finger Tattoos For Women
– Appropriate for smaller tattoo design
– More noticeable location than the other locations
– Perfect location for henna tattoos, small words, or designs in-between the fingers
2. Rib Cage Tattoos For Women
– Appropriate for big designs
– Perfect for secretive tattoos as you don't need to worry about what people may say as it is hidden
– Please keep in mind that it is a painful place to get tattooed so decide how big you want the tattoo
3. Sternum Tattoos For Women
– Painful place to get a tattoo; one needs high tolerance for pain
– Look really nice
– Perfect location for flower tattoos 
4. Thigh Tattoos For Women
– Personal and secretive location where the tattoo is hidden
– Great location for big designs
– Perfect tattoo location for high sex appeal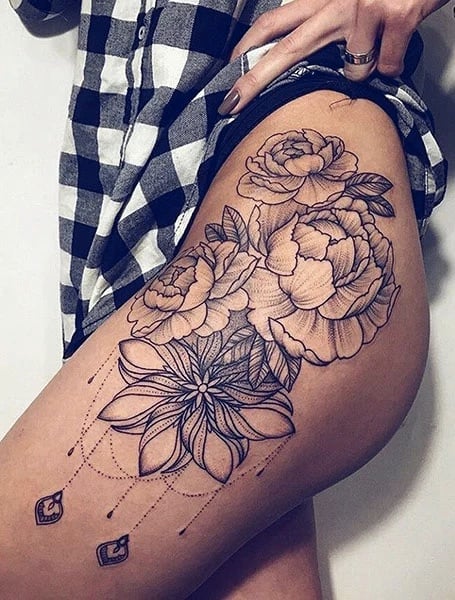 5. Sleeve Tattoos For Women
– Need to be very thoughtful of what design you may want to go because of high exposure
– Perfect for different tattoos joined together with one theme
6. Wrist Tattoos For Women
– Perfect location for many different designs
– Remember, it has high visible exposure so be sure about the design 
7. Ankle Tattoos For Women
– Perfect location for small and dainty designs
– Again a location with many available options
– Another high visibility exposure location so be sure you spend enough time on deciding the final design!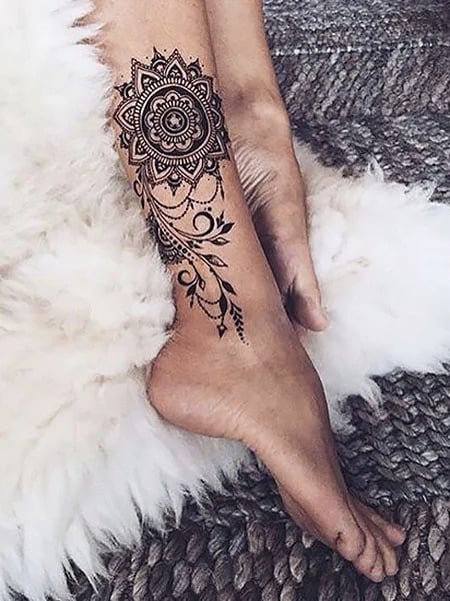 8. Back Tattoos For Women
– Great location for tattoo designs that are intimate and personal as this place is mostly hidden.
– One can either opt for tattoos to sit either to the side, underneath the shoulder, or down the spine
– Spine could be a painful place to get a tattoo so make sure you have enough level of tolerance for pain
---
ALSO CHECKOUT
---
Hope you would have found these tattoo designs for women helpful!