Discover the best hand tattoos for men and women that are sure to captivate. From intricate finger tattoos to bold knuckle designs, here are the most popular hand tattoos that are the perfect inspiration for your next ink.
Hand Tattoos & Recent Popularity
Tattoos have always been a powerful way to express oneself and leave a lasting impression. And when it comes to making a bold statement, hand tattoos reign supreme. Whether you're a seasoned tattoo enthusiast or contemplating your very first ink, hand tattoos offer a unique canvas for self-expression that is hard to ignore.
Hand tattoos have gained immense popularity in recent years, becoming a go-to choice for individuals looking to showcase their style, personality, and creativity. The beauty of hand tattoos lies in their visibility and the ability to convey a message that is always at your fingertips—quite literally.
When it comes to choosing a hand tattoo, the options are endless. From the timeless beauty of butterfly tattoo designs to the modern allure of geometric tattoos, these tattoos allow individuals to showcase their personal style statement. The forearm and wrist are popular placements that provide ample space for captivating designs, whether it's delicate flower tattoo designs symbolizing beauty and growth or peacock feathers tattoo symbolizing beauty, spirituality, love, and protection. The choices are endless.
Hand Tattoos For Men & Women: No Gender Boundaries
Hand tattoos transcend gender boundaries, allowing both men and women to embrace this art form and create a visual masterpiece. They provide a platform for self-expression, enabling individuals to display their passions, beliefs, and aspirations for all to see. Whether you seek to honor a loved one, pay tribute to a meaningful moment, or simply add an extra touch of style to your aesthetic, a hand tattoo can be the ultimate accessory.
But with great visibility comes great responsibility. It is crucial to carefully consider the design, size, and placement of your hand tattoo, as it may have professional implications. Additionally, proper aftercare is essential to ensure your tattoo retains its vibrancy and longevity.
In this comprehensive guide to the best hand tattoos, we'll take you on a journey through the most captivating and awe-inspiring designs. From mesmerizing geometric patterns to enchanting nature-inspired motifs, we'll explore a wide range of options that will leave you inspired and eager to make your mark. So, let's explore the best hand tattoo designs that are super-stylish:
Best Hand Tattoos For Men & Women That Are Super-Stylish
Here are some impactful and meaningful ideas that can work well for a hand tattoo with stylish ideas you can explore :
1. Rose Tattoo
A classic design that never goes out of style, a rose tattoo on your hand is both romantic and edgy. Opt for a realistic rose or choose a more abstract and minimalistic style. Placement of a rose tattoo will depend on personal preference and the size of the design. Some popular placements for rose tattoos on women include the wrist, forearm, shoulder, back, or thigh. Consider the visibility of the tattoo and how it will complement your overall style and aesthetic.
2. Phoenix Tattoo
Phoenix tattoos are deeply symbolic, representing the mythical bird's ability to rise from the ashes and symbolize personal growth, self-improvement, and new beginnings. With their powerful imagery, these tattoos serve as reminders of the potential for positive change and the opportunity to start anew. The phoenix embodies hope and renewal, reminding us that even in the darkest times, there is a glimmer of hope and the possibility of a fresh start. It serves as a constant reminder to stay optimistic and resilient in the face of adversity, encouraging us to embrace the challenges and emerge stronger.
A phoenix tattoo can be a source of inspiration, motivating us to overcome obstacles and embark on transformative journeys. It's vibrant colors and majestic presence make it a captivating choice for body art, symbolizing the triumph of the human spirit and the beauty that emerges from difficult times. Whether you choose a small and subtle phoenix or a larger, more intricate design, a phoenix tattoo is a powerful statement of resilience, hope, and the endless possibilities that lie ahead. It serves as a personal emblem of strength, reminding us of our ability to rise above challenges and embrace our own potential for growth and renewal.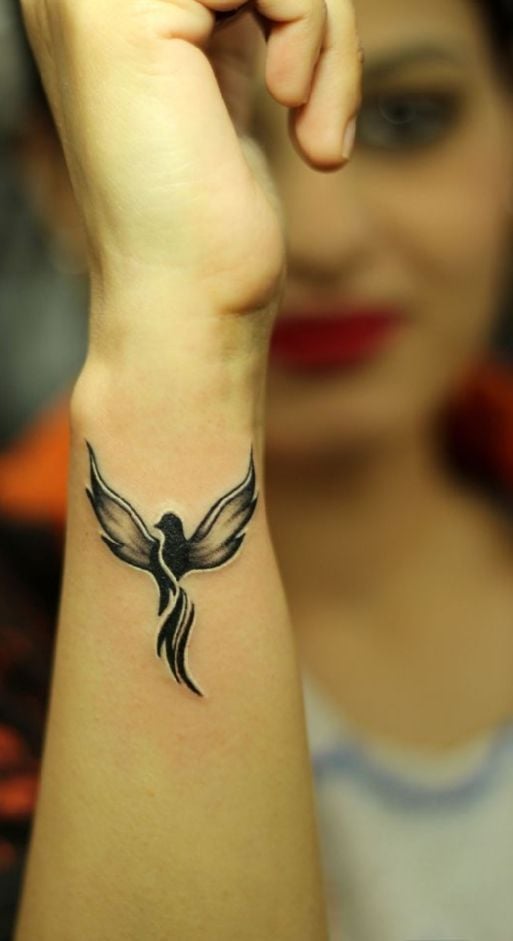 3. Peacock Feather Tattoo
A peacock feather tattoo is a popular choice for both men and women due to its stunning beauty and rich symbolism. Here are some meanings associated with peacock feather tattoos:
Beauty and Elegance: Peacock feathers are known for their vibrant and iridescent colors, making them visually captivating. A peacock feather tattoo can represent beauty, grace, and elegance. It can serve as a reminder to embrace and celebrate one's own unique beauty and individuality. A peacock feather tattoo can symbolize love, romance, and the pursuit of a deep and meaningful connection.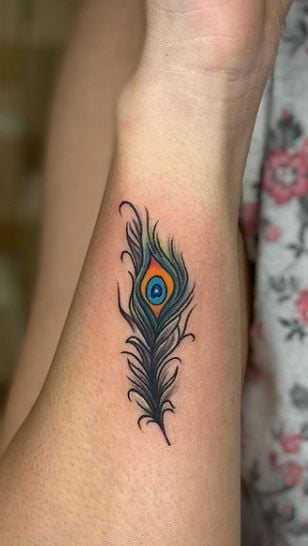 4. Infinity Bird Tattoo
The Infinity Bird tattoo combines two powerful symbols: the infinity symbol and the image of a bird. This tattoo design carries multiple meanings and interpretations.
Eternal Love: One of the primary meanings of the Infinity Bird tattoo is eternal love and connection. The infinity symbol represents a love that knows no boundaries, a bond that lasts forever. It symbolizes the idea of infinite love and commitment between individuals, often chosen by couples as a symbol of their unending affection and devotion.
Endless Friendship: The infinity symbol within the Infinity Bird tattoo can also represent an everlasting friendship. It signifies a bond that transcends time and remains unbreakable, symbolizing the infinite support, loyalty, and companionship between friends.
Forever Family: This tattoo design can also serve as a symbol of the eternal bond within a family. It represents the unbreakable connection between family members, expressing the idea that family is forever. The Infinity Bird tattoo can signify the deep love, unity, and solidarity within a family unit.
Spiritual Significance: In addition to its association with love and relationships, the Infinity Bird tattoo can also hold spiritual significance. The infinity symbol represents the eternal nature of the universe and the interconnectedness of all living beings. The bird symbolizes freedom, spirituality, and transcendence. Together, they can convey a spiritual message of infinite possibilities, growth, and enlightenment.
Best Hand Tattoos For Men & Women That Are Most Popular
5. Mandala Om Tattoo
The Mandala Om tattoo is a fusion of two significant symbols: the Mandala and the Om symbol. Each element carries its own deep meaning and symbolism, creating a powerful and spiritually significant tattoo design. 
Mandala: The Mandala is a geometric pattern that represents the universe and the idea of wholeness. It symbolizes unity, balance, harmony, and the eternal cycle of life. The intricate details within the Mandala hold symbolic significance, representing different aspects of life, such as growth, unity, and interconnectedness. Mandalas are often used as a tool for meditation and are believed to promote spiritual growth and inner balance.
Om: Om is a sacred sound and a spiritual symbol in Hinduism, Buddhism, and Jainism. It is considered the primordial sound that represents the essence of the universe, the ultimate reality, and the connection between the physical and spiritual realms. Chanting Om is believed to bring inner peace, harmony, and spiritual enlightenment. It is a symbol of divine presence, cosmic energy, and universal consciousness.
The combination of the Mandala and Om symbol in the Mandala Om tattoo creates a powerful representation of spiritual connection and transcendence. It embodies the journey toward self-realization, inner peace, and spiritual enlightenment. The tattoo serves as a reminder to seek balance, harmony, and unity within oneself and the world. It is a meaningful choice for those on a spiritual path or those seeking a deeper connection to their inner selves and the universe.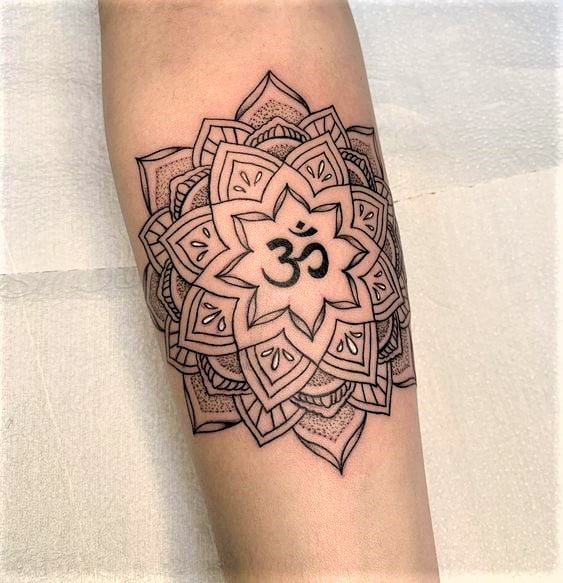 6. Animal Portrait Tattoo
If you're an animal lover, why not get a portrait of your favorite animal on your hand? From majestic lions to playful dogs, the possibilities are endless. Lion portrait represent personal strength, courage, and resilience.
7. Words & Quotes Tattoo
Quote tattoos hold significant meaning for many individuals as they offer a powerful and personal way to express beliefs, values, or personal mantras. These tattoos can serve as daily reminders, sources of inspiration, or reflections of one's identity. By permanently etching meaningful words onto their skin, people can carry their favorite quotes with them, serving as a constant source of motivation, strength, or guidance in their lives.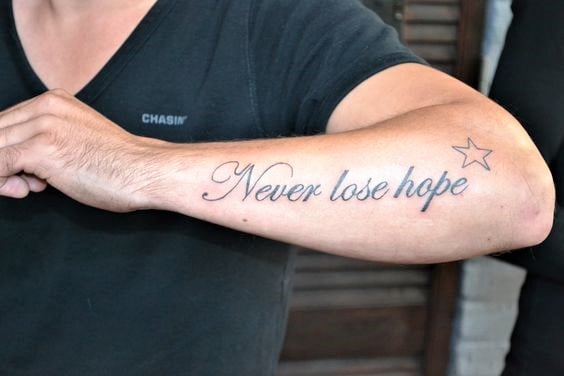 8. Celestial Tattoo
Celestial tattoos, featuring elements such as stars, sun, and moon, hold great significance for many individuals. Stars symbolize guidance, hope, and dreams, representing the pursuit of goals and aspirations. The sun represents vitality, energy, and life itself, symbolizing strength and power. The moon signifies cycles, transformation, and feminine energy, representing intuition and emotional balance. These celestial symbols in tattoos serve as reminders of the interconnectedness of the universe and the cosmic forces that influence our lives.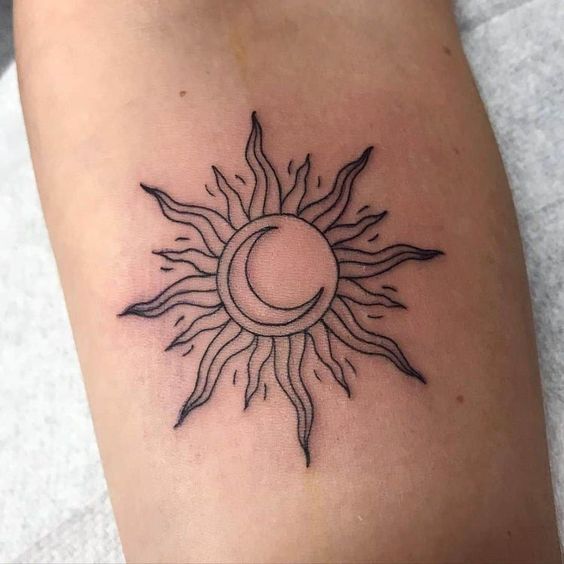 Trendiest Hand Tattoos For Men & Women
9. Geometric Pattern Tattoo
Geometric pattern tattoos hold deep symbolism and significance. The precise lines and shapes represent order, balance, and harmony. They can symbolize the interconnectedness of all things, as well as the complexity and beauty of the universe. Geometric patterns can also represent personal transformation and self-discovery, reminding us to find balance within ourselves and the world around us. These tattoos are not only visually striking but also carry a deeper meaning that resonates with those who choose to adorn their bodies with geometric designs.
10. Butterfly Tattoo
Butterfly tattoos carry profound symbolism and meaning. They represent transformation, growth, and resilience. The metamorphosis of a caterpillar into a beautiful butterfly symbolizes personal growth and the journey of self-discovery. Butterflies are also associated with freedom, beauty, and grace, making them a popular choice for those seeking to express their own inner transformation and embrace their unique beauty. These tattoos serve as a reminder to embrace change and find joy in life's transformative experiences.
11. Music Note Tattoo
A music note tattoo typically symbolizes a deep appreciation for music and its impact on one's life. Here are a few common meanings associated with music note tattoos:
Passion for Music: Music note tattoos are often chosen by individuals who have a strong passion for music. It can represent a deep love for playing an instrument, singing, composing, or simply being a dedicated fan of music.
Expression and Creativity: Music is a universal language that allows people to express emotions, ideas, and creativity. A music note tattoo can symbolize the desire for self-expression and the importance of creativity in one's life. 
Harmony and Balance: Music has the power to bring people together and create harmony.
12. Minimalist Finger Tattoo
Simple minimalist finger tattoos have gained popularity for their understated charm and delicate aesthetic. These tattoos often feature small symbols or designs, such as hearts, arrows, or initials, placed strategically on the finger. They are a subtle way to express one's personality or commemorate something meaningful, while still maintaining a minimalist and elegant look. The simplicity of these finger tattoos adds a touch of sophistication and versatility to any style.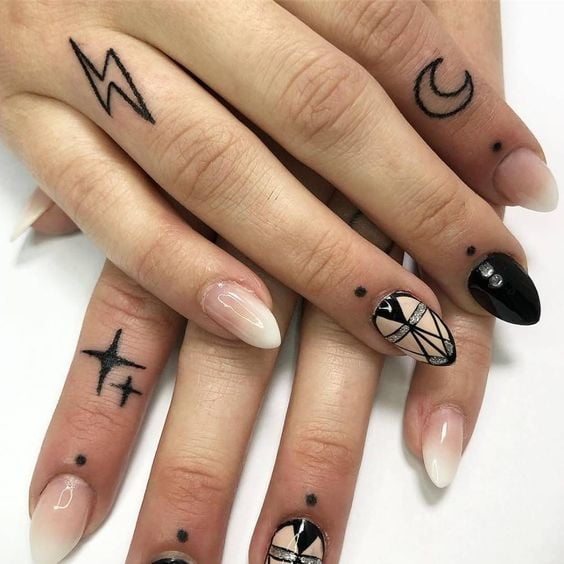 13. Star Hand Tattoo
Stars have long been associated with light and illumination. They are often seen as beacons in the darkness, representing hope, guidance, and enlightenment. Stars can symbolize the pursuit of knowledge, wisdom, and spiritual enlightenment. These are one of the most sought-after hand tattoo designs for men and women.
14. Flying Birds / Dove Hand Tattoo
Flying birds or doves are undeniably stunning hand tattoo designs that hold deep symbolic meaning. These birds are often associated with freedom, independence, and the ability to soar to great heights. They serve as powerful symbols of spirituality, bridging the gap between the earthly and divine realms. Additionally, birds represent transformation and renewal, embodying the idea of personal growth and the ability to overcome obstacles. A flying bird or dove hand tattoo not only showcases beauty but also carries a profound message of liberation, spirituality, and resilience.
Popular Hand Tattoos For Men & Women
15. Name Hand Tattoo
A name hand tattoo typically involves getting a name or word inked onto the skin of the hand, usually on the fingers or the back of the hand. The specific meaning behind a name hand tattoo can vary greatly depending on the name or word chosen, as well as the personal significance it holds for the individual.
1. Tribute: The tattoo may serve as a tribute to a loved one, such as a family member, partner, or friend. It can be a way to honor their memory, express love and affection, or commemorate a special bond.

2. Self-esteem: Getting one's own name inked on the hand can symbolize self-identity and self-expression. It represents a sense of ownership and pride in one's individuality. Perfect way to boost self-esteem and remind yourself that you are your first priority.

3. Commitment: Some people choose to tattoo the name of their significant other, symbolizing their commitment and dedication to the relationship. It can be a bold gesture of love and loyalty.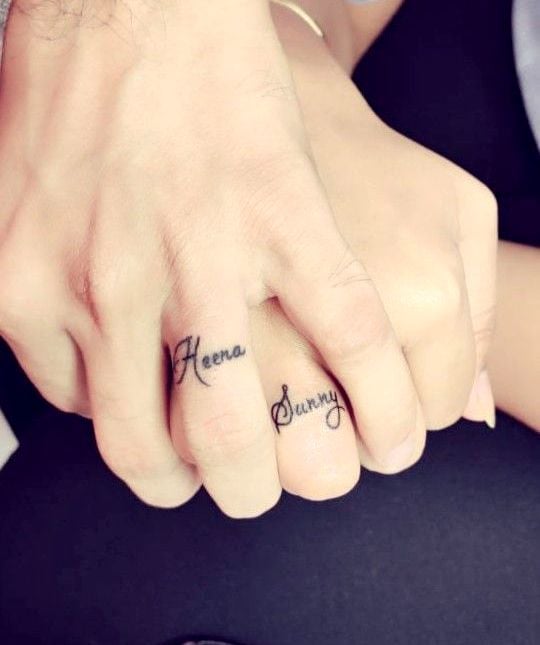 16. Couple Hand Tattoo
Couple hand tattoos are a popular choice for partners who wish to symbolize their commitment and love for each other. These tattoos are typically placed on the hands and often involve matching or complementary designs. The specific meaning behind a couple's hand tattoo can vary depending on the design chosen and the personal significance it holds for the couple. Some common meanings associated with couple hand tattoos include:
1. Bond and Unity: Couple hand tattoos can symbolize the bond and unity between partners. It represents the strong connection and unconditional commitment they have as a couple. 
2. Love and Devotion: These tattoos are often chosen as a way to express love and devotion for each other. 
3. Promise and Commitment: Getting matching or complementary hand tattoos can be a way for partners to make a promise or commitment to each other.
4. Shared Experience: Some couples choose hand tattoos that depict a shared experience or interest. For example, they may opt for a design that represents a favorite hobby, a special date, or a significant event in their relationship.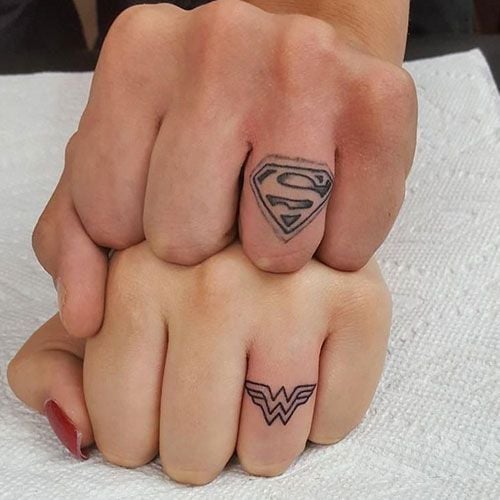 17. Vine Armband Tattoo
Vine armband tattoos are a popular choice for those seeking a nature-inspired and artistic design. These tattoos typically feature intricate vine patterns that wrap around the arm, symbolizing growth, strength, and connection to the earth. The curving and twisting vines represent resilience and adaptability, while the leaves and flowers add a touch of beauty and vitality to the design. Vine armband tattoos can be customized to incorporate personal elements or symbolic imagery, making them a unique and meaningful choice for tattoo enthusiasts.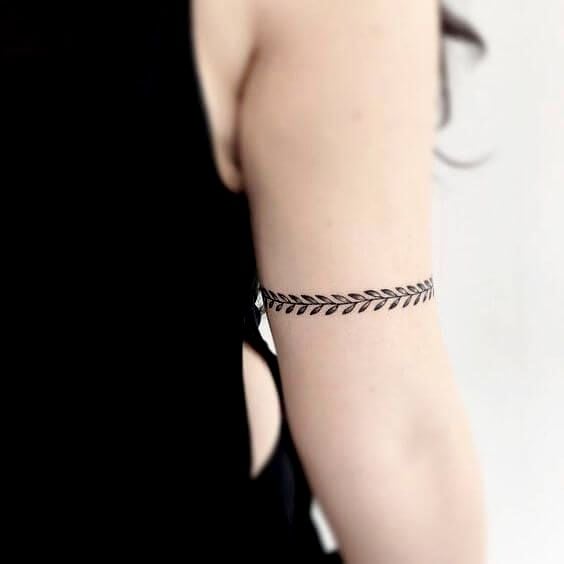 Famous Hand Tattoos For Men & Women
18.  Lotus Flower Hand Tattoo
Lotus flower hand tattoos are deeply symbolic and carry various meanings across different cultures. The lotus is often associated with purity, enlightenment, and spiritual growth. It represents the ability to rise above challenges and obstacles, just as the lotus flower emerges from muddy waters to bloom beautifully. A lotus flower hand tattoo can be a reminder of inner strength, beauty, and the journey towards personal transformation and enlightenment.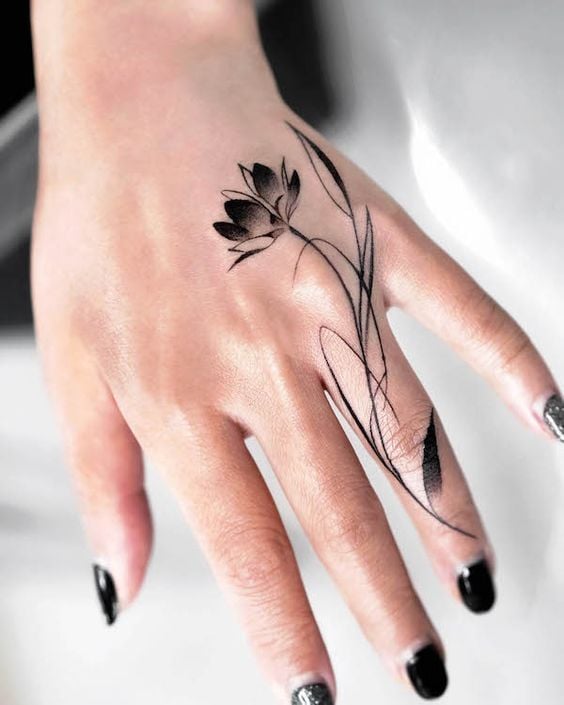 19.  Heart and Infinity Tattoo
The infinity symbol represents eternity, limitless possibilities, and endlessness. It can be seen as a representation of never-ending love, friendship, or connection. When combined with a heart tattoo, it often signifies eternal love, deep affection, or a bond that will last forever. The heart symbolizes love, compassion, emotions, and affection, so when combined with infinity, it amplifies the message of everlasting love or connection. Ultimately, the meaning of an infinity and heart tattoo can vary for each individual and their personal interpretation.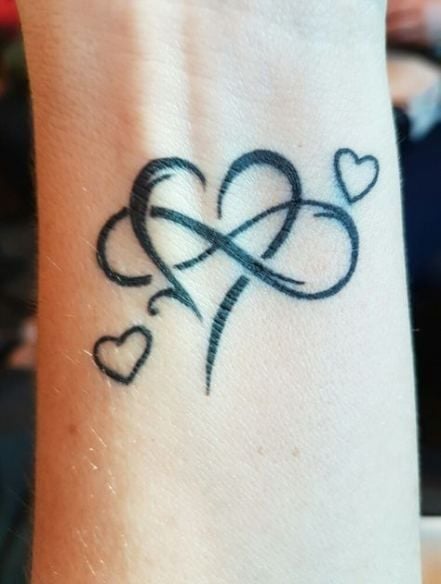 20.  Best Mom & Dad Tattoo
Mom and Dad Hand tattoo is a way for someone to pay tribute and show love and appreciation for their parents. This tattoo typically features the words Mom and Dad or their respective symbols, often written in a heart shape or combined with other meaningful elements or symbols. It serves as a permanent reminder of the strong bond between a person and their parents.
Special Hand Tattoos For Men & Women
21.  Mother-Son or Mother-Daughter Tattoo:
A mother and daughter matching hand tattoo is a symbol of the special bond and deep connection between a mother and her daughter. It represents their unique relationship, love, and the unbreakable bond they share.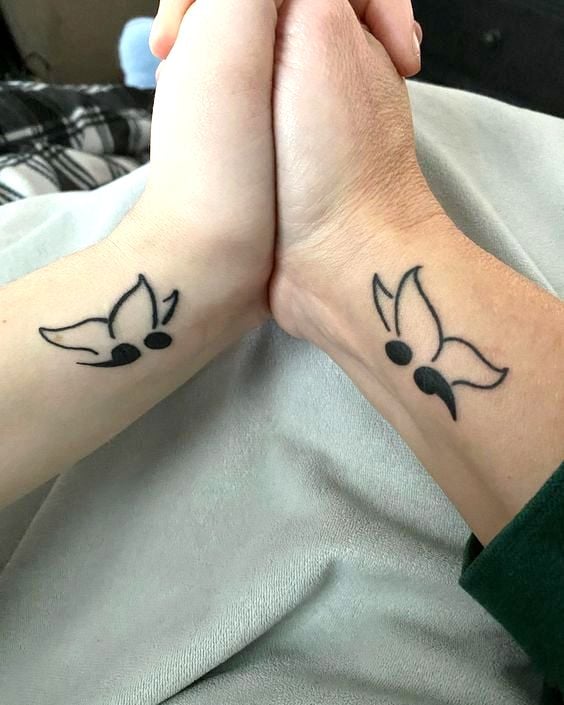 22.  Cross Hand Tattoo
A cross-hand tattoo can carry multiple meanings, depending on the individual and their personal beliefs. Here are a few possible interpretations:

1. Religious or spiritual significance: The cross is a powerful symbol in Christianity, representing the crucifixion and resurrection of Jesus Christ. A cross hand tattoo can be a display of faith, devotion, and a reminder of one's religious beliefs.

2. Identity or affiliation: In some cases, a cross hand tattoo may symbolize membership or affiliation with a particular religious organization or group. It can serve as a visual representation of one's faith and commitment to their religious community.
3. Protection and guidance: The cross has long been associated with divine protection and guidance.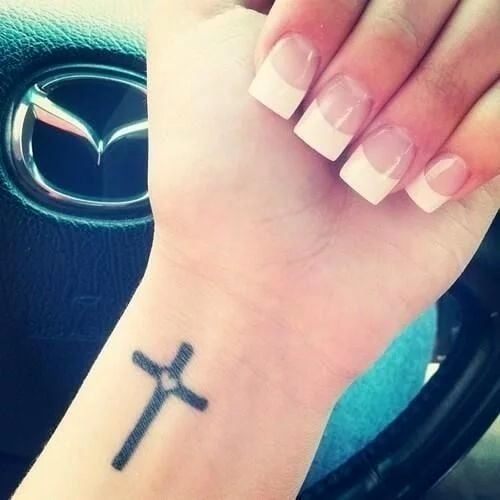 23.  Anchor Hand Tattoo:
Symbol of faith: In Christian symbolism, an anchor represents faith and is often associated with the hope of eternal life or salvation
Special Hand Tattoos For Men & Women
24.  Japanese Koi Fish Hand Tattoo:
Japanese-style Tattoos: Traditional Japanese tattoo designs like koi fish, dragons, or cherry blossoms are popular choices for hand tattoos. The intricate details and vibrant colors make these tattoos real conversation starters. The koi fish is also associated with good luck, wealth, and prosperity. In Chinese culture, the koi fish is seen as a symbol of courage, strength, and ambition, and is often linked to masculine qualities. Overall, the koi fish tattoo can represent personal growth, resilience, and success in the face of adversity.
25.  Triangle Hand Tattoo For Men & Women:
The triangle is a symmetrical shape that represents balance and harmony. This tattoo design could symbolize the importance of finding equilibrium in life, whether it be between work and personal life, mind, and body, or any other aspects that need to be balanced.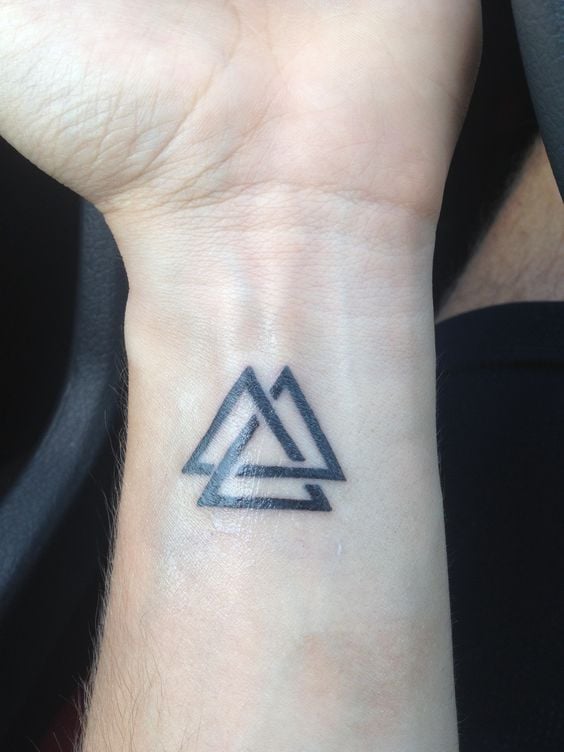 Where to Get Hand Tattoo: Finding the Perfect Spot & Placement
Let's explore the best hand tattoo placements to help you find the perfect spot for your personal expression.
1. Fingers
Finger tattoos have gained popularity due to their small and subtle nature. They can include simple symbols, words, or minimalist designs. The placement on individual fingers allows for creative combinations and personalized messages. Keep in mind that finger tattoos may fade more quickly and require touch-ups due to constant exposure to friction and sunlight. Another unique hand tattoo placement is between the fingers. This area provides a hidden surprise element when the fingers are spread apart. It allows for small, intricate designs or discreet symbols that only become visible upon closer inspection.
2. Knuckles
Knuckle tattoos are known for making bold statement. This placement allows for larger designs or short phrases to be displayed across the four knuckles. Knuckle tattoos often carry symbolic meanings or convey powerful messages. However, they can be more painful and may require more frequent touch-ups due to the natural movement of the skin in this area.
3. Back of the Hand
The back of the hand provides a larger canvas for intricate and visually captivating designs. Mandalas, floral patterns, and animal motifs are popular choices for this placement. The back of the hand is less likely to experience excessive friction, which can result in better longevity for your tattoo. It also allows for an eye-catching tattoo that can be easily showcased or concealed.
4. Palm
Palm tattoos offer a unique and hidden placement. These tattoos are concealed from view most of the time but can be revealed when you extend your hand or place it on a surface. Palm tattoos often carry personal and intimate meanings. Keep in mind that the palm has thin and sensitive skin, making palm tattoos more painful and prone to faster fading and the need for frequent touch-ups.
5. Wrist
Although technically part of the forearm, the wrist is often considered an extension of the hand and is a popular tattoo placement choice. Wrist tattoos can be easily visible or discreetly covered depending on your preference. They offer a range of design options, including symbols, quotes, or small images that can be beautifully displayed along the inner or outer wrist. As with finger tattoos, wrist tattoos may require touch-ups due to their exposure to elements and potential rubbing against clothing.
6. Forearm
Another unique hand tattoo placement is between the fingers. This area provides a hidden surprise element when the fingers are spread apart. It allows for small, intricate designs or discreet symbols that only become visible upon closer inspection.
When considering hand tattoo placements, it's important to consult with a professional tattoo artist who can provide guidance on design options, placement suitability, and aftercare instructions. Remember to think about pain tolerance, visibility, design complexity, and long-term maintenance when selecting the perfect hand tattoo placement for your unique expression.
Hand Tattoos For Men & Women: Bottom Line
In conclusion, hand tattoos provide a captivating form of self-expression for both men and women. Whether you're a man or a woman, hand tattoos offer a diverse range of designs and styles to suit every individual. From small and subtle finger tattoos to bold and intricate patterns on the back of the hand, the possibilities are endless. Remember to choose a skilled tattoo artist, follow proper aftercare instructions, and proudly display your hand tattoo as a reflection of your unique personality and individuality. Let your hand tattoos become a work of art that tells your story and captivates the world around you.
Our Special Segments On Tattoos
 If you are a couple, you can find creative ideas in our collection of the 'Best Couple Tattoo Designs'. And, those interested in wrist tattoos or the elegance of flower tattoo designs can discover a wealth of possibilities in our specialized tattoo segments. For women seeking more tattoo inspiration, don't forget to explore our special feature on the 'Best Tattoo Designs For Women' with a wide range of meaningful options. Explore these segments to find the perfect tattoo design that resonates with your unique journey and allows you to wear your story proudly on your skin.
In case you are planning to get inked, don't forget to check out our FAQ section on Tattoos. The section tends to answer the most searched questions about tattoos like How to choose the right tattoo for yourself? or How to choose the right tattoo artist and place? or How much does it hurt to get a tattoo? or How to take care of my tattoo immediately after you have got it? or What are the side effects of getting a tattoo? or more. It contains valuable information and answers to common queries that can help you make informed decisions about your tattoo journey.