Wrist Tattoo Designs For Women: Tattoos on the wrist look adorable and are also visible easily. Scroll down to know the best tattoos that you must ink on your wrist. 
The wrist tattoo craze is in full swing, and it's no surprise why! There are so many factors that make wrist tattoos a favorite among ink enthusiasts. Firstly, they're highly visible – perfect for flaunting your body art. Unlike tattoos in hidden spots, wrist tattoos are always on display. Secondly, they're small and subtle, making them an ideal option for those wanting to test the waters before diving headfirst into a larger design.
The icing on the cake is that wrist tattoos can be incredibly meaningful, serving as a powerful reminder of a person, place, or thing that holds a special place in your heart. Bonus: they're relatively less painful than tattoos on fleshier parts of the body because the wrist has plenty of bony structures. And, let's not forget that wrist tattoos are super trendy right now, so jumping on the bandwagon could be just the thing to show off your personal style. So, here are some of the trendiest wrist tattoo designs for women [and, as some of them are unisex – even men can try them too!] And, in case you would like to explore more than wrist tattoo designs, don't forget to have a look at our finest tatoo design collection for women. 
Wrist Tattoo Designs For Women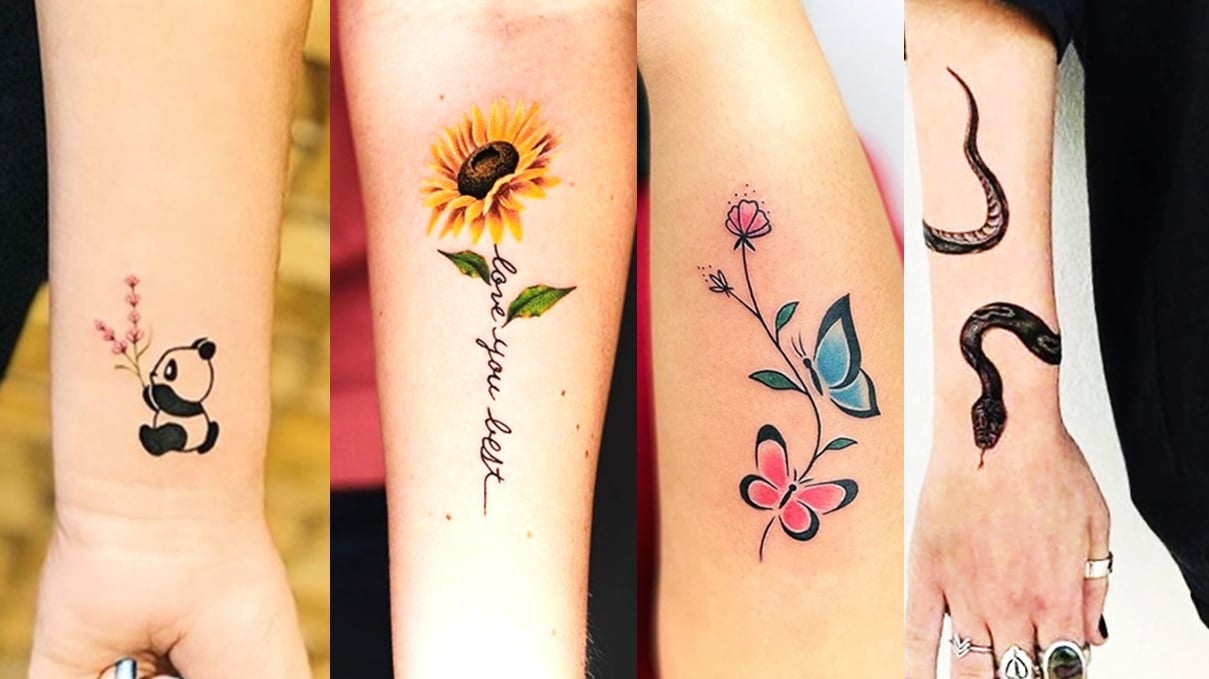 Wrist Tattoo Designs
Here's a list of 60 wrist tattoos that you might want to try!
List Of Wrist Tattoo Designs
1. Dove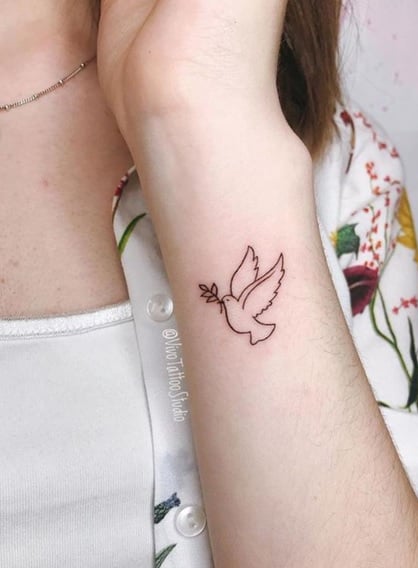 Doves are a classic symbol of peace, purity, love, and tranquility that are often translated into meaningful tattoo ideas.
2. Sunflower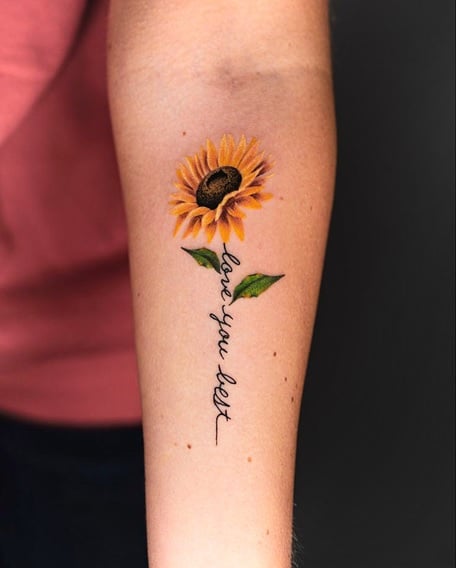 This sunflower tattoo is so beautiful. Sunflower tattoos symbolize happiness, loyalty, adoration, and vitality. It looks better with a small quote " Love you best" added to it. 
Amazing Wrist Tattoo Designs For Women
3. Heart With A Butterfly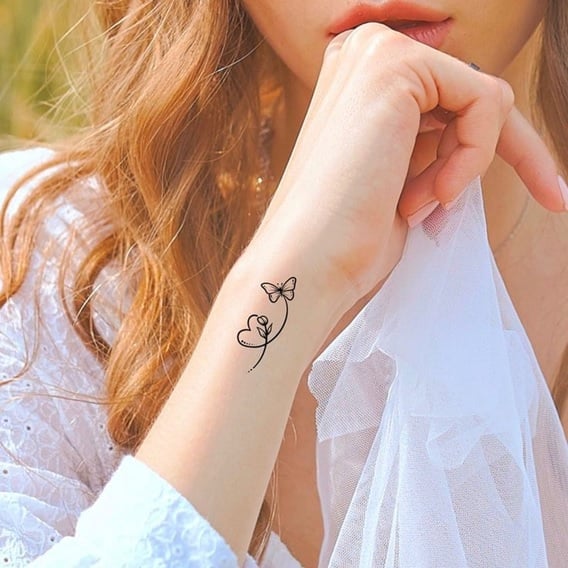 This tattoo design often connects with femininity and love. It gives out a strong message to anyone who sees it as it has a powerful underlying meaning.
4. Semicolon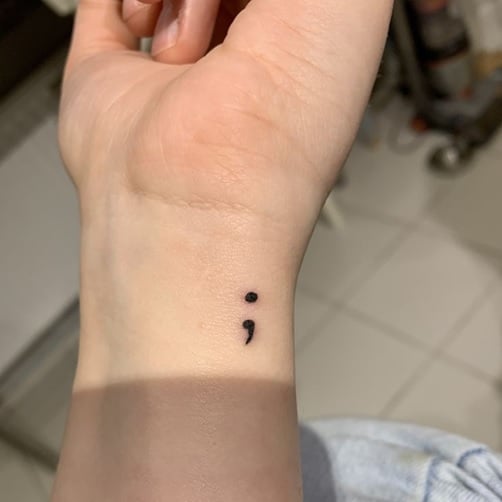 The semicolon tattoo is a quite popular wrist tattoo design for women. It stands as a symbol of solidarity for mental illness, suicide, addiction, and awareness.  
5. 11:11
11:11 Angel Number is considered a reminder from the Universe. So, whenever you'll look at your wrist you will see the blessings the universe is sending you.
Beautiful Wrist Tattoo Designs
6. Be Still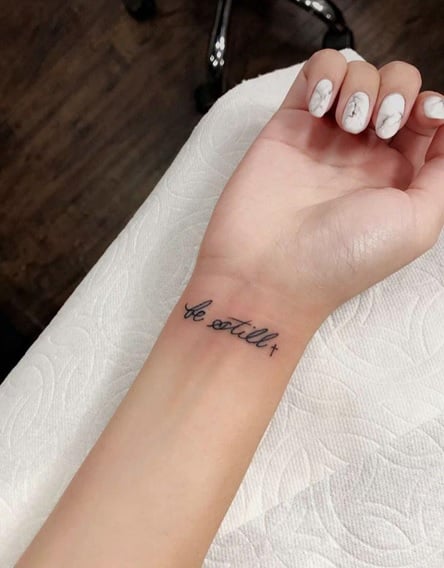 This tattoo is a daily reminder to stop and be still. You are not in control, God is. 
7. I Surrender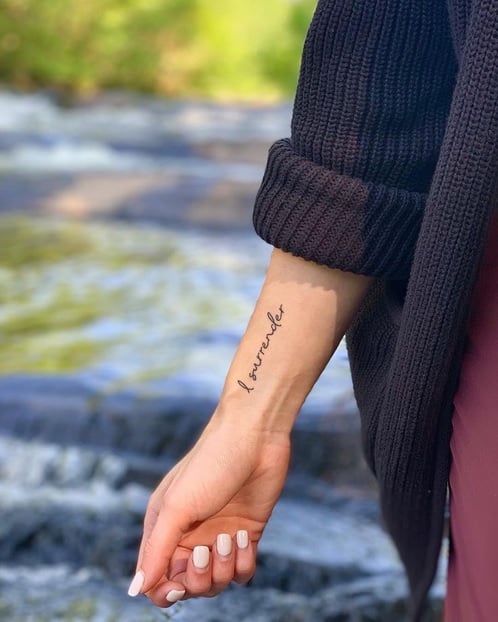 Surrender in this instance doesn't mean defeat, but stepping away from the wall and looking for the door. 
(Also Read: 50 Valentine's Day Tattoo Ideas For Romantic Lovers)
Astounding Wrist Tattoo Designs
8. Moon And Sparkle
Crescent moons, in particular, represent motherhood and fertility, though several different communities claim the symbol.
9. Serendipity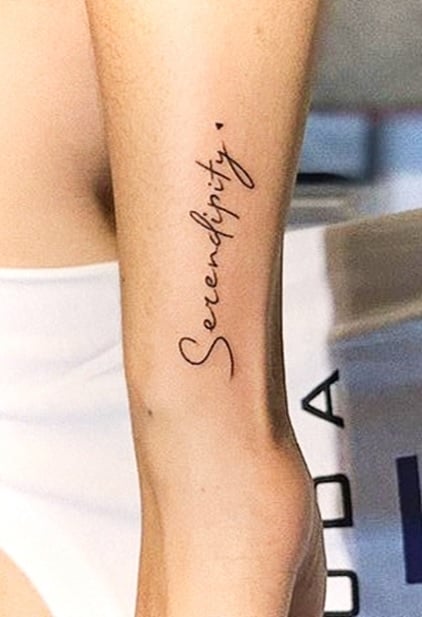 Serendipity means the fact of finding something valuable or interesting by accident or something pleasant happening by chance.
Wrist Tattoo Designs For All
10. Moon Phases
The moon phase tattoo can represent magic, purity, dreams, mystery, shadows, and eternity.
11. Text Based Tattoo
Text based wrist tattoos are quite popular among men and women. One of our favourite is 'Know Your Worth' wrist tattoo, which is a constant reminder of strong sense of self-worth. This beautiful wrist tattoo is a perfect symbol that keeps reminding us about the most important life lesson – 'We are worthy of love, care, trust, respect, and compassion. And we should be ready to walk away if we are mis-treated.' 
(Also Read: 40 Best Couple Tattoo Design Ideas That Are Perfect Symbol Of Love)
Fascinating Wrist Tattoo Designs For Women
12. Two Butterflies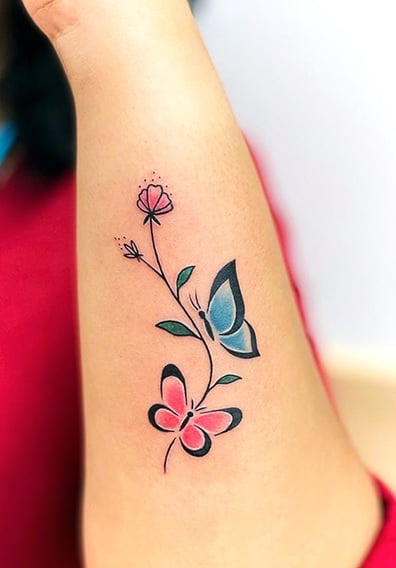 Butterflies serve as a symbol for keeping inspiration alive, it symbolizes femininity and beauty. Whereas, flowers symbolize serenity and innocence.
13. Black Rose
Black roses symbolize hatred, despair, death, or rebirth. Whereas on the other side, they can indicate rebellion and strength.
(Also Read: 60 Popular Flower Tattoo Design Ideas That Will Takeover 2023)
14. Dandelion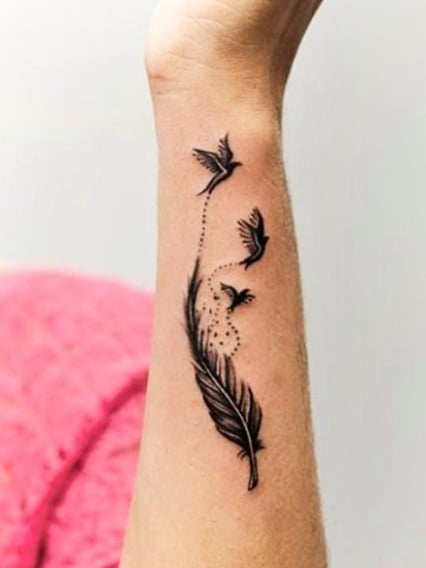 The dandelion tattoo is one of the most interesting tattoos. It mainly signifies freedom of flight and letting go.
Great Wrist Tattoo Designs For Women
15. Snake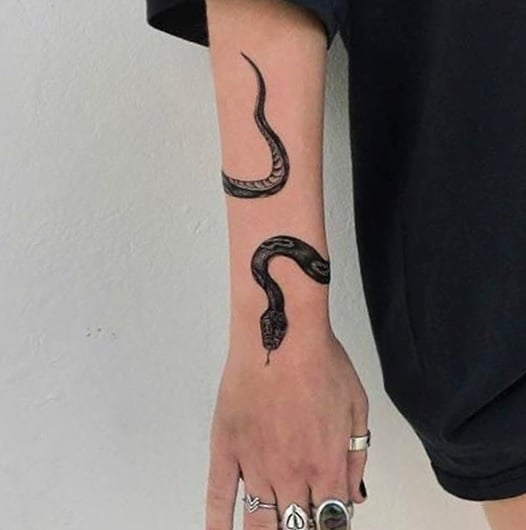 Snakes shed their skin and thus become a symbol of rebirth and transformation. This makes them an excellent tattoo choice for people who have gone through a significant change in their life. 
16. Graphic Geometry Design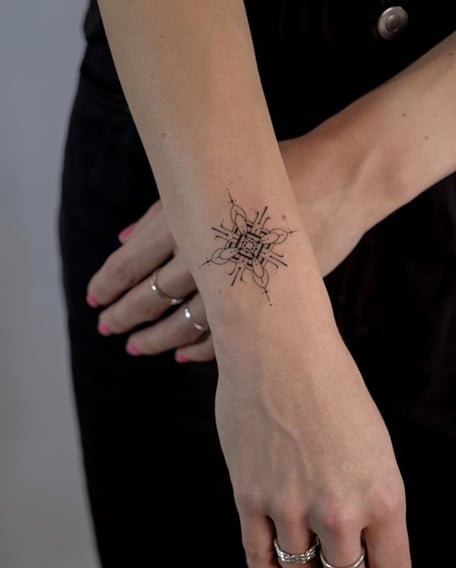 Geometric tattoos are loved by many because they create a sense of balance, symmetry, and even mystery.
17. Mandala Bracelet
A mandala is a symbol of the universe in its ideal form. Mandalas symbolize the balance of body and mind. 
Wrist Tattoo Designs For Everyone
18. Leaf Bracelet 
A bracelet tattoo can be used as a sign of pride in one's heritage or a symbol of femininity, love, and power. 
19. Love
Love tattoos can wonderfully portray emotions like desire, faith, belief, trust, devotion, friendship, and motivation.
20. Rising Phoenix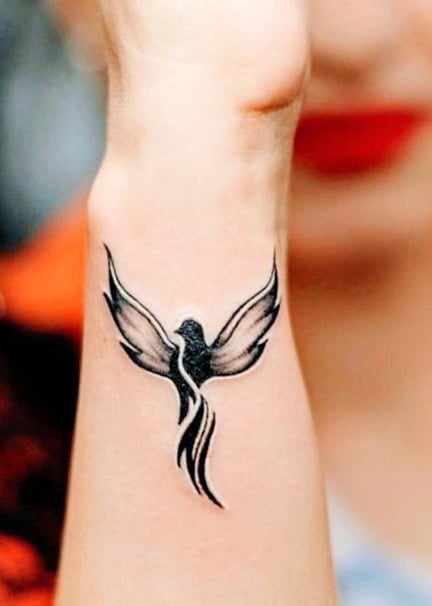 The Phoenix is a great symbol for anyone wanting a tattoo that represents victory, power, justice, and ability.
Fantastic Wrist Tattoo Designs
21. The Truth Will Set You Free
This quote is mentioned in the Bible. The truth will set you free means lying will lead to struggles and hard times. And hence it's better to just say the truth and live freely.
22. BlueBird
A bluebird tattoo most often symbolizes good luck, positivity, prosperity, and happiness. 
23. Tinkerbell
The Tinkerbell tattoo represents the feminine. However, both men and women can put this tattoo if they want to express their feminine side.
Unique Wrist Tattoo Designs
24. Everything Happens For A Reason
Whatever happens in life happens for good and there is always a cause or reason behind that. 
25. Yeshua With Flower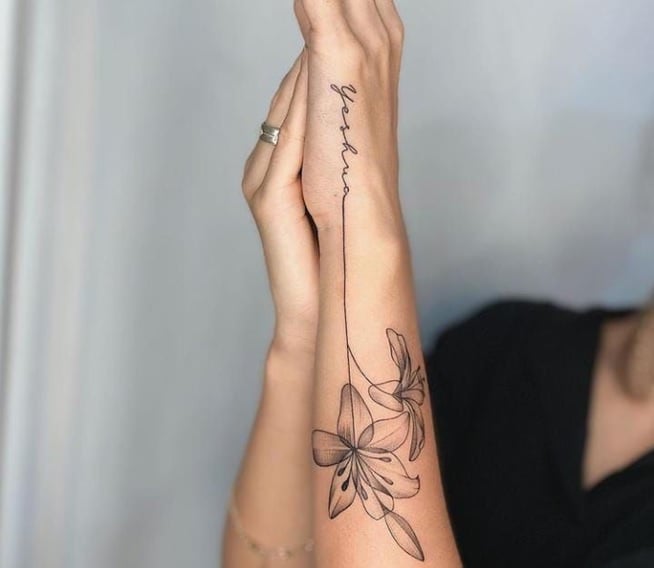 Yeshua in Hebrew is a verbal derivative of "to rescue", and "to deliver".
26. Shooting Star Sparkle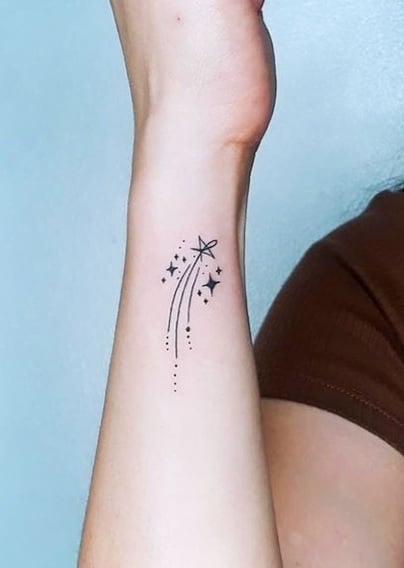 A shooting star symbolizes achieving your dreams, striving to be better, and destiny and prosperity.
Wrist Tattoo Designs That Are A Must-Try
27. Side Leaf Bracelet
The leaf also symbolizes happiness and peace. It commonly represents the cycle of life, because, in spite of death around us, life goes on. 
28. Wine Glass Spilling Love
A wine glass spilling love is a tattoo for those who believe in true love. Though sometimes love might end in heartbreak, it nonetheless is worth experiencing. 
More Wrist Tattoo Designs
29.  Forever And Always With A Rose
Always means at all times and forever means an endless time. Merging the two together creates a wonderful meaning for someone or something you love. 
30. Pink Rose
The meaning of pink roses is gratitude and admiration. They also represent a symbol of healing, first love, and innocence.
31. The Adams Creation
The hand reaching out to the skeleton hand represents the willingness to provide service to the still-suffering addict.
Other Wrist Tattoo Designs
32. A Single Rose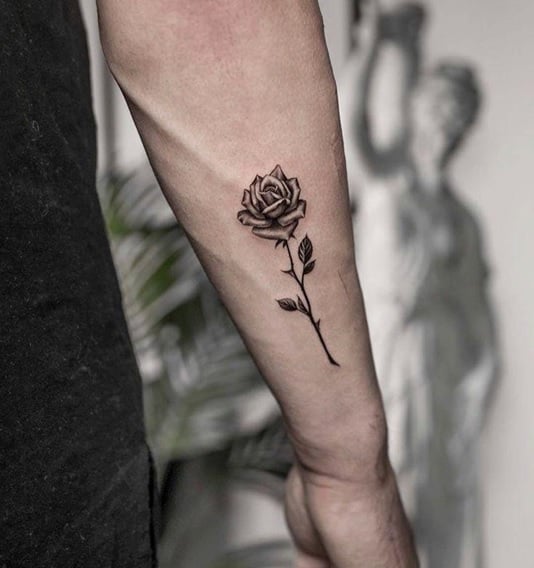 A single rose usually depicts a person, relationship, or sacrifice. 
33. There Is No Rose Without Thorns 
The phrase 'There is no rose without thorns' means that to enjoy something beautiful and pleasurable, you must endure something difficult or painful.
34. Design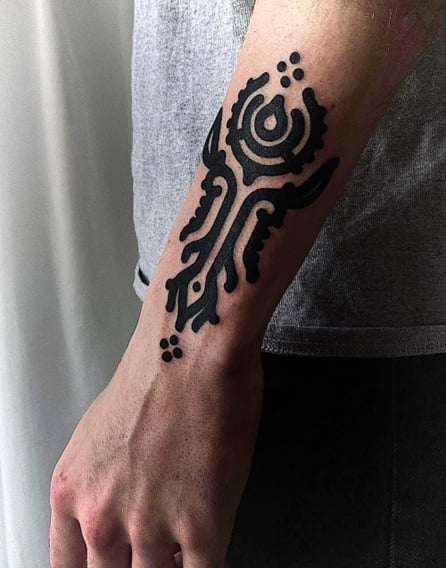 This tattoo is simple and elegant. It can be intriguing, as well as meaningful when tattooed on the wrist for the world to see. 
Meaningful Wrist Tattoo Designs 
35. Lord Namah Shivaya
Next on the list of popular wrist tattoos for women is Lord Shiva. Lord Shiva tattoos are considered an epic expression of devotion towards the deity and a magnificent art form.
36. No Greater Love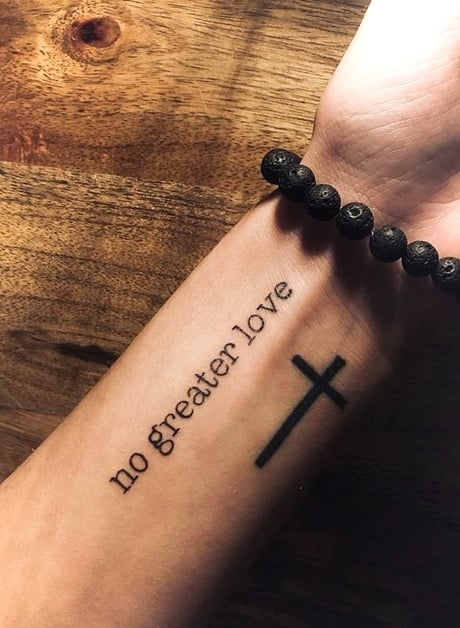 No greater love means being the bigger person and striving for greatness. Don't lower yourself to others' standards is what this tattoo signifies. 
37. Jesus' Cross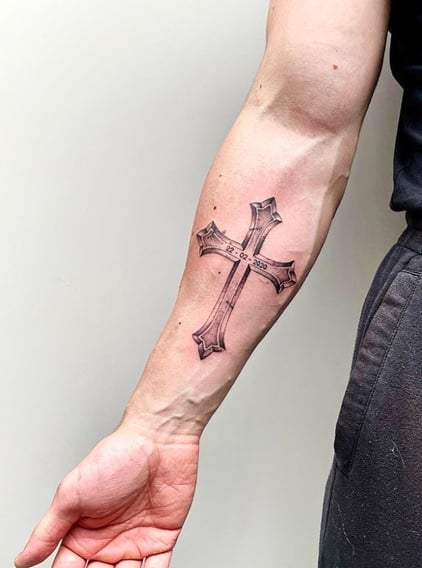 Cross tattoos can be a representation of your devotion to religion or faith.
Wrist Tattoo Designs That Look Great
38. Bracelets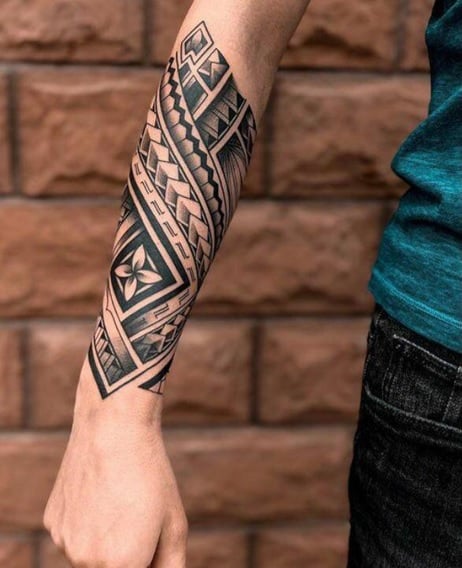 These are the coolest and most unique wrist tattoo designs ever. 
39. Eagle Wings
An eagle wings tattoo represents the freedom that this bird is holding as it flies in the sky. Eagle wings are also a symbol of prosperity and protection.
Creative Wrist Tattoo Designs
40. Compass
The compass is a good symbol with many positive meanings. It also is the universal sign for all those who find fulfillment in constant travel.
41. Wild Eagle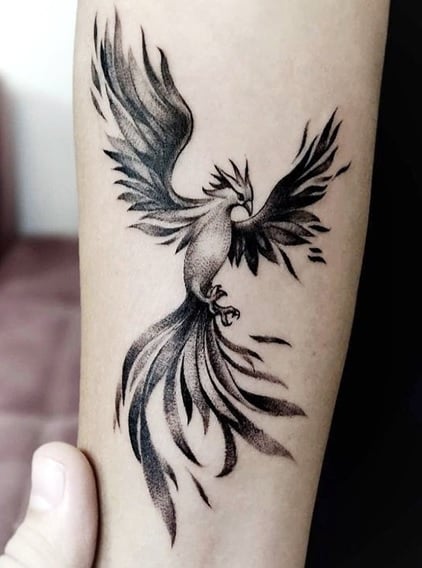 Eagle tattoos have been used throughout history to express different meanings such as freedom, power, courage, and strength.
Wrist Tattoo Designs To Show All
42. Birth Year 
The year represents the birth of the person and the floral plant represents their growth. This tattoo acts as a reminder that there are many more years to this beautiful life.
43. Lady In Butterfly Wing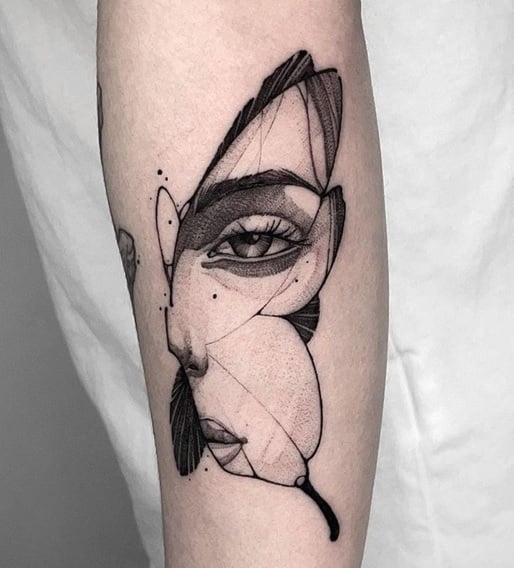 Lady head in butterfly tattoos is often associated with beauty, femininity, romance, desire, independence, or good luck.
44. Infinity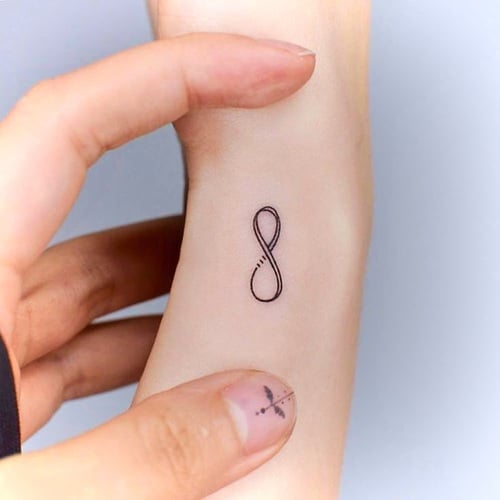 One of the famous wrist tattoos for women is an infinity tattoo. An infinity tattoo stands for eternity, but there is more. The infinity loop is a universal symbol, and a popular tattoo subject linked to forever, immortality, and the unending cycle of life.
(Also Read: 50 Tattoo Design Ideas For Women in 2023)
Inspiring Wrist Tattoo Designs
45. You Can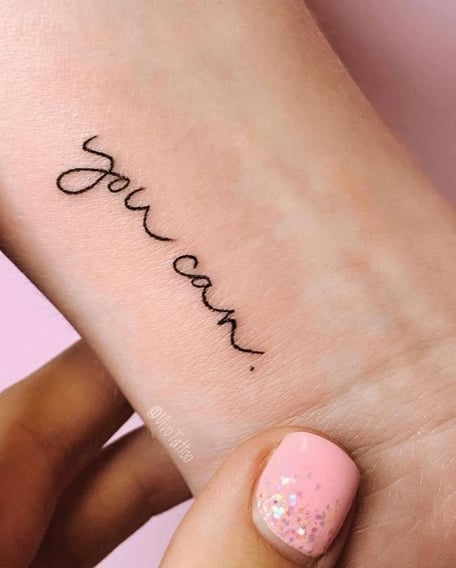 Next on the list of popular wrist tattoos for women is the famous 'You Can'. The 'You Can' tattoo is a daily reminder that you can achieve anything you want in life. That even on your bad days you have got things under control and you can achieve more. 
46. Panda 
Most Chinese view pandas as symbols of good luck and happiness. This tattoo is a great way to believe in it. 
Petite Wrist Tattoo Designs
47. Three Moons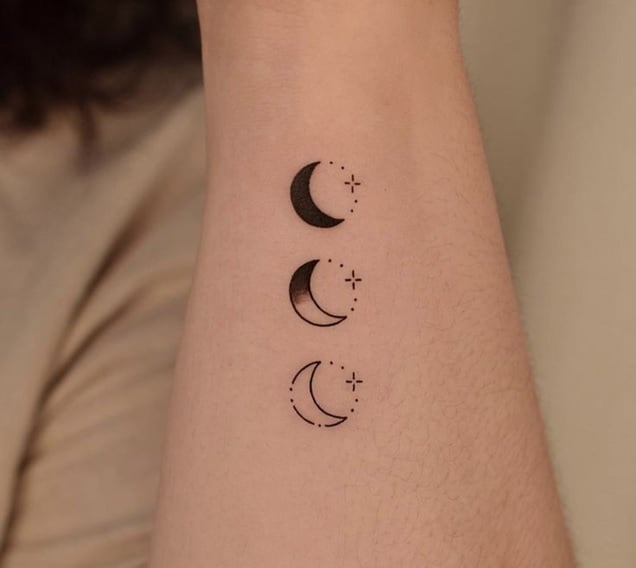 Moon tattoos are evergreen. The three-moon tattoo represents the waxing, full, and waning moon.
48. Harry Potter's Glasses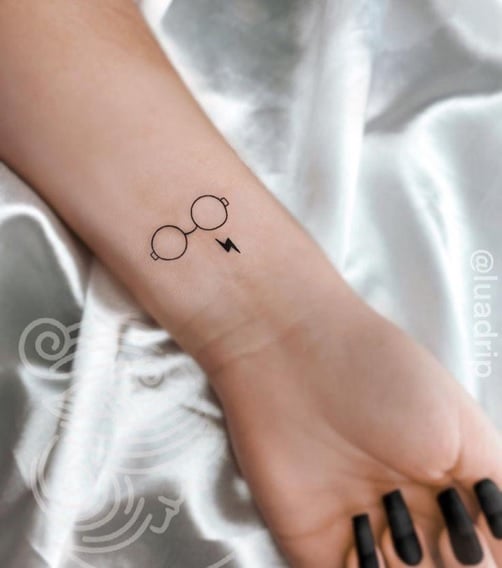 Harry Potter's glasses are a window into the magic world. Or it might also mean being able to see everything through Harry's eyes.
A Few More Wrist Tattoo Designs
49. Music Is Everything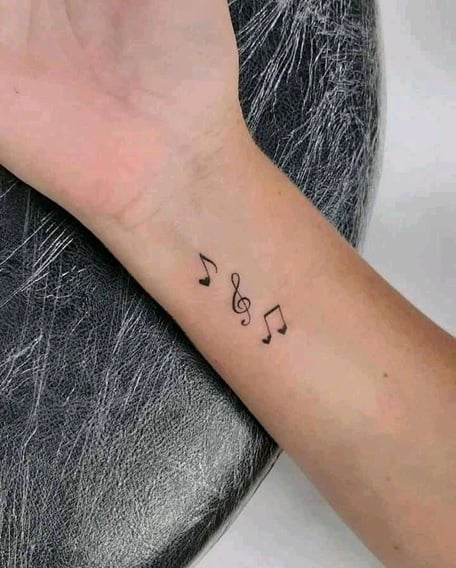 Next on the list of popular wrist tattoos for women is a musical note. Music is a significant form of pleasure. Getting a musical note tattoo inked on your body signifies your love for musical notes. 
50. Travel The World
The world map tattoo on the wrist displays the wearer's wandering attitude and passion for visiting other places. Same, as an airplane may symbolize a journey, exploration, and new destinations.
51. Protection
This beautiful design of a rose and a shield protecting it is so innovative and inspiring. This artwork would look amazing on your wrist.
Pretty Wrist Tattoo Designs
52. Cherry Bloom
This cute and bright cherry tattoo is so adorable. The cute colors of cherry and pink polka dots behind are just cute and classy.
53. Minimalistic Floral Heart
This is a beautiful tattoo design. The combination of these two symbols often represents passion and intense love.
54. Two Cresent Moon
This beautiful tattoo of two crescent moons is symbolic of growth, creativity, and manifestation.
Splendid Wrist Tattoo Designs
55. Alien Said Hey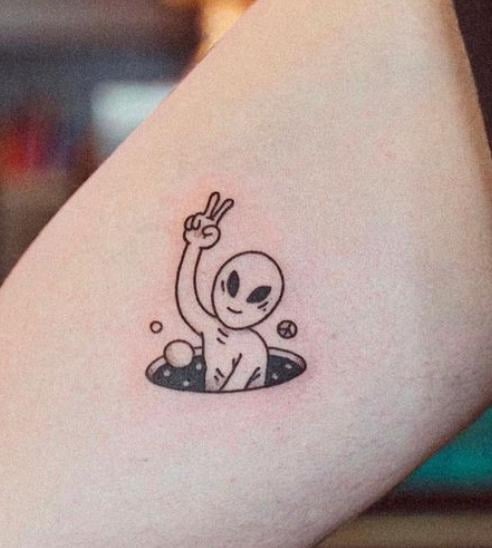 This classy alien tattoo is so cool and trendy. Alien tattoos may also represent someone that has an appreciation for science and research.
56. Eyes And Rose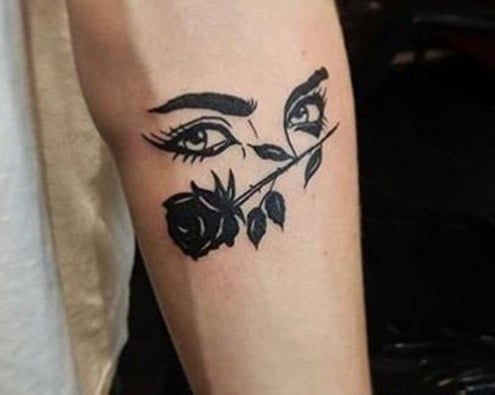 The eye is associated with mystery, protection, and clarity. This wrist tattoo art is so cool and unique.
Adorable Wrist Tattoo Designs For Women
57. Medusa Band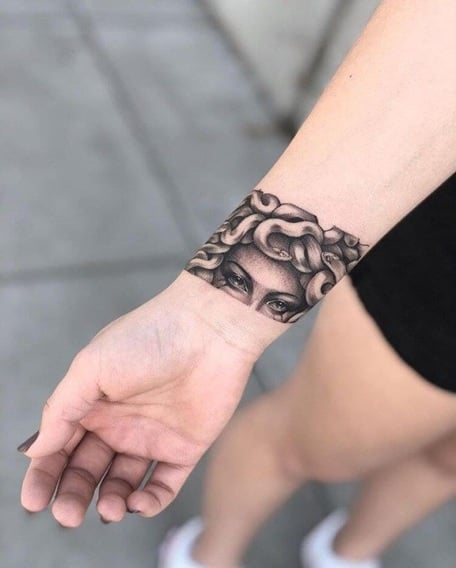 Next on the list of popular wrist tattoos for women is a Medusa Band. This innovative Medusa tattoo is a symbol of survival, strength, and overcoming assault. 
58. Rose And A Dagger
The rose and the dagger tattoo designs are paired together to symbolize the harshness of life. This beautiful tattoo is the perfect source of inspiration to fight back and adversity. This is a perfect tattoo design to reflect that you are not giving up on the beauty of life just because of its harshness.
Wrist Tattoo Designs To Try
59. Minimalistic Rose
Next on the list of popular wrist tattoos for women is a minimalistic rose. The common meanings associated with a minimalistic rose tattoo include love, beauty, balance, simplicity, and new beginnings. It can also represent the idea of embracing imperfection, as roses are often seen as delicate yet resilient flowers that thrive in adversity. Ultimately, the meaning of a minimalistic rose tattoo is subjective and can vary based on personal experiences and beliefs.
60. Snake & Rose
One of the famous wrist tattoos for women is a snake & rose. The tattoo designs featuring snakes and roses are highly favored for their romantic connotation and their portrayal of danger. These designs are frequently linked to love and lust, while also serving as symbols for intense emotions and the enticement of evil.
Which one is your favorite wrist tattoo? Tell us in the comments below.