The joy of victory is often more when you are an underdog. When you reach the star, and no one expects you to, the taste of triumph is far sweeter. Cinema is fraught with gutsy underdog movies that have made audiences laugh, cry and cheer the individual or team that at the start is relegated to the shadows. However, Hollywood underdog movies have inspired people across the world to take their place finally in the sun. We bring you a list of the best Hollywood underdog movies to lift your confidence, boost your spirit, and conquer the world!
Best Underdog Movies Of All Time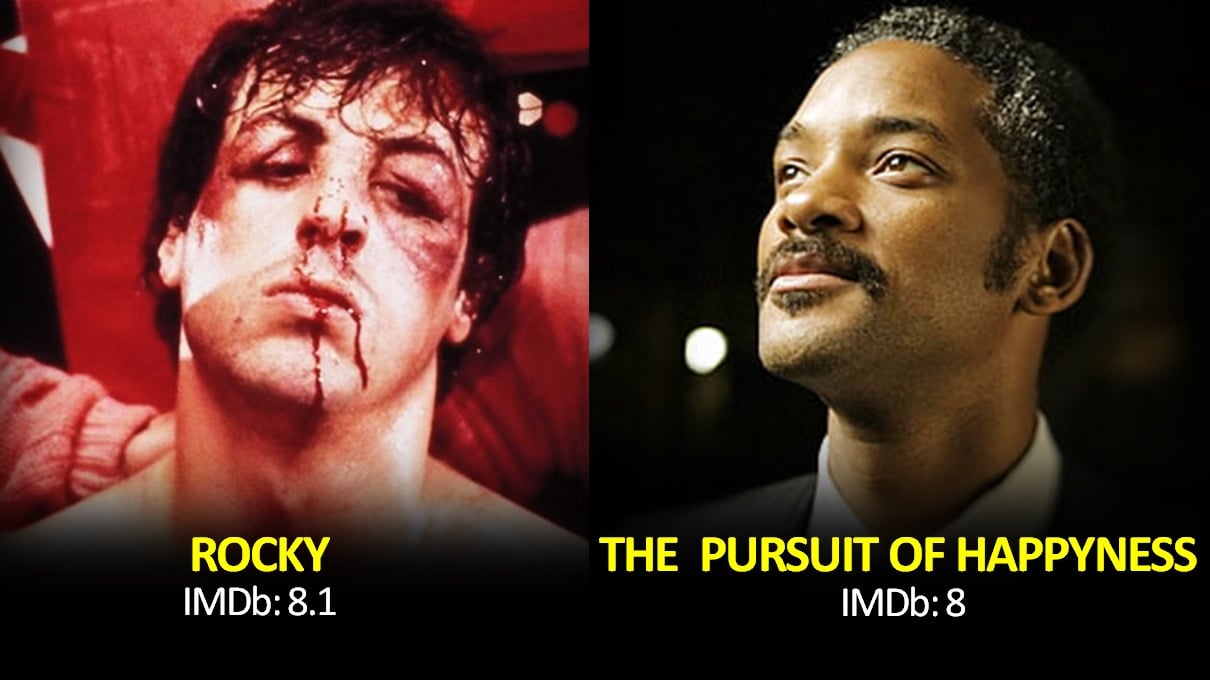 1. Rocky 
First, on the list is Rocky a film loved by all. This sports drama tells the story of Rocky Balboa who rises from a small club fighter to fight in the World Heavyweight Championship. Sylvester Stallone embodied Rocky-like no other actor and the film went on to have eight sequels. You can rent it on Amazon Prime.
2. Miracle 
A true sports story, Miracle, is about the win of the US men's hockey team against the Soviets in the Olympics of 1980. High on morals, nationalism, and some outstanding performances, Miracle is one of the finest movies about underdogs. In case you haven't watched it, please don't miss out on this gem. You can rent it on Amazon Prime.
3. Rudy 
Based on the true story of Daniel 'Rudy' Ruettiger, this short film will leave you in tears. Rudy an aspiring football player has no grades or money or physical build to play the game. Watch one of the best underdog movies, Rudy, to know what happens next.
Some Best Underdog Movies:
4. The Karate Kid 
Another movie related to the world of fighting and martial arts; The Karate Kid is a heart-touching story of a bullied kid finding courage with the help of his coach. Mr. Miyagi is a disciplined coach fighting his demons as he prepares Daniel to compete in the tournament. In the end, it is a win for both the teacher and the learner.
5. The Pursuit of Happiness
 A struggling, single, homeless father tries to reach his dreams in his touching story. The story revolves around the hard days that the father-son faces until finally, Chris Gardner lives his dream. This movie is also one of Will Smith's best performances. Where to watch it? You can either stream it on Netflix or Zee5
6. Wild Rose 
An aspiring singer, Rose-Lynn Harlan is just out of jail and is a single mother. With all odds stacked against her, she works hard to take care of her home and aspiration. Supported in her journey by a few other wonderful women, Rose crosses multiple hurdles to perform at Celtic Connections and receives a roaring ovation.
Best Movies About Underdogs:
7. Dodgeball: A True Underdog Story
As the name suggests, this comedy sports film is all about the underdog. A team of misfits enters a dodgeball tournament. How do they train, what keeps them motivated, and are they able to win the tournament? Watch this hilarious film to find out.
8. The Blind Side 
Based on a book, this biographical drama is the story of Michael Oher. Oher was born in a poor household; however, he goes on to play in the National Football League (NFL). The determination and help from caring adoptive parents make Oher's story inspiring. Where to watch? You can watch it on Netflix.
9. A League of Their Own 
A fictionalized story of the real All-American Girls Professional Baseball League (AAGPBL) this film wades its way through comedy, sports, womanhood, friendships, and more. The Peaches are managed by an alcoholic. Jimmy Dugan thinks that the team is waste of time. But in the end, they all come through and play in front of a sold-out crowd.
Some Best Movies About Underdogs:
10. Million Dollar Baby
One of the finest Hollywood underdog movies, Million Dollar Baby is a story of triumph and heartbreak. Called a masterpiece, this film won several Academy Awards, including Hilary Swank taking home the prize for Best Actress. Unlike, other underdog movies where the end is all about jubilation, this film will leave you jolted.
11. Remember the Titans 
Another film based on a true story of grit and integrity, the movie is the journey of Coach Herman Boone. A splendid film, it not only touches on the sport of football but also on racial discrimination and the efforts made to create equal opportunities for all. A superb performance by Denzel Washington, this movie is an eye-opener to social and cultural landscapes.
12. Moneyball 
One of the finest movies about underdogs is Moneyball. Brad Pitt shines in this film as Billy Beane, general manager of the Oakland Athletics Baseball team. The story is about how with a limited budget, he picks undervalued or underdog players and builds a winning team. Where to watch? You can watch it on Netflix.
13. Spotlight 
Spotlight is a film about the Boston Globe's investigative and sensational news story of sexual abuse in the Roman Catholic Church. A group of journalists who are considered underdogs embarks on a story of controversy and truth. Excellently scripted and acted, the film won two Academy Awards.
14. Cinderella Man
One of the finest movies about underdogs is Cinderella Man. It is a biographical sports drama movie directed by Ron Howard and released in 2005. The movie tells the story of James J. Braddock, a former professional boxer who, during the Great Depression, struggled to provide for his family and was forced to work on the docks. Against all odds, he returned to the boxing ring, where he achieved a remarkable comeback and became a symbol of hope for the American people during hard times. The movie stars Russell Crowe as Braddock, along with Renée Zellweger, Paul Giamatti, and Craig Bierko.
Also Read:
Hollywood Underdog Movies are tales of fiction and facts. There are several films based on true stories and, many are fictionalized. However, the takeaway is that an underdog survives and thrives with hard work, dedication, courage, and a strong will to succeed. Which one is your favorite? Tell us in the comments below.