On Twitter, netizens are demanding an audience to boycott Laal Singh Chaddha. Recently, the tag – 'Boycott Laal Singh Chaddha' trended on Twitter as people demanded a ban on the Aamir Khan and Kareena Kapoor starrer movie. LSC is an official remake of the very popular Hollywood movie Forrest Gump. Are you wondering why would people be angry with the movie, even before it hit the cinema halls?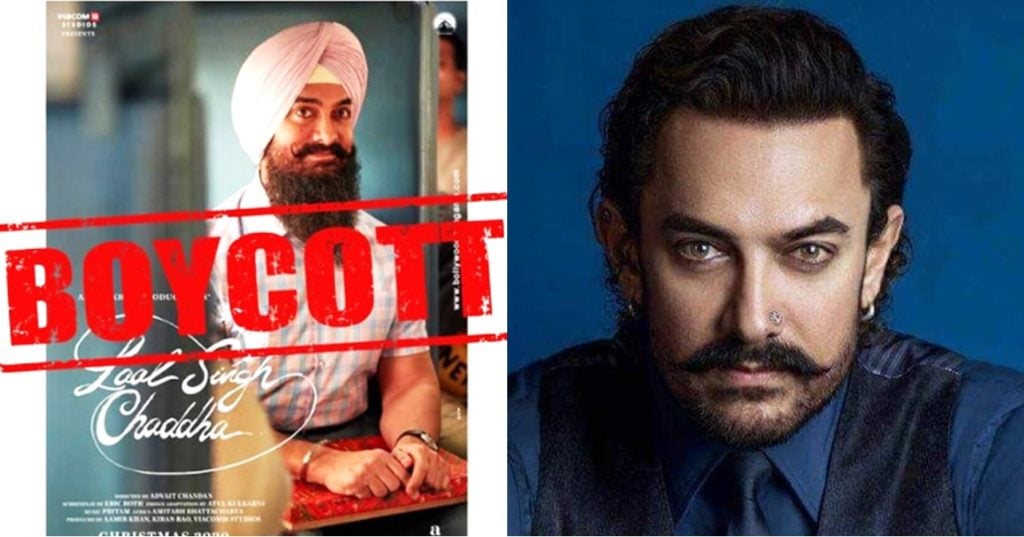 Netizens have dug out Aamir Khan's old statement that caused massive controversy in the past.
Don't waste your Money on expensive tickets of #LalSinghChaddha …instead feed a poor child.#BoycottLaalSinghChaddha pic.twitter.com/iK39ce2bf0

— समझो भाई 😊 (@Yogendr89778547) July 31, 2022
But, this isn't the first time that the 'Boycott Laal Singh Chaddha' hashtag has trended on social media. Even when the movie trailer was released people took to social media to ask the audience to boycott the movie.
⚡️Food for thought 💭 #BoycottLaalSinghChaddha pic.twitter.com/15TINnsNIw

— Kreately.in (@KreatelyMedia) July 29, 2022
In 2015, Aamir Khan made a statement about India becoming intolerant, and that upset many netizens across the country. In his interview, he said that he along with his former wife Kiran Rao want to leave the country as it was growing intolerant.
Never forget, never forgive

How can we watch movie of Anti-Hindu, Anti-Bharat, Pro-Turkey actor?

How can we watch movie of someone who named her sons #Taimur & #Jahangir the #Mughals Terrorists who killed Millions of Hindus? #BoycottLaalSinghChaddha pic.twitter.com/Mn6lb19Guh

— Kreately.in (@KreatelyMedia) July 30, 2022
Though Aamir had then clarified that he never called India intolerant but rather called out people who spread ill-will against religions. He said, "Our country is very tolerant, but there are people who spread ill-will…Those who speak of breaking up this vast country, such people are present in all religions, only Modiji can stop them. After all, Modiji is our PM, we have to tell him".
#BoycottLaalSinghChaddha#LalSinghChaddha #amirkhhan#BoycottLalSinghChadha

Would you take selfies and eat food with pakistanis who want bad for your country? Can any indian?

Only a jihadi like amir khan would pic.twitter.com/cPWj0HUKEl

— rizwan ul haq/riz (@rizwanlotanooo) July 30, 2022
Here's what other people had to say:
As your wife said you are not safe in India why are you telecasting your film here.#BoycottLaalSinghChaddha pic.twitter.com/FmV12YdUSu

— PK🇮🇳 (@prauk7) July 29, 2022
Would you support ?#BoycottbollywoodForever#BoycottLaalSinghChaddha pic.twitter.com/Y4plcIiSaZ

— Jaydip Dhameliya (@Jaydip_2001) July 30, 2022
Aamir Khan said

"India is intolerant & He wants to Leave India"

Then let him leave India, why is he releasing his movie here????

JAI HIND#BoycottLaalSinghChaddha pic.twitter.com/eRpZzznBOC

— Parag Shah (@ParagShahBJP) July 28, 2022
#AamirKhan meets the Turkish First Lady even when Turkey is busy radicalizing Indian Muslim youth in connivance with Pakistan

Turkey is also openly backing Pakistan in Kashmir

Bollywood has infested our society like a weed which needs to be culled.#BoycottLaalSinghChaddha pic.twitter.com/WPd5ehQEAL

— Patrick (@Patrik26505229) August 1, 2022
I am not going to fund mockery of my own Dharma!!! #BoycottLaalSinghChaddha pic.twitter.com/OXtU9Z1ujJ

— Kiran RJ (@kiranmai_rj) July 31, 2022
Some people also mentioned that they ain't interested in watching the movie as it is a copy of a famous Hollywood movie – Forrest Gump.
Why watch
🅲🅾🅿🆈🆆🅾🅾🅳

When you can watch
🅵🅾🆁🅴🆂🆃 🅶🆄🅼🅿
Original for
🅵🆁🅴🅴

Copywood doesn't have the original content to make pictures.
They have passed their degrees with cheating & copying, with No Creativity.#Boycottlaalsinghchaddha #LawrenceBishnoi pic.twitter.com/BfV07x0jS4

— Akansha singh (@Singh1Akansha) August 1, 2022
Not just because of Aamir Khan, netizens are asking people to boycott the movie because of Kareena Kapoor as well. In one of her interviews, she made a problematic statement about nepotism. She blamed the audience for nepotism and asked the audience not to watch their movies. She said: "The audience has made us, no one else has made us. Same people pointing fingers are the ones who have made these nepotistic stars right? Aap jaa re ho na film dekhne? Mat jao. Nobody has forced you. So I don't understand it. I find this whole discussion completely weird." The problematic statement irked many as star kids refuse to acknowledge the prevalent nepotism in the Bollywood industry.
Do remember her words on 11th Aug ! Just follow her word by word . pic.twitter.com/iSJJtxNzJQ

— Sumit (@sumitsaurabh) July 29, 2022
What would be the fate of LSC? Only time can tell. But, one thing is for sure struggling Bollywood desperately needs LSC to create magic at box office. What do you think about these controversies and tag – "Boycott Laal Singh Chaddha'? Tell us in the comments below.