Kamla Bhasin (1946 – 2021), a prominent figure in India's feminist movement, stood as a critical pillar alongside pioneering feminists like Savitri Bai Phule, often referred to as the mother of the feminist movement in India or India's first feminist. Her unwavering commitment to advancing gender equality and social justice left an enduring legacy within India's feminist circles, motivating countless individuals to rally behind the cause.
Kamla Bhasin's work, which dates back to 1970, was majorly concerned with gender, education, human development, and the media. Her poem 'Kyunki main ladki hoon, mujhe padhna hai' is well-known, as is her work with Sangat Network. She recited a feminized version of the popular poem Azadi (Freedom) during a conference in 1995, which became quite popular among the women's community, She left her job at the United Nations in 2002 to work at her women empowerment NGO – Sangat, where she was a founding member and advisor.
To pay our tribute to this inspiring Feminist icon, here are a few top quotes by Kamla Bhasin. In addition to Kamla Bhasin's quotes, we have also compiled some really inspiring women empowerment quotes by women across the world, don't forget to read them! 
Famous Kamla Bhasin Quotes That Are Must-Read For Every Feminist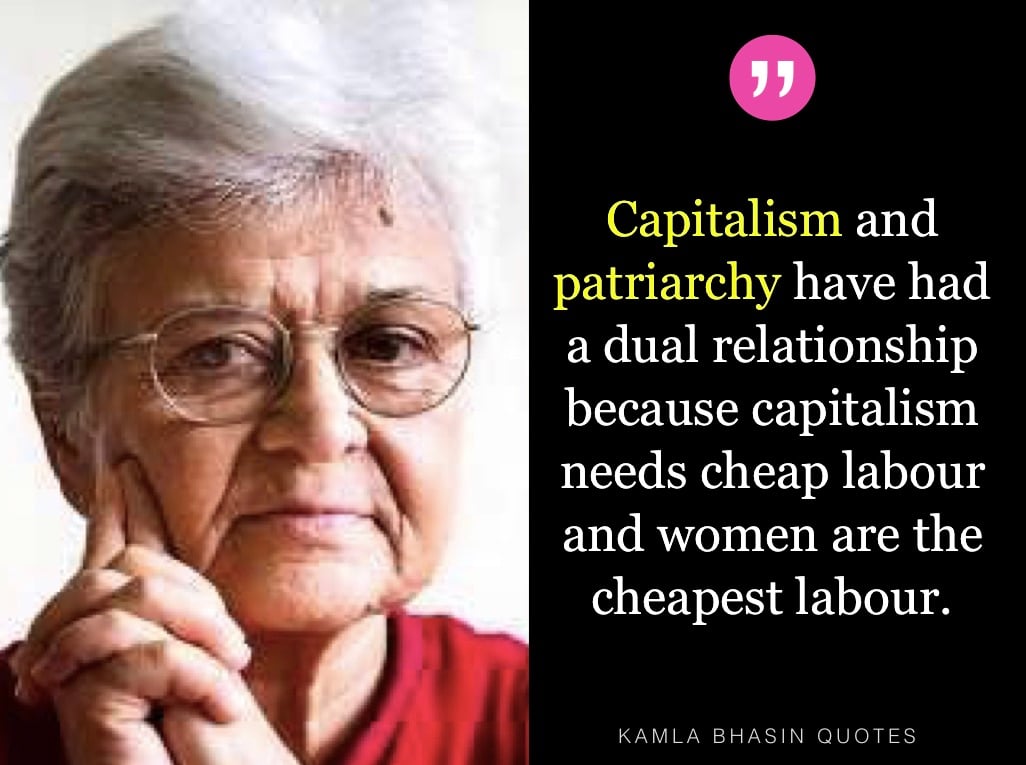 In case you are curious to know – What was feminism according to Kamla Bhasin?. Then don't worry, we got you covered. Based on her speech at Sangat Network, here's a quick summary of Kamla Bhasin's view about feminism:
Kamla Bhasin viewed feminism as a movement and ideology focused on achieving gender equality and dismantling patriarchal systems. Her understanding of feminism included these key aspects:
Recognizing Discrimination: Feminism, according to Bhasin, starts with acknowledging that women and girls face discrimination in various areas of life, including within families, at work, and in society.
Taking Action: She emphasized that feminism isn't just about recognizing discrimination but actively working to challenge it. This involves confronting unfair power structures and advocating for changes that promote equality.
Inclusivity: Bhasin's feminism was inclusive, recognizing that gender-based discrimination affects people of all genders. It aimed to address broader issues of justice and equality beyond just women's struggles.
Intersectionality: She stressed the importance of addressing multiple forms of inequality, such as class, caste, and race, which intersect and influence each other.
Challenging Tradition and Religion: Bhasin advocated for questioning and changing traditional customs, rituals, and religious practices that perpetuate gender inequality if they go against principles of equality and justice.
Personal and Political Connection: Her feminism emphasized that personal actions and decisions have political significance, encouraging individuals to examine and change their own behavior to challenge societal norms.
Local and Global Perspective: Kamla Bhasin's feminism recognized that it could adapt to different cultural contexts to address local issues while also participating in the global struggle for gender equality.
In essence, Kamla Bhasin's feminism was about actively fighting for equality, challenging injustice, and working to dismantle systems that uphold discrimination against women and marginalized groups.