Mani Ratnam is one of the finest Indian directors of all time. Mani Ratnam movies are no less than a masterpiece. He's passionate storytelling and spectacular way of portraying heart-touching stories have won hearts across the globe. To celebrate Mani Ratnam's excellence, here are some of his must-watch brilliant movies:
1. Mouna Ragam (1986)
Do you know Mani Ratnam won a National Award for Best Film and Best Director for Mouna Ragam? The movie starred Revathi and Mohan in the lead roles. Divya, a woman grieving over the death of her lover, is convinced into an arranged marriage with Chandra Kumar. Over a year the couple attempted to adjust to each other's presence and live with each other. With an IMDb rating of 8.4, this movie is a must-watch.
2. Nayagan (1987)
Are you looking for another one of Mani Ratnam's best movies? Inspired by Mario Puzo's cult book, The Godfather, Nayagan not only made excellent business at the box office but also received critical acclaim. Nayagan stars Kamal Hassan and Karthika in the lead. In 2005, TIME magazine listed Nayagan as one of the 100 best films of all time. This masterpiece fetched Kamal Hassan a National Award for Best Actor aswell. With an IMDb rating of 8.6, this is a must-watch.
3. Thalapathi (1991)
This masterpiece stars two superstars, Rajnikanth and Mammootty. The plot of the story was so strong that the movie remains a classic till today. An orphan named Surya raised in a slum befriends a good crime boss named Devaraj and works for him. Their existence is threatened when a new honest district collector arrives. The movie is rated 8.5 on IMDb.
4. Anjali (1990)
Full of goodness, smiles, and kindness, Anjali is one of the top 10 movies of Mani Ratnam. The movie which focused on a very sensitive issue bagged 3 National Awards. Showcasing the strength of a family with a special child, this movie touched so many hearts. With an IMDb rating of 8.2, this movie stars Revathi and Raghuvaran as the lead.
5. Roja (1992)
Another Mani Ratnam's masterpiece that received a lot of love from the audience as well as critics. Starring Arvind Swamy and Madhoo, the movie is about love torn between politics and terrorism. The film won 3 National Awards for Music direction, Best Lyrics and Best Film on National integration. With IMDb rating of 8.1,  this movie is a must-watch!
6. Bombay (1995)
Once again Mani Ratnam dealt with the tough subject of terrorism with his masterpiece – Bombay. The movie captured a love story between a Hindu boy and a Muslim girl around the time of the demolition of the Babri Masjid and the aftermath leading to the horror of Hindu-Muslim riots in the country. The movie stars Arvind Swamy and Manisha Koirala. Bombay also won the National Award for Best Film on national integration along with Best Film editing.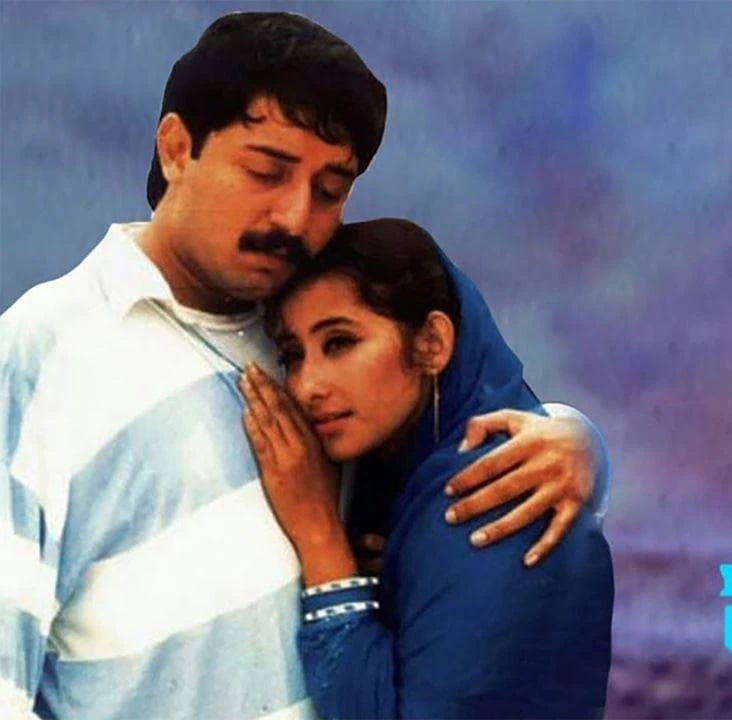 7. Iruvar (1997)
Inspired by the rivalry between Politicians, Karunanidhi and M.G Ramachandran, this movie earned a lot of critical acclaim for its narrative. Starring Mohanlal and Prakash Raj, Iruvar won 2 National Awards for Best Cinematography and Best supporting actor. The movie also marked the debut of Aishwarya Rai as an actress.
8. Dil Se
Starring Manisha Koirala and Shah Rukh Khan, this movie is widely regarded as one of the best Mani Ratnam movies. The movie focused on a love story between a civilian and a terrorist. With the incredible soundtrack by AR Rahman, this movie received a lot of appreciation for its hard-hitting portrayal of human rights violations.
9. Alaipayuthey (2000)
An urban love story between two immature adults is what Alaipayuthey is about. Starring R Madhavan and Shalini, the movie is about a couple who has a difficult romance in a class-divided society. With time the love birds find out marriage is not what they thought it would be. This movie was remade in Hindi as Saathiya starring Rani Mukherjee and Vivek Oberoi.
10. Yuva (2004)
 Directed by Mani Ratnam, Yuva is a political thriller that revolves around three men – Michael (Ajay Devgan), Arjun (Vivek Oberoi) and Lallan (Abhishek Bachchan), who are from three different strata of society. On one morning in Calcutta, they cross each other's paths and change one another's lives forever.
11. PS-1 & PS-2
Ponniyin Selvan' is a brilliant story that is based on the early life of Prince Arun Mozhi Varman, who later went on to be known as the great Raja Raja Cholan. The film is inspired by a novel, which is based on the 10th-century Chola period and the fights within the ruling clan. Not just PS-1 but also its sequel received massive love from the audience.
Which one is your favourite? Tell us in the comments below.