Do you want to watch the best Indian short films? Here are some of the best Hindi Short Films that have much more impactful content than the usual 100 Crore+ masala movies doled out by Bollywood: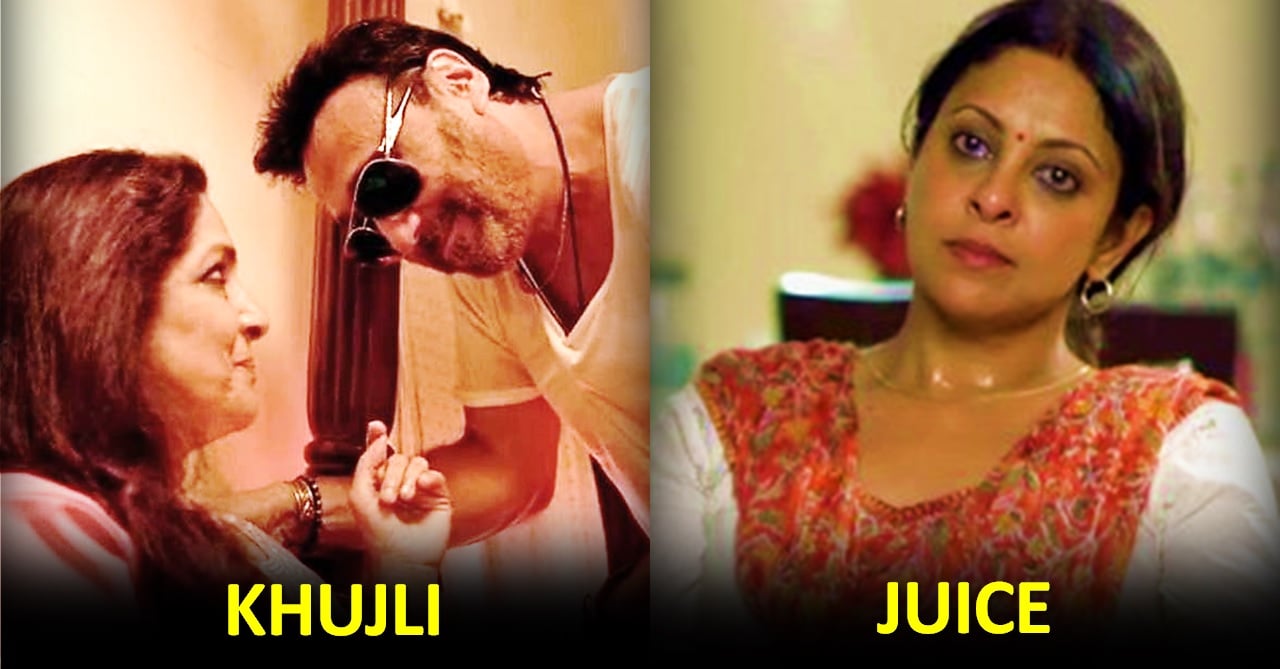 Best Indian Short Films | Best Hindi Short Films
1. Juice
With the power-packed performance of Shefali Shah, this hindi short film's portrayal of the average Indian woman resonates with many. A woman stuck working in the kitchen while her husband enjoys with guests, is a subtle but very relevant take on the life of the middle-class housewife. Without any loud expressions or shocking dialogues, this short film is simple yet powerful.
2. Khujli
One of the best Hindi Short Films is Khujli. It is a funny and kinky movie that focuses on an old-age couple rediscovering sex. This small film is about an older couple getting inspired by 50 shades of grey. With talented actors like Jackie Shroff and Neena Gupta, the short film explores a middle-aged couple trying to wrap their heads around the vagaries of modern-day physical intimacy.
3. Jai Mata Di
Jai Mata Di is another great short film by Terribly Tiny Tales. It is funny and relatable with a surprise twist. This bollywood short film focuses on an unmarried couple that wants to live together but society doesn't let them. The movie showcases how this couple stumbles over a novel, quirky, and out-of-the-box solution to do so!
4. Kheer
Another great hindi short film is Kheer. This beautiful short film captures a complete story in just 6 minutes and one incident. The film focuses on the relationship a grandfather shares with his granddaughter. The short film revolves around how he consoles his granddaughter when she mistakes his friend to be his lover, and gets upset at the idea of him replacing her late grandmother.
5. Chhuri
Another brilliant short story, based on infidelity. With the power-packed performance of Tisca Chopra, this Anurag Kashyap's movie is as sharp as its title!
6. Naked
Starring Kalki Koechlin, this short hindi film focuses on the important topic of cyberbullying. Ritabhari does an excellent portrayal of an average young woman who messes up her big opportunity because of society and her boss! The dialogues, flawless acting, and smooth execution make this a must-watch.
7. Khaney Mein Kya Hai?
This is a very heart-warming, cute, and funny take on sex conversations with your mom. We are sure after watching this movie, you will never look at cooking the same way! And, don't forget to send a link for this to your mother as well!
8. Nawab
This short film is one of the finest works of Aparshakti Khurana. This short film tells the story of a man and the dog he got while he was together with his ex. Now, after their breakup, he is in search of a place for himself and his dog. With great performance and a heartwarming plot, this short movie is a must-watch.
9. Ghar Ki Murgi
One of the best Indian short films is Ghar Ki Murgi. Capturing the unfair treatment of housewives by their own families, this movie is an eye-opener. Directed by Ashwiny Iyer Tiwari, Ghar ki Murgi stars Sakshi Tanwar. The movie brilliantly captures the lives of homemakers and throws much-needed light on just how important they are. You can watch it here.
10. Budh Awakening
Though the movie was made in 2018, it was released in 2020 and got nominated for a Filmfare. Focusing on the lives of 3 women across the country, the movie showcases how these 3 women face similar sorts of oppression and how they try to rise above it. It brings out the sad reality of women, in India as well as throughout the world.
---
---
11. Natkhat
Starring Vidya Balan, this short movie is about women's empowerment. This movie focuses on the life of a woman teaching her son about gender equality. The film will leave you with the hope that all this patriarchy, misogyny, and sexism, can be stopped if it's nipped in the bud. You can watch this movie on Voot. For now, here is the trailer: 
12. White Shirt
Kapoor and Kritika Kamra shine in this heartbreak drama, that captures the emotions and struggles of moving on more beautifully than many mainstream movies have been able to.
---
---
13. Devi (TW: Rape, Murder)
Devi might be one of the most famous names on the list. With amazing actors like Kajol, Shruti Haasan, Neha Dhupia, and Mukta Barve, this 13-minute movie is hard-hitting. This short film is basically a debate between 9 women talking about their history of sexual violence and rape. Focusing on how common these atrocities are in our society, this movie drives a very important message!
14. Ahalya
One of the best Indian short films is Ahalya.  'Ahalya' happens to be a Bengali short film by director Sujoy Ghosh. He takes on the episode of Ahalya from Ramayana and gives it a modern twist. With Radhika Apte as a lead, this short film is a must-watch!
15. Chutney
Another interesting Hindi short film that you would love to watch is Chutney! With Tisca's power-packed performance, this short Hindi film is a must-watch.
---
---
How many of these Hindi short films have you already watched? Let us know in the comments!