Discover the best bird tattoo ideas for men and women, ranging from majestic eagles to delicate sparrows to love birds to minimalist simple bird tattoos. Explore a diverse collection of bird-inspired designs, each symbolizing unique qualities such as freedom, love, and resilience. Find inspiration for your next meaningful and visually captivating bird tattoo.
Bird Tattoos & Immense Popularity
Bird tattoos have skyrocketed in popularity, captivating the attention of tattoo enthusiasts worldwide. Their widespread appeal can be attributed to both their aesthetic charm and the profound meaning they carry. Birds have long been associated with freedom, resilience, and the ability to soar above life's challenges. As tattoo art embraces the beauty of nature, bird tattoos offer a timeless representation of these qualities.
Bird tattoos' popularity stems from the fact that they are gender-neutral, appealing to both men and women without any concern. The versatility of bird tattoos allows them to be placed on any part of the body, ranging from small and subtle designs to larger, more intricate artworks.
Bird Tattoos Meaning
Each bird species carries its own unique significance, offering a wide range of options for personal expression. From the symbolic strength of an eagle to the delicate grace of a hummingbird, bird tattoos hold deep meanings that resonate with individuals on a personal level. Whether it's a symbol of personal transformation, a reminder of one's connection to nature, or an embodiment of the desire to spread one's wings and embrace life's opportunities, bird tattoos continue to be a beloved choice among tattoo enthusiasts. So, here are some of the most popular bird tattoo designs that you must explore: 
Bird Tattoo Ideas For Men & Women
1. Love Birds With Rose Tattoo
The Love Birds with Rose tattoo portrays a timeless romance and companionship, with the rose embodying love's beauty and tenderness. Moreover, this elegant design serves as a symbol of everlasting affection and the profound connection shared between two souls. Additionally, it becomes a personal reminder of self-love and inner harmony, representing the journey to find love and contentment within oneself. This meaningful design celebrates the spirit of self-discovery, and, at the same time, serves as a beautiful symbol of growth, strength, and embracing one's own beauty and worth.
2. Simple Bird Cage Tattoo
Bird and cage tattoos offer a myriad of interpretations to individuals. For instance, a bird may symbolize freedom and liberation, whereas a cage may depict confinement or restrictions. Some people may opt for these tattoos as a metaphor for life experiences. The personal significance of these tattoos is unique to each individual, as artists creatively express themselves through different designs such as realistic, watercolor, and minimalist bird and cage tattoos.
3. Two Doves Geometric Tattoo 
The Two Doves Geometric Tattoo combines elegance and symbolism, with doves representing love, peace, and unity, while the geometric elements add a touch of modernity and complexity to the design. This harmonious blend creates a visually striking tattoo that speaks of profound connections and the balance between simplicity and intricacy in life. Want more ideas for geometric tattoos? Head over to our featured section on "Best Geometric Tattoos" for a wide range of inspirations.
4. Colored Bird Tattoo
Bird tattoos symbolize freedom and beauty, and have become increasingly popular with abstract details like watercolor brushstrokes or delicate line work. They represent various values such as strength, transformation, and positivity, providing a beautiful way to express oneself.
5. Geometric Flying Bird Tattoo
The Geometric Flying Bird Tattoo merges artistry and symbolism, with the bird symbolizing freedom, aspiration, and the soaring spirit, while the geometric patterns add a contemporary edge and mathematical precision to the design. This visually captivating tattoo encapsulates the beauty of artistic expression and the desire to break free from life's constraints, serving as a reminder to embrace both creativity and independence.
6. Humming Bird Back Tattoo
The hummingbird tattoo symbolizes joy, love, happiness, and positive energy in Native American culture. It is associated with agility, adaptability, resilience, and honoring loved ones who have passed away. The tattoo is a reminder of positivity and perseverance.
7. Birds With Name Tattoo
Bird tattoos symbolize freedom, flight, and spirituality. Including a name in the design adds a personal touch and deeper meaning, representing a loved one who has passed or an individual's spirit and soul. The name can honor a child, parent, or spouse, and the tattoo can also represent a particular character trait an individual aspires to have
8. Shoulder Bird Tattoo With Name 
A bird tattoo on the chest carries deep symbolic meaning, representing freedom, courage, and following one's dreams. It can be depicted realistically or abstractly, with different bird types holding varying meanings. The tattoo's symbolism is also influenced by the bird's position; a flying bird symbolizes freedom, while a caged bird represents confinement. Ultimately, the chest bird tattoo represents an individual's personal journey toward freedom and self-discovery.
9. Freedom Bird With Text/ Quote Tattoo
Bird and text tattoos are gaining popularity among tattoo enthusiasts for their unique blend of nature and words, with bird tattoos symbolizing freedom and text tattoos expressing beliefs and feelings for a meaningful message. The combination creates wearable art that represents the wearer's soul's freedom and ability to soar in life
10. Two Birds With Sun Tattoo 
The two birds and sun tattoo design is popular for its symbolism of freedom and strong bonds between individuals. The birds represent a bond between two people, while the sun represents new beginnings, light, and hope. In some cultures, the two birds symbolize the duality of life, while in Native American culture they represent protection and deliverance from harm. This tattoo design is often chosen by those who have gone through difficult times and want to remind themselves that there is always hope for a better future.
11. Flying Birds Feather Collarbone Tattoo
Adorning a bird and feather tattoo is not just an artistic expression, but it holds a symbolic meaning that can vary based on the used bird species and feather types. It can represent courage, strength, wisdom, intuition, freedom, flight, love, loyalty, and companionship. Despite its varied meanings, it has been appreciated worldwide throughout history.
12. Birds With Flowers Tattoo On Back
Combining birds and flowers in tattoo art is a popular choice. This design represents femininity and beauty, growth and renewal, and freedom and independence. It highlights the natural elegance of a female's body while symbolizing personal growth and constantly moving forward in life. The tattoo design can be customized to represent various meanings and is a valuable addition to an individual's body art collection. Want more ideas for flower tattoos? Head over to our featured section on "Best Flower Tattoos" for a wide range of inspirations.
13. Japanese Bird Tattoo On Side
Japanese bird tattoos have great significance in Japanese culture, with different birds representing different virtues. The crane signifies longevity, the sparrow brings good luck, the phoenix symbolizes resurrection and the swallow represents hope. Flowers like cherry blossoms and chrysanthemums incorporated into the tattoo designs stand for emotions like love, loyalty, and perseverance. These tattoos are aesthetically pleasing and reflect the values of Japanese culture.
14. Simple Minimalist Bird Tattoo
The simple bird tattoo is a popular choice for its symbolism of freedom and independence. It can represent various qualities and can be designed with small or intricate details. The minimalist design serves as a timeless reminder to embrace life's essential elements.
15. Geometric Bird Tattoo on Side
The Geometric Bird Tattoo on the side embodies a unique blend of elegance and modernity, with the bird symbolizing freedom and the geometric elements adding a touch of intricate artistry. Positioned on the side, this tattoo becomes a personal and eye-catching adornment, representing the harmony between nature's beauty and human creativity.
16. Minimalistic Bird Tattoo On Arm
Minimalistic bird tattoos are a popular means of self-expression through art, symbolizing freedom, independence, and grace. Different bird species convey unique meanings, with the swallow bird representing true love and loyalty, the sparrow bird symbolizing resilience and strength, and the hummingbird representing energy, vitality, and enjoyment of life. Overall, the minimalistic bird tattoo is a beautiful and powerful design that conveys various values in a subtle yet significant way.
17. Small Dove Tattoo On Ankle
The small dove tattoo symbolizes peace and love and is a popular choice among people. It represents humility or a personal connection with the dove's symbolism due to its small size. The location of the tattoo can hold significant value, signifying a private or discreet expression of one's beliefs. The subtle design holds a powerful message to stay peaceful and pure in thoughts and actions
18. Phoenix Bird Tattoo
Phoenix bird tattoos are favored by body art enthusiasts for their intricate designs and deep symbolism that represent rebirth, endurance, and transformation. The Phoenix bird is a powerful symbol of the ongoing cycle of birth, death, and rebirth in various cultures worldwide, inspiring the tattoo culture.
19. Sillhoute Bird Tattoos
Silhouette Bird Tattoos create a striking and minimalist design, capturing the essence of grace and freedom with its sleek outlines. These elegant tattoos symbolize a sense of liberation and evoke a sense of mystery and artistry, making them a popular choice for those seeking subtle yet meaningful body art.
Sparrow Bird Tattoo
20. Cute Bird Tattoo
Bird tattoos have various meanings, and the cute bird tattoo is quite popular. Small and brightly colored, it symbolizes freedom, beauty, gracefulness, innocence, and purity. It can also be a reminder to stay optimistic. Cute bird tattoos can be placed almost anywhere on the body and still represent the symbolism behind the design.
21. Finger Bird Tattoo
Finger bird tattoos are becoming increasingly popular as a symbol of freedom, perspective, and the pursuit of goals and dreams. The design is simple yet holds deep meaning, with some using the tattoo to remember loved ones who have passed away. The tattoo's small size and placement on the finger also make it versatile and easy to cover up if necessary. For an extensive collection of finger tattoo inspirations, explore our dedicated section on "Best Finger Tattoos."
22. Love Birds Wrist Tattoo For Couples
The Cute Love Birds Wrist Tattoo portrays a heartwarming scene of love, with one bird singing its sweet melody while the other blushes with affection. This endearing design encapsulates the joy of loving expressions and the tender moments shared between two souls, etching a delightful and enchanting tale of romance on the canvas of the wrist. This is a perfect tattoo design for couples who share eternal love. Want more ideas for the couple tattoos? Head over to our featured section on "Best Couple Tattoos" for a wide range of inspirations.
23. Parrot Tattoo
Parrot tattoo is a popular choice for its symbolism in communication, intelligence, and socialization. It is visually striking with its vibrant colors and versatility to fit the wearer's personality. It can convey intellect, humor, or love for birds and can be placed discreetly or boldly on various body parts. Ultimately, the parrot tattoo is a beautiful and meaningful design that allows for personalization and individual expression.
24. Ankle Bird tattoo
Birds Tattoos are a popular tattoo choice for many people, especially ankle tattoos. These tattoos hold a great deal of symbolism and meaning, including freedom, spirituality, and strength.
25. Owl Bird Tattoo
Owls have been a popular tattoo design for years due to their symbolic representation of wisdom, knowledge, protection, and intuition. Their exceptional hunting skills and ability to see in the dark make them perfect icons of foresight and intuition. They are believed to bring good luck and protect against evil spirits in many cultures. With their unique features, like sharp beaks and fluffy feathers, owl designs continue to be a popular choice among tattoo enthusiasts. Want more ideas for owl tattoos? Head over to our featured section on "Best Owl Tattoos" for a wide range of inspirations.
26. Traditional Eagle Bird Tattoo
The Traditional Eagle Tattoo is a timeless and iconic design, symbolizing strength, courage, and freedom. Rooted in American tattoo history, this classic design showcases the majestic eagle in bold, vibrant colors, making it a popular choice for those seeking a powerful representation of patriotism and noble virtues.
Bird tattoos on the chest are popular and meaningful among tattoo enthusiasts. The chest offers a broad canvas for the design, and certain bird species represent specific meanings such as power, love, and loyalty. Placing the tattoo near the heart can add an emotional connection to its symbolism. Overall, a bird tattoo on the chest can be a beautiful and significant personal statement.
28. Bird Tattoo On Hand
A Bird Tattoo on the hand serves as a bold and expressive statement, symbolizing freedom, flight, and a connection to nature. Positioned on the hand, this captivating design becomes a visible reminder of embracing life's possibilities and the desire to explore uncharted horizons with an adventurous spirit.
29. Flying Birds On Neck Tattoo – Silhouette Bird Tattoo
Flying Birds on the neck create a captivating and symbolic tattoo, representing the longing for freedom and soaring beyond life's boundaries. This elegant design gracefully accentuates the neck's contours, inspiring a sense of liberation and the courage to take flight toward new horizons and limitless possibilities.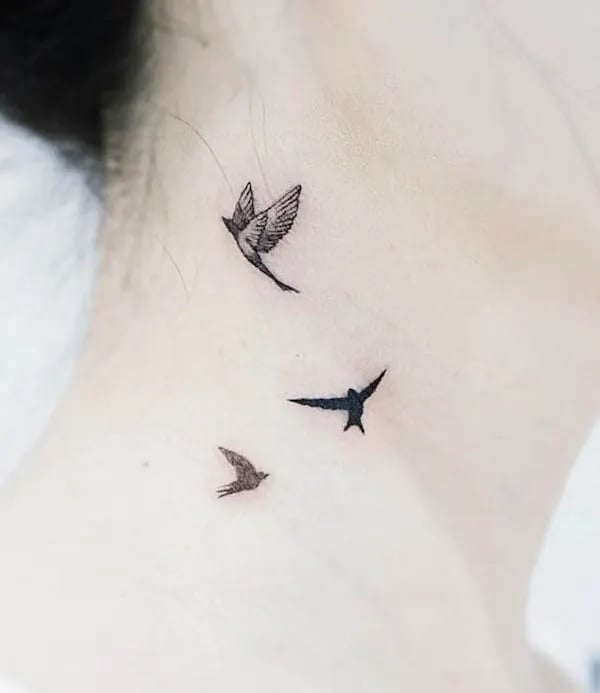 30. Three Birds With Sun Tattoo
The Three Birds with Sun Tattoo embodies a powerful symbol of harmony, freedom, and positivity. The birds signify unity and shared connections, while the sun represents vitality and a radiant spirit, making this design a beautiful expression of meaningful relationships and a vibrant outlook on life.
31. Unique Birds Tattoo
The tattoo of two birds holding a thread to pull a girl represents a unique and meaningful concept. It can symbolize the idea of a loving connection between two individuals, often depicted as the birds, who are joined by an unbreakable bond represented by the thread. The girl being pulled by the birds signifies being guided or protected by the power of that bond, indicating a sense of support, protection, or guidance from loved ones. The tattoo can also represent the importance of relationships and the interdependence of people in each other's lives, highlighting the strength that comes from shared connections.
32. Bird With Geometric Shape Tattoo
A geometric bird tattoo is a popular choice among tattoo enthusiasts as it symbolizes freedom, hope, and transcendence. Combining bird symbols with geometric shapes adds an aesthetic appeal, representing balance, harmony, and stability. This tattoo can also be customized with specific bird species, such as an eagle symbolizing courage and strength. Overall, the geometric bird tattoo appeals to those seeking deeper symbolic meanings in their tattoo art.
33. Mandala Tattoo With Birds
The mandala bird tattoo is a beautifully intricate design with great spiritual significance, representing freedom, unity, and wholeness. It promotes balance and healing, reminding us of our interconnectedness in the universe. It is a meaningful symbol of spiritual awakening and enlightenment.
34. Ornamental Bird Tattoo
An ornamental bird tattoo represents freedom, strength, independence, spirituality, and mysticism in many cultures. Both men and women can get this tattoo, and it can be designed differently to symbolize various meanings. Examples include eagle, phoenix, owl, and swallow designs, each with its own unique symbolism. A bird tattoo is a beautiful body art that holds great significance for the wearer.
35. Tattoo With Birds & Sunflower
This tattoo features a bird and sunflower, symbolizing nature's beauty and new beginnings. The bird represents freedom and positivity while the sunflower symbolizes strength and growth. This design signifies personal growth and the determination to overcome obstacles. It is a beautiful and meaningful way to showcase one's love for nature. For an extensive collection of sunflower tattoo inspirations, explore our dedicated section on "Best SunflowerTattoos."
36. Eagle Tattoos
The Eagle Tattoo embodies strength, courage, and soaring ambition, symbolizing the pursuit of freedom and the triumph over challenges. This majestic design serves as a powerful emblem of resilience and a fearless spirit, making it a popular choice for those seeking inspiring and meaningful body art. Want more ideas for eagle tattoos? Head over to our featured section on "Best Eagle Tattoos" for a wide range of inspirations.

37. Tattoo With Two Sparrows On Side 
The Two Sparrows on Side Tattoos represent a beautiful and sentimental design, symbolizing love, loyalty, and companionship. Positioned on the side, this charming tattoo adds a touch of elegance and serves as a timeless reminder of the cherished connections shared between two souls.
38. Tattoo With Birds Nest
Bird tattoos featuring birds and their nests are becoming more popular due to the symbolism of safety and comfort. Birds build their nests with care and protect their young until they can fly. The placement of the tattoo can also hold symbolic meaning with the upper back or shoulder representing protection and the lower back representing a connection to nature. The type of bird used can also add meaning, such as eagles representing strength and doves symbolizing peace. The personal significance of the tattoo may vary, but the symbolism remains powerful.
39. Tattoo With Birds & Butterfly
Birds and butterfly tattoos are popular among tattoo enthusiasts as they hold deep symbolism. Each bird represents different meanings, such as freedom (sparrow) and power (eagle), and butterflies symbolize transformation. These creatures have spiritual connections, and their tattoos can represent spiritual journeys. Placement on the body also holds significance, representing areas where transformation or enlightenment is needed. These tattoos are not just visually appealing but have profound meanings for the wearer. If you're looking for more inspiration for butterfly tattoos, check out our exclusive segment on "Best Butterfly Tattoos."
40. Blue Bird Tattoo
The blue bird tattoo represents freedom and independence. It's a reminder to break free from the chains of society and explore the world. This tiny creature is known for flying away and finding its own path in life, just like how we should strive to live life on our own terms.
Tattoos are a timeless choice that can be interpreted in many ways. Whether it's based on their symbolic meanings or personal significance, the right bird tattoo can be a beautiful way to express yourself. With so many design styles, colors, and placements to choose from, bird tattoos are a versatile choice for men and women alike. The blue bird tattoo represents freedom and independence. It's a reminder to break free from the chains of society and explore the world. This tiny creature is known for flying away and finding its own path in life, just like how we should strive to live life on our own terms.
Our Special Segments On Tattoos
Not just Bird Tattoos, we have compiled special segments on "Best Owl Tattoos" or "Best Eagle Tattoos". From 'Butterfly Tattoos' to 'Forearm Tattoos' to 'Wrist Tattoos' to 'Star Tattoos' to the 'Best Couple Tattoo Designs', we have a wide range of meaningful tattoo design options. Explore these segments to find the perfect tattoo design that resonates with your unique journey and allows you to wear your story proudly on your skin.