Owl Tattoo Ideas: Discover captivating owl tattoo ideas for your next ink masterpiece. From intricate designs to symbolic representations, explore a wide range of owl-inspired tattoos that symbolize wisdom, intuition, and mystery. Unleash your creativity with these stunning owl tattoo ideas and concepts that embody elegance and symbolism, perfect for expressing your unique personality and style. 

Owl Tattoo Design Ideas: Meaning
Owl tattoo ideas and designs are popular choices for both men and women, as they hold deep symbolism and significance. Owls are often associated with wisdom, knowledge, and intelligence, making them an appealing option for those seeking to express their intellectual nature. Owls are known for their keen perception and ability to navigate through darkness, embodying the idea of seeing through life's challenges and finding wisdom in difficult situations. In many cultures, owls are considered guardians of the afterlife, capable of seeing beyond the veil and guiding souls. This belief adds a spiritual element to owl tattoos, signifying a connection to the unseen realms.
Additionally, the design of owl tattoo ideas can vary greatly, allowing individuals to personalize it according to their preferences. Men often opt for larger, bold owl designs, incorporating intricate details and strong lines to portray strength and power. On the other hand, women may choose more delicate and intricate designs, often adding elements like flowers or feathers to enhance the aesthetic appeal and femininity. So let's find out a list of owl tattoo ideas for all!
1. Owl & Star Tattoo
When you combine an owl with a star tattoo, it could mean that the person wants to emphasize their wisdom and intelligence in pursuing their dreams and goals. It can represent their desire to use their knowledge and intuition to guide them toward success. The tattoo might also serve as a reminder to stay positive and hopeful along the journey.
2. Geometric Tattoo
A geometric owl tattoo can signify a desire for a harmonious balance between wisdom and order. It may represent the person's pursuit of knowledge and understanding within a structured and balanced framework. If you are looking for other geometric tattoo designs then read our related article on 50 Most Popular Geometric Tattoo Designs.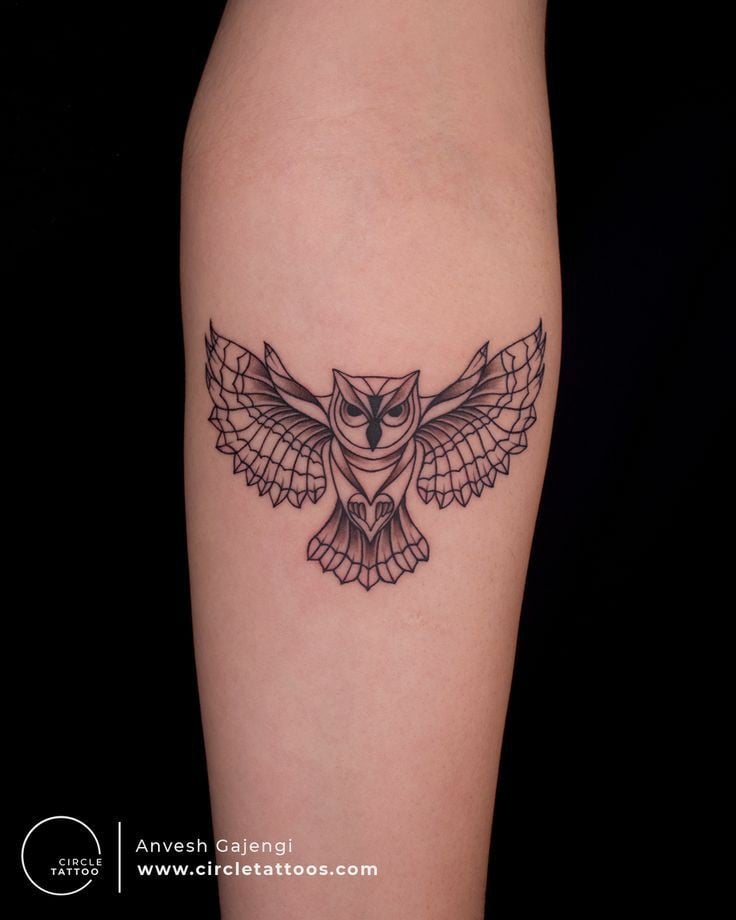 3. Owl With An Eye Tattoo
For tattoo enthusiasts, an owl with an eye tattoo can carry a deeper and more intricate meaning. The owl with an eye tattoo can also symbolize protection and watchfulness. It serves as a reminder to stay vigilant and perceptive in the face of challenges or potential dangers. The wearer may find solace in the idea that they are guarded by the wisdom and keen senses of the owl.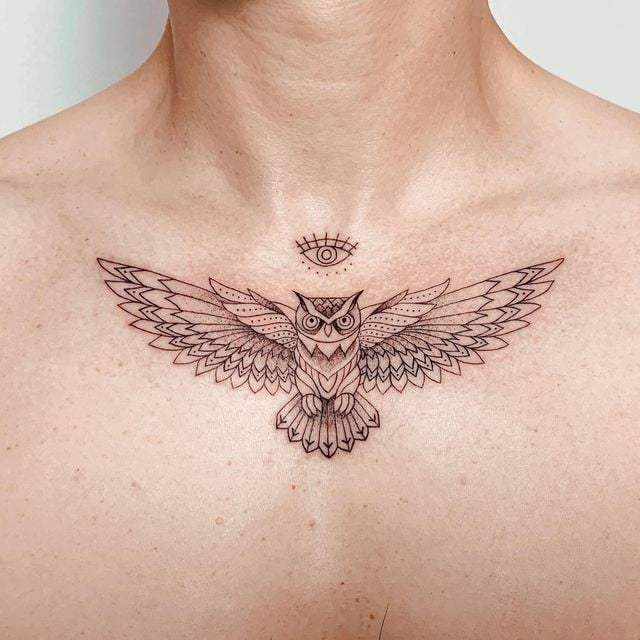 4. Stencil Tattoo 
A stencil, in the context of tattooing, is a guide or template used by tattoo artists to create precise and intricate designs. It ensures that the tattoo design is accurately reproduced on the skin. An owl tattoo with a stencil technique can symbolize a desire for a precise representation of wisdom and knowledge. It may suggest that the wearer values accuracy and attention to detail in their pursuit of wisdom.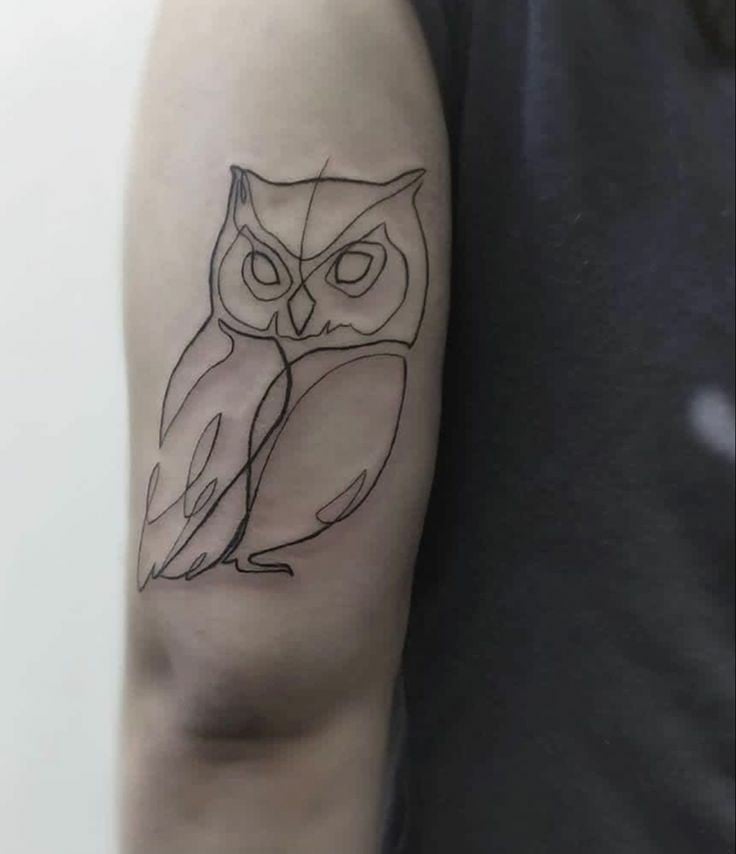 5. Abstract Design
An abstract owl tattoo is a creative representation of an owl that deviates from traditional, realistic depictions. Instead of capturing every detail of the owl, it focuses on expressing the essence and symbolism of the owl in a more artistic and unconventional way. Abstract art often uses shapes, lines, and colors to evoke emotions and convey deeper meanings beyond a literal representation.
6. Back Owl-Faced Tattoo
When the owl's face is specifically positioned on the back, it can symbolize a sense of protection and guardianship. The back is a significant part of our body, often associated with strength and support. By placing the owl's face on the back, the wearer may seek the owl's wisdom and guidance to watch over them and provide a sense of security.
7. Owl With Flowers Tattoo
When an owl is depicted alongside flowers in a tattoo, it can convey a deeper message. The combination of the owl and flowers represents a harmonious blend of wisdom and natural beauty. It symbolizes the integration of intellect and emotions, suggesting that intelligence and wisdom can coexist with love, compassion, and the appreciation of life's beauty
8. Owl With Moon Tattoo
When an owl is depicted alongside the moon in a tattoo, it can convey a profound connection between wisdom and the mystical energy of the moon. The combination of these elements may symbolize a person's desire to embrace their intuition and tap into their inner knowledge, drawing inspiration from the moon's mysterious and transformative nature.
9. Artistic Tattoo
The artistic elements of the tattoo can vary widely, ranging from bold brushstrokes, watercolor effects, intricate line work, or abstract compositions. The design may incorporate vibrant colors, textures, or other artistic techniques that enhance the overall visual impact. An artistic owl tattoo is a design that showcases an owl in a visually captivating and creatively expressive way. It emphasizes the artistic interpretation and the unique style of the tattoo artist.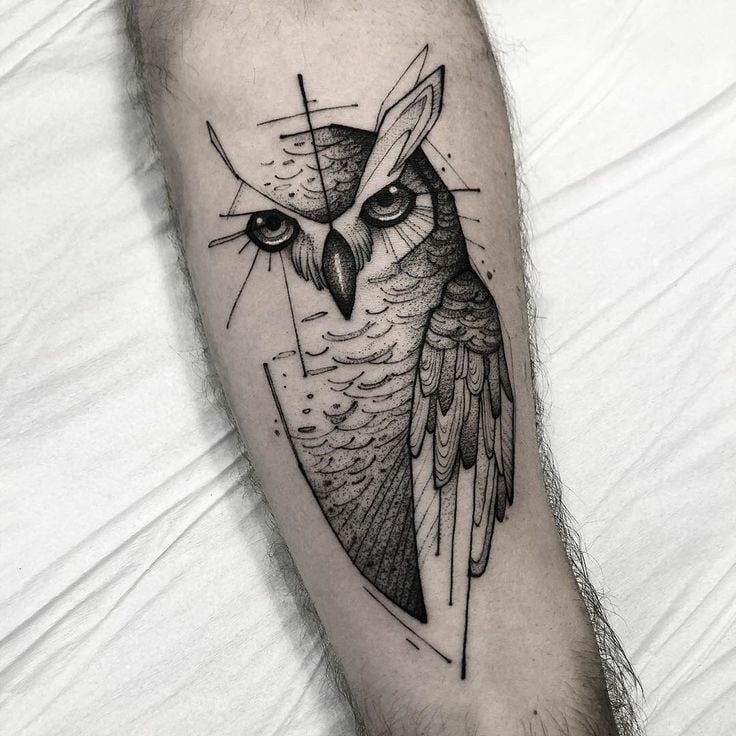 10. Owl With Lion Tattoo
By combining the owl and the lion in a tattoo, the wearer may express a balance of wisdom and strength. The tattoo can signify the integration of these qualities within themselves, reflecting their aspiration to be both wise and courageous. The owl with a lion tattoo can also symbolize the harmony between intuition and action. The owl's wisdom guides the wearer's decisions and choices, while the lion's courage empowers them to take bold and decisive actions.
More Owl Tattoo Ideas
11. Half Owl With Arrow Tattoo
Imagine a tattoo where the image of an owl is combined with an arrow, but there's a twist—it's only half of each! This tattoo is a playful representation that merges the wise and mysterious owl with the swift and adventurous nature of an arrow. It could represent someone who embraces both their wise, contemplative side and their adventurous, goal-oriented nature. If you come across someone with a half owl and arrow tattoo, it's likely they have a fun-loving personality, a zest for life, and a belief in the power of combining wisdom with adventure.
12. Owl With Skull Tattoo
Now imagine the owl and the skull becoming tattoo buddies. This whimsical tattoo can have a playful meaning. It could symbolize a person who embraces the duality of life—the blend of wisdom and a lighthearted perspective. The owl with a skull tattoo is like a reminder to not take things too seriously, to find the humor in life's mysteries. And to cherish the present moment. It represents someone who appreciates the wisdom of the owl but also understands the importance of living fully in the here and now.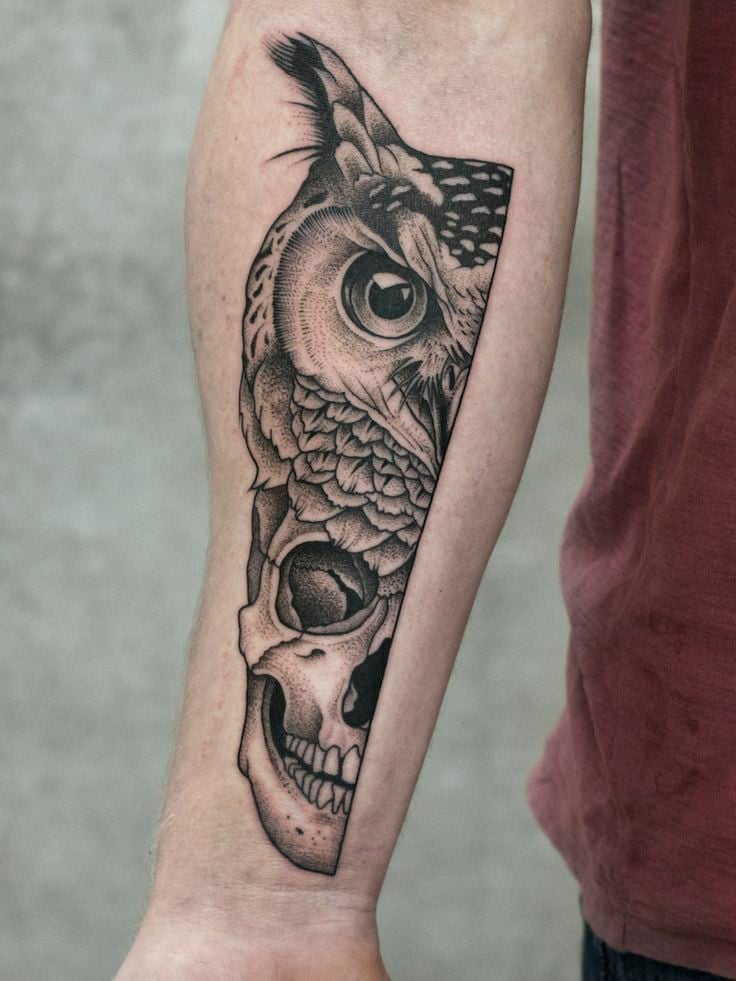 13. Line Work Tattoo
Imagine an owl tattoo made entirely out of lines—no shading or solid colors, just intricate lines forming the shape of an owl. This tattoo style emphasizes the beauty of simplicity and showcases the artistry of clean, crisp lines. A line work owl tattoo in a fun way is like a quirky visual puzzle. It symbolizes the idea that wisdom can come in many forms, even in the simplest of lines. It celebrates the art of minimalism and showcases the creativity of the tattoo artist.
14. Owl With Girl Face
When you bring these two elements together, the owl with a girl's face tattoo can symbolize a playful merging of wisdom and youthful curiosity. It represents the idea that wisdom can be found even in the most unexpected places. And that embracing a childlike sense of wonder can lead to deeper insights and new perspectives. It celebrates the balance between knowledge and a lighthearted outlook, reminding us not to take ourselves too seriously and to find delight in the mysteries of life.
15. Black Shaded Owl Tattoo
If you spot a black-shaded owl in your dreams or your imagination, embrace the fun and playful energy it represents. Get ready to embark on a mischievous adventure filled with laughter, riddles, and the joy of embracing the lighter side of life. While owls are often associated with wisdom, there's a touch of intrigue when we consider their black shading. Let's dive into the realm of whimsy and create a fun interpretation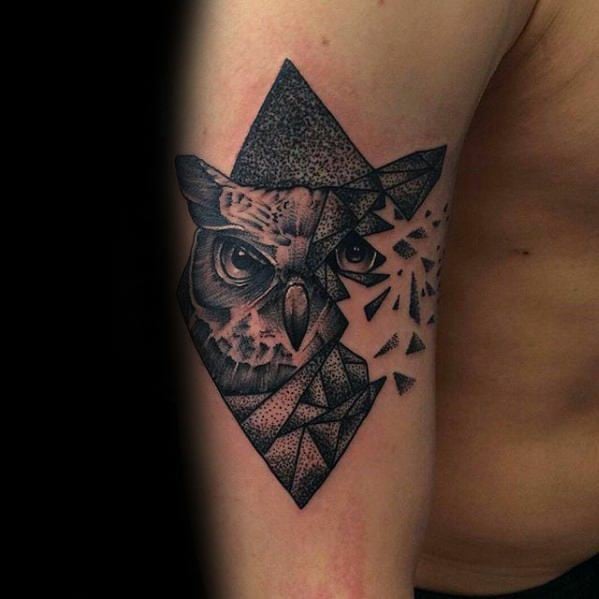 16. Flying Owl Tattoo
A flying owl tattoo symbolizes the freedom of the imagination and the pursuit of dreams. This tattoo is like a magical passport to a world where anything is possible, and where the owl serves as your trusty guide through the vast expanse of your imagination. But beware! Along your journey, you might encounter mischievous trolls or playful fairies who try to distract you. Your owl tattoo acts as your wise and loyal guardian, guiding you safely through challenges and reminding you to stay true to your passions and dreams.
17. Quirky Forearm Tattoo
Imagine your simple owl tattoo as a mischievous little companion who whispers words of wisdom in your ear. This owl embodies the belief that learning and growing can be both educational and entertaining. Your owl tattoo reminds you to find joy in the little things and to never lose your childlike wonder. It's a reminder to dance in the rain, chase butterflies, and to embrace your own unique quirks and idiosyncrasies
18. Unique Owl Tattoo
Your unique owl tattoo symbolizes your fearless embrace of self-expression and your refusal to conform to societal norms. It encourages you to let your true colors shine and to celebrate your uniqueness with unabashed joy. Owl tattoo also represents your ability to see beyond appearances and to appreciate the beauty in diversity. It serves as a symbol of acceptance, encouraging you to celebrate the unique qualities and perspectives of those around you.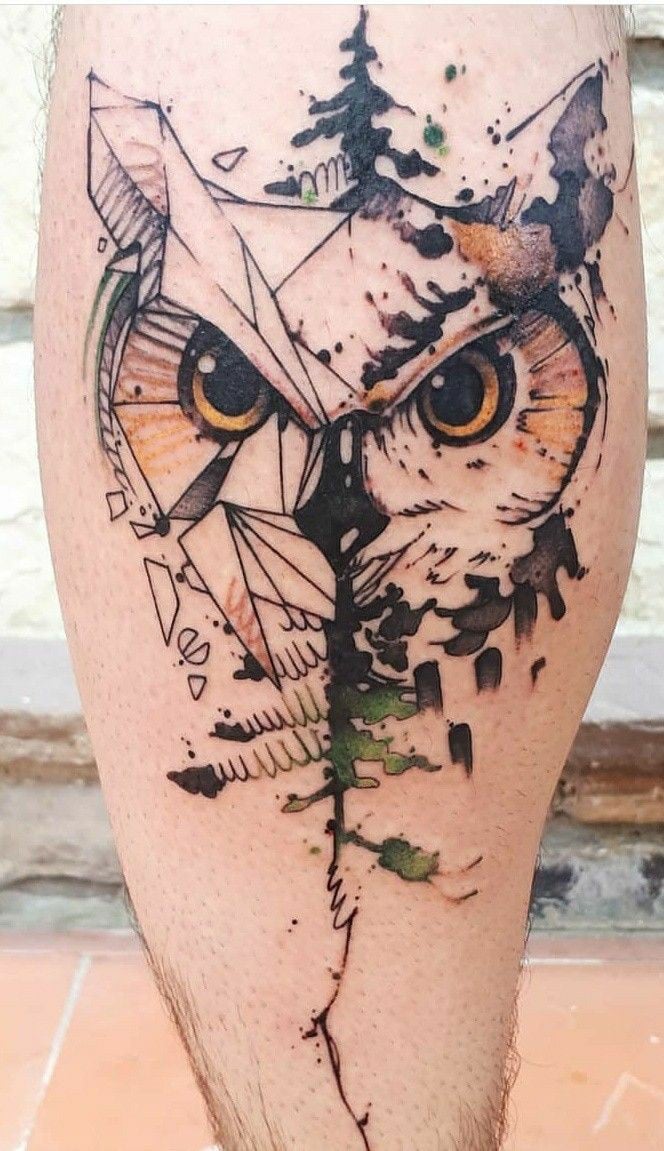 19. Realistic Tattoo
With your realistic owl tattoo, you become a keen observer of life's nuances. You have a knack for finding hidden treasures and discovering the magic in everyday moments. Whether it's spotting a rainbow in a rain shower or finding beauty in the patterns of fallen leaves, your owl tattoo reminds you to appreciate the little things.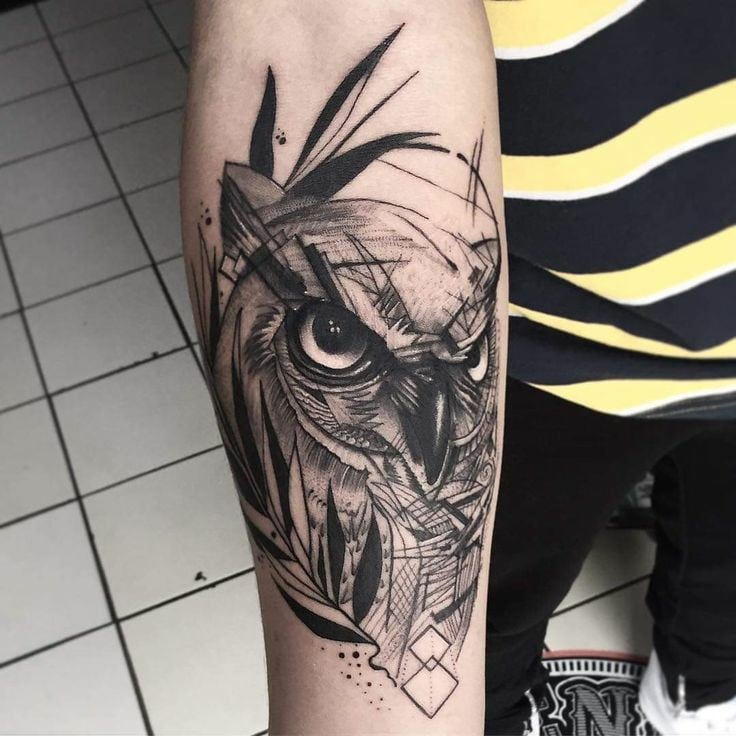 20. Mandala Owl Tattoo
When you embark on your journey with your Mandala owl tattoo, you'll find yourself immersed in a world of vibrant colors, filled with laughter, and a sense of childlike wonder. Your tattoo becomes a reminder to approach life with a spirit of adventure, embrace your creativity, and to let your true self shine.
Amazing Owl Tatoo Ideas
21. Owl, Clock, And Rose Tattoo
Your tattoo symbolizes the importance of cherishing the present moment while embracing the beauty of the past and the promise of the future. It reminds you to live fully and appreciate the intricate tapestry of life, just as the roses symbolize love, beauty, and growth. Wear your owl clock and rose tattoo proudly, knowing that it represents your ability to navigate the rhythms of life with wisdom, love, and a touch of whimsy. Let it be a symbol of your appreciation for the present moment, your reverence for the past, and your excitement for the mysteries that lie ahead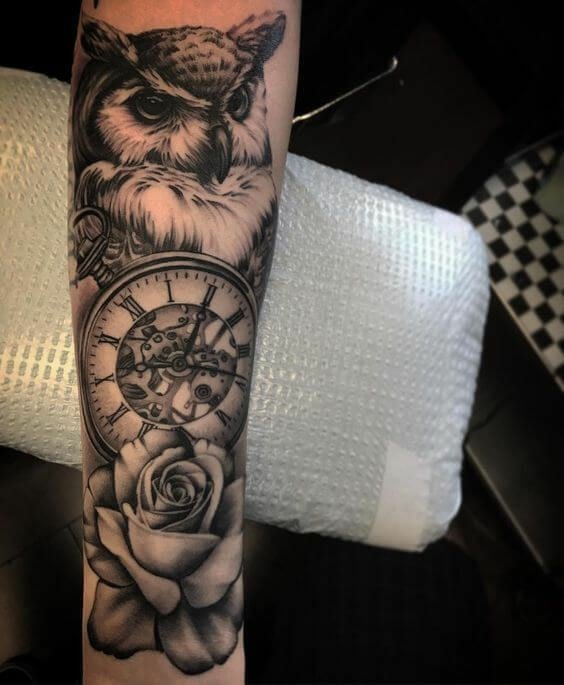 22. Night Scene Tattoo
With your owl and night scene tattoo, you become a playful explorer of the twilight hours. You may find yourself engaged in whimsical activities like stargazing, moonlit dancing, or secret nocturnal picnics with friends. The owl in your tattoo serves as your guide, leading you to hidden treasures and inspiring you to find beauty in the darkness.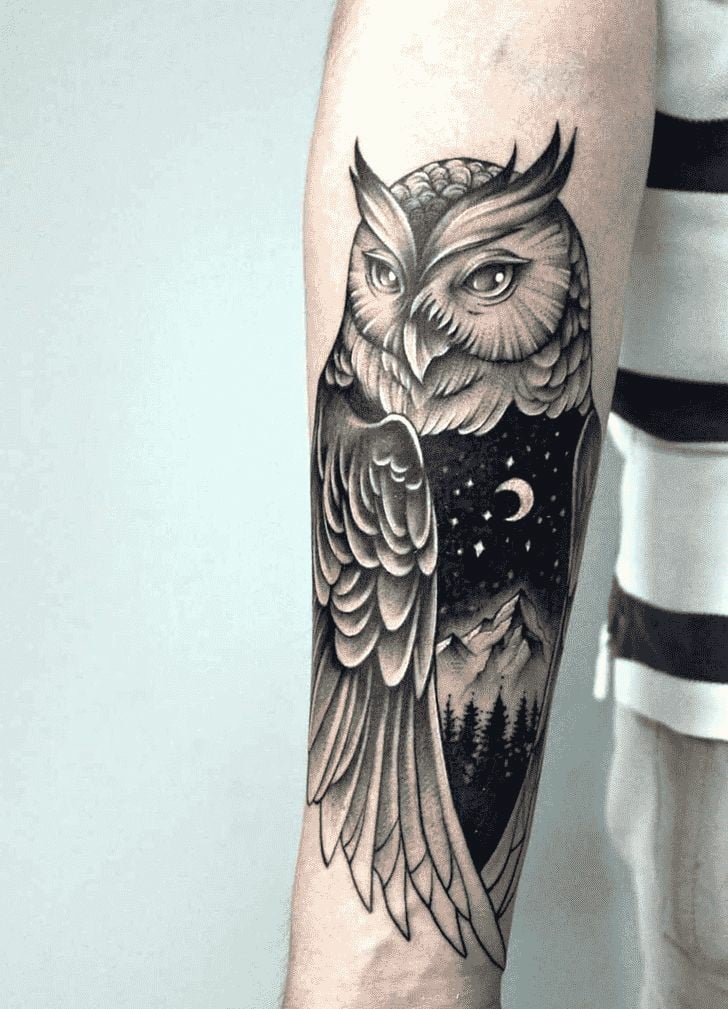 23. Minimalistic Tattoo
Imagine your minimalist owl tattoo as a tiny, adorable creature with big, expressive eyes and a mischievous grin. Despite its minimalist design, it radiates wisdom and playfulness, capturing the essence of the owl in a delightful and lighthearted way. So, wear your minimalist owl tattoo proudly, knowing that it represents your ability to find wisdom and playfulness in the simplest of things
24. Owl With Crown Tattoo
With your owl and crown tattoo, you become a regal figure in your own right, ruling your kingdom with a sense of joy and whimsy. You embody a balance of authority and lightheartedness, inspiring others to embrace their own personal sovereignty.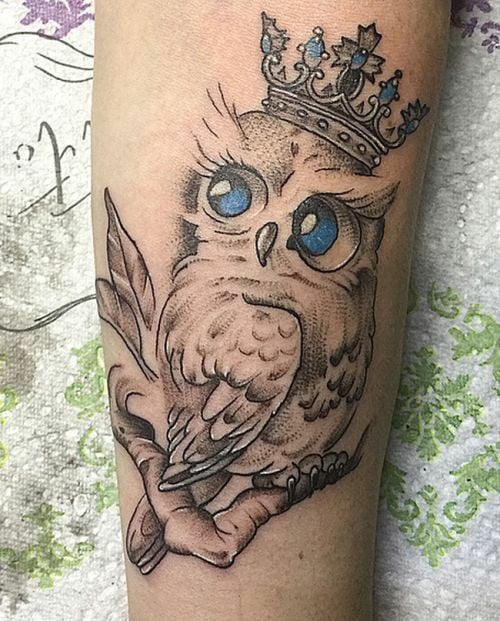 25. Owl With Feather And Key
The feather in your tattoo represents freedom, lightness, and the ability to soar above limitations. It reminds you to let go of fears and embrace the opportunities that lie ahead. The key symbolizes unlocking new doors, whether they be new experiences, knowledge, or personal breakthroughs.
26. Owl With Cherry Blossom Tattoo
The cherry blossoms symbolize the fleeting nature of beauty and the reminder to seize the day. They represent renewal, rebirth, and the impermanence of life's experiences. With their delicate petals, they encourage you to find joy in the small, ephemeral moments that bring color to your journey.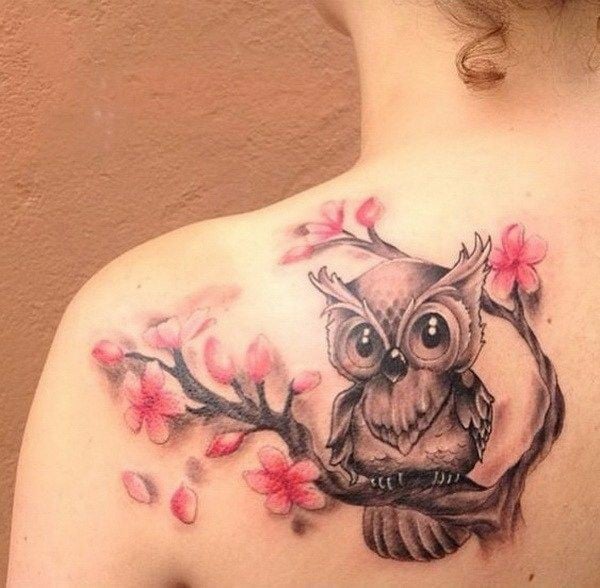 27. Owl With Dandelion
With your owl and dandelion tattoo, you become a playful dreamer and a believer in the magic of possibilities. You may find yourself engaging in whimsical activities like blowing dandelion seeds, making wishes, and cultivating an unwavering belief in the power of your dreams.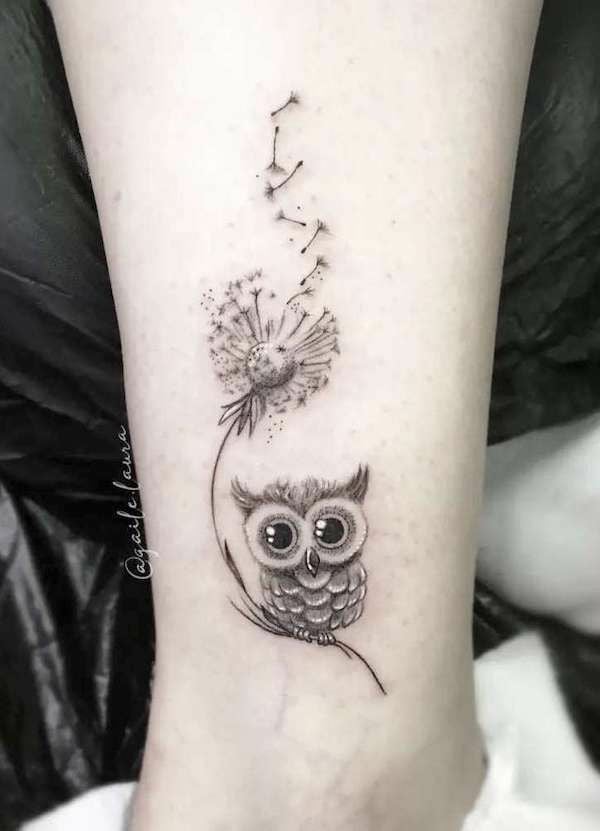 28. Ankle Tattoo
With your ankle owl tattoo, you become a playful adventurer, ready to explore the world and discover new horizons. The owl serves as your wise and watchful companion, guiding you through the twists and turns of life's journey.
29. Owl Sitting On Twig Tattoo
With your owl sitting on a twig tattoo, you become a playful observer of life's wonders and a seeker of wisdom. You may find yourself drawn to spending time in nature, engaging in quiet contemplation, or embracing the simplicity of everyday moments. Let it be a symbol of your playful spirit, reminding you to find harmony in life, appreciate the beauty around you, and embrace the wisdom that nature and everyday moments have to offer.
30. Couple Tattoo
An owl couple tattoo design represents the bond between two individuals, embodying a loving relationship's playfulness, wisdom, and shared adventures. It's like having a whimsical symbol of partnership and joy etched on your skin.
(Besides, if you are looking for tattoo ideas that are symbols of love for couples, then read 40 Best Couple Tattoo Ideas).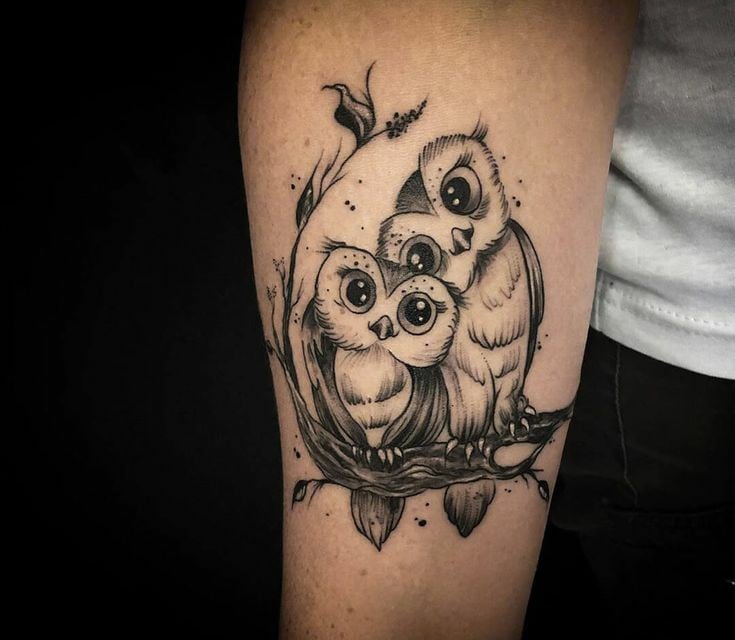 31. Traditional Owl Tattoo
With your traditional owl tattoo, you become a guardian of tradition and a seeker of wisdom. You may find yourself drawn to traditional rituals, exploring ancient wisdom, or simply cherishing the timeless values that have been passed down through generations. Wear your traditional owl tattoo proudly, knowing that it represents the timeless allure of wisdom, tradition, and playfulness. Let it be a symbol of your connection to ancient wisdom, your embrace of tradition, and your delight in the magical mysteries of life.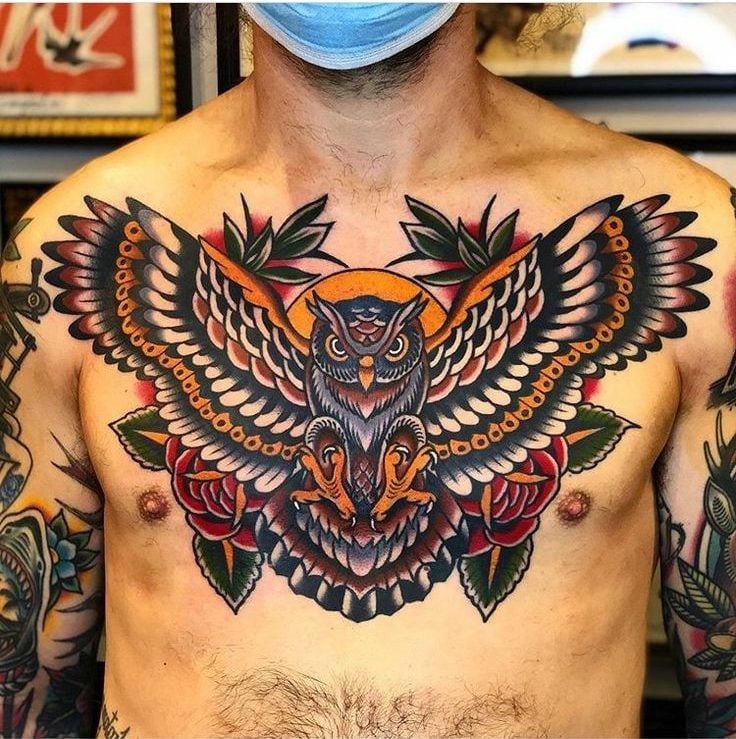 32. Owl Dreamcatcher Tattoo
The dreamcatcher itself symbolizes the capture and filtration of dreams, allowing only positive and delightful dreams to pass through its web. It acts as a protective shield, warding off negative energies and ensuring a restful sleep filled with fantastical experiences. The owl in your tattoo represents wisdom, intuition, and protection. It serves as your mystical guardian, watching over your dreams and guiding you through the realm of the subconscious. Its presence adds a touch of whimsy and enchantment to your dreamcatcher, infusing it with the power to transform your dreams into joyful and magical adventures.
33. Owl With Flower Tattoo
An owl symbolic tattoo with three owls representing "listen no evils, talk no evils, and speak no evils" combines the wisdom of owls with a playful twist on the well-known "see no evil, hear no evil, speak no evil" concept. It's like having a whimsical reminder to approach life with wisdom, kindness, and a sense of humor.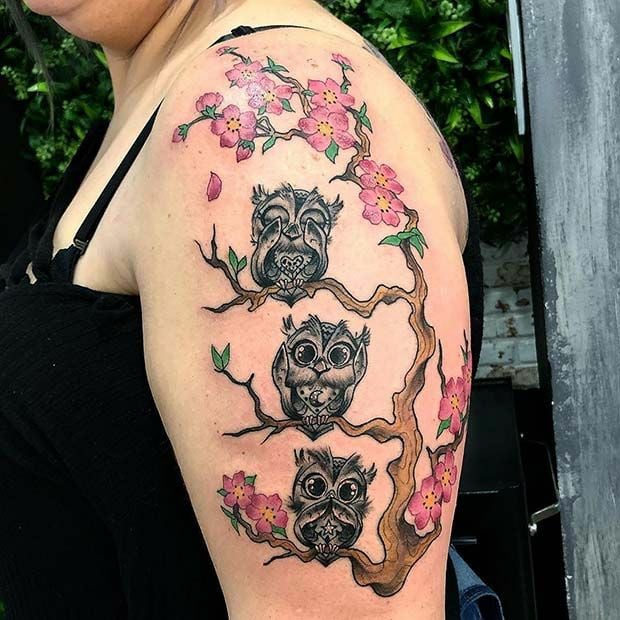 34. Owl With Butterfly Tattoo
The owl in your tattoo represents wisdom, intuition, and guidance. It embodies the ability to see beyond the surface and navigate through life's challenges. The butterflies represent the transformative nature of life and the joy that comes from embracing change and allowing oneself to blossom.
35. Half Owl Face Tattoo
With your half owl face tattoo, you become a playful observer of the world, finding joy in the unknown and appreciating the beauty in what lies beneath the surface. You may find yourself drawn to introspection, seeking answers to life's mysteries, and embracing the whimsical nature of existence.
36. Finger Tattoo
Wear your finger owl tattoo proudly, knowing that it represents your playful spirit, wisdom, and mischievous nature. Let it be a symbol of your ability to infuse your everyday actions with thoughtfulness and joy, reminding you to trust your instincts, embrace the whimsical side of life, and approach each moment with a touch of magic.
37. BFF Matching Owl Tattoo
As you go about your lives, your tattooed owls will always remind you of the bond you share. They may occasionally "whisper" secret messages or "hoot" in delight when you're together, adding a touch of whimsy and joy to your friendship. With your matching BFF owl tattoos, you become a dynamic duo, embarking on shared adventures, supporting each other's dreams, and creating cherished memories. Your tattoos serve as constant reminders of the wisdom and playfulness you bring to each other's lives.
38. Mumma And Baby Owl Tattoo
Your tattoo invites you to cherish the nurturing love and playful connection between you and your mother or, if you're a mother yourself, between you and your child. It serves as a reminder to embrace the whimsical moments, share laughter and love, and cherish the special bond that only a mother and child can share.
39. Owl Spreading Their Feathers
Owls are known for their nocturnal nature, and by spreading their feathers, the tattoo can symbolize embracing the night and all the exciting adventures that come with it. It's a way of saying, "I thrive when the sun goes down, and I'm always up for some late-night fun.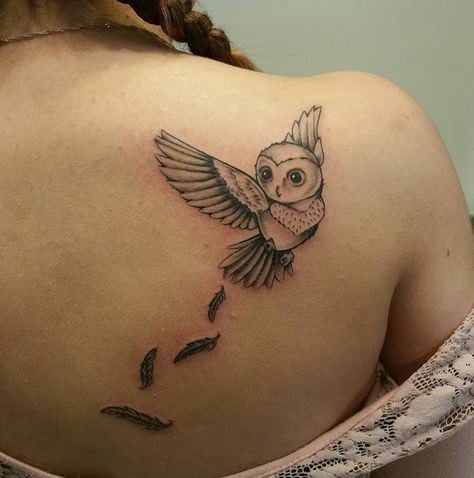 40. Tiny Foot Tattoo
Owls are known for their ability to navigate through the darkness with ease. A tiny foot owl tattoo can symbolize your knack for finding your way through life's challenges and adventures, even when things seem dim or uncertain. It's like saying, "I've got my little owl compass guiding me through life's twists and turns."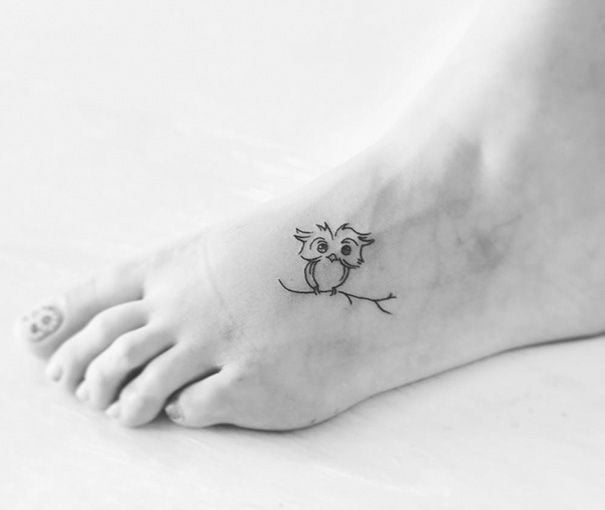 Whether you're a man or a woman, owl tattoo ideas can be a fantastic choice to express your unique personality and love for these captivating birds. So, spread your wings, let your imagination soar, and embrace the enchantment of an owl tattoo! Regardless of gender, an owl tattoo can serve as a delightful reminder to embrace our playful nature, never stop learning, and approach life with a sense of wonder. So, go ahead and embrace the fun side of life by adorning your skin with an owl tattoo that reflects your unique personality and style.
Besides, if you are looking for other themed-based tattoo ideas, then read our related articles on Lock & Key Tattoos, Praying Hands Tattoo, Cross Tattoo Ideas and more. We also have a sizeable collection of tattoo-related reads that might interest all tattoo lovers! For instance, if you are confused about which part of your body to ink a tattoo on, then read Hand Tattoo Designs, Forearm Tattoo Ideas, and Chest Tattoo Designs. 
Additionally, we have a collection of design-related articles, such as Flower Tattoo Designs, Peacock Feather Tatoo Designs or Best Tattoo Design Ideas For Women. And just in case you have any doubts or queries, then read FAQs About Tattoos to get concise and clear answers about the process, design, aftercare, and everything else that you need to know before and after getting inked.