Daughter And Mom Tattoos: If you are looking for matching or paired tattoos for mother and daughter, then read on. Below is a list of 30 tattoos that look amazing on each and fantastic when seen together.
Tattoos are quite popular these days. Both adults and kids like to have tattoos for several reasons. Of course, they look stylish. But also, they mean something significant and are imprinted on the body for emphasis or reason. Though individuals get tattoos, one can also have pair tattoos. For example, daughter and mom tattoos are a wonderful way to twin or pair up designs that mean something to both. Want to know more about tattoo ideas for mothers and daughters? Then read on!
Daughter & Mom Tattoos: Beautiful Meaning & Significance
The mom-daughter tattoo idea is widely embraced because of its profound meaning and significance. It represents the special bond and connection shared between a mother and her daughter. These tattoos serve as a permanent reminder of the unbreakable love and support that exists between them. Many opt for matching or complementary designs that symbolize their unique relationship.
These tattoos hold deep emotional value, often incorporating meaningful symbols or imagery that reflect shared values, interests, or experiences. They can be a beautiful tribute to motherhood, featuring symbols like hearts, infinity signs, or the tree of life. The chosen design serves as a personal and intimate expression of the bond they share.
Getting a mom-daughter tattoo is not only a way to honor the relationship but also a display of support and solidarity. It represents a commitment to stand by each other through all of life's ups and downs. Beyond the symbolism, the process of getting these tattoos together is a shared experience that creates lasting memories and strengthens the connection between mother and daughter.
Ultimately, mom-daughter tattoos are cherished as a powerful symbol of love, a constant reminder of the unbreakable bond, and a celebration of the unique relationship shared between a mother and her daughter. To honor mother daughter bond, we have compiled some of the best daughter and mom tattoos that you must give a try! Scroll down to read more!
Daughter And Mom Tattoos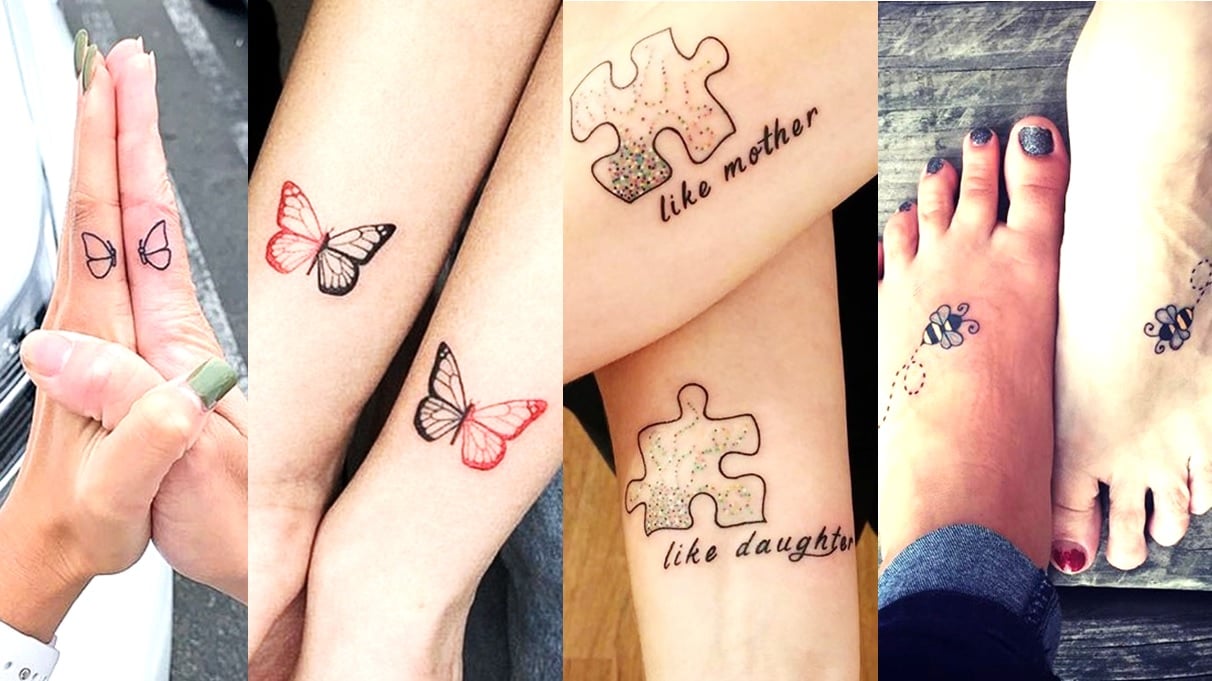 Daughter And Mom Tattoos
Here is a list of some meaningful, some cool, and some crazy fun design ideas for moms and daughters tattoos.
1. Birth Year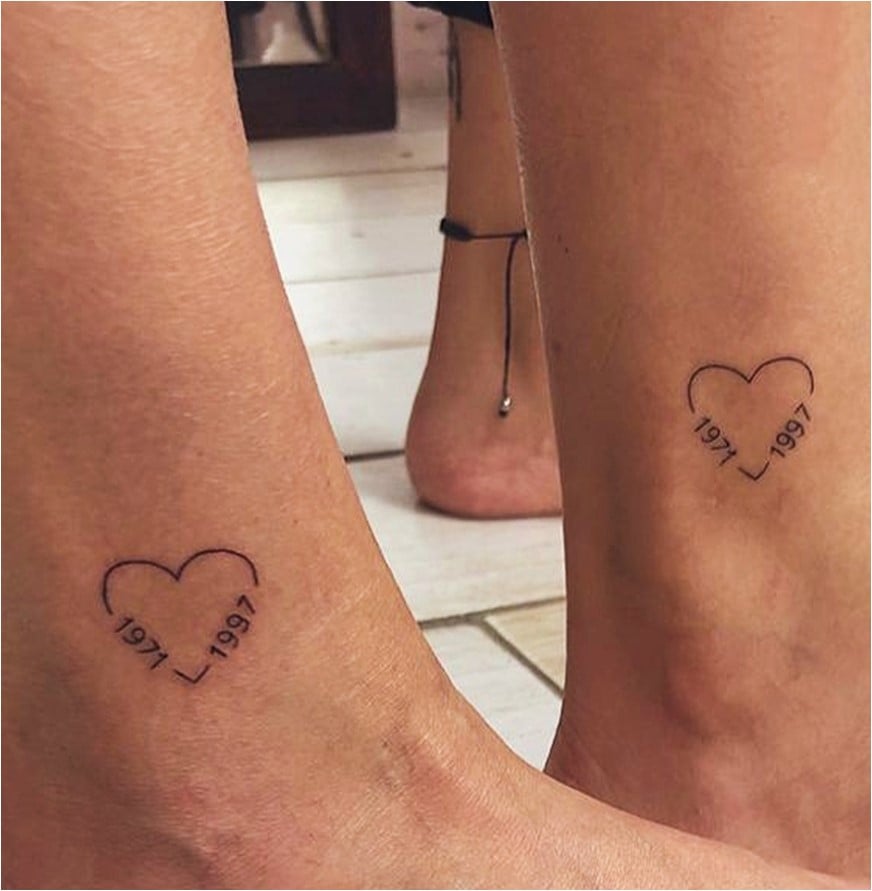 Birth year tattoos can be worn to honor a key day or period in your life. The forearm, arm, chest, sleeve, and hands make excellent locations for these tattoos. It seems to come down to the fact that a particular day holds a unique significance in your life, which is the main reason why individuals get tattoos of particular dates. Outwardly expressing love and loss, it is visible to everyone. 
2. Twin Butterfly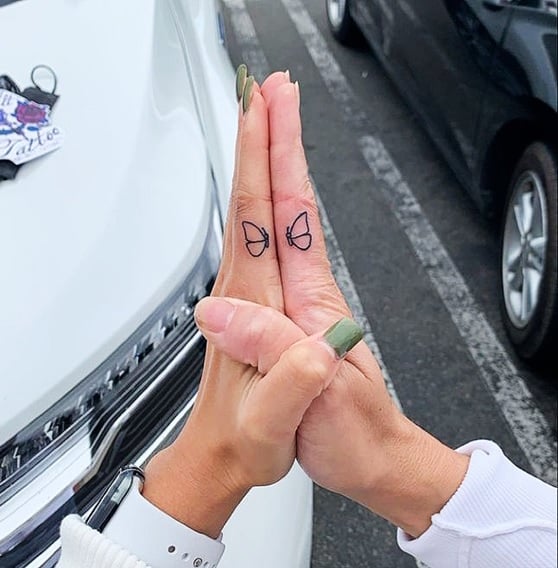 A butterfly tattoo is more than just a stylish, feminine tattoo design. This stunning bug represents regeneration, transformation, and liberation. The significance of getting this tattoo together with your mother is to symbolize how two of you are as strong and independent as a butterfly and both of you belong to the same tribe. 
3. The Sun, Star, And Moon
The meaning of a sun, moon, and star tattoo can vary depending on individual interpretations and cultural symbolism. Here are some common interpretations:
Sun: The sun is often associated with energy, vitality, life, power, and rebirth. It can symbolize strength, enlightenment, and positivity. In some cultures, the sun is seen as a masculine symbol representing leadership and courage.

Moon: The moon symbolizes feminine energy, intuition, emotions, and cycles. It is often associated with the subconscious mind, mystery, and transformation. The moon can also represent a balance between light and dark, and the ever-changing nature of life.

Stars: Stars are often associated with dreams, aspirations, guidance, and hope. They can represent a person's goals, wishes, and ambitions. Stars also symbolize guidance and inspiration, as they have been used throughout history for navigation and as a source of direction.
When combined in a tattoo design, the sun, moon, and stars can represent a harmonious balance between masculine and feminine energies, the cyclical nature of life, and the pursuit of dreams and aspirations.
Amazing Daughter And Mom Tattoos
4. Lock And Key
Locks and keys indicate a secret or anything that is intended to be kept under wraps, yet the solution is available. Given that you will never divulge someone else's secrets under any circumstances, getting a lock and key tattoo is a terrific way to demonstrate that you are the kind of person with who others can confide. And there is no better confidant than a mother and a daughter! If you want to seek more inspiration about Lock and Key tattoos, don't miss out on our special segment on 'Best Lock & Key Tattoos Ideas.'
(Also Read: 40 Best Couple Tattoo Design Ideas That Are Perfect Symbol Of Love)
Petite Daughter And Mom Tattoos
5. Your Zodiac And Moon
The moon is a feminine symbol for eternity, the passing of time, and the dark side of nature. In astrology, it serves as a metaphor for the soul. Moreover, a crescent moon has added significance since it denotes a period of change. Yet, in astrology, each of the 12 distinct zodiacal constellations that the Sun travels through is represented by a zodiac sign. The zodiac sign in which the Sun was when a person was born is the one that is unique to that person. So both the mother and daughter can have their own moon and zodiac signs or tattoo each other's too. 
7. Red And Black Butterfly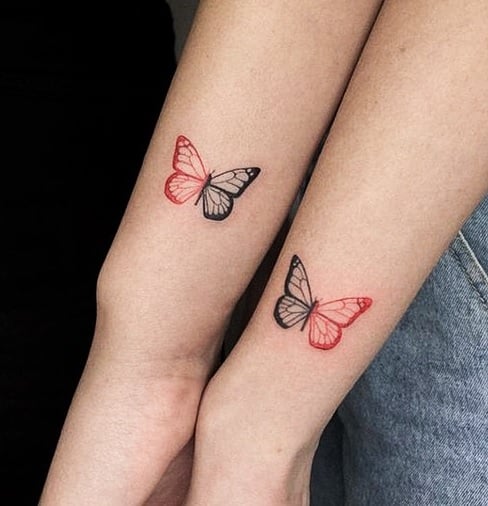 The red butterflies are seen as a positive omen and have a deeper meaning than their exquisite beauty might suggest. A red butterfly, according to some Native American cultures, might herald good fortune. The tattoo of a red butterfly may also symbolize passion and love. Black butterfly tattoos can symbolize the transience of life and is frequently used as tribal or Celtic tattoo. A black butterfly may also portend unfavorable future events. This tattoo, therefore, represents the fact that good and terrible are the two most tangible experiences a person has up to death.
8. You are My Sunshine Tattoo
A mother-daughter tattoo featuring the text "You are my sunshine, my only sunshine" along with a delicate flower is a heartfelt tribute to the unbreakable bond and love between them. This beautiful design symbolizes the light, warmth, and joy that a mother and daughter bring into each other's lives. It serves as a constant reminder of their special connection and the cherished memories they share.
9. Mother Daughter Symbol Tattoo
Sometimes, pictures can say more than words ever could! When it comes to getting a tattoo that represents the special bond between a mother and daughter, a symbol is a great choice. It can be a simple yet meaningful way to capture the deep connection they share. For those who prefer a more traditional approach, the classic symbol of a mother and child beautifully represents the strong maternal bond. Alternatively, some may prefer a more artistic symbol that captures the unique essence of their relationship in a creative and captivating way.
10. Like Mother Like Daughter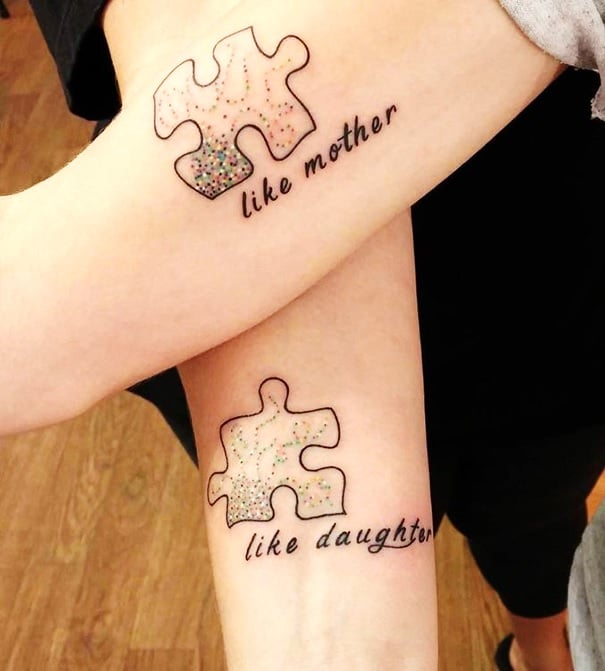 Celebrate the beautiful bond between a mother and daughter with a meaningful tattoo that features the text "like mother like daughter" accompanied by a perfectly fitting jigsaw puzzle piece. This design symbolizes the connection and similarities shared between them, completing each other's lives. It serves as a reminder of their unbreakable bond and the love that flows through generations.
11. Twin Bee Tattoo
Embrace the sweetness of the mother-daughter relationship with a charming twin bee tattoo. This adorable design features two bees buzzing together, symbolizing the inseparable bond between a mother and her daughter. It represents their shared journey, unity, and the love that flows between them, creating a lasting tribute to their special connection.
12. Love You Mama – Love You More 
Celebrate the unbreakable bond between a mother and daughter with a heartfelt tattoo that reads "Love You Mama – Love You More." This beautiful design encapsulates the endless love and affection shared between them, reflecting the mutual admiration and affection they have for each other. It serves as a constant reminder of their strong connection and the deep bond that transcends words.
Simple Daughter And Mom Tattoos
13. Twin Butterfly
A lot of people get butterfly tattoos. Butterflies also stand for beauty, freedom, and evolution. Two Twin Butterflies can stand for two strong, independent women, such as your mother and you. This one 
14. 'I Purple You' (BTS Tattoo)
You can showcase the beautiful connection between a mother and daughter with this touching tattoo. The design features the text "You are the cause" on one hand, and "Of my euphoria" on the other hand, accompanied by delicate hearts. It symbolizes the immense joy and happiness that your bond brings, serving as a constant reminder of the love and positivity you share. It's a powerful way to create a lasting bond that transcends words.
15. Amor Vincit Omnia And All Is Well
Amor Vincit Omnia is a Latin proverb that means "Love Conquers Everything." The tattoo "All is well" signifies that as long as the conclusion is happy, the difficulties that arise along the route are irrelevant. Both these together or individually are perfect tattoos for mothers and daughters. 
More Daughter And Mom Tattoos
16. Pinky Promise
The pinky swear is a common symbol for a variety of tattoo designs about close friendships or serious ties since it denotes an unbreakable promise. The forearm, shoulder, lower back, wrist, and front chest are the most frequently used body parts for this tattoo. 
17. Yin and Yang
The symbol for the yin-yang school of thought is a circle divided into two parts by a curving line. Individually, yin (the black half) denotes a motionless, dark, and introverted energy. Whereas yang (the white half) denotes positive, vibrant, and outward energy.
18. Semicolon With Heart
Hearts are the worldwide symbol of love, and when they are paired with a semicolon, they take on powerful connotations of strength and optimism. Also, it draws attention to a number of mental health problems, such as depression, suicide, addiction, and self-harm. For a mother and daughter, this tattoo could be both for love and a cause. 
Beautiful Daughter And Mom Tattoos
19. Line Or Quote Around Finger
Strong, broad lines wrapped around a finger might represent symmetry and consistency in life. Finger tattoos typically represent a person who is incredibly concise. The artist must make the most of the area available to effectively convey the tattoo's intended message.
20. Lady With Rose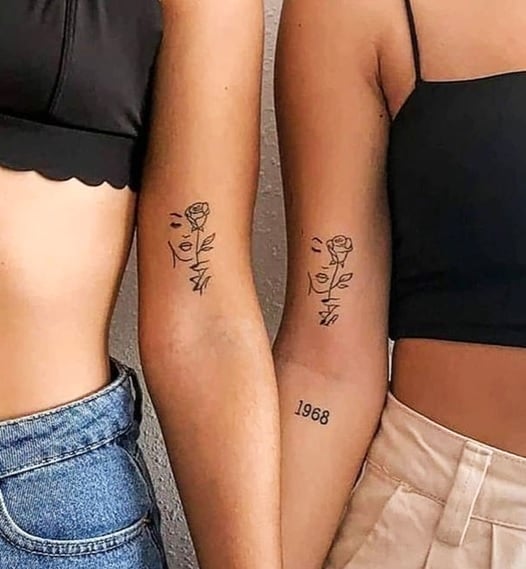 Lady head tattoos are often linked to good fortune, romance, desire, femininity, and beauty. In contrast to rose tattoos, which can serve as reminders of sadness and remembering someone or something lost, they can also signify a heroine, muse, or a lover. Of course, the mother can be the daughter's heroine and vice versa. 
(Also Read: 50 Valentine's Day Tattoo Ideas For Romantic Lovers)
Meaningful Daughter And Mom Tattoos
21. Twin Butterfly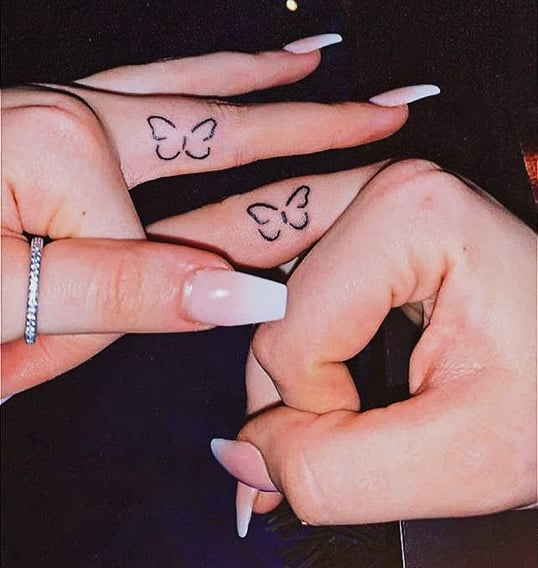 This tattoo is really popular, and everyone knows how much girls adore butterflies. Thus, these little black-inked butterflies would be ideal for you and your mother since they stand for transformation, freedom, and beauty.
22. Heart Hug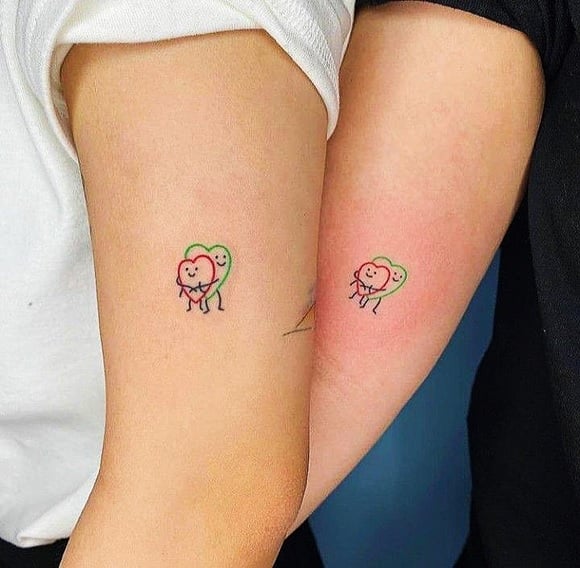 Two hearts, one red and the other green, are depicted in this adorable tattoo, tightly clutching each other to represent the love and affection these two have for one another. This tattoo is ideal for you and your mama if you don't live close to each other. It will serve as a constant reminder of your tight relationship every time you glance at it.
23. Puzzle Pieces Connecting Hearts
The puzzle piece tattoos indicate autism. Many tattoo enthusiasts get this jigsaw piece inked on their skin as a way to support a friend, loved one, or the cause in general. It has become the global emblem of autism.
Fascinating Daughter And Mom Tattoos
24. Rise And Shine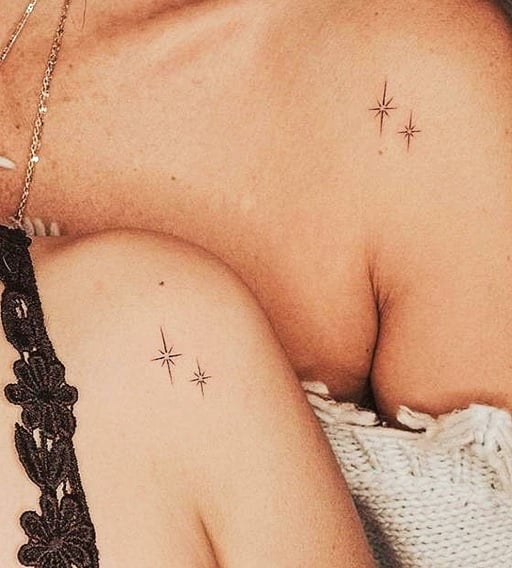 The shine (sparkles)✨ tattoo, is often known as a glitter trail. It stands for fortune, direction, and leadership. It's a wonderful tattoo for a mother and daughter to have, signifying the role and importance that each plays in the life of the other. 
25. Mom And Girl Comic Art
This tattoo is very interesting because it has a profound message. It depicts a line that runs from the mother to her daughter. On the hand or wrist, this tattoo will look great.
26. Tinkerbell And Peter Pan
Together getting this tattoo is a perfect choice because the Tinkerbell tattoo symbolizes femininity and strength, which are attributes that most women want. The play Peter Pan is undoubtedly symbolic. It is full of dreams and illusions, and it is believed that the fundamental theme is that Peter Pan never wanted to grow up. This pretty much sums up how we behave in front of our parents! We never want to grow up when with them.  
List Of Daughter And Mom Tattoos Continued
27. Climbing Stars And Moon
Innovative and magical, this tattoo art is amazing. This tattoo is a reminder that our childhood aspirations never fade, regardless of how old we get. Quite simple and adorable to put on your wrist, arm, or finger.
28. Moon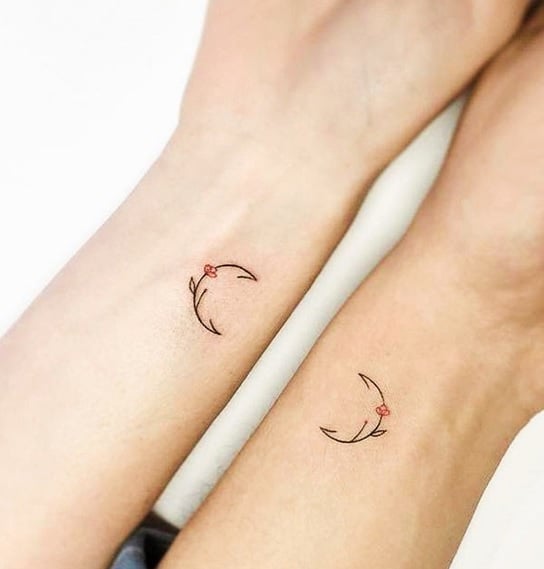 Crescent moons, in particular, symbolize motherhood and fertility, however, the symbol is claimed by various groups. Manifestation, expansion, and creativity are some possible meanings for it.
29. Moon And Saturn With Travel Fantasy
The tattoo design of Saturn acknowledges the unique relationship you have with time, change, and uncertainty. While the image of a plane spinning around the moon symbolizes how much you and your mother love to travel. In our lives, we all experience times of transformation.
Other Daughter And Mom Tattoos
30. You Are My Moon And Sun
This tattoo depicts the Sun inside the Moon, followed by the Moon inside the Sun. This linked tattoo of the sun and moon illustrates how each individual has both a light and a dark side.
31. Aliens Peeping From Their UFO
This cute comic tattoo art is funny and cute. The alien tattoo can mean whatever you want it to me to you. This will definitely suit your and your mom's arm.
32. Avocado Friends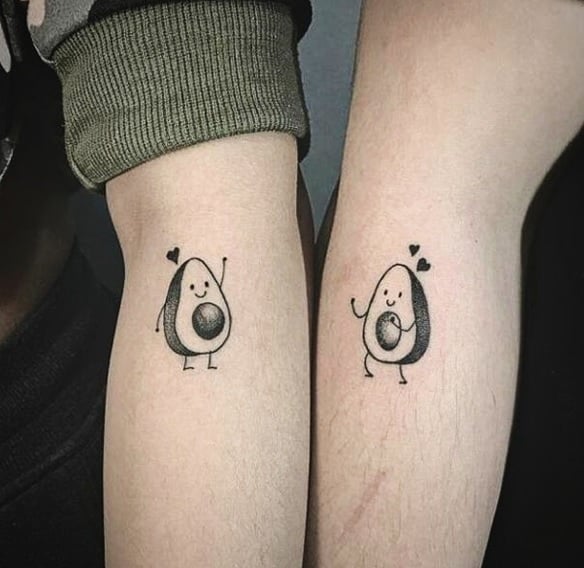 Just as there are two people in a relationship, so too are there two sliced avocados. And you just so happen to be the better half! It's a cute and clever approach to letting others know you have found someone. In this case, that 'someone' can be your mom or daughter.
Wonderful Daughter And Mom Tattoos
33. Smiley Hugging Each Other
A Smiley-face tattoo can serve as a symbol of joy and happiness. Also, they might serve as a reminder of your identity and your values. If you put your fingers together, it resembles and feels like a hug. This tattoo beautifully symbolize your relationship with your mother and how you two are incomplete without each other. It's a cute and stylish method to lift your spirits at all times.
34. Cute Comic Art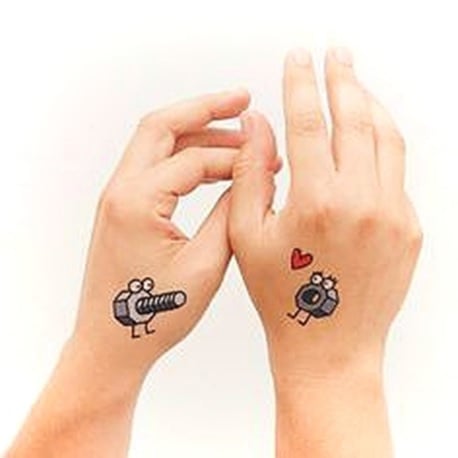 Comic Art tattoos are always fun and trendy, get this one with your mom.
35. Infinity
The symbol for an endless system is infinity, which is used to symbolize our eternal link. It is a motivating and empowering choice for body art since, when included in a tattoo design, it stands for eternal love, wholeness, and completion. And other limitless possibilities.
36. Fairy Fishes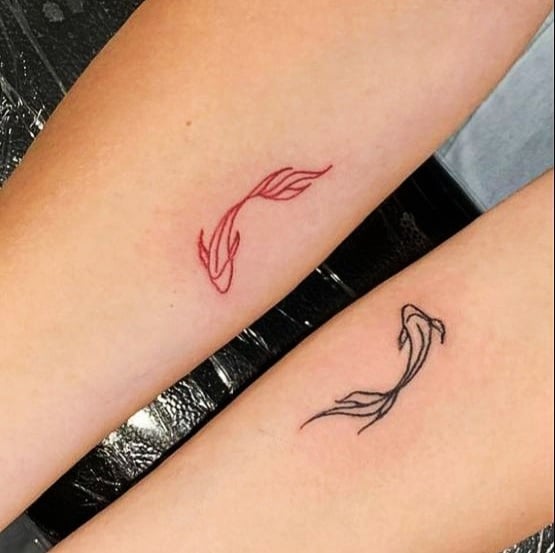 The kind of fish tattoo you chose indicates perseverance, knowledge, power, patience, prosperity, and luck. With their elaborate designs and arching scales, they also serve as a cultural metaphor for conquering diversity. This makes them one of the most well-known patterns in use today.
In conclusion, choosing a mother-daughter tattoo design is a beautiful and meaningful way to celebrate the special bond shared between a mother and her daughter. The design options are endless, ranging from matching symbols, quotes, or even intricate artwork that represents their unique connection. Whether it's a simple and elegant design or a more elaborate and personalized piece, the significance behind a mother-daughter tattoo is what truly makes it special. It serves as a constant reminder of the unbreakable bond and unconditional love between a mother and her daughter. So, embrace the idea of getting a mother-daughter tattoo and create a lifelong symbol of love, connection, and cherished memories.
If tattoos excite you, then make sure to delve into our latest segment on Tattoos! We have curated an assortment of the most fashionable tattoo design ideas for both women and men, spanning various categories such as flowers, geometric patterns, wrist tattoos, peacock feathers and much more. So, seize the opportunity and immerse yourself in this captivating section to avoid any future regrets!