Discover captivating eye tattoo designs that mesmerize and symbolize various meanings. From mystical eyes with spiritual significance to artistic interpretations that showcase individuality, explore a diverse range of eye tattoos to express your unique style and vision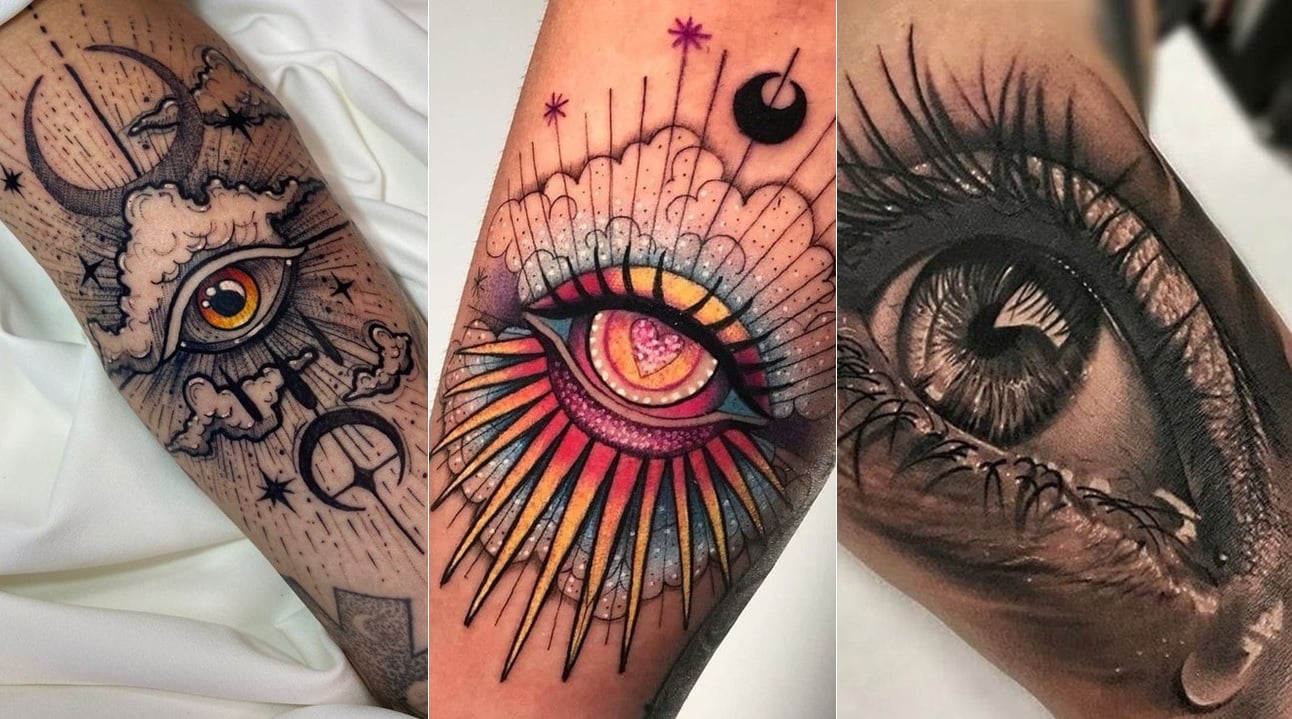 Eye Tattoo: Meaning 
Eye tattoos have gained popularity in the world of body art due to their intriguing symbolism and unique aesthetics. The eye is often considered a window to the soul, representing perception, intuition, and wisdom. The all-seeing eye, a symbol of divine knowledge and protection, is a common motif in eye tattoos. Additionally, eyes can convey emotions and serve as a reminder of self-awareness and inner reflection. Whether depicted realistically or artistically, eye tattoos captivate with their depth and mystery, making them a popular choice for those seeking meaningful and visually striking ink.
Ideas For Eye Tattoos
1. Simple Eye Tattoo
A simple eye tattoo embodies elegance in its minimalist design, often featuring clean lines and uncomplicated shapes. This understated yet meaningful choice appeals to those who appreciate subtlety, expressing the beauty of simplicity and the power of symbolism in a refined and unassuming manner.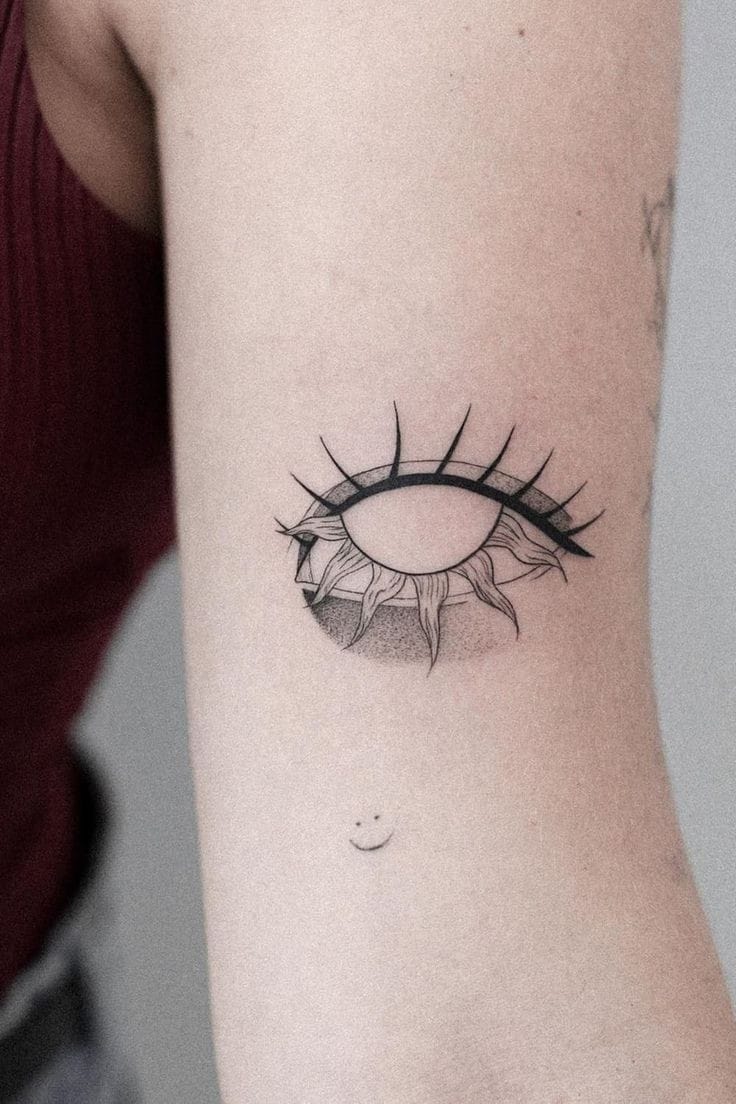 2. Evil Eye Tattoo
An evil eye tattoo serves as a potent symbol of protection against malevolent forces and negative influences. Derived from ancient folklore and beliefs, the evil eye is thought to possess the power to deflect harm and bring good luck to the bearer. Adorned with various designs and colors, the evil eye tattoo has become a compelling and sought-after choice, blending cultural significance with personal style.
3. Rose Eye Tattoo
The rose eye tattoo combines the allure of a delicate rose with the mystique of the eye symbol, creating a captivating and multifaceted design. This fusion of floral elegance and symbolic depth often represents beauty, love, and the power of inner vision, making it a meaningful and visually striking choice for tattoo enthusiasts seeking a unique blend of art and symbolism. For an extensive collection of rose tattoo inspirations, explore our dedicated section on "Best Rose Tattoos."
4. Sassy Eye Tattoo
A sassy eye tattoo exudes confidence and charisma with its bold and expressive design. Often featuring a winking or playfully exaggerated eye, this tattoo represents a spirited and lighthearted attitude, capturing the essence of self-assuredness and sassiness in a unique and eye-catching way. Perfect for those who embrace their individuality and love to stand out in the crowd.
5. Moth Eye Tattoo
The moth eye tattoo embodies an enigmatic and mysterious allure, drawing inspiration from the nocturnal creature known for its attraction to light. Symbolizing transformation, resilience, and a connection to the spiritual realm, this tattoo design often features intricately detailed moths with captivating eyes, making it a compelling choice for those seeking a blend of symbolism and artistic fascination.
6. Sleeve Eye Tattoo
A sleeve eye tattoo transforms the arm into a mesmerizing canvas, weaving intricate eye designs and symbolism throughout the entire sleeve. This expansive and immersive body art celebrates the concept of perception and introspection, creating a visually stunning and deeply meaningful representation of the wearer's personal journey and inner vision.
7. Mandala Eye Tattoo
A mandala eye tattoo merges the mesmerizing geometric patterns of mandalas with the captivating symbolism of the eye. This fusion represents a harmonious union of spiritual enlightenment, inner peace, and the exploration of one's consciousness, making it a meaningful and visually striking choice for those seeking a profound and intricate piece of body art.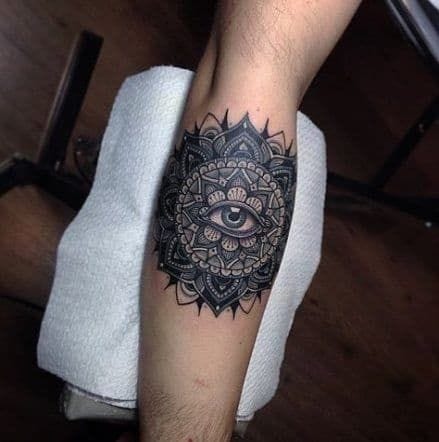 8. Trippy Eye Tattoo
A trippy eye tattoo showcases a psychedelic and surreal design, often featuring vibrant colors, abstract patterns, and optical illusions. This unconventional and mind-bending tattoo style creates a mesmerizing visual experience, reflecting a fascination with altered states of consciousness, creativity, and the exploration of the subconscious mind. Perfect for those who appreciate art that challenges perception and embraces the unconventional.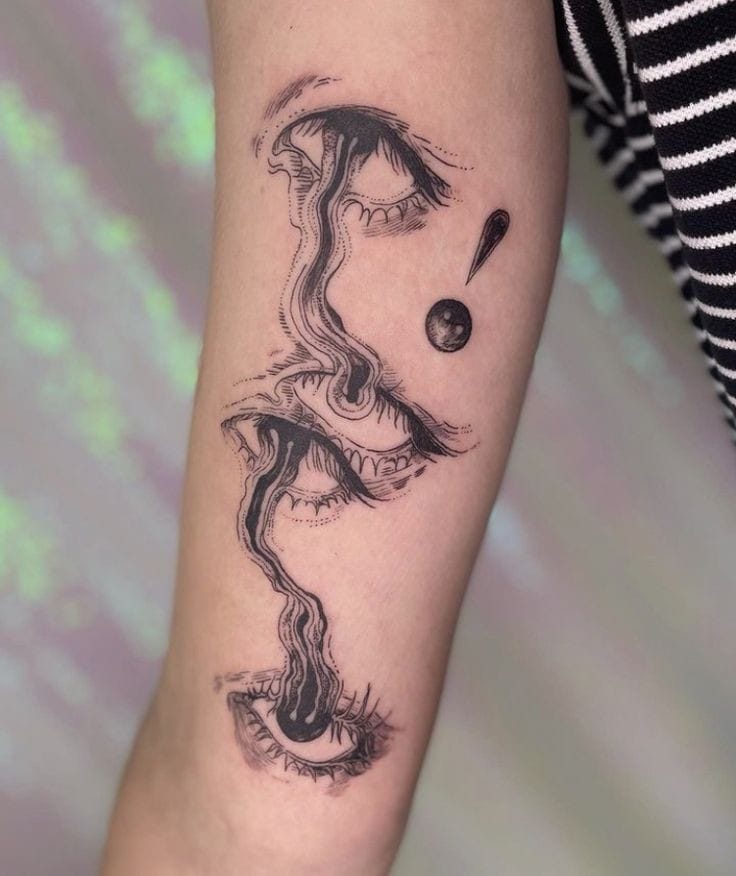 9. Tiger Eye Tattoo
A tiger eye tattoo embodies the fierce and majestic nature of this powerful predator. With intricate detailing and piercing gaze, it symbolizes strength, courage, and a connection to nature's wild beauty, making it a popular choice for those seeking to evoke a sense of personal empowerment and a deep appreciation for the animal kingdom.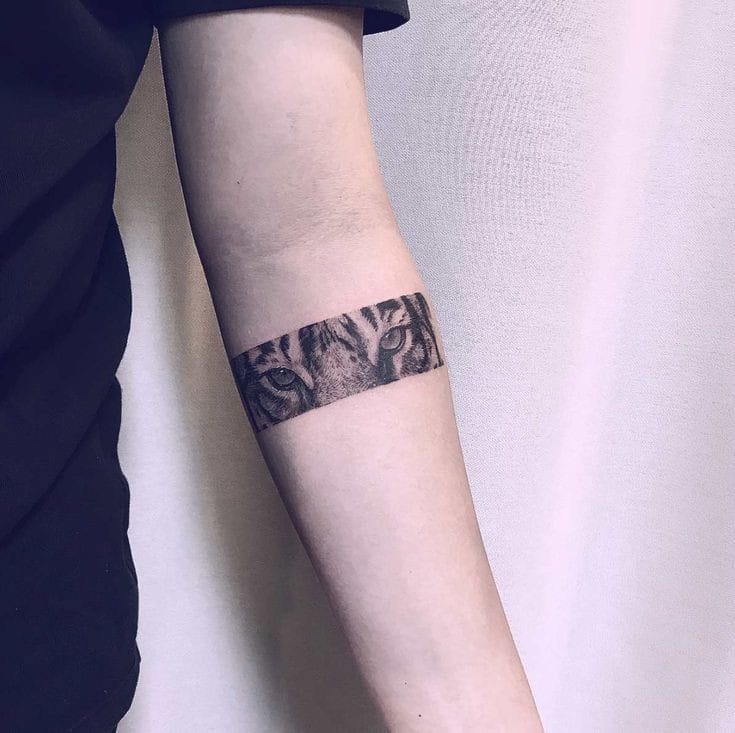 10. Bicep Eye Tattoo
A bicep eye tattoo highlights the eye's symbolism of strength and vigilance, accentuating the wearer's physical power and mental awareness. Positioned on the bicep, it becomes a striking and personal emblem, serving as a constant reminder of resilience and the importance of staying focused on one's goals.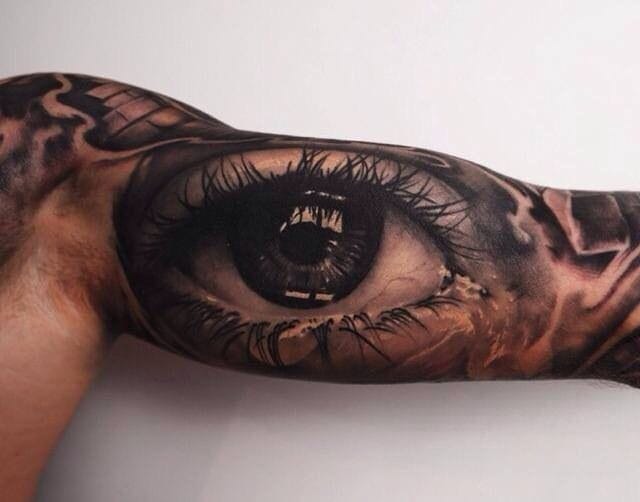 11. Geometric Eye Tattoo
A geometric eye tattoo combines the allure of precise shapes and lines with the mesmerizing symbolism of the eye. This unique fusion creates an artful representation of balance, symmetry, and the interconnectedness of all things, appealing to those who appreciate both the aesthetic and philosophical aspects of body art. Check out our handpicked "Best Geometric Tattoos" section for a wide array of geometric tattoo designs and ideas to spark your creativity.
12. Clock Eye Tattoo
A clock eye tattoo represents the passage of time and the value of each moment. It serves as a reminder to seize the present and make the most of every second. This thoughtful and symbolic design resonates with those who embrace the concept of time as a precious and limited resource.
13. Realistic Eye Tattoo
A realistic eye tattoo showcases incredible artistic skill, capturing intricate details and lifelike textures to create an eye that appears strikingly authentic. This style of tattooing is favored by those who seek a highly accurate and emotive representation of the human eye, allowing them to express their appreciation for artistry and realism in body art.
14. Blue Eye Tattoo
A blue eye tattoo typically represents spiritual protection, intuition, and wisdom. It symbolizes the concept of the "evil eye," believed to ward off negative energies and bring good luck to the wearer. Blue eye tattoos are often admired for their vibrant hues and mystical significance, making them a popular choice for those seeking both aesthetic appeal and symbolic meaning in their body art.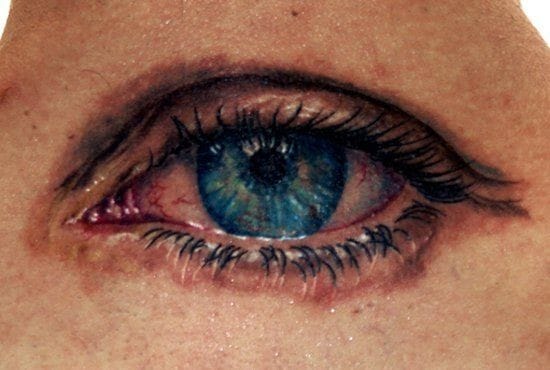 15. Forearm Eye Tattoo
A forearm eye tattoo is a bold and visible statement, showcasing the captivating design on a prominent part of the body. It represents a constant watchful presence, serving as a source of inspiration, protection, or reflection for the wearer and those around them. The forearm's open canvas allows for larger and more intricate eye tattoos, making it an ideal location for those seeking a captivating and eye-catching piece of body art. Looking for unique forearm tattoo ideas? Our exclusive segment on "Best Forearm Tattoos" has got you covered.
16. Hand Eye Tattoo
A hand eye tattoo holds symbolic significance as it represents the concept of "all-seeing" or being aware of one's actions and surroundings. Placed on the hand, it becomes a constant reminder of mindfulness and introspection, encouraging the individual to stay conscious and purposeful in their actions. This unique placement also adds to the tattoo's visibility, making it a striking and meaningful form of self-expression. Want more ideas for hand tattoos? Head over to our featured section on "Best Hand Tattoos" for a wide range of inspirations.
17. Traditional Eye Tattoo
A traditional eye tattoo draws inspiration from classic American tattooing, featuring bold lines, vibrant colors, and a timeless design. This style often incorporates elements of the "eye of providence" or the "all-seeing eye," symbolizing protection and divine guidance. With its rich history and enduring appeal, the traditional eye tattoo honors the roots of tattoo culture while infusing it with meaningful symbolism.
18. Design Eye Tattoo
A design eye tattoo encompasses a vast array of creative possibilities, ranging from abstract patterns to intricate illustrations, allowing for a highly personalized and artistic expression. With no set limitations, individuals can explore their imagination and collaborate with skilled artists to craft a unique and visually stunning eye tattoo that reflects their individuality and style.
19. Minimalist Eye Tattoo
A minimalist eye tattoo embraces simplicity and clean lines, focusing on essential elements to convey its message. This elegant and understated style of body art symbolizes the essence of the eye's significance, making a powerful impact with its straightforward design and timeless charm.
20. Third Eye Tattoo
The third eye tattoo represents the mystical and spiritual concept of the "inner eye," associated with heightened intuition, enlightenment, and higher consciousness. It symbolizes the ability to see beyond the physical realm and gain profound insights into the self and the universe, making it a profound and spiritually significant choice for those on a journey of self-discovery and spiritual awakening.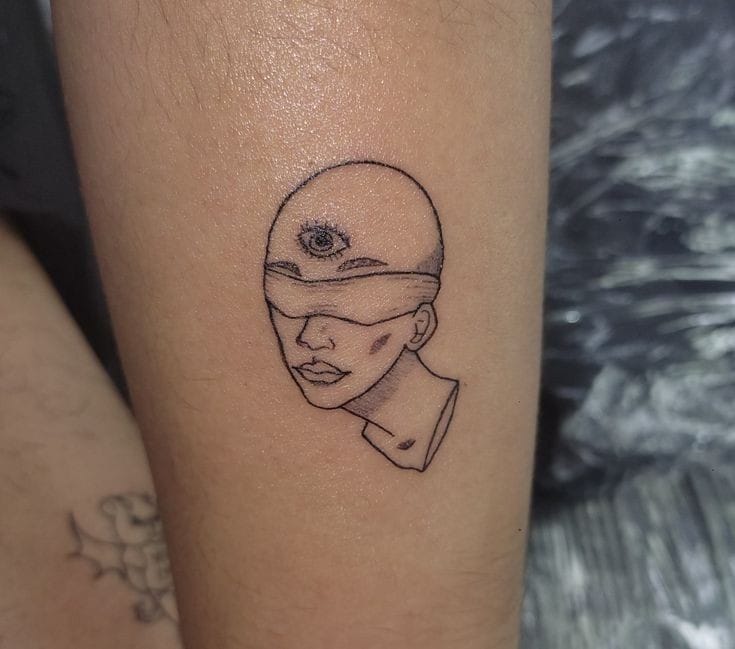 21. Wrist Eye Tattoo
A wrist eye tattoo showcases a delicate yet meaningful design, symbolizing the concept of "watching over" or being mindful of one's actions. This placement allows for easy visibility, serving as a daily reminder to stay attentive and conscious in life's journey. The wrist eye tattoo holds significance for those seeking a subtle yet significant form of self-expression. If you're looking for more inspiration for wrist tattoos, check out our exclusive segment on "Best Wrist Tattoos."
22. Neck Eye Tattoo
A neck eye tattoo embodies a bold and daring statement, representing a deep connection to one's intuition and inner vision. Positioned prominently on the neck, it symbolizes a heightened awareness of the surrounding world and a fearlessness in expressing one's individuality. This unique placement adds to the tattoo's striking appeal, making it a captivating and confident form of body art.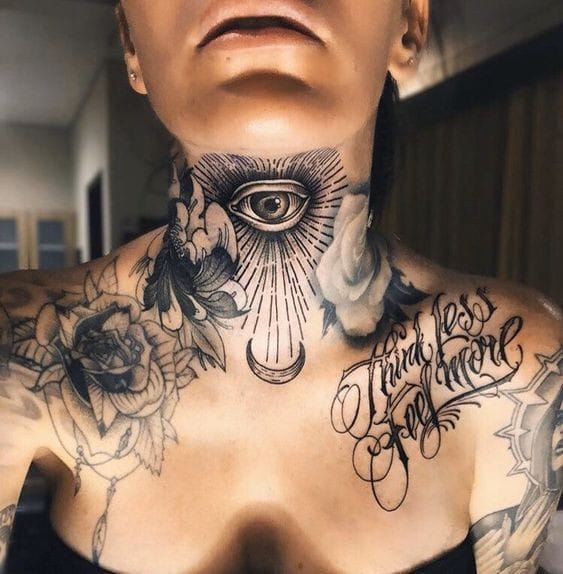 23. Portrait Eye Tattoo
A portrait eye tattoo showcases the exquisite artistry of capturing a person's eye in intricate detail on the skin. This form of tattooing requires exceptional skill to recreate the individual's gaze, emotions, and personality in the eye, resulting in a deeply personal and emotive piece of body art that celebrates the beauty of human connection and the power of the eyes to convey emotions.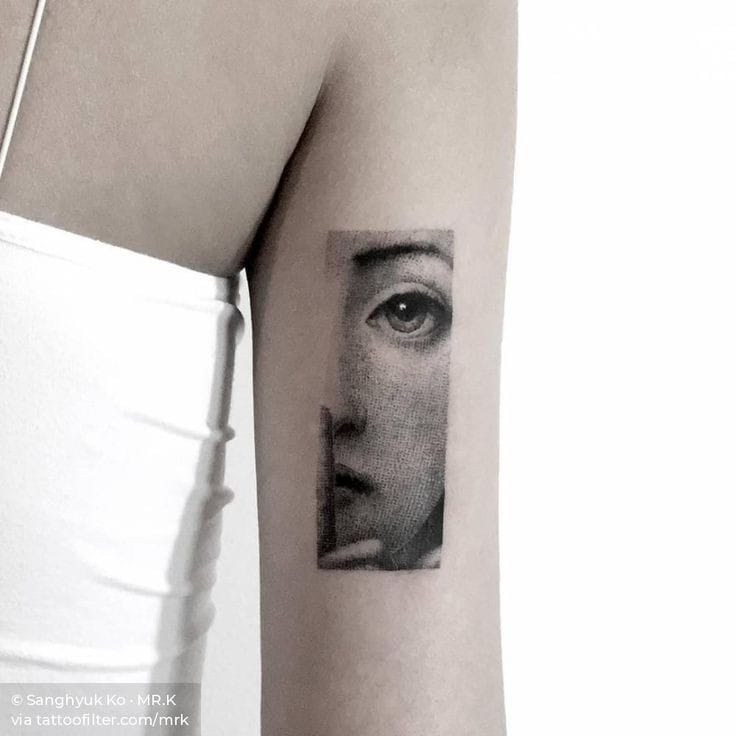 24. Human Eye Tattoo
A human eye tattoo captures the intricacies and beauty of the human eye in stunning detail, showcasing the unique patterns of the iris and the emotions conveyed through the gaze. This form of body art serves as a powerful reminder of human connection and the depth of human experience, making it a deeply personal and emotive choice for those who seek to express the essence of humanity through their tattoos.
25. Artistic Palm Eye Tattoo
An artistic palm eye tattoo is a captivating and unconventional design, symbolizing a heightened sense of intuition and perception. Placed on the palm, it becomes a hidden gem of body art, visible only to those who hold the wearer's hand, making it a mysterious and intriguing choice for those who appreciate the fusion of art and symbolism in their tattoos.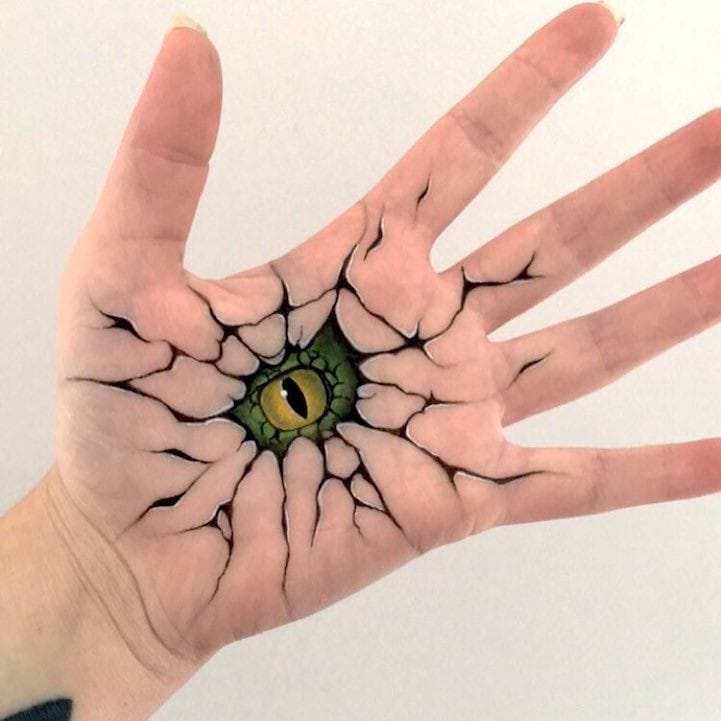 26. Compass Eye Tattoo
A compass eye tattoo represents a guiding force and a sense of direction, combining the symbolism of the eye as a source of wisdom with the navigational significance of a compass. This design is chosen by individuals seeking a meaningful reminder of staying true to their path, finding their way through life's journey, and trusting their inner guidance.
27. Melting Eye Tattoo
A melting eye tattoo creates a surreal and visually captivating design, symbolizing the fluidity of perception and the transient nature of reality. This unique and artistic tattoo choice represents a fascination with the ever-changing nature of existence and the blending of the subconscious and conscious mind.
28. Wings Eye Tattoo
A wings eye tattoo combines the enchantment of wings with the mystique of the eye, symbolizing a desire for freedom, protection, and heightened awareness. This unique fusion represents a deep connection to one's aspirations and an embrace of the spiritual realm, making it a compelling and symbolic choice for those seeking a powerful and meaningful form of body art.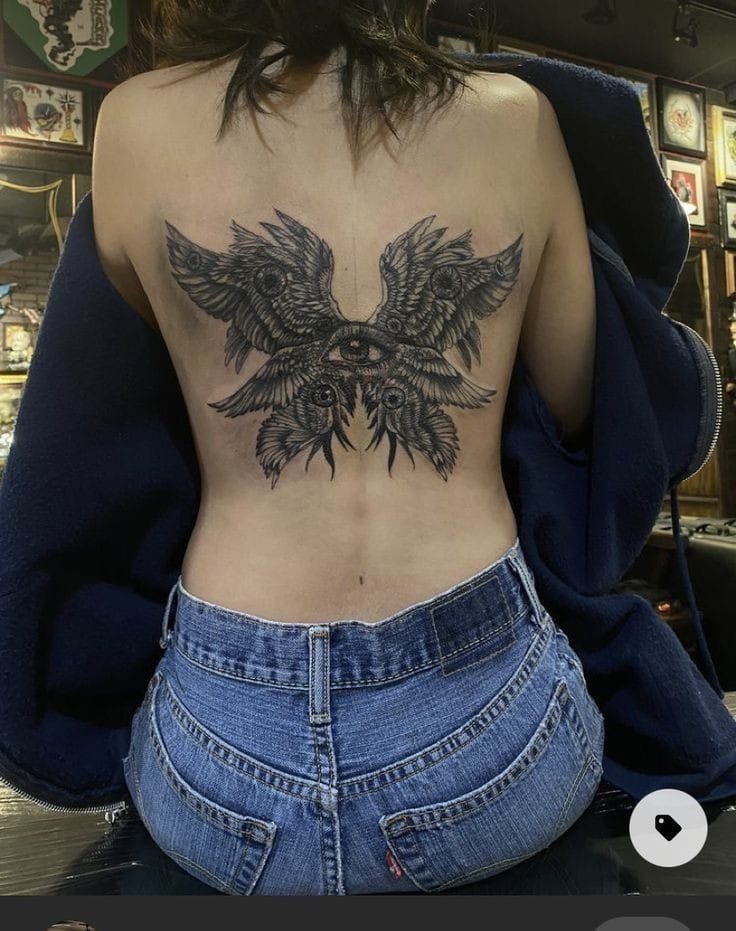 29. Hamsa Eye Tattoo
A Hamsa eye tattoo features the Hamsa hand, a symbol of protection, combined with the all-seeing eye, representing a powerful talisman against evil forces and negative energies. This tattoo design holds deep cultural and spiritual significance, serving as a meaningful and aesthetically striking choice for those seeking a harmonious blend of ancient symbolism and contemporary body art.
30. Rose Eye Tattoo
A rose eye tattoo elegantly combines the timeless beauty of a rose with the captivating symbolism of the eye. This enchanting fusion represents love, passion, and inner vision, making it a meaningful and visually stunning choice for those seeking a unique blend of floral elegance and profound symbolism in their body art. Uncover a plethora of black rose tattoo designs in our special feature on "Best Black Rose Tattoos" for those in search of more inspiration.
31. Owl Eye Tattoo
An owl eye tattoo embodies the wisdom, intuition, and mystique associated with these nocturnal creatures. This design symbolizes a deep connection to knowledge and the ability to see beyond the surface, making it a profound and intriguing choice for individuals seeking to express their intellect and insight through their body art. For an extensive collection of owl tattoo inspirations, explore our dedicated section on "Best Owl Tattoos."
32. Cloud Eye Tattoo
A cloud eye tattoo portrays a dreamlike and whimsical scene, where the eye appears within or behind a cloud formation. This design captures a sense of mystery, imagination, and the ever-changing nature of emotions, making it a captivating and artistic choice for those who appreciate the beauty of nature and the enigmatic power of the human eye.
33. Sketch Style Eye Tattoo
A sketch style eye tattoo mimics the appearance of a pencil or pen drawing, showcasing raw and expressive lines that evoke a sense of artistic spontaneity. This unconventional and visually striking tattoo choice appeals to those who admire the beauty of imperfection and the uniqueness of hand-drawn art, adding a touch of creative flair to their body expression.
34. Colorful Eye Tattoo
A colorful eye tattoo bursts with vibrant hues, adding an eye-catching and vivid element to the design. This captivating choice allows for a broad spectrum of artistic expression, enabling the incorporation of various colors to evoke different emotions and meanings, making it a bold and visually appealing form of body art.
35. Red Eye Tattoo
A red eye tattoo carries a striking and intense aura, symbolizing passion, strength, and a fiery spirit. This bold and powerful choice makes a profound statement, appealing to those who seek to express their boldness and determination through their body art, while also adding an element of mystique and intrigue to the overall design.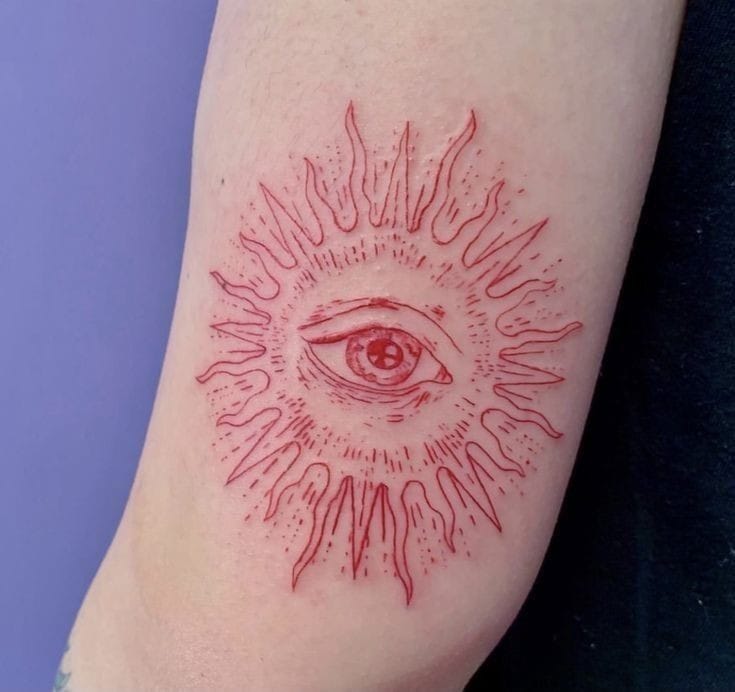 36. Watercolor Eye Tattoo
A watercolor eye tattoo showcases an ethereal and dreamy appearance, resembling the fluid and transparent qualities of watercolor paintings. This artistic style infuses the eye design with soft, blended colors, creating a captivating and visually stunning tattoo that exudes a sense of artistic expression and emotional depth.
37. Small Eye Tattoo On Finger
An eye tattoo on the finger serves as a subtle and discreet symbol of insight and protection. Positioned on the finger, it becomes a hidden talisman, representing the importance of intuition and mindfulness in every action taken, making it a meaningful and personal choice for those seeking a small yet significant form of body art. For an extensive collection of finger tattoo inspirations, explore our dedicated section on "Best Finger Tattoos."
38. Eye Bulb Tattoo
An eye bulb tattoo portrays an eye within a light bulb, representing the illuminating power of vision and ideas. This creative and symbolic design symbolizes enlightenment, ingenuity, and the potential to shed light on new perspectives, making it a thought-provoking and visually intriguing choice for those who celebrate the fusion of intellect and imagination in their body art.
39. Tear Realistic Eye Tattoo
A tear eye tattoo conveys deep emotions and experiences, symbolizing moments of grief, resilience, or profound connections. It serves as a poignant reminder of personal struggles, losses, or life-changing events, showcasing the strength and vulnerability that come with embracing one's emotions and journey.
40. Flame Eye Tattoos
A flame eye tattoo ignites the symbolism of passion, transformation, and intensity. This striking design represents the inner fire that drives individuals to pursue their ambitions and evolve in life, making it a bold and expressive choice for those who seek to embody the power and energy of a blazing spirit in their body art.
Eye tattoos have emerged as a captivating and multifaceted form of body art, reflecting the depth of human expression and the significance of vision and perception. From traditional symbols of protection and wisdom to surreal and artistic representations, eye tattoos offer a profound opportunity for self-expression and exploration. These unique designs encompass a wide range of emotions, beliefs, and aesthetics, connecting individuals to their inner selves and the world around them. As the art of tattooing continues to evolve, eye tattoos will undoubtedly remain an enchanting and meaningful canvas for people to convey their stories, passions, and unique perspectives through the windows to their souls.
Other Special Tattoo Designs Sections
Besides Eye Tattoos, if you are looking for more tattoo ideas, then don't forget to explore our section on "Best Flower Tattoo Designs" or "Best Sunflower Designs", "Lily Tattoo Designs" or "Best Black Rose Tattoo Designs."  You can also explore our very much loved tattoo features on Lock & Key Tattoos, Praying Hands Tattoo, Cross Tattoo Ideas, and more. We also have a sizeable collection of tattoo-related reads that might interest all tattoo lovers! For instance, if you are confused about which part of your body to ink a tattoo on, then read Hand Tattoo Designs, Forearm Tattoo Ideas, and Chest Tattoo Designs. 
Additionally, we have a collection of design-related articles, such as Eagle Tattoo Designs, Peacock Feather Tatoo Designs, Owl Tattoo Designs, or Best Tattoo Design Ideas For Women. And just in case you have any doubts or queries, then read FAQs About Tattoos to get concise and clear answers about the process, design, aftercare, and everything else that you need to know before and after getting inked.