Discover the best stomach tattoo designs that blend artistry and symbolism in perfect harmony. From fierce tiger tattoos exuding strength and dominance to delicate flower tattoos representing beauty and renewal, these ideas offer a captivating canvas for self-expression. Explore a diverse range of powerful and graceful designs that adorn the stomach with elegance, making a lasting and meaningful statement of individuality.
Popularity And Meaning Of Stomach Tattoo
Stomach tattoos have gained immense popularity among both men and women as a bold and eye-catching form of body art. For men, these tattoos often emphasize strength and masculinity, with designs ranging from powerful symbols to intricate tribal patterns that accentuate their chiseled physiques. On the other hand, women often opt for stomach tattoos as a celebration of femininity, choosing elegant floral designs, meaningful quotes, or abstract art to express their individuality.
The meaning behind stomach tattoos can vary widely, depending on the wearer's personal preferences and beliefs. Some view it as a symbol of confidence and self-assurance, proudly displaying their bodies as a canvas for artistic expression. Others might choose a stomach tattoo to mark significant life events, commemorate a loved one, or as a reminder of personal growth and overcoming challenges. Whatever the motivation, stomach tattoos stand as a testament to the wearer's courage and creativity, making them a captivating and meaningful form of body art.
Unleash Stomach Tattoo Ideas For Men And Women 
1
.
Mandala Stomach Tattoo
Imagine a captivating work of art etched on your stomach, radiating beauty and tranquility. That's the magic of a stomach mandala tattoo design. In simple terms, a mandala is a symmetrical pattern that represents harmony, balance, and unity. When placed on your belly, this extraordinary tattoo brings a sense of calm and inner peace.The stomach mandala tattoo design is like a sacred circle, encompassing intricate details and mesmerizing shapes.
2. Bohemian Moon Tattoo
The Moon Stomach Tattoo is also associated with the concept of fertility and motherhood. It celebrates the nurturing and life-giving qualities within you, honoring the sacred bond between women and the lunar energy.
3. Flower Skeleton Tattoo 
Flower skeleton stomach tattoos mix the delicate nature of life with the strong beauty of nature in a pretty and fascinating design. The fine outlines of flowers and skeletons woven together create an interesting contrast, showing the cycle of life and the continuous renewal found in the natural world. This meaningful body art captures the essence of life's impermanence while celebrating the timeless allure of blossoms, making it a captivating choice for those seeking a profound tattoo design. If you're looking for more inspiration for flower tattoos, check out our exclusive segment on "Best Flower Tattoos."
4. Butterfly With Ornamental Design 
So, as you embrace the beauty of a butterfly with an ornamental design on your belly, remember that it represents transformation, inner beauty, freedom, and the pursuit of dreams. It's a captivating reminder to embrace your own beauty. Discover a variety of butterfly tattoo designs in our exclusive segment on "Best Butterfly Star Tattoos" for those seeking more inspiration.
5. Butterfly Stomach Tattoo 
A Heart-Shaped Wave Tattoo could represent a deep emotional connection or a passionate love for something or someone. The wave element adds a dynamic and fluid aspect, suggesting a sense of movement or transformation within the realm of love. If you're looking for more inspiration for butterfly tattoos, check out our exclusive segment on "Best Butterfly Star Tattoos."
6. Dragon Belly Tattoo 
The dragon belly tattoo is a mesmerizing design that captures the mythical and majestic essence of dragons. Inked on the belly, this tattoo symbolizes strength, power, and protection. The dragon's intricate details and graceful curves create an eye-catching and symbolic piece of body art, often chosen by those who wish to embrace their inner strength and unleash their fearless spirit.
Another abstract Dragon Tattoo on Stomach: 
7. Two Crossed Snakes Tattoo 
The two-crossed snakes tattoo, also known as the Caduceus symbol, is a powerful and ancient emblem often associated with healing and medicine. The intertwined serpents and wings create a visually striking design, making it a popular choice for those in the medical field or those seeking a symbol of transformation and balance. This tattoo represents a harmonious union of opposing forces and holds deep significance in various cultures and belief systems.
8. Abstract Stomach Tattoo
An abstract anatomy tattoo can symbolize a deep exploration of oneself, both physically and emotionally. It may represent a desire to understand and accept one's own body and internal workings. The abstract nature of the tattoo can signify a unique and individual perspective on personal identity and self-discovery.
9. Girl Face With Snakes Tattoo
The combination of a girl's face and snakes on the belly can symbolize the power and strength of femininity. Snakes are often associated with transformation, shedding their skin and rebirth, while the girl's face represents femininity. 
10. Dracula Stomach Tattoo
Dracula stomach tattoo portrays the legendary vampire in a hauntingly captivating way, adding an element of mystery and darkness to the body canvas. With intricate details and chilling artistry, the Dracula stomach tattoo evokes a sense of gothic allure and immortal fascination, making it a striking choice for lovers of the macabre and the supernatural.
11. Floral Stomach Tattoo 
The flower stomach tattoo is a delicate and feminine design that showcases beauty and elegance. This enchanting tattoo choice often represents growth, renewal, and the blooming of new beginnings. With its placement on the stomach, this floral artwork exudes a sense of femininity and grace, making it a captivating and eye-catching choice for those seeking a symbolic and aesthetically pleasing tattoo.
12. Two Scorpions Stomach Tattoo 
Having two scorpions in the tattoo design may symbolize the idea of opposing forces or dual aspects within an individual's personality or life. It can represent the need for balance and harmony between different aspects, such as light and darkness, strength and vulnerability, or passion and restraint.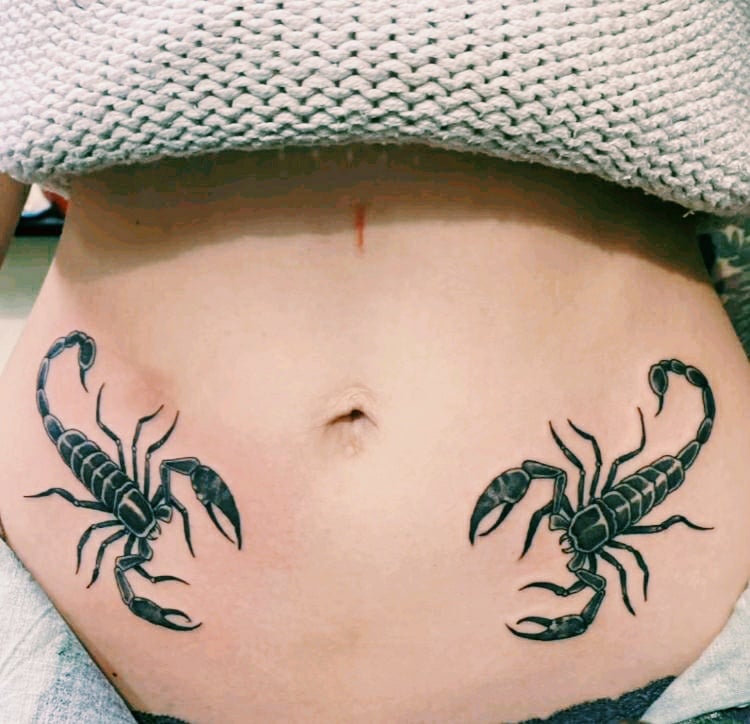 13. Flower Dragonfly Stomach Tattoo
The flower dragonfly stomach tattoo is a mesmerizing fusion of nature's beauty and grace. This enchanting design features the delicate and vibrant allure of flowers alongside the mystical charm of dragonflies, symbolizing transformation, freedom, and harmony. As a captivating artwork adorning the stomach, it represents the wearer's appreciation for the wonders of nature and the harmony found within its intricate balance.
14. Skull Stomach Tattoo
The skull with an open mouth can also represent a rebellious and nonconformist attitude. It can signify a rejection of societal norms and expectations, a defiance of conventional wisdom, and a desire to embrace individuality and personal freedom.
15. Rose Stomach Side Tattoo
Roses are universally recognized as symbols of beauty and love. They represent elegance, grace, and aesthetic appeal. A rose stomach tattoo can reflect a person's appreciation for beauty, whether it be in nature, art, or relationships. It can also symbolize love, romance, and passion, serving as a reminder of deep affection or a tribute to a significant relationship. Looking for unique rose tattoo ideas? Our exclusive segment on "Best Rose Tattoos" has got you covered.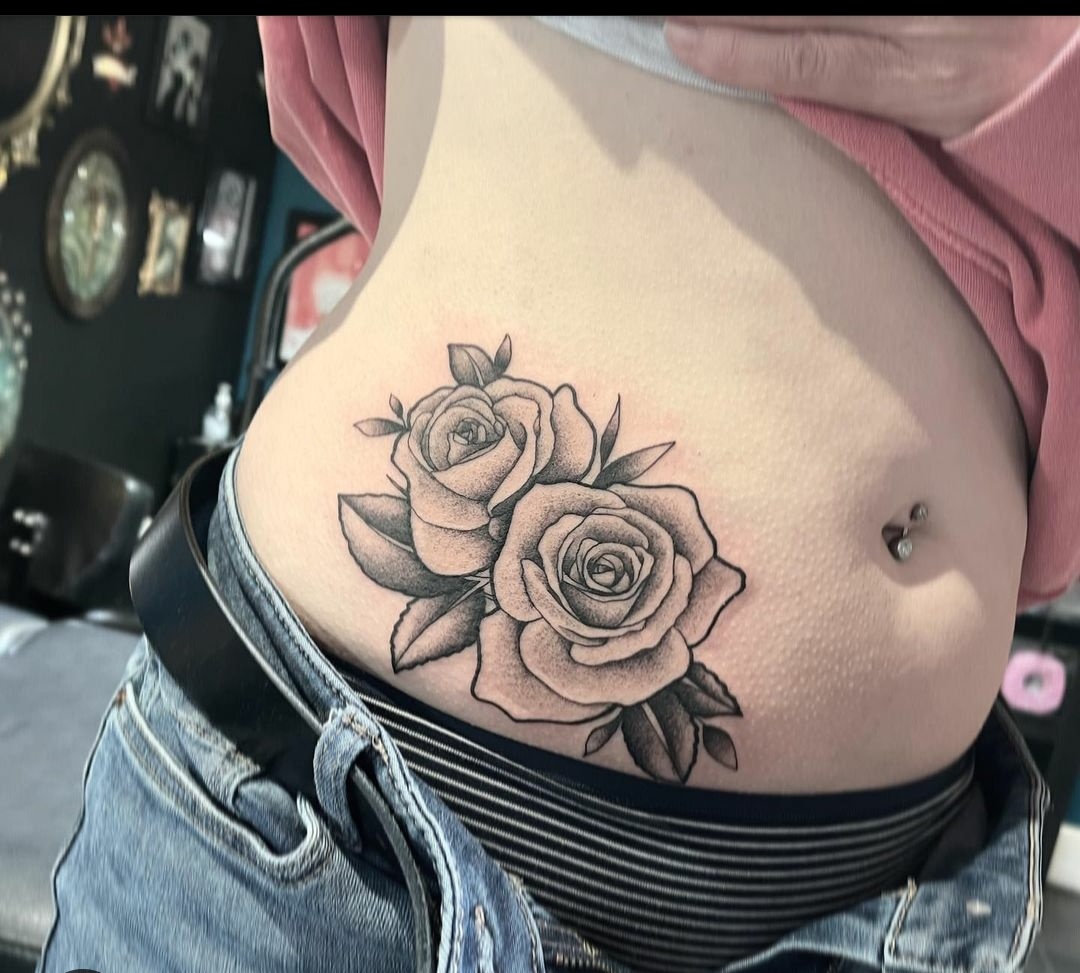 16. Pheonix Stomach Tattoo
The phoenix's ability to undergo a complete transformation reflects the concept of personal growth and self-improvement. A phoenix stomach tattoo can symbolize an individual's journey of self-discovery, inner transformation, and the pursuit of a better version of oneself. It serves as a reminder of the ongoing process of personal evolution and the continuous pursuit of self-improvement.
17. Lock and Key Stomach Tattoo
This tattoo can also signify the importance of privacy and keeping certain aspects of oneself hidden or locked away from others. It may represent a person's inclination to keep their thoughts, emotions, or personal life private and under their control. For an extensive collection of lock and key tattoo inspirations, explore our dedicated section on "Best Lock & Key Tattoos."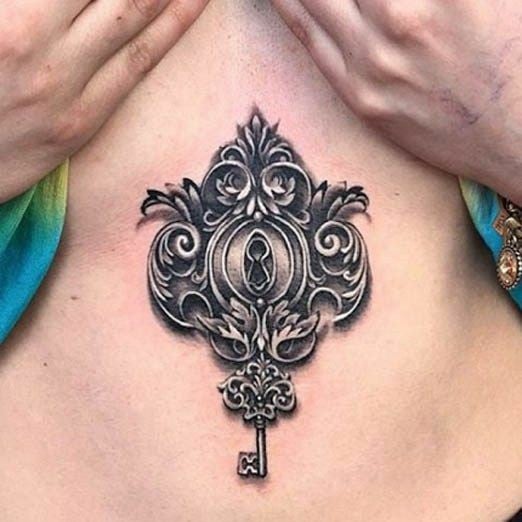 18. Eagle Stomach Tattoo
The eagle is often associated with strength and power in many cultures. Its majestic presence and ability to soar high in the sky can symbolize physical and mental strength, resilience, and the ability to overcome challenges. A perfect choice for stomach tattoos. Uncover a plethora of eagle tattoo designs in our special feature on "Best Eagle Tattoos" for those in search of more inspiration.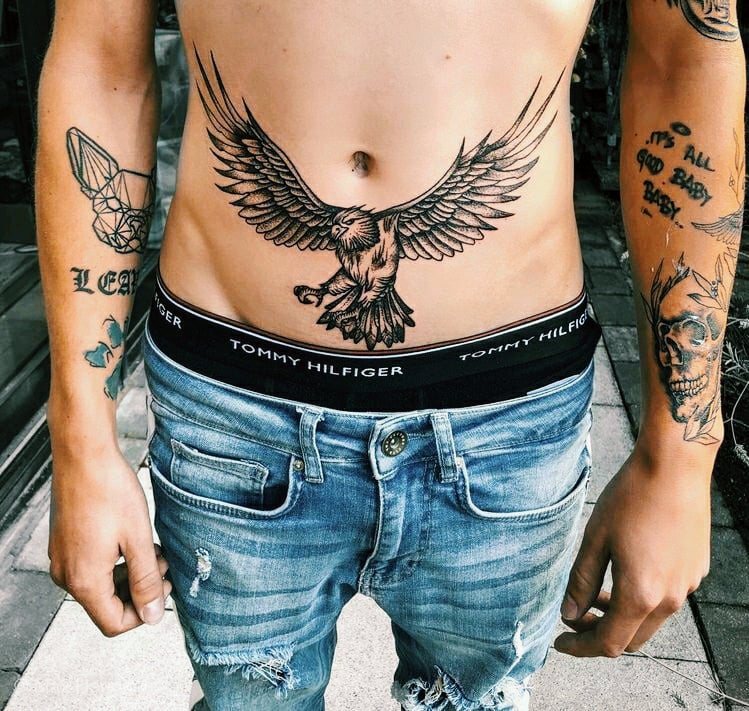 19. Text Stomach Tattoo
A text-based stomach tattoo is a simple yet powerful way to convey a meaningful message or phrase that holds significance to the wearer. With elegant typography, this type of tattoo allows words to become a lasting piece of art on the skin, representing personal beliefs, aspirations, or reminders. The beauty of text-based tattoos lies in their versatility, offering a timeless and expressive form of self-expression.
20. Bee Flower Stomach Tattoo
The bee flower stomach tattoo beautifully combines the importance of bees in nature with the elegance of blooming flowers. This unique design signifies the close connection between bees and flowers and represents environmental awareness. With its stunning visual appeal, this tattoo becomes a meaningful and eye-catching piece of body art.
21. Deadly Skull Tattoo
The skull is a universal symbol of mortality, reminding us of the transient nature of life and the inevitability of death. A deadly skull tattoo might symbolize a person's contemplation of mortality, their acknowledgment of the fragility of life, or their understanding that death is an inherent part of the human experience.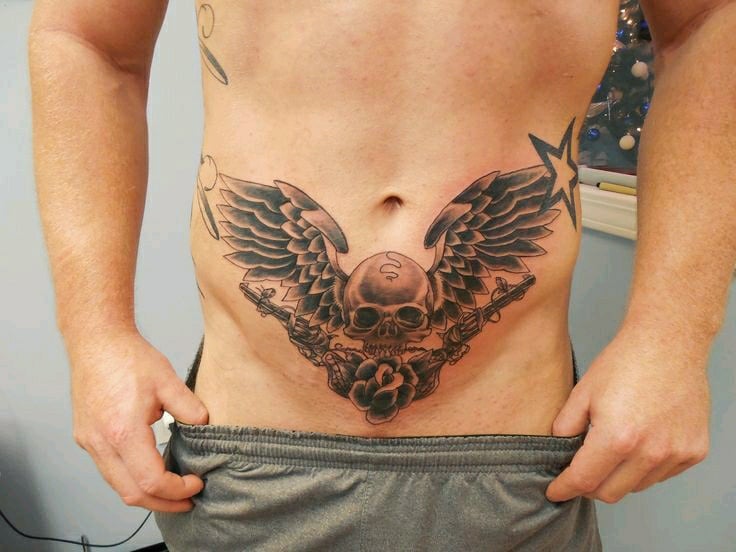 22. Lion Stomach Tattoo
Lions are often regarded as symbols of strength, power, and courage. A lion stomach tattoo can represent inner strength, resilience, and the ability to overcome challenges. It may symbolize the wearer's determination to face adversity with bravery. For an extensive collection of lion tattoo inspirations, explore our dedicated section on "Best Lion Tattoos."
23. Tiger Stomach Tattoo
A spider stomach tattoo typically symbolizes resilience, creativity, and transformation. Spiders are associated with adaptability, weaving intricate webs of life's complexities. The tattoo may represent one's ability to overcome challenges, embrace change, and create their own destiny through their unique artistic expression.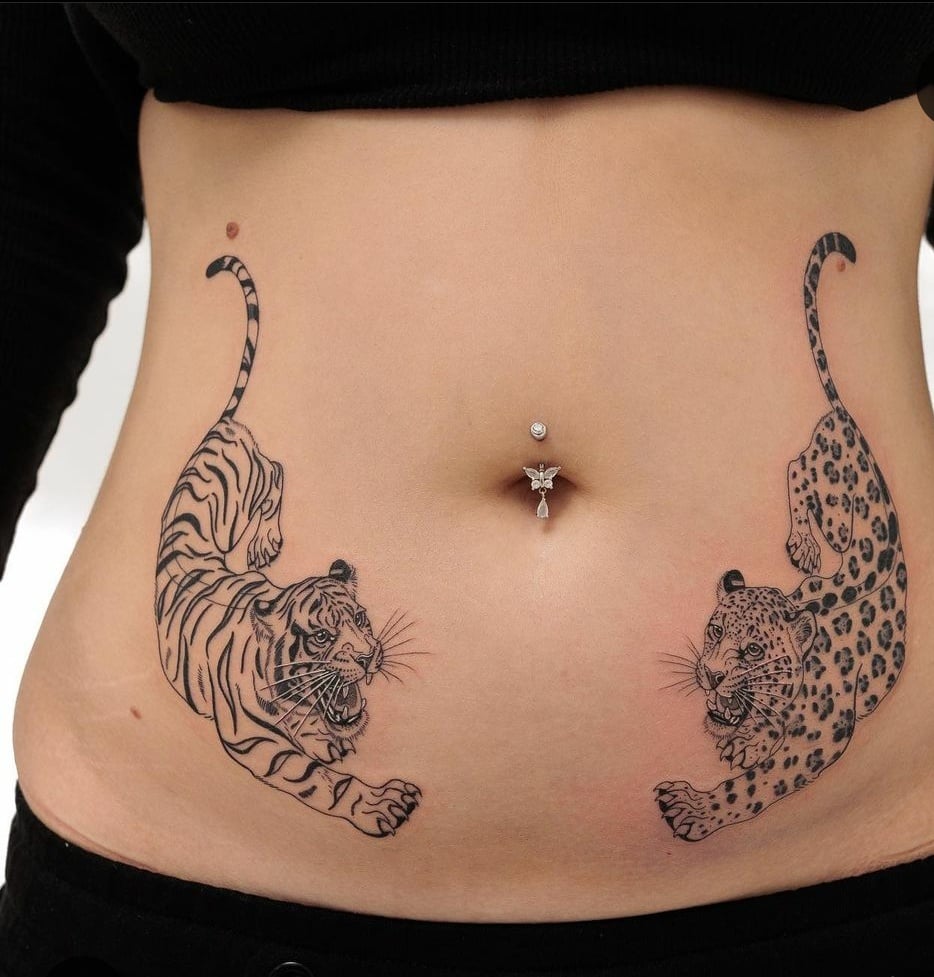 Guns are often associated with power and control. A gun stomach tattoo might symbolize a person's desire for power, dominance, or a sense of control over their own life and circumstances. It can reflect their determination to take charge and assert their will.
25. Cute Sparrow Tattoo
Sparrows are often associated with love and romance. A cute two-sparrow stomach tattoo might symbolize a person's romantic relationship or their belief in the power of love. It can represent a deep bond, affection, or a sense of partnership between two individuals. Want more ideas for bird tattoos? Head over to our featured section on "Best Bird Tattoos" for a wide range of inspirations.
26. Spider Stomach Tattoo
Spiders are often associated with mystery and intrigue. A spider stomach tattoo might symbolize a person's fascination with the unknown, their curiosity about hidden aspects of life, or their desire to explore the depths of their own psyche.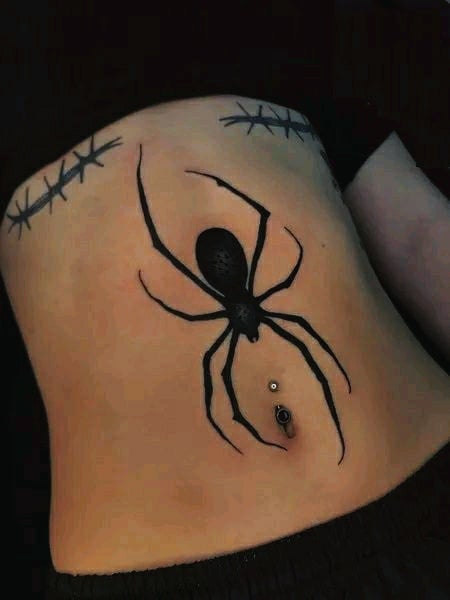 27. Wolf Stomach Tattoo
Wolves are known for their strong social bonds within their packs, representing loyalty and familial connections. A stomach wolf tattoo could symbolize a deep commitment to family or close relationships.
28. Sun and Flower Stomach Tattoo
The sun is often associated with warmth, light, and the concept of renewal. It represents a new beginning, growth, and vitality. The flower, similarly, symbolizes beauty, growth, and blossoming. Together, the sun and flower could convey a message of personal transformation, embracing change, and embracing new opportunity.
29. Orchid Stomach Tattoo 
The Orchid Stomach Tattoo may symbolize beauty, grace, and elegance as the orchid represents these qualities. Placed on the stomach, it could also imply a connection to emotions, sensuality, and fertility. Additionally, it might signify a private, intimate, or personal aspect of the wearer's life.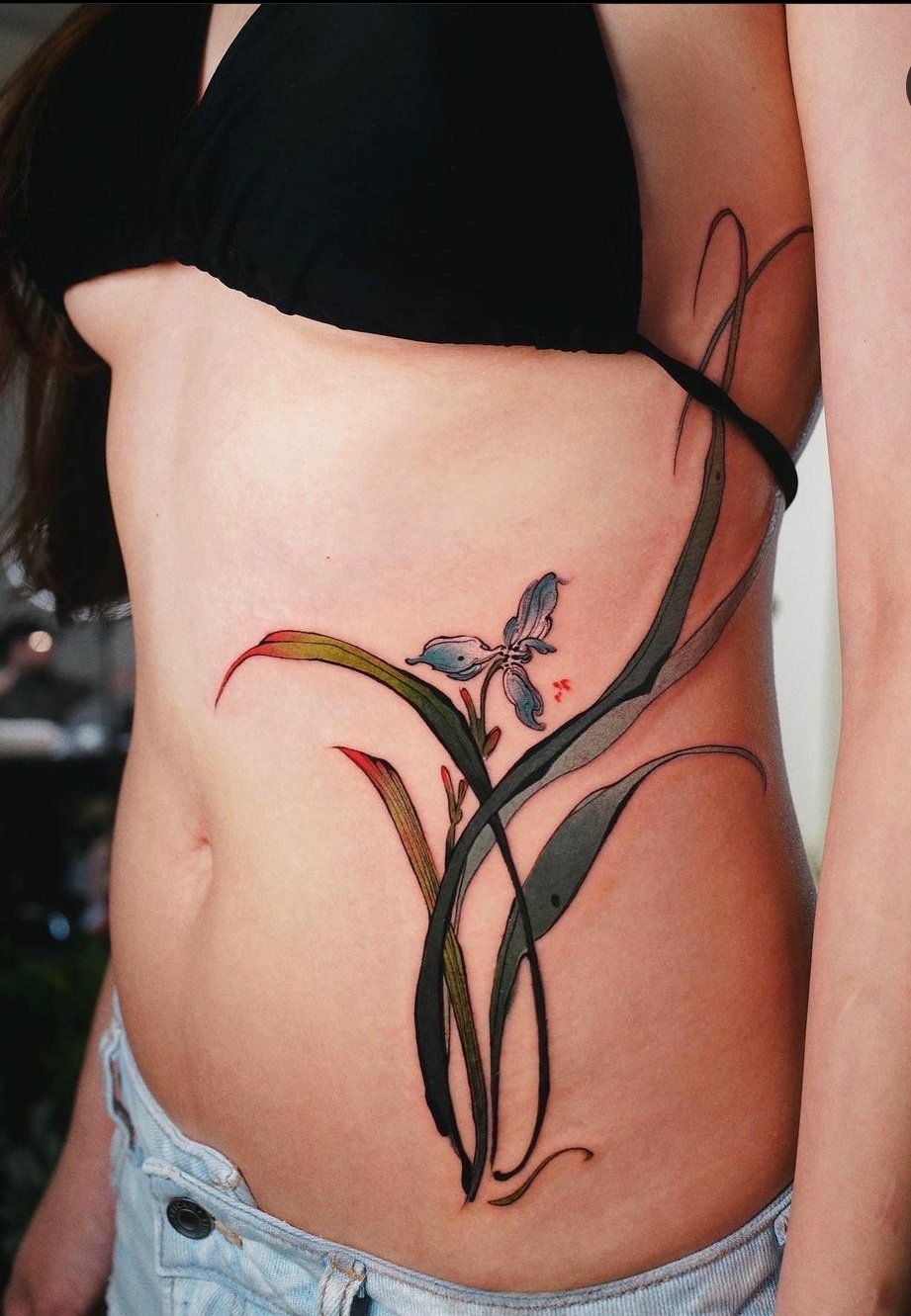 30. Number"666″ Stomach Tattoo
Many religious and cultural traditions, the number 666 is often considered the "Number of the Beast" and associated with Satanism or occult practices. Having a 666 tattoo on the stomach might indicate an affinity for or adherence to these beliefs or an interest in the darker aspects of spirituality.
31. Bat And Sword Stomach Tattoo
In the world of fantasy, the bat and sword intertwine, creating a striking symbol of strength and darkness. The bat, a creature of the night, represents mystery and cunning, while the sword epitomizes valor and the art of combat. When merged as a stomach tattoo, it forms an enigmatic emblem, suggesting a formidable persona shrouded in secrets, ready to confront any challenge that comes its way.
32. Skeleton Couple Stomach Tattoo
Skeleton couple tattoo can symbolize a love that transcends death and the passage of time. It represents a deep and enduring connection between two individuals, even in the face of mortality. This tattoo may signify a bond that is unbreakable, a commitment that extends beyond life itself.
33. Spiky Stomach Tattoo
Spikes are often associated with defensive mechanisms or barriers. Having a spiky stomach tattoo could symbolize a desire for protection, both physical and emotional. It may represent the wearer's inclination to guard themselves against harm, negative influences, or vulnerabilities.
34. Anchor Tattoo 
The anchor is often seen as a symbol of stability and grounding. It represents a strong foundation, both in a physical and metaphorical sense. Having an anchor tattoo on the stomach may symbolize a desire for stability, security, and a solid grounding in life.
35. Cherry Blossom Tattoo 
In Japanese culture, cherry blossoms are associated with the arrival of spring, symbolizing renewal, rebirth, and new beginnings. They represent the cycle of life, where after a period of dormancy, new life emerges. A cherry blossom stomach tattoo may signify a fresh start, personal growth, or the anticipation of positive changes in one's life.
36. Mermaid Tattoo
Mermaids are often associated with childhood fantasies and fairy tales. Having a mermaid tattoo on your stomach can symbolize reconnecting with your inner child, embracing imagination, and bringing a touch of magic and wonder into your life.
37. Star Tattoo
Stars have long been symbols of guidance and hope. A star stomach tattoo can represent your own guiding light, reminding you to stay positive and optimistic even in challenging times. It can symbolize the ability to navigate through life's twists and turns with a joyful spirit. Dive into our curated selection of "Best Stars Tattoos" for additional inspiration on star tattoo designs.
38. Leaf Tattoo
Leaf is a symbol of nature and the beauty of the natural world. A leaf stomach tattoo can represent your love for the outdoors, your connection to nature, and a desire to live in harmony with the environment. It can be a playful reminder to appreciate the beauty of the world around you.
39. Scorpion Tattoo
The Scorpion stomach tattoo is a striking and unique design that incorporates elements of a scorpion with the intricate patterns of a mandala. It symbolizes strength, protection, and transformation, reflecting the wearer's resilience and ability to overcome challenges in life. This powerful and visually captivating tattoo is a popular choice for those seeking to express their inner strength and embrace their inner warrior.
40. Elephant Tattoo
Elephants are often associated with joy and happiness. An elephant stomach tattoo can symbolize your ability to find joy in the simplest of things, embrace a positive outlook, and bring happiness to those around you. It can serve as a reminder to live life with a playful and lighthearted spirit.
Stomach tattoos offer a diverse array of creative possibilities, each carrying its own unique significance and charm. Whether it's the fierce tiger representing inner strength, the delicate flower embodying renewal and beauty, or the captivating bee and flower combo symbolizing interconnectedness with nature, stomach tattoos can be a powerful form of self-expression. From bold and powerful designs to intricate and graceful artwork, these ideas allow individuals to make a personal statement that resonates with their values and passions. So, if you're considering getting a stomach tattoo, take the time to explore these ideas, find the one that speaks to your soul, and let it become a lasting and meaningful piece of art on your canvas.
Other Special Tattoo Designs Sections
Besides Stomach Tattoos, if you are looking for more tattoo ideas, then don't forget to explore our section on "Best Flower Tattoo Designs" or "Best Sunflower Designs", "Lily Tattoo Designs" or "Best Black Rose Tattoo Designs."  You can also explore our very much loved tattoo features on Lock & Key Tattoos, Praying Hands Tattoo, Cross Tattoo Ideas, and more. We also have a sizeable collection of tattoo-related reads that might interest all tattoo lovers! For instance, if you are confused about which part of your body to ink a tattoo on, then read Hand Tattoo Designs, Forearm Tattoo Ideas, Finger Tattoos, and Chest Tattoo Designs. 
Additionally, we have a collection of design-related articles, such as Eagle Tattoo Designs, Peacock Feather Tatoo Designs, Owl Tattoo Designs, or Best Tattoo Design Ideas For Women. And just in case you have any doubts or queries, then read FAQs About Tattoos to get concise and clear answers about the process, design, aftercare, and everything else that you need to know before and after getting inked.